September 23, 2010 at 9:06 pm EST | by Patrick Folliard
Stretching plausibility
'All's Well That Ends Well'
Through Oct. 24
Lansburgh Theatre, 450 7th Street, N.W.
$37 and up
202-547-1122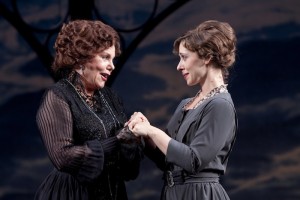 "All's Well That Ends Well" – that quasi-comedy about unrequited love – isn't the best-loved work in Shakespeare's canon, but of course merits retelling nonetheless. Currently serving as the Shakespeare Theatre Company's season opener, the improbable tale – as staged by gay director Michael Kahn — shines with moments of humor and relevancy.
Though Count Bertram (handsome Tony Roach) and Helena (Miriam Silverman) are just a few years older than Romeo and Juliet, their romance couldn't be more different. After growing up like siblings in his family's grand home in the provinces, Bertram is called away to Paris to be near the King of France (a commanding Ted van Griethuysen), she determinedly follows.
It's at court where Helena strikes a curious deal: Using her late father's magic remedies, she offers to cure the ailing king. If she fails, Helena is prepared to forfeit her life, but if she succeeds, she asks that she be given the husband of her liking. She succeeds and the newly peppy, aging monarch is obliged to grant her wish. Before a roomful of fawning courtiers, Helena asks for Bertram's hand. Initially  the golden scion refuses commoner Helena's offer, but when pressed by the king, he grudgingly accepts.
Clearly, Bertram is just not that into her, In fact, he opts to make a hasty exit with his solider friend Parolles (Michael Bakkensen) to fight in the Italian wars rather than make love to his virgin bride. But Helena is undeterred – never have you met a more annoyingly, single-minded young woman.
Kahn sets the play on the cusp of World War I, another time of unrest on the continent. Like early 20th century Frenchmen and their American counterparts, the doughboys, who enthusiastically joined-up unaware of the putrid trenches and poison gas that awaited them on the battlefield, young Bertram and his noble peers are equally eager.
Here the focus isn't on horrors, but rather barracks hijinks and incipient romance. The handsome young soldiers execute a seemingly endless gag that involves humiliating the vainglorious and cowardly Parolles while Bertram pursues Diana (Natalie Mitchell) the pretty daughter of the local lady innkeeper.
Meanwhile, Helena shows up at said Italian inn, disguised as a religious pilgrim. With the assistance of Diana, Helena — in one of the Bard's more far-fetched plot devices – salvages her nonexistent marriage by bedding her estranged, wide-awake husband without him knowing it. (Go ahead and try that sometime.)
Performed under a canopy of Victorian iron arches backed by an expansive sky (compliments of scenic designer Court Watson), the production features some of the better ensemble acting you're likely to see in D.C. British actor Paxton Whitehead steals the show as Lafew, a witty lord who suffers neither fools nor the badly dressed gladly. Adam Green and Barbara Pinolini are funny as a bumpkin-turned-dandy and a lusty woman of a certain age, respectively. And 1970s movie star and four-time Oscar nominee Marsha Mason is rather good as Betram's concerned mother, the Countess of Rossillion.
Robert Perdziola's period military uniforms and Edwardian gowns are splendidly designed and evocative of the era.
In the end, whether it's true love or expediency that prompts Bertram to kneel adoringly before his crafty, pregnant-bellied wife Helena, is hard to say. If we're to believe that the Bard titled this work without irony, then the young couple should enjoy untold years of happiness together. I for one have my doubts.