October 28, 2010 at 2:43 pm EDT | by Joey DiGuglielmo
Queery: DJ Chord Bezerra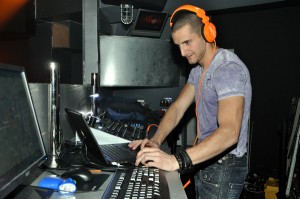 Chord Bezerra started DJing at Duplex Diner where he used to wait tables. He's made a few "mix tape" CDs for friends and realized he enjoyed it as much as the customers.
"I decided to try it on more of a live scale and I found out pretty quickly I just loved every second of it," the 30-year-old Wilmington, Del., native says.
Bezerra won the "Best DJ" prize in this year's "Best of Gay D.C." Blade readers' poll. He spins at Cobalt on Thursdays and Fridays and says he's "surprised, humbled and thankful" for the nod.
"There's a lot of amazing, amazing talent here so I'm thankful more or less just for having a stage at Cobalt to deliver," he says.
His spinning style is eclectic. He likes to dabble in lots of different genres and "keep people on their toes." Bezerra tries to take a day each week and spend hours darting around the Internet listening to what's out there. The ultimate goal, he says, is connecting with people.
"I just remember dancing for hours at a time when I was 18," he says. "I remember the DJs from that time and the music was always engaging. There wasn't one song that made you want to leave the dance floor. I always want to leave people sweaty and tired."
Bezerra grew up using his first name, Jonathan, but got tired of the endless variations, so he switched to his middle name — Chord — in college. His parents wanted something musical but he didn't tap into his musical inclinations until he started DJing.
He's a buyer and marketer for Universal Gear by day. He and his boyfriend, James, met at Results and have been together four years — including a mutual three-year stint in Los Angeles, a city Bezerra says never felt quite right for him.
They live together on the U Street corridor. (Blade photo by Michael Key)
How long have you been out and who was the hardest person to tell?
I came out when I was 18. I think it was probably hardest to tell myself. I was raised Mormon, which doesn't have the best support structure for such issues. I really had to do my own soul searching in order to find out who I was. Thankfully I had the opportunity to that. Once I had a better understanding of who I was I felt more confident in talking with other people about.
Who's your gay hero?
Tom Cruise.
What's Washington's best nightspot, past or present?
Cobalt and Duplex Diner.
What's your dream gay wedding?
One in which my man shows up.
What historical outcome would you change?
The existence of Sarah Palin. Seriously, was that necessary?
What non-gay issue are you most passionate about?
Refer to the above.
What's been the most memorable pop culture moment of your lifetime?
Dancing with Rose McGowan in the DJ booth at Cobalt.
On what do you insist?
Belts. If you have belt loops then you should be wearing a belt, period.
What was your last Facebook post or Tweet?
Spinning this Thursday at Cobalt!
If your life were a book, what would the title be?
"Did you wash your hands before reading this book?"
If science discovered a way to change sexual orientation, what would you do?
Nothing. I'm completely happy with who I am. Now if science could do something about hangovers, I'd be all about that.
What do you believe in beyond the physical world?
There better be something better than this!
What's your advice for LGBT movement leaders?
For the sake of brevity I will simply say this: the fight for equality should be fought more with the hearts of those who it is for than the minds of those leading it.
What would you walk across hot coals for?
Good taste.
What gay stereotype annoys you most?
The one that says because I'm gay I want to be every straight girls BFF.
What's your favorite gay movie?
What was the last Tom Cruise movie?
What's the most overrated social custom?
Immediately Facebook friend requesting a person you just met.
What trophy or prize do you most covet?
Do I get bonus points if I say the Blades Best of DC DJ award?
What do you wish you'd known at 18?
I wish I was more comfortable with myself but I suppose that is just meant to come with age and life experiences.
Why Washington?
'Cause there is no place like home.