February 10, 2011 at 4:20 pm EDT | by Joey DiGuglielmo
Rendezvous with romance
Valentine's gifts don't have to be sexual orientation-specific, but we found some unusual romantic ideas that are likely to touch a special nerve for those with LGBT sensibilities. So if you're hoping to light a gay fire in your honey's heart Monday, here are some ideas guaranteed to deliver you from Hallmark-esque, hetero hegemony. (Blade photos by Michael Key)
From Pleasure Place:
Pleasure Place (1063 Wisconsin Ave., N.W.) has a bounty of sensual gifts. Located just past the intersection of Wisconsin Ave. and M Street in the heart of Georgetown, it's easy to find several ideas — both naughty and nice — at this adult boutique.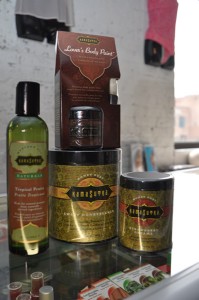 Kama Sutra makes this line of body products in a variety of textures and tastes. The Lover's Body Paint is chocolate flavored and retails for $29.95. Body Oil is $22.95. Honey Dust — made to be applied, then licked off, is $28.95 for a large jar. Smaller containers, available in honey and strawberry flavors, are $19.95.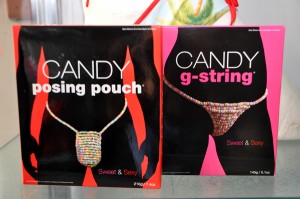 These edible thongs and g-strings are made of candy. The "candy pouch," for ladies, is $12.95. The "posing pouch," for men, is the same price.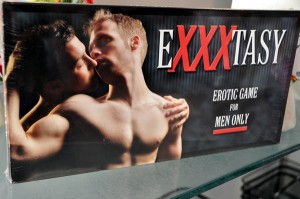 This board game will keep gay men anything but bored. Exxxtasy, which comes with a board, dice, four decks of cards, an hourglass and tokens, is modeled after old-fashioned board games but involves "chasing" your partner around the path with a variety of sexual activities. But control is required to win. Getting, ahem, too carried away makes you the loser. Of course you may not care at that point, but that's what the instructions say. $39.95.
If you like a little BDSM but don't want to get too intense, these "furry cuffs" are perfect. They come in pink or red and retail for $16.95. Likewise these blindfolds, available in zebra, black or leopard, can add a little mystery to your romantic evening. They're $11.95.
From Paper Source: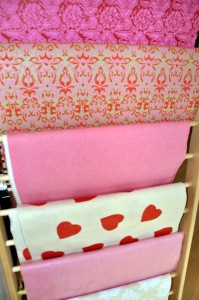 They say presentation is everything and that appears to be the mantra at Paper Source (3019 M Street in Georgetown). This heart-embossed gift wrap paper will give your honey the unmistakable impression that you put thought into the moment. It's $3.95 per sheet.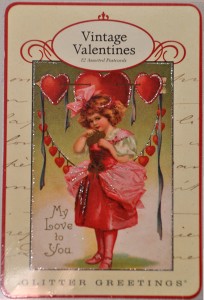 Also off-the-beaten-path are these vintage Valentine's greetings from Cavallini & Co., also at Paper Source. They're 12 assorted postcards and retail for $13.95.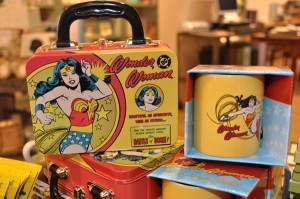 They say she's "beautiful as Aphrodite" and could make a perfect gift for your camp-loving gay boyfriend. Available here on a vintage-looking mini lunchbox ($12.50) or mug ($10.50) at Paper Source is the Amazon Princess herself.
From The Leather Rack: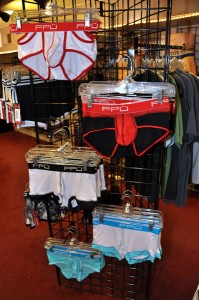 The Leather Rack (1723 Conn. Ave., N.W.) is more rough trade than romance but there are some naughty items in stock that are likely — in the right hands, at least — to raise the temperature a few degrees. These undies from PPU leave little to the imagination. They're $16.95.
From Eskal Flowers & Gift: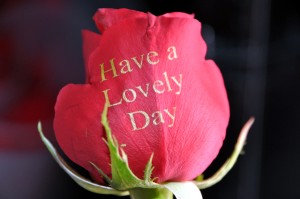 For a personalized gift, it's hard to go wrong with these embossed roses from Eskal Flowers & Gift in Dupont Circle. Don't try to find the place — it's unmarked from the outside of its 1636 R Street, N.W. location. But orders are being taken now for monogrammed or inscribed roses, an unusual gift that shows you didn't just dash into the florist at the 11th hour. Call 202-506-1065 or visit www.eskalflowersandgiftshop.com for more information.