February 24, 2011 at 2:00 pm EDT | by Joey DiGuglielmo
The egg bearer
Many head to California, of course, with big dreams. Mike Munich is one of the lucky ones who's watching his come true.
The 24-year-old gay Minneapolis native moved to Los Angeles five-and-a-half years ago. He's been in West Hollywood the last 18 months.
"I came here basically to dance when I was 19," he says. "Now it's working out great but it's been a journey and a struggle and a process with lots and lots of emotions, but now it's going great."
Munich can't point to one "big break," but says a major resume builder was landing a regular gig in the house dance troupe that backs acts on "America's Got Talent." He'd had other jobs and waited tables to supplement the lean times, but that break in August 2008 allowed him to dance full time.
He shot the pilot for the uber-popular (and uber-gay) "Glee" as part of Vocal Adrenaline, the rival group of New Directions, and stayed with the show all along. He also did an American Music Awards performance with gay singer Adam Lambert and was in Lambert's "For Your Entertainment" video.
"He's great," Munich says. "He's so lovely and sweet and he really took care of us. After the AMA performance, he gave all of us and the band $100 gift certificates for (spa) Burke Williams. He's so talented and so fun to be around. Some of my good friends were friends of his before he was famous."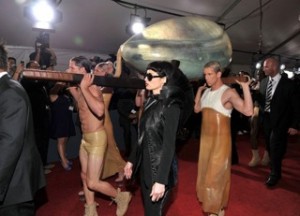 But high plateaus soon beckoned. Munich now has several Lady Gaga gigs under his professional belt. Most recently, he was one of the minions carrying Gaga's egg Cleopatra-style into the Grammys two weeks ago. Ironically, though, his initial response at a possible chance at working with Gaga was indifference. He heard about an audition for the "Alejandro" video but passed initially.
"I'd gotten an e-mail about it but it said you had to be willing to shave your head and I didn't really want to do that," he says. "I just didn't want to have a bald head. Usually I don't mind cutting my hair but I just wasn't feeling it so I skipped the audition. The rest of the day, though, I was kicking myself."
He got another chance though. A dancer friend mentioned it the next day and he made a homemade video of himself free-styling to the song and sent it to Laurieann Gibson, Gaga's choreographer. He got the job. He was also in the "Born This Way" video, the first single from Gaga's new album, set to drop in May.
So what's it like being on the Gaga team?
"Amazing," Munich says without hesitation. "It really is incredible. She has this sort of 'House of Gaga' creative team that just pays so much attention to every detail. Everything is done with a purpose. The movement, the wardrobe, it's all part of the movie."
Munich says he's been a Gaga fan all along. He's always loved pop music and early Britney Spears videos were part of what convinced him as a Minnesota teen that he wanted to move to L.A. and dance professionally.
He says the Grammys were surreal. He had to be at the Staples Center about 9 that morning even though the red carpet walk was only about five minutes. And no, he says he didn't feel stupid carrying the giant egg.
"I was very invested in the moment," he says. "My shoulders were starting to cramp up a bit by the end of it but we only did one interview with Ryan Seacrest so it wasn't bad. It was almost anti-climactic in a way. I mean, it was an amazing experience but it was hard for me really to react to it because I was part of it."
Munich says Gaga is great to work with and calls her "a really hard worker."
"She's dancing her ass off, just really committed to her art," he says. "And she seems quite unaffected by it. She knows exactly what she's doing and she's very smart. Very artistically brilliant. She has a good grasp on fame and celebrity and she's really down to earth. She'll hang with us on a set, talking, laughing and making jokes. She just wants everybody to be part of the process. It's not just her."
Munich says he's single "by choice" and is a self-described "party girl." He's focusing on work and travel now and wants to be "booked solid" this year, which leaves little time for romance. At least for now.
And he is a gym rat who lifts weights four or five days a week and a runner. He says it's a great way to deal with stress and stay in shape for his assignments.
"If a week goes by and I'm not at the gym, I just get stir crazy," he says.