April 14, 2011 at 1:24 pm EDT | by Joe Phillips
Tesla's pricey power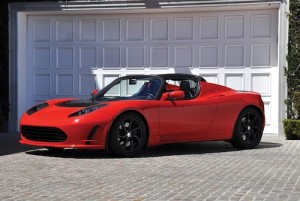 During the 1890s — aka those rollicking Gay Nineties — most cars were electric vehicles (EVs). There were no gas stations and Henry Ford hadn't started mass-producing cars with internal combustion engines. So it wasn't until the 1920s that the popularity of clean, reliable but oh-so-slow EVs began to dim.
But now electric vehicles are new all over again. High fuel costs, faster electric motors and safer batteries are the main reasons.
Price, though, is another matter: a Chevy Volt starts at $41,000, while a decked-out Tesla tops $165,000. Tax credits help, as will increasing competition as automakers add more EVs to their lineups.
For drivers looking to ratchet up their green cred, here's a look at today's uber EV: the Tesla Roadster Sport. (Next month we compare the more mainstream Volt and Nissan Leaf.)
Tesla Roadster Sport
$129,000
Range: 245 miles before recharging
Charging time: four hours (Tesla Home Charger);
40 hours (common household outlet)
0-to-60 mph: 3.7 seconds
Despite being called EVs, the Volt and Leaf still have a gas engine. Not so the Tesla, a pure EV with 6,831 tiny lithium-ion batteries stored in a battery pack behind the seats.
What's surprising is how much this supercar is like a kiddie go-kart — but in a good way. Sure, contorting yourself into and out of the low-slung seats can be a challenge. The small Momo steering wheel is the size of a salad plate. And there are no power side mirrors; you have to reach out and, gasp, adjust each one by hand.
Oh, and there's no power steering.
But strap yourself in, punch the accelerator and, bam, you're changing lanes and cornering like gay NASCAR pro Evan Darling. Blasting from 0 to 60 mph takes, yikes, only 3.7 seconds. The bolstered seats are so taut there's no need for lumbar support. And there's no reason to ride the brakes — take your foot off the, er, gas and the car slows dramatically for maximum pedal control.
And that lack of power steering? It helps keep the car steady and straight on quick bursts through traffic.
Because EVs have no exhaust rumble, it's hard to know when they're actually running. But turn the Tesla's ignition and there's a chime that sounds.
As if the space-age styling and lightening-fast acceleration weren't enough to turn heads, there are a slew of bold color options — including "Fusion Red" and the aptly named "Very Orange."
But as with other high-end exotics — Maserati and Lamborghini spring to mind — there are a few fit-and-finish flaws: turn-signal and wiper arms are made of cheap plastic, the driver's side door handle sometimes stuck so the door wouldn't open and the interior door sills got muddy after a romp in the rain.
As for cargo room, it's nil in the cabin (well, OK, there is a glove box). The trunk isn't much bigger, holding just three grocery bags and only then if the bags are half full — otherwise they get crushed.
But, hey, a Tesla two-seater isn't about practicality, it's about excitement — a thrilling ride that's high-tech and green. That's why the shifter has been replaced by nifty backlit buttons for Park, Reverse, Neutral and Drive. And it's why the real-time data monitor — along with keeping track of your range and any regenerated power — shows the number of barrels of oil saved as you toodle down the road.
All in all, if you revel in the raw power and geeky gadgetry of a car of the future—and if you can plunk down some serious coin—it doesn't get any better than this.