America's Leading Gay News Source
Ready to party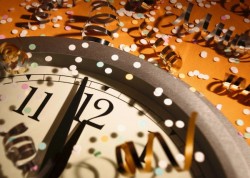 S.H.E. Productions and Grand Central (1001 N. Charles St.) in Baltimore present the fourth annual New Year's Eve Bash "Resolution 2012″ on Dec. 31 starting at 9 p.m. DJ Image and Deejay Aruto will be spinning. Cover is $10 before 11 p.m. and $15 afterward. For more information, visit facebook.com/sheproductions.
Red Palace (1212 H St., N.E.) presents "Ball Drop Burlesque and Variety Blowout Bash" tonight with three sets at 9, 10 and 11 p.m. featuring intermissions with go-go dancing. The ball drop with a toast at midnight. Tickets are $30 in advance and $40 day of show. Doors open at 8 p.m. and all attendees must be 21 or older. For more information and to purchase tickets, visit redpalacedc.com.
Town (2009 8th St., N.W.) presents "New Year's Eve 2012″ featuring a countdown of the top 10 songs of 2012, a glowing midnight explosion, must and video by DJs Ed Bailey and Wess, live performance by Tha Dance Camp and more. Tickets are $20 in advance and $25 at the door. Advance tickets are available at Number Nine (1435 P St. NW) or at groovetickets.com. Town box office will open at 7 p.m. and doors open at 9 p.m. All attendees must be 21 or older.
The BFF New Year's Eve Party at Remingtons (639 Pennsylvania Ave., S.E.) starts at 10 p.m. on the second floor featuring a free buffet and champagne toast. Admission is $8.
Phase 1 (525 8th St., S.E.) is having its "Countdown to 2012 Women's New Year's Eve Party" from 9 p.m. to 4 a.m. with DJ Staylo spinning, a balloon drop and champagne split. Admission is $10 and doors open at 7 p.m.
Omega Party, a new black gay event company, presents "New Year's Eve Extravaganza" at 901 Lounge (901 9th St., N.W.). Tickets are $15 in advance and only 100 are available. Tickets will be sold at the door as space permits. VIP packages are $50. For more information and to purchase tickets, visit omegapartydc.com.
We welcome your thoughtful, respectful comments. Please read our 'Terms of Service' page for more information about community expectations.
Comments from new visitors, flagged users, or those containing questionable language are automatically held for moderation and may not appear immediately.
© Copyright Brown, Naff, Pitts Omnimedia, Inc. 2014. All rights reserved.