January 26, 2012 at 10:24 pm EDT | by Terri Schlichenmeyer
Boy meets boy
'Don't Let Me Go'
By J.H. Trumble
Kensington
$15
352 pages
It's the age-old romance question — you've loved and lost. Is that better than to have never loved at all? In the new book "Don't Let Me Go" by J.H. Trumble, a young man finds out.
Nate Schaper never wanted to let Adam Jefferies go. He was in love with Adam from the moment Adam had rushed over to Nate's locker to help another student who'd been bullied. Adam was like that: compassionate and smart, gentle and caring — not to mention so beautiful that Nate could barely stand it. They were an "us" not long after that morning by the lockers and within weeks, they'd decided to come out together.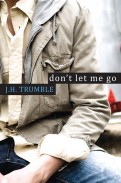 Adam was a senior then; a budding actor, a lover of the stage and about to graduate. Nate was a junior and never wanted to let Adam go.
But the following summer, he had to do it: Houston and New York City are some 1,600 miles apart and Adam had a once-in-a-lifetime chance to appear off-off-Broadway. Nate wasn't about to hold him back.
Once in New York, though, Adam didn't seem to miss Nate as much as the vice was versa. Adam, in fact, had a new life complete with a hot roommate and he never seemed to have time for Nate anymore. Things had changed.
And Nate had changed, too. Angry with the way his life was going, he'd become a silent activist at school. He made a new friend, a straight guy who wouldn't take any trouble from bullies. And when it seemed like Adam was so yesterday, Nate found another boyfriend.
But can you truly forget lost love? Stuffing aside memories of Adam and the things they shared, Nate wondered when he ever would.
Looking to spend some time with a wonderfully satisfying love story? You can stop your search right here, because "Don't Let Me Go" will do just right.
With some not-quite-chaste bedroom scenes and a host of characters to embrace, author J.H. Trumble adds sass and spice to a tale of romance found and lost.
But love isn't the only focus of this story: teenage Nate encounters homophobia in various forms and though it lends a certain squirmy realism, those parts of this book aren't easy to read. Fortunately, Trumble's supporting (and supportive) cast offsets the hate, which gives this novel meaning.
This is a great book for teens and adults alike, and it has an ending that's satisfying and works. This is a gay romance to get lost in.