February 2, 2012 at 4:23 pm EDT | by Joey DiGuglielmo
Queery: Michael Rawson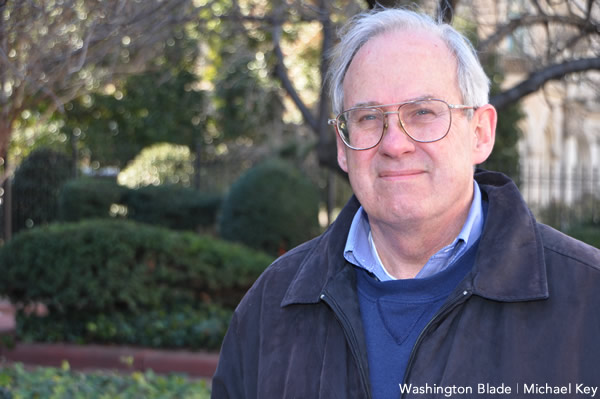 Longtime Dupont Circle resident Michael Rawson has always been interested in painting, but his retirement a few years ago has given him more time to get serious about it. And the dedication is paying off — the 64-year-old Quakertown, Pa., native has seven of his oil paintings in the new exhibit "Beyond Words: The Symbolic Language of Plants" which opens this weekend at the Delaware Art Museum in Wilmington and runs through April 8.
Rawson is a member of Studio 155, an artists group that formed after its 17 members took classes together at the Corcoran Gallery of Art and collaborated on the 2006 exhibition "Botanical Treasures of Lewis and Clark." Together their work is featured in the large Delaware exhibit. They work "to realistically capture the natural world while expanding the boundaries of botanical art."
"I always loved plants," Rawson says. "My mother is a good gardener. … And trees are our tallest and biggest plants. They are what give us life — the air we breathe, the food we eat, the shelter, our clothes. So that was my inspiration."
Rawson spent most of his career as a pre-school teacher and says he "always worked well with young children."
He came to Washington in 1966 to attend George Washington University. He and partner Gordon Binder, a senior fellow at the World Wildlife Fund, have been together 38 years. They attribute the longevity of their pairing to "companionship, intimacy, friendship, common interests and enough differences to keep it lively."
Rawson enjoys water aerobics, reading, watching TV, quiet evenings at home and, of course, painting, in his free time. Go to delart.org for more information on the exhibition. The museum is at 2301 Kentmere Parkway in Wilmington.
How long have you been out and who was the hardest person to tell?
In my head, since sixth grade. But in fact not until I met Gordon, and then we fell in love. My father. I learned how upset he was when he recognized that I was gay (I had left home by then). Years later, at Christmas, when Gordon gave me our paid mortgage in a box, my father said, "He's a smart man," and I knew he had embraced us both.
Who's your LGBT hero?
Michelangelo. He made art that today we still stand in awe of.
What's Washington's best nightspot, past or present? 
For my generation, few places could beat the exhilaration of entering the Lost and Found on a lively night.
Describe your dream wedding.
I had it, with my family and friends in July 2010 thanks to David Catania and the D.C. City Council. It surprised me how moving and affirming it was, and this after 38 years together.
What non-LGBT issue are you most passionate about?
Early childhood education, to give each child a chance to reach his or her potential.
What historical outcome would you change?
The assassination of Abraham Lincoln, in hope that, with malice toward none and charity toward all, our country's racial history might have played out better.
What's been the most memorable pop culture moment of your lifetime?
New York City. The Saint. 1983. 4 a.m. Betty Buckley singing "Memories" from "Cats." The room is pulsating.
On what do you insist?
I'm a middle child and thus I can bend lots of ways.
What was your last Facebook post or Tweet?
Sorry, not quite there yet.
If your life were a book, what would the title be?
"Hard to Say No: The Life of Michael Rawson"
If science discovered a way to change sexual orientation, what would you do?
Nothing, though Gordon insists we would start a campaign to get Chord Overstreet to join our team.
What do you believe in beyond the physical world? 
A life force that we share with all living things
What's your advice for LGBT movement leaders?
Encourage our youth. From their ranks will come our future leaders and they may just be the generation that finally brings it home for us.
What would you walk across hot coals for?
If there's good barbecue along the way.
What LGBT stereotype annoys you most?
Gay men are driven solely by sex, not that there's anything wrong with that.
What's your favorite LGBT movie?
"Maurice," the Merchant-Ivory production.
What's the most overrated social custom?
Celebrities Tweeting about every ordinary thing they do.
What trophy or prize do you most covet?
A place or two on the wall of the National Gallery of Art for my paintings.
What do you wish you'd known at 18?
It gets better, much better.
Why Washington?
I came to school in Washington, GW, in 1966. A few years later, I met Gordon when we were interns at the Council on Environmental Quality and a little over a year later we hooked up and we made our life together. We've lived in Dupont Circle, one of the great urban neighborhoods anywhere. We value the cultural scene, the lively street life, so many places to go and things to do, and of course the friends we have here.