America's Leading Gay News Source
Ninth Circuit to rule Tuesday on constitutionality of Prop 8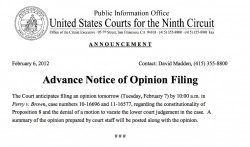 The U.S. Ninth Circuit Court of Appeals is set to issue a ruling on Tuesday by 10 am Pacific Time on the constitutionality of California's Proposition 8, according to the court website.
The lawsuit, Perry v. Brown, came to the appellate court on appeal after U.S. District Judge Vaughn Walker ruled against the same-sex marriage ban in 2010.
We welcome your thoughtful, respectful comments. Please read our 'Terms of Service' page for more information about community expectations.
Comments from new visitors, flagged users, or those containing questionable language are automatically held for moderation and may not appear immediately.
© Copyright Brown, Naff, Pitts Omnimedia, Inc. 2014. All rights reserved.