September 20, 2012 at 10:55 pm EDT | by Joe Phillips
Sport sedan showdown
It's football season, so look for muscle on the field—and in showrooms. A new crop of sport sedans—from a pint-sized BMW to the poshest Jaguar yet—are packed with plenty of power and panache. Think Brendon Ayanbadejo, the straight Ravens linebacker who also is an eloquent and ardent advocate for marriage equality.
Mixing macho with moxie—that's what these four rides do to help get your game on.
Audi A6
$42,500
Mpg: 25 city/33 highway
0-to-60 mph: 7.5 seconds
Let's not play favorites, but Audi's A7 four-door hatchback wowed me big-time last year. So how does the new A6 compare? The main difference is the A6's traditional trunk. The liftback hatch in the A7 means more cargo room, easier access and a sleeker, coupe-like profile. But it also reduces visibility. While the A7 handles better on highways and twisty roads, the A6 costs less (especially the base model), gets better gas mileage and has higher ground clearance—a plus for boomers with back issues. Otherwise, both these midsize sedans have superb fit and finish in the cabin, with lots of frills: heated steering wheel, blind-spot warning system, head-up display on the windshield and in-car WiFi that connects Google Earth to the nav system.
BMW 328i
$37,000
Mpg: 23 city/34 highway
0-to-60 mph: 5.9 seconds
The fully redesigned 328i is a bad boy hottie. This compact is larger but lighter than before, with a faster and more fuel-friendly four-cylinder turbo replacing the outgoing V6. An automatic start/stop feature turns the engine off when the car stops to also save fuel and gives the 328i an almost hybrid-car feel. But step on the gas, and this is no hybrid—acceleration, handling and braking are sporty and sure. BMW interiors are typically minimalist-chic, but this new sedan—which is exceptionally quiet inside—offers a choice of cabin colors and trims for more customization. Another plus: faux leather seats that actually look and feel better than the real thing.
Infiniti M37x Sport
$55,000
Mpg: 17 city/24 highway
0-to-60 mph: 5.9 seconds
This is the first time Infiniti has offered a Sport package for the M sedan. But it was well worth the wait. From the snug suspension and brakes to the sturdy all-wheel drive, the M37 Sport feels as quick and nimble as a BMW. Along with 20-inch wheels, the front fascia, headlights and grille have been beefed up for a more rugged look. And the bolstered seats are almost Porsche-like. There are various driving modes, depending on your need for speed or fuel-efficiency. Auto-dimming side mirrors and power trunk lid are now standard, along with rain-sensing wipers and courtesy lights hidden in the front-door handles—a nice touch. Though pricey, there are a few must-have options: 10-speaker Bose stereo, a large 8-inch touchscreen for the nav/audio/climate system and blind-spot and lane-departure warning systems that automatically intervene if a potential crash is detected.
Jaguar XJL Supercharged
$118,000
Mpg: 15 city/23 highway
0-to-60 mph: 4.7 seconds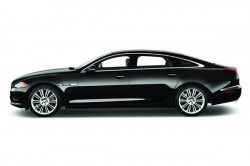 Sport sedans don't come cheap. And the XJL Supercharged is at the top of the heap. This is the long-wheelbase version, with lots of legroom and exquisite detail. The rear foot-wells are large and so well padded that my 70-pound pooch quickly curled up and went to sleep instead of splaying out across the backseat. Humans, too, will enjoy all the pizzazz: a 12-way driver's seat, large panoramic sunroof, front/rear parking sensors with rearview camera and an adjustable and self-leveling suspension just like in a Range Rover.