January 3, 2013 at 12:29 pm EDT | by Steve Charing
Baltimore City Hall among first to host same-sex weddings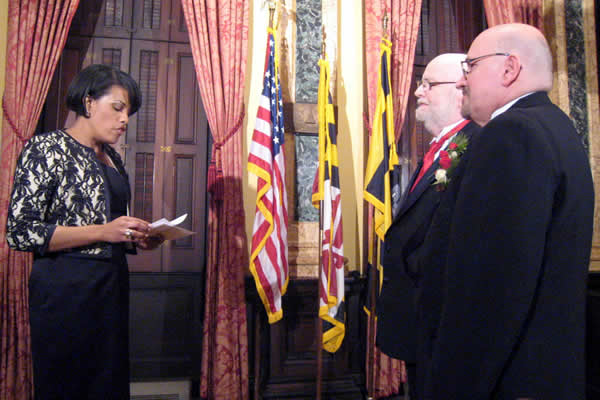 Baltimore Mayor Stephanie Rawlings-Blake, who was a high-profile advocate for same-sex marriage in Maryland especially during the referendum battle, decided to open the doors of City Hall to allow same-sex couples to marry as soon as it was legal.
Beginning at 12:30 a.m. on New Year's Day, seven couples participated in ceremonies with the first officiated by the mayor herself.
"New Years Day will have a new meaning for the hundreds — if not thousands — of couples who will finally have the right to marry the person they love," said Rawlings-Blake in a statement prior to the event. "It is a remarkable achievement for Maryland and we are excited to open City Hall to host some of the first wedding ceremonies in our great state. Newly married couples will stand before their friends and family to profess their love and commitment to each other. This is what we worked for and I am looking forward to take part in this historic and jubilant day."
Jim Scales, a 40-year employee of Baltimore City who has been an office manager serving all mayors since William Donald Schaefer, and his partner Bill Tasker were the first to get married in City Hall at 12:30 a.m. on Jan. 1. The couple, who reside in Essex, have been together 35 years.
"We didn't want to rush into this," Scales said.
The idea of opening City Hall originated with attorney Mark Scurti of PK Law. It took several phone calls and networking, but he was ultimately able to pull it off with help from the mayor's office.
The other six couples who tied the knot at City Hall were Brigitte Ronnett and Lisa Walther, Danielle Williams and Darcea Anthony, Jamie Kraft and Sarah Vickery, Tom Rabe and Robert Coffman, Ryan Wilson and Shehan Welihindha, and William L. Countryman, Jr. and Roy Allen Neal.
Similar ceremonies took place around the state with some occurring one minute after midnight. Unions occurred in Annapolis, Tighlman Island, Howard County, Cumberland and more. Havre de Grace City Councilman Joseph C. Smith married his partner Don Starr at the city's Concord Point Lighthouse, complete with fireworks.