January 14, 2014 at 1:48 pm EDT | by Michael K. Lavers
Maryland transgender rights bill introduced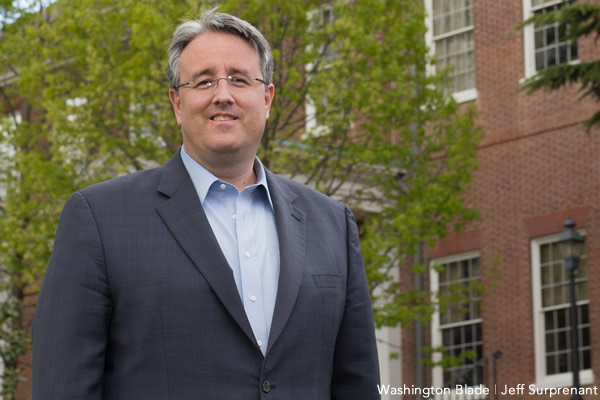 Maryland State. Sen. Rich Madalenoby a 6-5 vote margin struck down an identical bill that Madaleno and state Sen. Jamie Raskin (D-Montgomery County) introduced that would have banned anti-trans discrimination in housing, employment and public accommodation. State Sens. Norman Stone (D-Baltimore County), C. Anthony Muse (D-Prince George's County) and James Brochin (D-Baltimore County) voted against the measure.
Senate President Thomas V. "Mike" Miller (D-Prince George's and Calvert Counties) state Sen. Katherine Klausmeier (D-Baltimore County) support the bill. House Speaker Michael Busch (D-Anne Arundel County) also backs the measure.
Governor Martin O'Malley and the three Democrats who are running to succeed him — Lieutenant Gov. Anthony Brown, Attorney General Doug Gansler and state Del. Heather Mizeur (D-Montgomery County) — are expected to testify in support of the bill. Brown's running mate, Howard County Executive Ken Ulman, has also pledged to speak for the measure in Annapolis.
"No one should face discrimination on the basis of gender identity," Mizeur told the Washington Blade last week. "Equality in Maryland shouldn't have to wait this long."
Both Mizeur and Gansler's running mate, state Del. Jolene Ivey (D-Prince George's County), co-sponsored the 2011 trans rights bill in the House of Delegates.
"Inequality anywhere should be recognized as wrong for anybody," Gansler told the Washington Blade during a Jan. 10 telephone interview. "Inequality for any person is inequality for all of us."
Gender Rights Maryland Executive Director Dana Beyer welcomed the introduction of the bill.
"I'm glad to see that this year's gender identity bill is now in play and we are all looking forward to an expedited hearing in the [Senate] Judicial Proceedings Committee," she told the Blade. "With strong support in both the Senate and House, as well as from senior leadership, the administration and all the Democratic gubernatorial candidates, the time has come to finally move the bill from the Senate committee to the floor."
The bill remains a legislative priority for Equality Maryland, the state's largest LGBT advocacy group, after voters in 2012 approved the Free State's same-sex marriage law.
Gansler told the Blade the organization "traded" its endorsement of Brown for governor last month for his support of the trans rights bill. Gansler said the measure would have "a stronger chance of becoming law" this year if the lieutenant governor made it an administrative bill as O'Malley did when he made the same-sex marriage bill a legislative priority in 2012.
"That would be sort of putting his money where his mouth is," said Gansler. "If it's not an administration bill, I just don't know."
Brown's campaign manager, Justin Schall, blasted Gansler's claims.
"The leaders of Equality Maryland are dedicated, honest people and this unfounded accusation by Gansler is incredibly disrespectful of their process and the integrity of their organization," Schall told the Blade on Monday. "Anthony Brown is, and has always been, a strong supporter of equality and justice because it's the right thing to do."
Baltimore City and Baltimore, Montgomery and Howard Counties have already added gender identity and expression to their non-discrimination laws. Hyattsville last month became the first jurisdiction in Prince George's County to pass a trans-inclusive anti-discrimination ordinance.
Neighboring Delaware is among the 17 states along with D.C. and Puerto Rico that include gender identity and expression in their anti-discrimination laws. Pennsylvania Gov. Tom Corbett last month announced his support of a bill that would ban anti-LGBT discrimination in the Keystone State.