December 29, 2017 at 7:30 am EDT | by Chris Gerard
2017 YEAR IN REVIEW: pop music — the album as art form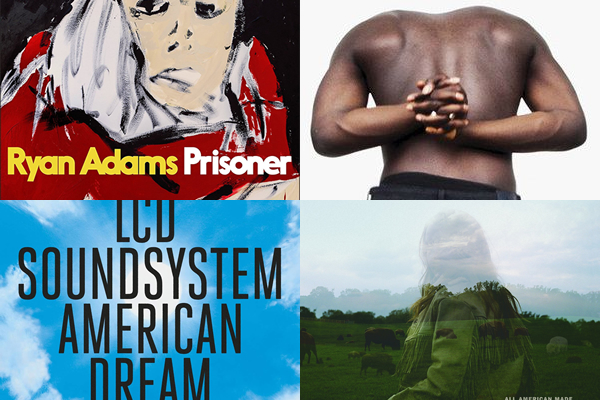 It's been such a shell-shocking year in so many ways that the luxury of being diverted by artists who continue to create richly inspired new music is perhaps more important than ever. You wouldn't know it by looking at the dreadfully malnourished pop charts, but 2017 yielded a long list of superb new albums.
The 10 (well, make that 12 actually) albums listed below are among those that must not be lost in the cacophony of a constant stream of music and endless other information bombarding us. Each album reinforces the certainty that music is for catharsis and healing as much as for entertainment, and this process manifests itself in wildly diverse styles and voices. All have substantial LGBT followings as the lines between gay and straight acts becomes increasingly a non-issue for music fans.
10. Ride 'The Weather Diaries'/Slowdive 'Slowdive'
Yeah, it's cheating, but it's impossible to choose between these superb comebacks by two of the cornerstone bands of the '90s "shoegaze" sub-genre: Ride's first album in 21 years and the first for Slowdive in 22. "Slowdive" is perhaps more in line with the narcotic rock dreaminess for which the band is known, while "The Weather Diaries" is spikier and explores a wider palette of sonic space. Despite being pigeonholed with a lazy and meaningless label ("shoegaze" is almost as annoying as "grunge" or "Britpop"), the albums are quite different. Both have an added poignancy and world-weariness, perhaps inevitable for artists who were in their 20s during their "heyday" and are now in the upper-reaches of their 40s. Still, both bands are obviously fully invested in the new material and the songs glow with unmistakable inspiration and intensity.
9. Kehlani 'SweetSexySavage'
This year was dreadful for pop music overall, but "SweetSexySavage," the sleek and bold debut by Kehlani, is an obvious exception. The album is perfectly described by its title, much the same as TLC's "CrazySexyCool" two decades earlier. Kehlani is a talented and versatile singer, able to deliver a wicked edge when she chooses. She merges pop, soul, EDM and hip-hop vibes on songs that show off the power of her voice ("Piece of Mind," for instance) and range from doggedly defiant ("Undercover") to achingly vulnerable ("Advice"). The hit single "CRZY" could be a younger and more fiercely untamed version of Rihanna. At only 22, Kehlani's debut is the kind of triumph on which a massively successful career can be built.
8. Ryan Adams 'Prisoner'
Always prolific and restless, Ryan Adams has settled into what might be the finest sustained groove of his career. His self-titled 2014 release was his best in a decade (and perhaps his career peak so far), and his first collection of original material since then is almost as good. "Prisoner" shows Adams continuing a seemingly endless ability to churn out great songs, but there's a gravitas and grittiness borne from experience that his early-career classics "Gold" and "Heartbreaker" lack. Emotions are raw and close to the bone on "Prisoner," with a garage-rock sensibility somewhat reminiscent of early Tom Petty & the Heartbreakers.
7. Moon Duo 'Occult Architecture Volumes 1 and 2'
The pairing of Wooden Shjips guitarist Ripley Johnson with keyboardist Sanae Yamada as Moon Duo continues to work magic with two thematically connected albums released several months apart. The two volumes of "Occult Architecture" are zoned-out psychedelic bliss, music for late at night when the haze of smoke is so thick the stereo lights might as well be blurry red eyes staring out from some lost corner of space. The tracks are long, trippy and resplendently beautiful. They are also timeless: Moon Duo's hypnotic rhythms, rich layers of dreamy guitar and keyboard, and sinuous melodies travel from the late '60s, weave through the '70s into the present and back again. Put it on for any random music aficionado and ask what year it was released, you're liable to get guesses of any year from 1968 through … 2017? Yeah, we still need excursions into hazy psychedelic dreamland to escape the sometimes rotten stench of reality and Moon Duo provides the perfect vehicle.
6. Moses Sumney 'Aromanticism'
Maybe it's the year, or generation, for "Aromanticism." It's always been mythology that one must attach to another human to attain happiness, although that angle isn't often explored in popular music. Of course, it's hard to even put that kind of label on Sumney's work. His debut "Aromanticism" exists in a gauzy connective dimension that touches on sweet soul, jazz, electronica, orchestral and folk — kinda. Sumney never really lands on any of these labels, but rather hints and swirls like a glittery mist just out of reach and firmly in his own realm. Sumney's sublime voice, often presented in an exquisite falsetto, is the human anchor that wraps the ethereal sounds of his imagination around a heart trying to function alone in a culture that typically views such a state as naturally unfulfilling and incomplete. "Aromanticism" is as stunning a collection of decidedly unromantic yet life-affirming songs as you're likely to ever hear.
5. The National 'Sleep Well Beast'
Cerebral but also soul-baringly real, there are few bands that tap so convincingly into the human experience as the National. The wounded baritone of vocalist Matt Berninger is often whispery and half-spoken, somewhat akin to Lou Reed. There is no more wrenching and honest a periscope directly into a soul's internal monologue as the stream-of-conscious "Walk it Back." On the tense title-track, Berninger croaks out in jaded melancholy but, as always, never allows himself to break. Stripped down electronic-tinged rock with plenty of space for the sounds to breathe, "Sleep Well Beast" is the latest top-notch offering by a band that for all their acclaim still flies under the radar. But then, given the unflinching introspection of their music and the time and repeated listens required to truly unravel it, they could hardly fly any other way.
4. Margo Price 'All American Made'
Following her outstanding 2016 debut "Midwestern Farmer's Daughter," Margo Price digs even deeper into the heartland on "All American Made." Although generally defined as a country singer, Price incorporates a variety of flavors into her gritty and deeply felt studies of life and love. It's not all weepy maudlin ballads, though, with rave-ups like the opener "Don't Say It" channeling the dynamic charm of Dolly Parton with the steely-eyed vision of the great Lucinda Williams. Price's voice is fresh and disarming and there is always more there than first meets the ear. "All American Made" is loaded with piercing observations on modern life despite its sometimes breezy nature. Price is a first-rate songwriter, able to express poignancy while still tappin' the toes when she feels like it.
3. Thundercat 'Drunk'
Stephen Bruner aka Thundercat showcases his razor-sharp wit, dextrous musical versatility and boundless imagination on "Drunk," his third and by far most accomplished release. "Drunk" is a bracing marriage of hip-hop, jazz and electronic elements expressed through song snippets with soulful melodies sparked with sonic flourishes in every direction. Some of his collaborators include A-listers with whom he's worked before (Kendrick Lamar, Flying Lotus and Kamasi Washington to name a few) and some less expected names (Michael McDonald and Kenny Loggins). "Drunk" is bold but not overbearing, colorful but dreamy and pleasantly chill. It's an epic 23-track midnight mix-tape cobbled together by an intuitively talented artist that will indeed have the listener drunk on sound by the end.
2. Algiers 'The Underside of Power'
It's a tall order to follow a debut as good as Algiers' self-titled 2015 release, but their second album "The Underside of Power" is a steamroller of human angst, raging against the machine not in slogans or cliches but with viscerally gripping and emotionally charged electro-rock assaults. Complex, tense and defiantly in-your-face, Algiers doesn't hold back for a second. Fortunately they have the boundless talent and innovation to present their dystopian visions with enough manic energy to reach out of the speakers and physically shake the listener into action. "The Underside of Power" is audacious and experimental electronic rock that sounds exactly like much of 2017 has felt. Now do something.  
1. LCD Soundsystem 'American Dream'
"American Dream" is a very different album than Algiers' but it sounds like 2017 as well, albeit different aspects through a different prism. James Murphy had famously retired LCD Soundsystem, concluding with an epic farewell show turned into a box set, so his announcement of a return was met with some degree of cynicism. "American Dream" shows conclusively that Murphy made the right decision, as it may be his finest work yet.
Murphy operates via long electronic grooves that echo the hypnotic rhythms of Talking Heads' "Remain in Light" while seamlessly appropriating from sources like alt-rock and disco, among others. "American Dream" is a sharp collection of sardonic pop, alternately melancholy and defiant. Murphy presents a different kind of struggle: the bubbling uncertainty that dominates our reality, the pent-up anger riddled with a gnawing fear that perhaps things really are too late and the bad guys have won.
Lest that sound like a misery we can achieve simply by reading the day's news, Murphy sets the percolating unease to a consistently thrilling and inventive feast for the ears, surprising and ingeniously constructed. Listening to "American Dream" feels like waking up and wanting to believe you are indeed reading fake news, but the pulsing anxiety building in the pit of your stomach tells you that it's all very real. It's no American dream at all.
We are untethered in a strange land with no maps to find our way, but hey, at least we can shuffle off into oblivion jamming to funky airtight grooves that wrap around our brains as tightly as Paul Ryan's chokehold on the throats of the 99 percent.