America's Leading Gay News Source
Business Directory
Physician's Rejuvenation Centers in DC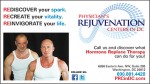 6856 Eastern Ave, Suite 205
We are a wellness and longevity clinic that specializes in preventative medicine, nutritional supplements, and hormone therapy for men and women seeking to enhance their well-being and quality of life. With our guidance, a client can lose weight, gain muscle, raise energy levels and improve their sex drive.
Send Message to listing owner
Physician's Rejuvenation Centers in DC
© Copyright Brown, Naff, Pitts Omnimedia, Inc. 2014. All rights reserved.