America's Leading Gay News Source
Business Directory
Tsaknis Dental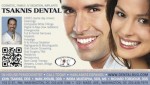 1221 Massachusetts Ave NW
We offer a wide range of dental services, including preventive, cosmetic, restorative dentistry and reconstructive dentistry. We pride ourselves on our patient-centered practice. We do everything possible to make dental visits pleasant and positive experiences for our patients. We also provide a GREEN DENTAL environment, by being paperless, using digital X-rays and even taking our notes and charting using computers.We continually strive to earn the loyalty of our patients.
Send Message to listing owner
Tsaknis Dental
© Copyright Brown, Naff, Pitts Omnimedia, Inc. 2014. All rights reserved.