America's Leading Gay News Source
Business Directory
Joseph P. Yalch, Jr., DDS, General Dentistry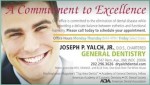 1747 Pennsylvania Ave, NW
Our primary concern is the preservation of your oral health. We believe in utilizing all appropriate methods to prevent dental disease with the objective of saving your natural dentition. In addition, we strive to provide you with the best possible function and esthetics. To that end, we may recommend various procedures which will help you achieve your optimal oral health.

Send Message to listing owner
Joseph P. Yalch, Jr., DDS, General Dentistry
© Copyright Brown, Naff, Pitts Omnimedia, Inc. 2014. All rights reserved.