America's Leading Gay News Source
17th Street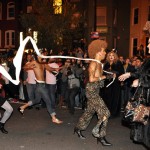 Hoards of spectators crowded the sidewalks of 17th Street to watch the event.
November 1, 2012 |
Comments Off

The 25th annual High Heel Race on Tuesday drew thousands of spectators along Frank Kameny Way on 17th Street to see the elaborate costumes and flurry of activity that has come to be a staple event in D.C.
October 26, 2011 |
Comments Off
© Copyright Brown, Naff, Pitts Omnimedia, Inc. 2013. All rights reserved.