America's Leading Gay News Source
Campaign for All DC Families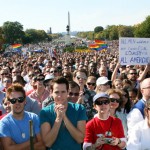 Racing toward full equality in record time
February 18, 2014 |
3 Comments

Congressional Del. Eleanor Holmes Norton believes the approval by a House committee of an amendment to delay or kill the repeal of the "Don't Ask, Don't Tell" law may be a predictor of efforts by House Republicans to target the District of Columbia same-sex marriage equality law.
May 26, 2011 |
2 Comments
Gay Catholics honor Catania, Whitman-Walker in the black and more
February 10, 2011 |
Comments Off
© Copyright Brown, Naff, Pitts Omnimedia, Inc. 2014. All rights reserved.