America's Leading Gay News Source
Catholics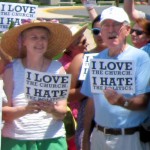 Dozens of gay Catholics and others protested end of 'Fortnight for Freedom' campaign in D.C.
July 5, 2012 |
6 Comments

GOP pandering to the far right will ensure Obama's re-election
February 15, 2012 |
4 Comments

Wash. Senate votes on marriage bill, anti-gay lawmaker refused service in a restaurant, Newark mayor slams Gov. Christie, and more
February 2, 2012 |
1 Comment
© Copyright Brown, Naff, Pitts Omnimedia, Inc. 2014. All rights reserved.