America's Leading Gay News Source
Charles Barkley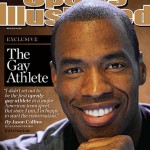 How will fans, athletes, the public treat Jason Collins?
May 1, 2013 |
1 Comment

The best celeb quips and barbs from 2011 with Cher, Betty White, k.d. lang, Sean Maher, Wanda Sykes and more
December 30, 2011 |
Comments Off
© Copyright Brown, Naff, Pitts Omnimedia, Inc. 2014. All rights reserved.