America's Leading Gay News Source
Gay and Lesbian Advocates and Defenders
Lawsuit challenges ban on marriage recognition
January 30, 2014 |
1 Comment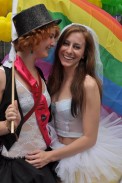 NY Clerks prepare for marriage equality there, San Diego LGBT bookstore closed by fire, six Atlanta officers fired over 2009 Eagle raid.
July 14, 2011 |
Comments Off
After failing to pass a marriage bill earlier this year, Rhode Island's legislature yesterday passed a Civil Unions bill that now awaits the Governor's signature; but some LGBT groups are calling for a veto.
June 30, 2011 |
1 Comment
© Copyright Brown, Naff, Pitts Omnimedia, Inc. 2014. All rights reserved.