America's Leading Gay News Source
Gwendolyn Crump
A gay Virginia man has accused Second District D.C. police officials of losing an $8,000 diamond ring he says they took from him at the time they placed him in a cell following his July 21 arrest on an assault charge.
July 28, 2011 |
10 Comments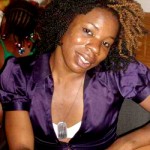 Trans woman shot to death in Northeast D.C.
July 21, 2011 |
5 Comments
© Copyright Brown, Naff, Pitts Omnimedia, Inc. 2013. All rights reserved.