America's Leading Gay News Source
Jim Carroll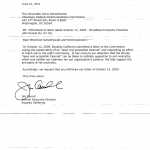 Interim Executive Director Jim Carroll officially retracts Equality California's October 2009 letter to the FCC that seemed to support an anit-net neutrality stance.
June 22, 2011 |
Comments Off

Board member criticized in flap once worked for anti-gay Heritage Foundation
June 22, 2011 |
6 Comments

GOP candidate would be first member of Congress in same-sex marriage
May 5, 2011 |
10 Comments
© Copyright Brown, Naff, Pitts Omnimedia, Inc. 2014. All rights reserved.