America's Leading Gay News Source
Johnny Wier
Olympic figure skater Johnny Weir was in Washington to celebrate Pride at Macy's Metro Center location. Washington Blade caught up with Johnny outside on his recent book, returning to the Olympics and Bethenny Frankel vs. Sarah Palin.
June 10, 2011 |
3 Comments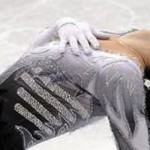 Long-assumed gay Olympian discusses personal life in new memoir
January 8, 2011 |
1 Comment
© Copyright Brown, Naff, Pitts Omnimedia, Inc. 2014. All rights reserved.