America's Leading Gay News Source
North American Gay Amateur Athletic Alliance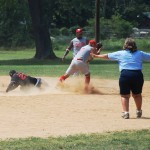 The LGBT softball championship games concluded on Aug. 31 and participants flocked to the closing ceremonies.
September 3, 2013 |
Comments Off
The North American Gay Amateur Athletic Alliance is preparing for this summer's Gay Softball World Series to be held in the District
June 19, 2013 |
Comments Off
© Copyright Brown, Naff, Pitts Omnimedia, Inc. 2014. All rights reserved.