America's Leading Gay News Source
Seattle Times
Zac Efron knows he'll be gay someday, San Fran. may ban public cock rings, Seattle Times all in for gay marriage, win your next debate & more!
September 17, 2012 |
2 Comments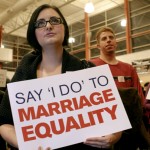 Two pieces of LGBT-health-related news out of Chicago, and surprising results from a North Carolina same-sex marriage poll
April 5, 2012 |
Comments Off
© Copyright Brown, Naff, Pitts Omnimedia, Inc. 2014. All rights reserved.