America's Leading Gay News Source
Studio Santalla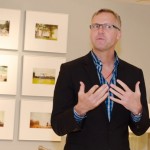 Randy Fisher of the American Society of Interior Designers served as guest speaker of the Mitchell Gold + Bob Williams event.
August 25, 2013 |
Comments Off
Gay Georgetown designer says homes should be efficient and calming
April 8, 2010 |
1 Comment
© Copyright Brown, Naff, Pitts Omnimedia, Inc. 2014. All rights reserved.