Win Tickets to Tiresia's Tits!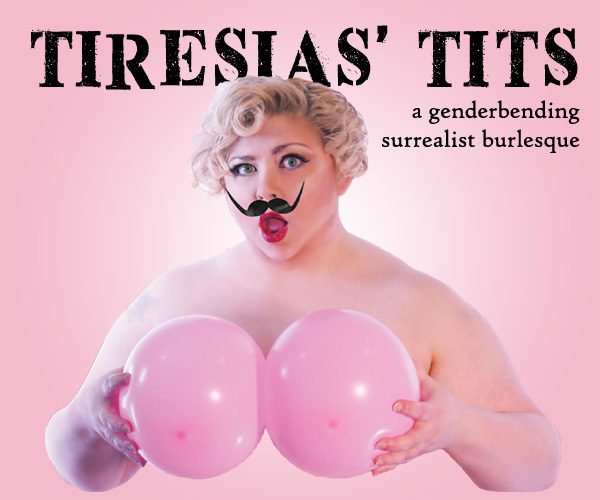 Win Tickets to Tiresia's Tits – A Capital Fringe Play
Therese, a white feminist, rages against the patriarchal repression of domestic life with her bacon-obsessed hipster husband Mari. Spurred by a spontaneous transformation into the masculine Tiresias, she takes to the streets to lead a women's uprising against injustice and childbirth. Meanwhile, Mari is caught up in the grand schemes of a self-narrating detective and a would-be reality TV mogul when he decides to take on homemaking duties and has babies – 40,049 of them—while unwittingly assisting in the investigation of a pair of buffoonish Beltway politicos who can't stop killing each other. Social Media presides and #hashtags over all. Sex, satire, and Social Media sizzle with burlesque and variety acts in this surrealist comedy of gender-bending and gerrymandering, a wildly absurd modern adaptation of the 1916 surrealist farce Les Mamelles de Tiresias by Apollinaire.
 Lang – Atlas Performing Arts Center, 1333 H Street NE
Dates/Times (Contest winner can choose any one): 
Thursday, July 13th at 9:15 PM
Sunday, July 16th at 2:45 PM
Tuesday, July 18th at 5:15 PM
Friday, July 21st at 8:15 PM
Saturday, July 22nd at 7 PM