Silver screen sirens
Gay themes at the multiplex still sparse but more abundant than previous seasons
A rare lesbian-themed dramedy with A-list stars is still playing at the AFI Silver, the staggeringly delayed gay Jim Carrey comedy looks like it will finally see a U.S. theatrical release before year's end and Reel Affirmations is back on, albeit for just a weekend, for October. Such are the high points of the fall season locally for LGBT movies.
Local movie lovers who haven't seen "The Kids Are All Right," which opened in the U.S. on July 30, still have a chance as it plays through Sept. 23 at the AFI Silver in Silver Spring, Md. GLAAD calls it the "largest release ever for a mainstream film about lesbians" and it's on track to be one of the highest performing indie films of the year. It made almost $5 million in its first three weekends of limited release.
"All Right" stars Annette Bening and Julianne Moore as a longtime couple who began a family through donor insemination with each bearing a child. As teens, the couple's offspring track down their donor (Mark Ruffalo) without telling their mothers. The film deals with how the family copes when he enters their lives. Some balked at the brief portrayal of lesbian sexuality in favor of a racier scene between Moore and Ruffalo but most gay blogger action reviewed the film, from lesbian director Lisa Cholodenko, favorably. Go here for show times.
Deadline Hollywood has announced that the gay-themed indie film "I Love You Phillip Morris" will finally have a U.S. theatrical run in December. Directed by Alejandro Gonzalez, the true story-based move follows conman Steven Jay Russell (Jim Carrey) who falls in love with his prison cell mate Phillip Morris (Ewan McGregor) and following Morris' prison release, tries one outlandish escape attempt after another to be with his partner outside prison walls.
No word on a D.C. run yet, but the film is slated for a Dec. 3 U.S. opening. It premiered at the Sundance Film Festival last year and was picked up by Consolidated Pictures Group which planned to open the film in February. That release date was scratched as were others in March and April. It grossed about $17 million abroad.
Other mainstream movies of LGBT interest include:
*"Howl" which opens in limited release on Sept. 24. This biopic stars James Franco as bisexual poet Allen Ginsberg and focuses its drama on the obscenity trial the beat writer faced after the publication of his famous poem "Howl."
* "You Again" has no LGBT focus but features several gay favorites such as Sigourney Weaver, Jamie Lee Curtis, Kristin Chenoweth and Betty White. This Andy Frickman-directed comedy follows the story of a young woman who realizes her brother is about to marry the girl who bullied her in high school. It also opens Sept. 24.
* Also in that category is another Tyler Perry-helmed African-American chick flick called "For Colored Girls" that stars Janet Jackson, Mariah Carey, Whoopi Goldberg, Phylicia Rashad, Macy Gray and others. It's being dubbed "a drama about existence from the perspective of 20 nameless black females." It opens Nov. 5.
* Gay actor Rupert Everett will be seen in "Wild Target," which opens in limited release Nov. 5 and tells the story of a con artist pursued by a top assassin after scamming a gangster.
* Cher returns to the screen for her first movie in seven years with "Burlesque," a musical drama that tells the tale of a young singer (Christina Aguilera) who is hired as a cocktail waitress at a club that does musical revues by the star (Cher). Bi actor Alan Cumming also stars. It opens Nov. 24.
* "Black Swan," which appears to have "Flashdance"-like gay sensibility written all over it, opens Dec. 1 and tells the story of Nina (Natalie Portman), a ballerina in a New York City ballet company who competes for the lead in "Swan Lake." It showed at Telluride this week and was described as a gruesomely visceral portrayal of the lengths one will go to suffer for one's art.
* Sadly the movie-making glory days of uber-diva Barbra Streisand appear to be long gone. Die-hards mourning the era of "Hello Dolly!" or "Yentl" will have to console themselves with "Little Fockers," the latest in the "Meet the Parents" hit franchise that will find Babs recreating her supporting role of mother-in-law Roz. It opens Dec. 22 and stars Ben Stiller and Robert De Niro.
Reel Affirmations is moving forward but its festival this October will be just a single weekend and showcase just a handful of LGBT-themed films. Keeping reading the Blade for more information in the weeks ahead.
There are a few other gay blips on local fall film calendars. Trans-themed camp classic "The Rocky Horror Picture Show" screens at midnight tonight and Saturday at D.C.'s E Street Landmark Cinema. John Waters' classic "Pink Flamingos" is Oct. 1 and 2, also at midnight.
The D.C. Shorts Film Festival is running now through Thursday. "Gayby" is a 14-minute comedy about a single woman who convinces her gay best friend to help her conceive the old-fashioned way. "The Queen" is an 8-minute short that finds a nerdy boy's fantasies come undone on the eve of prom while working at his family's dry cleaning business. Go here for show times.
And the AFI Silver has a rare treat planned for 7:30 p.m. on Oct. 29 — a screening of a 1923 silent Russian adaptation of gay writer Oscar Wilde's legendary biblical saga "Salome" that will feature live musical accompaniment. Go here for details.
'Fire Island' delivers pride, prejudice, and a whole lot more
Ambitious opus a cut above usual efforts of mainstream queer cinema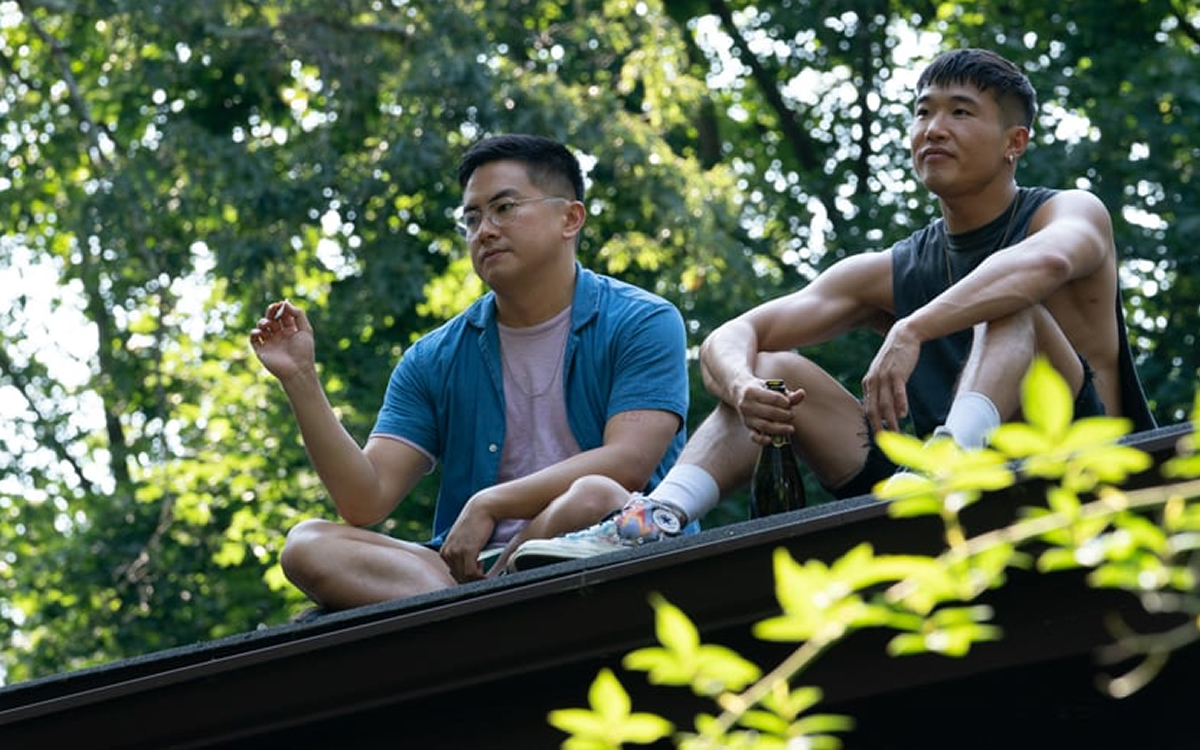 There's a reason why the work of Jane Austen strikes such a chord with members of the queer community.
The 19th-century author – a woman in an age when literature was overwhelmingly the province of men – is still renowned for her sharp observations about the manners, mores, and social hierarchies of her age, and the double-edged style that blended her satirical commentary with full-hearted romanticism. These qualities have an inherent relevance for anyone who lives in a society that relies on codified assumptions about the "natural order" of things to keep them forever on the outside, and it's hard to imagine a description that sounds more like the experience of being queer than that.
That's why "Fire Island" – the highly anticipated film from screenwriter/star Joel Kim Booster and director Andrew Ahn, which begins streaming on Hulu June 3 – is so much more than just another rom-com. Loosely adapted from Austen's "Pride and Prejudice," it finally gives the millions of queer fans who adore Austen's shrewd, bemusing, and ultimately breathlessly romantic saga what they may not have even realized they've always wanted – an unabashedly, unapologetically gay version of the story that's as inclusive and heartfelt as we deserve.
In Booster's updated vision of the novel, the rural countryside of Regency England is exchanged for the titular modern gay mecca, and the Bennet sisters become a band of queer friends vacationing there at a house owned by their lesbian "mama" Erin (Margaret Cho). At the center is Noah (Booster), whose plans to enjoy a week of promiscuous sex in The Pines are put on hold when he vows to use his savvy for gay social and sexual politics to help his bestie Howie (Bowen Yang) get laid first. At first, that mission seems all but accomplished when Howie attracts the attention of sweet and handsome Charlie (James Scully), who is on the island with his own group of friends; but thanks to the intricate interplay of classism and social etiquette that dictates the "rules of engagement" by which they must play, complications soon get in the way. Not least among these obstacles is the interference of Charlie's aloof buddy Will (Conrad Ricamora), whose dour attitude and presumed snobbishness spark an intense feeling of disdain from Noah – though it's not long before another kind of intense feeling is developing between them faster than you can say "Mr. Darcy."
Conceptually, there are a lot of reasons why this book-to-movie translation works. The importance of family to the plot easily extends to families that are "chosen," and it's probably unnecessary to say that the author's take on the social pretensions of her own time and community fits like a glove into a story about contemporary gay culture. The fortunes of the characters here are no less governed by class distinctions and economic privilege, and the oft-inadvertent hypocrisy that inevitably reveals itself as they try to make the "right" connections with each other is just as blatant; given the fact that four of the principal players are Asian, and numerous others are people of color, ethnic identity takes its place alongside financial status and comparative "hotness" as one of the many shallow and discriminatory factors that drive wedges between members of what might otherwise be a united community – all themes that should strike a chord for modern LGBTQ viewers.
"Fire Island" goes beyond simply being a good adaptation, however. Booster's inventive and erudite script – and for that matter the film itself, thanks to Ahn's fluid and versatile direction, which flows confidently and effortlessly between the observational and immersive as needed to deliver an elevated aesthetic of pure cinema – is an impressive and wholly original work of art in itself.
While it hits the main points of the original, it's not slavish to Austen's plot, and instead creatively conflates, reinterprets, and re-imagines situations and characters to bring its observations to a modern audience – particularly in the way it transposes the financial disparities of Austen's world into the modern day by weaving the language and behavior of varying class and privilege into almost everything that happens. It also cannily picks up the pace; while the novel takes place across several seasons, events in "Fire Island" are compressed to a matter of days – something perfectly feasible in the faster-paced world of 2022, and especially in a geographic setting where, as multiple characters point out, "time seems to work differently."
While it gives plenty of nods to its 19th-century literary origins along the way, it keeps itself firmly rooted in the "new, now, next" present with a barrage of pop references, a parade of right-on-target queer fashion, and a dizzying array of infectiously familiar contemporary music. Best of all, perhaps, it's genuinely funny, and peppers its dialogue with cheekily self-referential comedy – Yang's character even has some jokes about "Saturday Night Live" – in a way that subtly invites us to feel like a member of this fun-loving group ourselves. None of these things feel like compromises, nor do they pander to the age of the short attention span; instead, they are expressions of modern queer identity that feel as much like celebration as they do satire.
Much of this arises from the way it treats its characters. The movie never judges them – even when they are judging each other – and presents them with the kind of humanistic compassion that can sometimes only be recognized by reading between the lines. For this, the talented cast deserves endless kudos.
Booster and Yang, close friends in real life as well as on the screen, give star-making individual turns while also presenting an onscreen "buddy" chemistry that gives the movie a giant heart and keeps it from ever becoming cynical. As their romantic counterparts, Ricamora (who already proved his chops on "How to Get Away With Murder"), enters full leading man bloom with his thoughtful, less-is-more performance, while Scully makes his too-good-to-be-true rich white boy character utterly believable from start to finish. Cho gives us the ultimate "earth mother" every gay boy wishes they had, while representing the grounding presence of a whole generation of queer elders who gained wisdom living messy lives even before there was such a thing as Grindr; and Nick Adams deserves mention for being so quintessentially hateful as the kind of "mean girl" gay snob we all know and sometimes wish we didn't.
All these qualities and more make Booster and Ahn's ambitious opus a cut above the usual efforts of mainstream cinema to communicate with queer audiences – an auspicious distinction for the first gay romance from a major Hollywood studio. How straight viewers respond to it is yet to be seen – but for at least one queer reviewer, watching it conjured tears of joy, not because it resonates so deeply with authentic lived experience (though it certainly does) but simply because it exists. Here, at last, is the "gay rom-com" we've been waiting for, one that is so comfortable and genuine in its own skin that it's free to rise above both parts of that label to become simply a great movie.
We'd like to think Jane Austen would be proud.
Join Joel Kim Booster on 'Fire Island' this summer
Gay rom com features queer Asian cast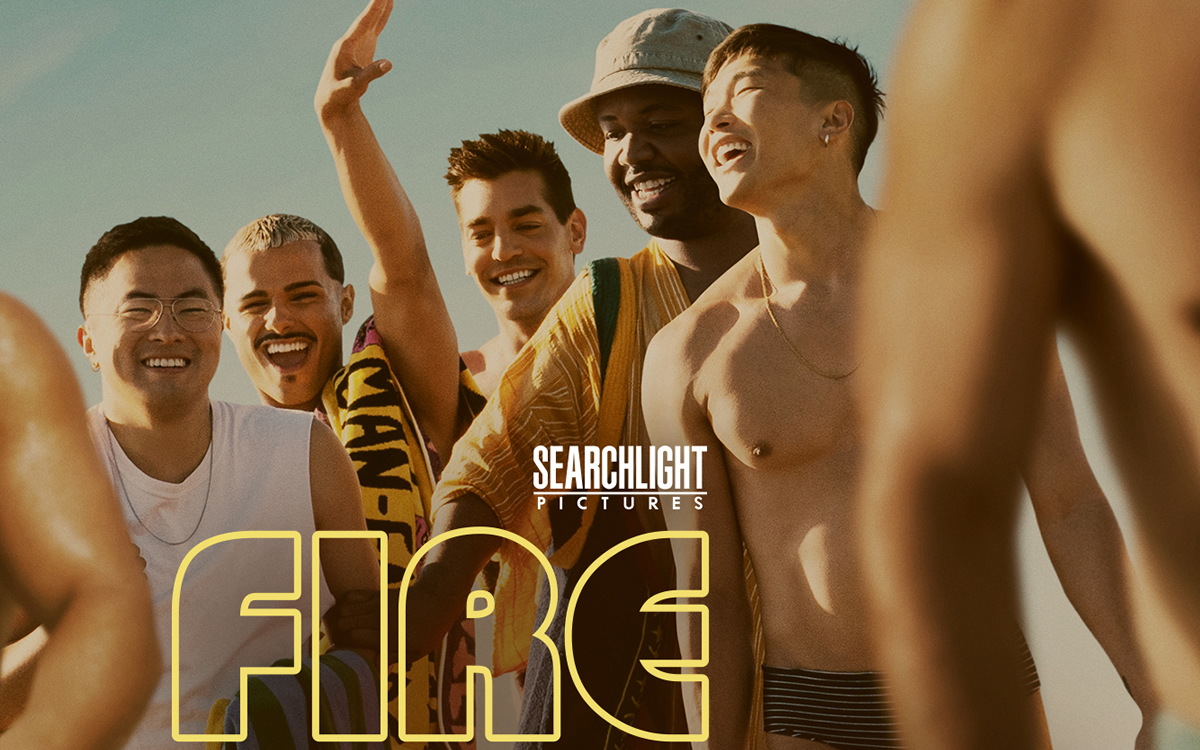 It would be an understandable mistake to see Joel Kim Booster on one of the two "Out Traveler" magazine covers he's gracing this month and assume he was just another sexy fashion model, but the 34-year-old Korean-American comedian is not having a moment in the blazing sun of queer pop culture just because of his undeniable talent for rocking a Speedo.
He is actually in the middle of the publicity push for the upcoming film "Fire Island," which he wrote and in which he co-stars with (among others) close friend Bowen Yang and comedy legend Margaret Cho, and which begins screening exclusively on the Hulu streaming service just in time for Pride month.
Directed by Andrew Ahn ("Spa Night"), it's a movie that's generating a lot of buzz, partly because it's the first predominantly queer film to be backed by a major movie studio (Disney, through its Searchlight Pictures division). We've been burned too many times not to be skeptical about such a project, but anyone already familiar with Booster's work will undoubtedly tell you it's not likely to be another watered-down, safe-for-the-mainstream offering designed to check off boxes on the diversity agenda. Since he first made a splash with an appearance on "Conan" in 2016, he has gained a following among queer and straight audiences alike with his unapologetically gay, unabashedly sex-positive comedy, leading to what some might call a meteoric rise to the brink of superstardom through an acclaimed stand-up career, his roles on TV in shows like the short-lived sitcom "Sunnyside" (on which he was a regular), "Shrill," and "The Week Of" (as well as his writing for shows like "Billy on the Street" and "The Other Two"), and his popular podcasts ("Urgent Care with Joel Kim Booster + Mitra Jouhari" and "The Joy Fuck Club").
Now he's poised to become a movie star with "Fire Island," a gay romantic comedy set in the titular vacation retreat that dares not only to feature a cast made up entirely of queer characters, but doubles down by putting the focus on queer characters who also happen to be Asian. To top it all off, it gives Booster a chance to show off his literate side with a story – which concerns a group of gay best friends out for sexual adventure, and possibly even romance, on what might be their last trip to the iconic gay getaway – adapted from no less esteemed a literary source than Jane Austen's "Pride and Prejudice."
The Blade was fortunate enough to chat with Booster in the middle of this very high-pressure month before his feature film debut, and our conversation was informed by the kind of erudite and compassionate intelligence that has marked the young comedian's career from the start.
BLADE: In your comedy, you've drawn a lot of inspiration from being raised as a Korean adoptee by white American parents in a deeply Christian midwestern community. Does that experience figure into the movie, too?
BOOSTER: Of course! As a transnational adoptee, my entire life I've been fighting against this nagging feeling of not quite fitting in – and that's whether I'm around white people, or Asian people, or even some gay people. It's tough, and it's been such a paramount part of my life to find people who make me feel seen and accepted and to keep them close, so it felt really important for the theme of chosen family to stay in the forefront when I was making this movie. As much as it's a "rom com," it's also about friendship – about relationships with people who, like I say in the movie, "fill in the gaps."
BLADE: How did you hit on using Jane Austen as a source?
BOOSTER: It was really a lucky accident. I brought "Pride and Prejudice" with me on the first trip Bowen and I ever took to Fire Island. I would be lying there on the beach reading it and thinking, "It's amazing how the things she was writing about are so relevant to what we're experiencing on this island right now." It was kinda wild, and it started out as threat, a joke – I would keep saying, 'I can't wait to write an all-gay adaptation of 'Pride and Prejudice' set on Fire Island,' and people would boo and throw things at me. But after that I would always bring an Austen book with me to read on the island, because it felt special to me. There was just something so prescient about what she wrote, and about her observations on class, especially reading it in this place where we had sort of created our own class system, as gay men.
BLADE: When did it stop being a joke?
BOOSTER: Actually, my agent suggested that I should write it, because I was in between projects. I just had a pilot that was passed on by Comedy Central, I was depressed, I had nothing to do – so I ended up writing it as a half-hour pilot script. But nobody wanted it until Quibi [the short-form entertainment platform that launched and folded in 2020 after failing to meet projected subscription levels]. Say what you will about them, but they really invested a lot of money and time into new and young voices, and they took a lot of chances. They took a chance on me, and when they folded I had this script that I could point to which I had written and developed with them. This movie was a tough pitch to sell on just a log line, but I had this finished project, this complicated piece of work to show people, that was much more intricate than I think "Gay 'Pride and Prejudice'" would maybe lead people to believe.
BLADE: Your movie is just one of several big queer titles on deck for 2022, including Billy Eichner's rom com, "Bros." How do you feel about that?
BOOSTER: Honestly, it really takes some of the pressure off. When we get, like, one gay movie a year, a lot of attention and scrutiny gets put on that movie and it's expected to be everything to everyone in our community. And our community is huge, and it's diverse, and there are so many stories that aren't being told. I'm so glad Billy's movie is coming out as well, he was my first comedy boss, and I'm really happy that people in our community are going to have two big gay rom coms to choose from.
BLADE: We haven't seen "Bros" yet, but we've seen "Fire Island." There's a review embargo [until May 23], but I think it's safe to say nobody is going to boo or throw things at you. Do you feel any sense of competition about it?
BOOSTER: My hope is that people love both, but it's nice that if somebody goes to see my movie and says, 'That's not for me, I don't see myself there,' then a couple months later they'll see Billy's and they'll have another shot at it. And I hope both of our movies are successful enough that they create a million clones. I hope it's just the beginning.
"Fire Island," which also stars Conrad Ricamora ("How to Get Away With Murder") and a host of other familiar queer performers, premieres on Hulu on June 3. 
'Everything Everywhere' does the multiverse right
Quirky film boosted by Jamie Lee Curtis's 'feud' with Marvel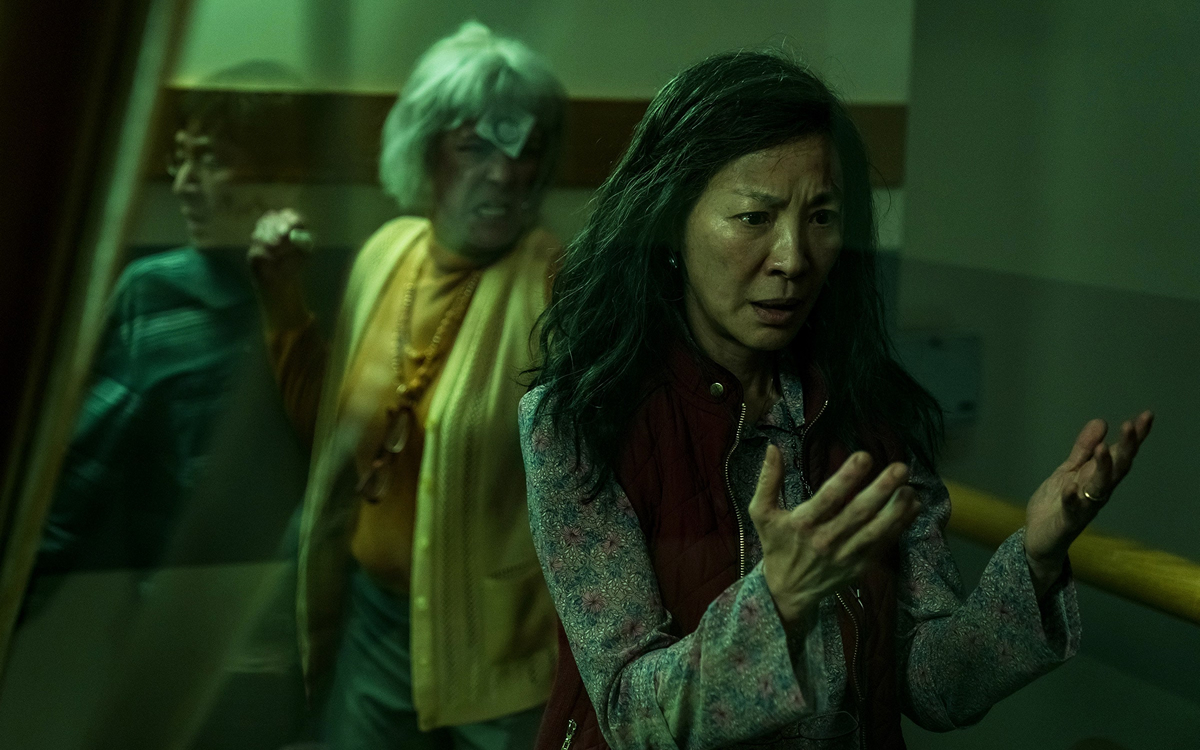 Last weekend, the Marvel Studios blockbuster machine unleashed its latest piece of cinematic eye-and-brain candy, "Dr. Strange and the Multiverse of Madness," in which the titular hero traverses multiple versions of reality to save the universe from chaos and destruction.
Marvel, of course, didn't invent the concept of the "multiverse" – in fact, they're not even the first ones to release a movie about it this year; another multiverse film beat "Dr. Strange" into theaters by nearly six weeks – and it's been enjoying a slow, word-of-mouth-fueled juggernaut of box office success ever since.
That movie, a genre-bending indie production titled "Everything Everywhere All at Once," caused a bemusing stir on social media last week, when Jamie Lee Curtis (one of its stars) launched a tongue-in-cheek feud with "Dr. Strange" in a string of Instagram posts. It was all in fun, but one couldn't help recognizing a sense of authentic pride when she teased, among other things, that her film "out marvels any Marvel movie they put out there."
Perspective is everything, of course, but she's not wrong. While Marvel fans will undoubtedly find "Dr. Strange" a satisfying trip into the multiverse and back, the rest of us would do well to seek out "Everything Everywhere All at Once" while it's still on the big screen – and yes, that even applies to people who couldn't care less about any universe but this one.
Conceived, written and directed by Dan Kwan and Daniel Scheinert (collectively known as "Daniels" since their early career directing music videos), it's a fast-paced wild ride that begins in one of the most mundane realities imaginable – the life of a middle-aged Chinese-American immigrant named Evelyn (Michelle Yeoh), who operates a laundromat with her mild-mannered husband Waymond (Ke Huy Quan), endures strained relationships with her elderly father Gong Gong (James Hong) and her lesbian Gen Z daughter Joy (Stephanie Hsu), and faces a tax audit – conducted by a humorless and hostile IRS agent (Curtis) – which could bankrupt the family business. This stressful quotidian mix is suddenly disrupted when a visitor appears, claiming to be from another universe, and tells her that a powerful evil being has undertaken a sinister plot that threatens to destroy not just his universe and her universe, but all the universes. Further, he informs her that she is the only person in ANY universe who has a chance of defeating this malevolent force in battle. Needless to say, she is hesitant to believe him – but it's not long before she is leaping from timeline to timeline as an unlikely inter-dimensional warrior on a mission to save existence itself from annihilation.
At the risk of making a spoiler-ish statement, that mission turns out to be as absurd as it is apocalyptic. The Daniels' film – which had been baking in their heads since 2010 – has no desire to ply its audiences with high-tech wizard battles in outer space or any of the other tropes of the sci-fi adventures it simultaneously spoofs and salutes; instead, it draws on a long tradition of existentialist thinking – something that, for obvious reasons, goes hand-in-hand with stories about existing in a reality full of infinite possibilities that all lead to oblivion – to accentuate the ridiculous. One of the worlds we visit, for example, is populated by human beings who have hot dogs for fingers, and that's just the most blatant of the many delicious absurdities the film serves up. It makes for a lot of laughs, but it nevertheless sets us to ponder the implications of infinite possibility we concoct within our own imaginations.
To that end, "Everything" balances its quirky, surrealist humor by showing us a few more plausible universes, as well. To gain the skills necessary to defeat her nemesis, Evelyn must visit other versions of her life; she experiences herself as a movie star in martial arts films, or a skilled hibachi chef, or a world-class opera singer, and visiting these realities drives home the point that one small decision – like choosing whether to marry someone or not – can divert our path toward a vastly different lifetime. We see the power of the past to shape our future, for better or for worse, through empowerment or regret, and the power in ourselves to change a multitude of worlds with a single choice. Inevitably, too, we see the nihilistic despair that comes of recognizing one's insignificance in the face of a vast and seemingly uncaring universe; what's the point of living in a world of infinite potential outcomes if none of those outcomes matter?
If that all sounds a little too philosophical for your tastes, don't worry; Kwan and Scheinert pull off the rare feat of encompassing these speculative issues within a story that is not only relatable, but wildly entertaining – and a lot of it has to do with the cast of avengers they've assembled.
First and foremost is Yeoh, whose status as a martial arts screen icon is just one of the strengths she brings to the table; her performance is a career-topping triumph in which she commits to making the beleaguered, unremarkable Evelyn palpably and painfully human even when immersed in the most outrageous of circumstances, and in the process gives us the kick-ass heroine for the ages we never knew we needed. As her put-upon husband, Quan is an invaluable asset; the former child actor (who appeared in "Indiana Jones and the Temple of Doom" and "The Goonies" before moving behind the camera for a career as a sought-after stunt coordinator) brings his own history to the mix, too, and brings us an entire array of Waymonds, all manifesting different flavors of his irresistible underdog charm. Hsu contains multitudes as Joy – no spoilers, but her troubled relationship with her mom is not limited to this universe – and screen veteran Hong is full of surprises as Gong Gong. Finally, Curtis uses the various iterations of her frumpy tax accountant to turn her supporting role into a scene-stealing audience favorite.
The fun these performers clearly have with their roles goes a long way toward keeping things light, no small accomplishment in a brainy cinematic excursion like this one. More importantly, they seem to fully understand and embrace what this madcap sci-fi comedy caper is really all about – and that makes all the difference, because "Everything Everywhere All at Once" may be an action-packed adventure dealing in the same epic conceptual scale as "Dr. Strange," but it's less concerned with titanic battles and cosmic catastrophes than it is with the very small, very ordinary concerns of everyday human life. Sure, it exploits the multiverse as a plot device to enable its imaginative and far-fetched flights of fancy, and it does so with relish, but it ultimately uses it to remind us – gently, and without laying it on too thick – that we have the power to change our reality with every choice we make.
The fact that it delivers that message in a story that puts Asian and queer characters front-and-center is just another great reason to call this disarmingly oddball movie the brightest gem of the season.
Well, that and the hot dog fingers.