Latter-day doubts?
Local LDS member recalls suicide attempt, but remains in Mormon church

David Baker is living what he calls the "ultimate paradox."
Like many 21-year-old gays in the D.C. area, Baker spent last Saturday at Town as he does many weekends. A drag show is taking place downstairs, but he and his friends went to the upper level to dance to the latest remixes.
"I started going clubbing shortly after I came out," he said. "But I don't go all that regularly — probably once a month."
But on Sunday, the situation is different. After donning his best church clothes, the Salt Lake City native who now lives in Rockville, went to a Mormon church in D.C. for a three-hour block of weekly service.
Activities included hearing speakers from within and outside the congregation and scripture discussion. Baker, a University of Utah graduate, is also co-chair of the cultural events committee and helped work to plan social events with other church members.
Baker's presence among his congregation is distinct because he's openly gay in a religion known for its hostility to homosexuality and opposition to same-sex marriage. The Mormon Church earned scorn from many in the LGBT community in 2008 for taking a lead role in backing Proposition 8 in California, which ended same-sex marriage there.
"It's the ultimate paradox," Baker said. "It's been a struggle not just in dealing with my sexuality, but in the reactions that I get from church members sometimes or the reactions that I get from the gay community."
Even though he stands out for being gay, Baker said he's able to mingle with other churchgoers and voice his opinion that he's the same as any other Mormon despite his sexual orientation.
"Lots of people tune me out, but I try and approach it from a concept that we are all children of God, that we are sinners and we are all imperfect," he said. "So to judge one sin as being worse than others, and my quote-unquote sin being worse than yours is absurd. And that seems to be a message that people understand."
His path to personal acceptance hasn't been easy. Baker once considered seeking out shock therapy to alter his sexual orientation as well as participation in Evergreen, the Mormon Church's reparative therapy program. Such programs were long ago discredited and repudiated by medical professionals.
"I had come out to my family and a couple of friends and it wasn't so much, 'Oh, dang it, I'm gay,' it was, "OK, I'm gay. I accept it. How does this comport with my faith?" he said. "So, I spent pretty much just every waking hour just poring over scripture, poring over words of prophets, poring over everything I could find on sexuality and religion."
In 2008, Baker attempted to commit suicide by taking an overdose of pills. His roommate found him and took him to a local hospital for treatment.
"I felt like I had to choose which half of me had to die," he said. "And I got to the point that I thought if half of me has to die, and I still won't know the truth, why not just kill all of me and then I can finally know the truth?"
While undergoing treatment, Baker said a psychologist suggested to him there could be a distinction between the word of God and the guidance of the church. His roommate came to visit him and made the same observation in the exact same words.
"It sort of caught in my mind that maybe there's a distinction between what God is saying and what the Prophets and the Apostles are saying," he said. "Maybe these leaders of the church are Mormon and everything they say is not a direct fact from God, but instead tinged with their own personal beliefs, however flawed they might be."
Baker is one of many other gay Mormons in the D.C. area who continue to practice their faith despite the religion's position on homosexuality.
About 60 Mormons or former Mormons are affiliated with the D.C. chapter of Affirmation, a group for LGBT members of the Church of Jesus Christ of Latter-day Saints.
Fred Bowers, Affirmation's D.C. chapter leader, said about one-third of those on his organization's mailing list still identify as Mormons and participate in the Mormon church, although to varying degrees.
"Some people may go only to the church on Sunday and some may be more active with other things the church is doing through the week," Bowers said. "And some may be there active, but they only participate in what they select, but there are a good number that actually do still attend church."
Those who are Mormon and openly gay face challenges in adhering to their faith. For example, Mormons engaged in same-sex relationships aren't permitted to attend special services, such as weddings, in Mormon temples. Those who are sexually active in opposite-sex relationships outside of wedlock or those who consume alcohol are similarly unable to attend.
But Bowers said many LGBT Mormons stick with their faith simply because they truly believe in the church's teachings or because their families have a long history with the religion.
"They've grown up with this." Bowers said. "Just like an Episcopalian or Catholic or what have you, we still believe that. It hasn't changed just because we're gay or lesbian. We still believe in that church and we still believe in the principles of it."
That's the situation for Baker, who said he still considers himself a Mormon because he believes in the Gospel as presented by the church and because "they have the most truth."
"That being said, I don't think that they have it all," he said. "One of the core articles of faith of the church sort of says that blatantly. It says that we believe all that God has revealed isn't all that he'll reveal, and we believe that he'll yet reveal many great important things. So it's very much an ongoing, open canon."
Still, Baker said he's adapted Mormon dogma into his own views of his sexual orientation. He said he doesn't plan to have sex until he finds another man to marry — similar to how many straight Mormons abstain from sex until after they receive their nuptials.
"For me, no sex before marriage means a legal marriage because the church does recognize legal marriages — the traditional kind naturally — that aren't performed in the temple," he said. "And so, in my mind, that same non-temple civil ceremony would be recognized by God.
'Wickedness never was happiness'
The difficulty of being Mormon and openly gay became particularly pronounced last week when a high-ranking leader of the church made anti-gay remarks during the 180th semi-annual general conference in Salt Lake City.
Boyd K. Packer, president of the Quorom of Twelve Apostles, called same-sex attractions "impure and unnatural" and characterized efforts to advance same-sex marriage across the country as attempts to "legalize immorality." Additionally, he suggested people can change their sexual orientation, which can be overcome through prayer.
"We must understand that any persuasion to enter into any relationship that is not in harmony with the principles of the Gospel must be wrong," he said. "In the Book of Mormon, we learn that 'wickedness never was happiness.'"
Packer, who as an apostle is supposed to be delivering words directly from God, made the remarks to a crowd of 20,000 people in attendance and millions more watching the sermon via satellite transmission in churches and homes throughout the world.
For many gay Mormons, the words stung. Baker said he "cringed" as he heard Packer's remarks and left the room where he and others had been viewing the sermon. He then realized he had to watch the entire remarks so he could respond to them later.
"I went back and watched the whole thing, and as I was listening to his words, I just felt frustration and I was very upset by what he was saying because it went against where the church has gone for the last five or 10 years," he said.
Bowers said the remarks were particularly unfortunate in the wake of recent suicides of gay teens who took their lives after they were bullied and harassed and were disruptive to the dialogue that Affirmation had been pursuing with lower-level Mormon leaders "to heal the damage that was done by Prop 8."
"They're working so hard to get some sense of support and everything that we're working to do that, and then this statement comes along that's not very helpful," Bowers said.
Changes were made to the speech in an online version of the remarks published later in the week. Packer's reference to inborn "tendencies" was switched "temptations." A question of "Why would our Heavenly Father do that to anyone?" was removed entirely.
Baker said another noteworthy change was the sermon had been downgraded from the level of revelation to a less stringent guide that Mormon church members would do well to follow.
"Before in the mindset of members of the church, it's been seen as revelation even though it's never been explicitly said as such," Baker said. "To have that downgraded from everyone thinking it's revelation … to actually, no, it's just a guide, is really big."
Kim Farah, an LDS spokesperson, said speakers have the opportunity to make changes to clarify their intent on the Monday following every general conference and the changes made to Packer's sermon were in line with this practice.
"President Packer has simply clarified his intent," she said. "As we have said repeatedly, the Church's position on marriage and family is clear and consistent. It is based on respect and love for all of God's children."
Even with the corrections, Packer's sermon has invoked the ire of the Human Rights Campaign, which pounced on the Mormon leader's remarks.
Joe Solmonese, HRC's president, called the sermon "inaccurate" and "dangerous" and said it could lead to more LGBT suicides similar to those that took place in the last month.
"When a faith leader tells gay people that they are a mistake because God would never have made them that way and they don't deserve love, it sends a very powerful message that violence and/or discrimination against LGBT people is acceptable," Solmonese said. "It also emotionally devastates those who are LGBT or may be struggling with their sexual orientation or gender identity."
HRC launched a petition campaign against Packer for his remarks following his sermon. On Tuesday, the organization delivered to Mormon Church headquarters a petition signed by 150,000 people asking the leader to correct his remarks further.
Fred Sainz, HRC's vice president of communications, said the response to the initiative against Packer is the largest for any petition campaign in the organization's history.
"I think it was the impact of Elder Packer's words," Sainz said. "Any one of those issues would have drawn significant scorn from members of the community and our fair-minded straight allies, but when you lump all of them into one sermon, and it comes from the second-highest ranking official of the Mormon Church, I think it rises to the level where people are going to pay attention and demand change."
Sainz said HRC is seeking a further correction from the Mormon Church because Packer's remarks were "factually and scientifically untrue."
"They're inaccurate," he said. "And so, they owe the factual record a revision to reflect what is true."
Michael Otterson, an LDS spokesperson, responded to HRC's efforts by saying that while the church disagrees with the organization on many issues, they have some "common ground." For example, Otterson said the church denounces the acts of bullying that led to numerous gay suicides in the past month.
"We join our voice with others in unreserved condemnation of acts of cruelty or attempts to belittle or mock any group or individual that is different — whether those differences arise from race, religion, mental challenges, social status, sexual orientation or for any other reason," Otterson said. "Such actions simply have no place in our society."
Otterson maintained the church believes any sexual activity outside of marriage is wrong and marriage should be exclusive to one man and woman. Still, he said these beliefs "should never, ever be used as justification for unkindness."
"The church recognizes that those of its members who are attracted to others of the same sex experience deep emotional, social and physical feelings," he continued. "The church distinguishes between feelings or inclinations on the one hand and behavior on the other. It's not a sin to have feelings, only in yielding to temptation."
HRC's effort to draw attention to Packer's remarks has earned mixed reviews among some gay Mormons. Bowers said HRC's efforts at drawing attention to Packer's remarks has been helpful in moving the church to talk about LGBT Mormons in a more positive way.
"This event was very helpful as they did release a statement," Bowers said. "We'll look forward to probably hopefully some more positive statements, such as the one they made about … no one should be bullied for anything. They were in agreement that everyone had a right to be in a safe space."
But Baker was skeptical about the impact that the 150,000 signatures from outside groups like HRC would have on Mormon leadership because he doubted many of the names were from people within the church.
"I don't think the HRC campaign is going to be that effective in affecting the church, but I definitely think it is proven effective in galvanizing a lot of people for their cause," he said.
Baker also said the HRC campaign is energizing the core following of the church and noted new Facebook groups such as "I Love Boyd K. Packer" have emerged suggesting that the LGBT organization is bullying the church.
"I think that there's going to be a bigger fallout of this from inside the church," Baker said. "And from a member's perspective, it's going to be rally together all the other members and be like, 'Look these people are attacking us. We're being persecuted.'"
Sainz maintained HRC's initiative is "not intended against Mormonism" and said millions of fair-minded Mormons "welcome LGBT people and want to encircle them in love and acceptance."
"We don't take exception to the Mormon religion," Sainz said. "Our issue is with Elder Packer's sermon and it's with the Mormon Church hierarchy's conduct on some of these issues. So that is an important distinction that we make."
A change in the membership core?
As the public campaign between Packer and HRC plays out, a more under the radar effort has also been taking place with LGBT Mormons seeking change within the church — particularly in the wake of the church's role in Prop 8.
On Sept. 19, Marlin Jensen, a general authority of the LDS Church, held a meeting in Oakland, Calif., with about 90 Mormons who reportedly voiced their disappointment over the church's involvement in Prop 8 as well as other positions related to LGBT people.
According to Mormon writer Carol Lynn Pearson, some speakers expressed anger that Prop 8 had given Mormons "a license to hate."
After listening to the stories, Jensen reportedly arose and through tears said, "I know that never in my life will I experience an hour quite like this one" and "to the full extent of my capacity I say that I am sorry." Still, he never said during his remarks that he felt the LDS support for Prop 8 was an error.
The meeting itself, in addition to Jensen's comments, was notable for many in the Mormon faith — particularly in light of the fact that apologies from church leaders are uncommon for any reason.
Baker said he thinks the event is "indicative of more of a change within the membership core."
"The mindset of the membership just sort of realized that, 'Wow, the church has been really rallying around Prop 8, which has been going on for two years,'" Baker said. "A lot of people are starting to sit and ask themselves, 'What am I really supporting here?'"
Bowers also said the meeting reflects how Mormons are becoming more aware of LGBT people in their membership.
"They now know from working with them or seeing them come to church and doing their callings and wanting to do things that Mormons do in the church that we are whole, good people," Bowers said. "Some of that attitude, I think, has changed very significantly based on the work they've being doing out in Oakland."
Baker said he thinks the meeting that took place in Oakland represents how change within the church and its views on homosexuality could take place over time.
"The way the church is set up is it's going to be something from the inside that changes it — the membership themselves over time grows to sort of recognize homosexuality more rather than just going from a top-down approach," he said.
In the meantime, Baker plans to continue attending church service as he looks for the right man to marry while occasionally hitting the clubs on the weekend.
"I believe that they have homosexuality wrong and that over time, that might change," Baker said. "But in the meantime, I still honestly believe in the church. And they do accept me and they don't hate me, but it is an interesting razor-thin line to be walking."
Does a potential overturn of Roe imperil LGBTQ rights?
Some fear that Obergefell marriage decision could fall
The oral arguments before the justices of the United States Supreme Court had barely ended in the case brought by the state of Mississippi defending its law banning abortion after 15 weeks, Dobbs v. Jackson Women's Health Organization, when alarms were set off in legal circles as some argued that Obergefell v. Hodges — the same-sex marriage decision — would be in danger should the high court rule to overturn Roe v. Wade.
Florida State University law professor Mary Ziegler, appearing on NPR's 'Heard on All Things Considered,' told host Mary Louise Kelly that there was a basis for concern over whether the court would actually overrule its precedents in other cases based on the questions and statements raised during the hearing by the conservative members of the court.
Asked by Kelly if she saw a legal door opening Ziegler affirmed that she did. Kelly then asked her, "Them taking up cases to do with that. What about same-sex marriage?"
Ziegler answered, "Yeah, same-sex marriage is definitely a candidate. Justices Alito and Thomas have in passing mentioned in dicta that they think it might be worth revisiting Obergefell v. Hodges – the same-sex marriage decision.
"And I think it's fair to say that in the sort of panoply of culture war issues, that rights for same-sex couples and sexual orientation are still among the most contested, even though certainly same-sex marriage is more subtle than it was and than abortion was.
"I think that certainly the sort of balance between LGBTIQ rights and religious liberty writ large is a very much alive issue, and I think some states may try to test the boundaries with Obergefell, particularly knowing that they have a few justices potentially willing to go there with them."
As almost if to underscore the point raised by Ziegler during the hearing, Associate U.S. Supreme Court Justice Sonia M. Sotomayor pointed out that the high court has taken and "discerned" certain rights in cases from the Constitution.
Along with abortion, the court has "recognized them in terms of the religion parents will teach their children. We've recognized it in their ability to educate at home if they choose," Sotomayor said. "We have recognized that sense of privacy in people's choices about whether to use contraception or not. We've recognized it in their right to choose who they're going to marry."
In following up the cases cited by Justice Sotomayor, Associate U.S. Supreme Court Justice Amy Coney Barrett asked Mississippi Solicitor General Scott Stewart, who was defending the state's abortion law, whether a decision in his favor would affect the legal precedents in those cases cited by Justice Sotomayor.
In his answer to Justice Barrett, the state's Solicitor General said cases involving contraception, same-sex marriage and sodomy wouldn't be called into question because they involve "clear rules that have engendered strong reliance interests and that have not produced negative consequences or all the many other negative stare decisis considerations we pointed out."
However, Lambda Legal Chief Strategy Officer and Legal Director, Sharon McGowan had a different take and interpreted remarks by Associate U.S. Supreme Court Justice Brett Kavanaugh to mean that the decisions in Lawrence v. Texas, which decriminalized private sexual intimacy between same-sex couples, and Obergefell v. Hodges, which struck down remaining bans on the freedom of same-sex couples to marry, would actually justify overturning Roe v. Wade.
In a publicly released media statement McGowan noted: "During today's argument, Justice Kavanaugh suggested that two key Supreme Court decisions protecting LGBTQ civil rights—Lawrence v. Texas and Obergefell v. Hodges—support overruling Roe v. Wade and Planned Parenthood v. Casey.
'To that we say, NOT IN OUR NAME. LGBTQ people need abortions. Just as important, those landmark LGBTQ decisions EXPANDED individual liberty, not the opposite. They reflected the growing societal understanding of our common humanity and equality under law.
"Just as the Supreme Court in Brown v. Board of Education rejected the lie of 'separate but equal,' the Supreme Court's decisions in Lawrence and Obergefell appropriately overruled precedent where it was clear that, as was true with regard to race, our ancestors failed properly to acknowledge that gender and sexual orientation must not be barriers to our ability to live, love, and thrive free of governmental oppression. …
"These landmark LGBTQ cases, which Lambda Legal litigated and won, and on which we rely today to protect our community's civil rights, were built directly on the foundation of Casey and Roe. Our interests in equal dignity, autonomy, and liberty are shared, intertwined, and fundamental."
On Sunday, the Blade spoke with Shannon Minter, legal director for the National Center for Lesbian Rights, a national LGBTQ+ legal organization that represented three same-sex couples from Tennessee, whose case was heard by the U.S. Supreme Court along with Obergefell and two other cases.
Minter is urging caution in how people interpret the court arguments and remarks made by the justices.
"We should be cautious about taking the bait from anti-LGBTQ groups who falsely argue that if the Supreme Court reverses or undermines Roe v. Wade, they are likely to reverse or undermine Obergefell or Lawrence. In fact, that is highly unlikely, as the argument in Dobbs itself showed," he said.
"The only reason Justice Kavanaugh mentioned Obergefell and Lawrence, along with Brown v. Board of Education, was to cite them as examples of cases in which the Supreme Court clearly did the right thing. All of those decisions rely at least as strongly on equal protection as on fundamental rights, and even this extremely conservative Supreme Court has not questioned the foundational role of equal protection in our nation's constitutional law," Minter stressed.
During an interview with Bloomberg magazine, David Cortman, of the Scottsdale, Ariz.-based anti-LGBTQ legal group Alliance Defending Freedom, which has been listed by the Southern Poverty Law Center as an extremist hate group, said "two things in particular distinguish abortion from those other privacy rights: the right to life and the states' interest in protecting a child."
Cortman, whose group urged the justices to allow states to ban same-sex marriages, said those other rights may be just as wrong as the right to an abortion. "But the fundamental interest in life that's at issue in abortion means those other rights are probably not in any real danger of being overturned."
But Cortman is of the opinion that there is little impetus among the court's conservatives to take up challenges to those cases.
However, the fact that the six to three makeup of the high court with a conservative majority has progressives clamoring for the public to pay closer attention and be more proactively engaged.
Kierra Johnson, executive director of the National LGBTQ Task Force, in an emailed statement to the Blade underscored those concerns:
"Reports and analysis coming out of Wednesday's Supreme Court hearing on Dobbs v. Jackson Women's Health Organization are extremely disturbing and represent a threat to our individual constitutional rights to privacy and autonomy. There is no 'middle ground' on what the Constitution guarantees and what was decided decades ago with the Roe v Wade decision.
"This is about liberty, equality, and the rule of law, not the political or partisan views of those sitting on the bench. The unprecedented decision to remove a constitutional right recognized by the Supreme Court 50 years ago would set back civil rights by decades. ….
"Abortion access is essential, and a fundamental right under the U.S. Constitution. Bans on abortion are deeply racist and profoundly sexist – the harshest impacts fall on Black and Brown women and pregnant people and on our families and communities.
"If you think this decision will not affect you, think again: a wrong decision by the Supreme Court means you, too, will lose your bodily autonomy, your ability to own your own personal and community power. This is not just about abortion; it is about controlling bodies based on someone else determining your worthiness. This is a racial justice issue. This is a women's issue. It is an LGBTQ issue. It is a civil rights issue. These are our fundamental rights that are at stake."
Minnesota middle school principal ousted for displaying Pride flag
Critics ramped up attacks on the career educator- some compared her to the Devil after publicly associating with LGBTQ+ people and students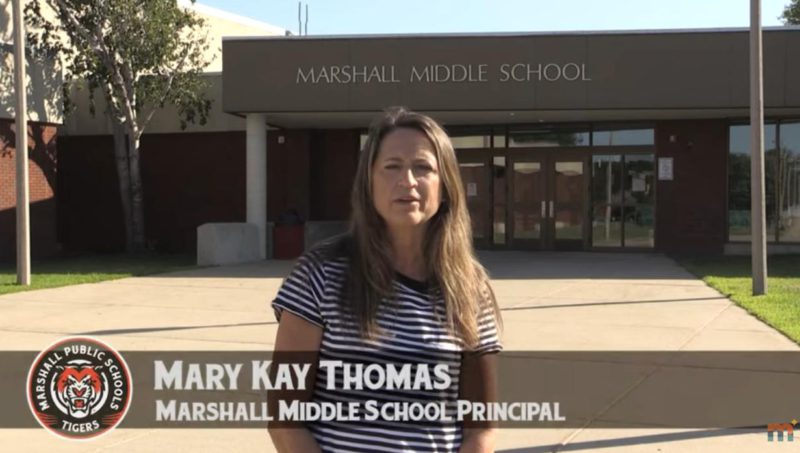 MARSHALL, Mn. — A former middle school principal in Minnesota who lost her job after displaying a Pride flag alleges in a federal lawsuit that the school system retaliated against her for supporting LGBTQ+ students.
Mary Kay Thomas filed the complaint against Marshall Public Schools in the U.S. District Court of Minnesota Tuesday after anti-LGBTQ+ middle school staff, parents, students and local clergy began efforts to remove the Pride flag that she put up in her middle school's cafeteria in 2020 as a part of an inclusiveness effort.
According to the lawsuit, Thomas has been a teacher and principal for more than three decades with a long track record of success. She held the principal position at Marshall Middle School for 15 years, receiving contract renewals, pay raises and praise for her performance.
"But when Thomas decided to display an LGBTQ Pride Flag in the school cafeteria in early 2020, everything changed," reads the complaint.
Thomas refused to take down the Pride flag as critics ramped up attacks on the career educator. The lawsuit alleges that some even compared her to the Devil after publicly associating with LGBTQ+ people and students.
"Sadly, the Marshall School District has sided with these critics," her lawyers wrote.
What followed was an "escalating series of adverse actions" taken by the Marshall School District, said the lawsuit. She claims that the school targeted her by threatening her employment, conducting a "bad-faith" investigation, putting her on indefinite involuntary leave, suspending her without pay and putting a notice of deficiency in her personnel file.
The complaint says that the deficiencies were "false, distorted, and/or related to Thomas's association with members of the LGBTQ community."
Thomas also claims that the District attempted to get her to quit by removing her as principal and assigning her to a "demeaning 'special projects' position."
At one point, Marshall Public Schools Superintendent Jeremy Williams, who is named as a defendant in the case, told Thomas he could "make this all go away" if she stepped down, according to the complaint.
The school removed the Pride flag in August 2021 after settling a lawsuit brought by residents who opposed it.
The Blade reached out to Williams for comment but did not receive a response. However, according to the Marshall Independent, Williams did release a statement on the matter.
"Marshall Public Schools is committed to the education of every child and has strong policies and practices in place against discrimination, against both students and staff members. The school district is committed to creating a respectful, inclusive, and safe learning and working environment for students, staff and our families," Williams said. "While the school cannot comment about the specific allegations made in the complaint, the school district strongly denies any allegation of discriminatory conduct. The school will vigorously defend itself against these allegations."
In addition, Thomas alleges that she resisted unwanted sexual advancements from school board member Bill Swope. She claims she told Williams about the sexual harassment.
As of Thursday, the school has not filed a response, and no hearing has been scheduled yet.
Thomas is seeking a jury trial, damages and reinstatement as principal of Marshall Middle School.
Matthew Shepard honored at National Cathedral
Daylong services held to mark his 45th birthday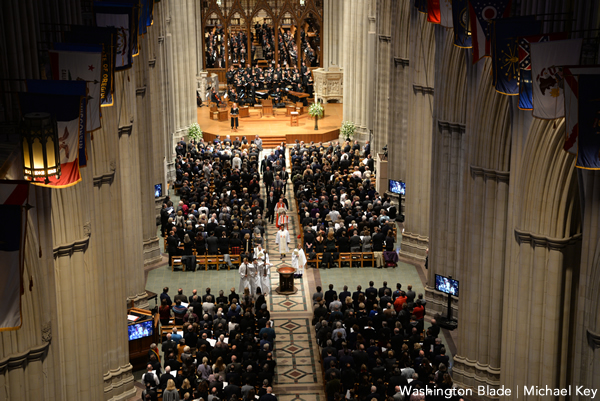 The parents of gay University of Wyoming student Matthew Shepard, who was murdered in a 1998 hate crime that drew international attention to anti-LGBTQ violence, were among those attending a day of religious services commemorating Shepard's 45th birthday on Wednesday at the Washington National Cathedral.
The services, which the Cathedral organized in partnership with the Matthew Shepard Foundation, included tributes to Shepard at the Cathedral's St. Joseph's Chapel, where his remains were interred in a ceremony in 2018.
"Matthew Shepard's death is an enduring tragedy affecting all people and should serve as an ongoing call to the nation to reject anti-LGBTQ bigotry and instead embrace each of our neighbors for who they are," the Very Rev. Randolph Marshall Hollerith, Dean of Washington National Cathedral, said at the time of Shepard's interment.
"In the years since Matthew's death, the Shepard family has shown extraordinary courage and grace in keeping his spirit and memory alive, and the Cathedral is honored and humbled to serve as his final resting place," Hollerith said.
The first of the Cathedral's Dec. 1 services for Shepard began at 7 a.m. with prayers, scripture readings, and music led by the Cathedral's Rev. Canon Rosemarie Logan Duncan. The service was live streamed on YouTube.
An online, all-day service was also held from 8 a.m. to 5 p.m. that Cathedral officials said was intended to "connect people around the world to honor Shepard and the LGBTQ community and pray for a more just world."
The Shepard services concluded with a 5:30 p.m. in-person remembrance of Shepard in the Cathedral's Nave, its main worship space. Among those attending were Shepard's parents, Dennis and Judy Shepard, who have said they created the Matthew Shepard Foundation to continue their son's support for equality for all.
A statement released by the Cathedral says a bronze plaque honoring Matthew Shepard was installed in St. Joseph's Chapel to mark his final resting place at the time Shepard was interred there in 2018.
Following the Cathedral's Dec. 1 services for Shepard, the Adams Morgan gay bar Pitchers hosted a reception for Dennis and Judy Shepard, according to Pitchers' owner David Perruzza.
One of the two men charged with Shepard's murder, Russell Henderson, pleaded guilty to the charge after prosecutors agreed not to seek the death penalty for him. The second of the two men charged, Aaron McKinney, was convicted of the murder following a lengthy jury trial.
Prosecutors said McKinney repeatedly and fatally struck Shepard in the head with the barrel of a handgun after he and Henderson tied Shepard to a wooden fence in a remote field outside Laramie, Wy., on Oct. 6, 1998. Police and prosecutors presented evidence at McKinney's trial that McKinney and Henderson met Shepard at a bar in Laramie on that day and lured him into their car, where they drove him to the field where authorities said McKinney fatally assaulted him.
Shepard died six days later at a hospital in Ft. Collins, Colo., where he was taken after being found unconscious while still tied to the fence.
In a dramatic courtroom scene following the jury's guilty verdict for McKinney, Dennis Shepard urged the judge to spare McKinney's life by not handing down a death sentence. He said that out of compassion and in honor of his son's life, McKinney should be allowed to live. The judge sentenced McKinney to two consecutive terms of life in prison without the possibility of parole, the same sentence given to Henderson.