GLAA celebrates 40 years
Activists move from the street to the suite after 4 decades of work

Frank Kameny remembers seeing Paul Kuntzler, his campaign manager on a 1971 bid for Congress, walk into Temple Sinai on Military Road in Washington with large reams of paper rolled under each arm and an elated look on his face.
Kameny, who founded the gay liberation movement in D.C. after being fired from the federal government in 1957, needed 5,000 signatures to get on the ballot. With the late February deadline looming, the group only had about 1,300. Realizing outside help was needed, Kameny and Kuntzler thought a gay group in New York whom they found to be one of the few "getting much of anything done," as Kameny puts it, might be able to help. The group — Gay Activists Alliance of New York — sent two busloads of people to blanket the District one Sunday afternoon to secure signatures.
A dance was held that night at the Temple and when Kuntzler arrived, the group knew it was home free. They had about 7,700 signatures — plenty to get Kameny on the ballot. The "Kameny for Congress" campaign ended with the candidate coming in fourth in a six-way race. Though he lost, the 1,900 votes he secured while running as a then-unheard-of openly gay candidate, galvanized local activists.
Kameny's own Mattachine Society was fading as members began to find its formality anachronistic in the Vietnam era. And the D.C. Gay Liberation Front was too radical for some others. The Kameny campaign activists were so impressed with the GAA New York group, they used about $400 left in their coffers after the election to visit the Big Apple and find out how the group operated.
By about the third week in April, a D.C. chapter was formed in the apartment of Jim McClard, the local group's first president. While the New York group folded about a decade later, Washington's Gay Activist Alliance is celebrating its 40th anniversary this month (in 1986 then-president Lorri Jean — now head of Los Angeles' mammoth LGBT Community Center — insisted on changing the name to Gay and Lesbian Activists Alliance, or GLAA as it is commonly known). It's the oldest continuously active gay organization in the country.
The group celebrates Wednesday at the Washington Plaza Hotel in Thomas Circle. Kameny, now 85, will give his founder's Champagne toast, as has become GLAA tradition. And the group will bestow its annual Distinguished Service Awards to six local activists. Minimum donations are $50. Visit glaa.org for more information.
Kameny says the group — which lists pages of political gains on its website — has thrived under strong leadership.
"Some of it has been sheer good luck," he said. "Throughout the '70s, '80s and beyond, the group had a string of presidents who were absolutely superb. I said that frequently back then and I still say it. One after another, there were just a lot of great people. There may have been one or two duds, but they really had good people, good officers who kept the organization going. They kept it effective and were very dedicated."
The group's first effort was also its only formal collaboration with Mattachine and the local Gay Liberation Front — a protest of the 1971 American Psychiatric Association's convention held that year in Washington. Though GLAA disavowed the use of force and worked to "act within the existing order," that first effort involved storming the conference and seizing the microphone in an effort to convince APA brass that gays were not mentally ill.
"We couldn't possibly be trusted with government secrets and security clearances if we were mentally disturbed," Kameny said.
He chuckles at the tactics now and says the groups soon went in their own direction — GLAA with Robert's Rules of Order for its meetings, a gay-specific focus and a strong commitment to non-partisanship.
"I used to attend the GLF meetings," Kameny said. "They seemed to just drone on endlessly and you had the impression there was a small group meeting in the attic who really ran things. And they tried to tie in all the issues of the day. My feeling has always been if you try to do everything you end up doing nothing very well."
Former president Craig Howell, who joined in 1973 and has been active ever since, admits the heavily political nature of the group's work limits its appeal, but said its track record over 40 years speaks for itself.
"There's always been a small number doing most of the work," Howell said. "Many times we'd just be sitting there in the living room on [former president] Bob Carpenter's couch. If we had four or five at a meeting, that was considered good. It's always been very wonky, so that makes for limited people, but the devil is in the details and you have to go through that trivia to get what you want. But it's worth paying the price."
The group counts among its victories:
• Council's 1973 passage of Title 34, which made Washington the first major U.S. city to outlaw discrimination against gays in housing, employment and public accommodations.
• Kameny's 1975 appointment to the city's Human Rights Commission, a first
• A 1978 gay rights rally, the largest of its kind to that time, to protest anti-gay singer Anita Bryant
• A 1979 public service campaign that required a court fight to allow "Someone you know is gay" posters to be placed at Metro stations
• Former president Mel Boozer's 1980 speech at the Democratic National Convention
• Repeal of D.C.'s sodomy law in 1981
• A 1982 commitment from D.C. police for fair treatment of gays
• A 1986 Council bill that prohibited insurance companies from denying coverage to HIV-positive residents
• 1990 hate crimes legislation
• A 1992 domestic partnership bill
• A 1999 settlement in the Tyra Hunter case, a trans resident who was shunned and ridiculed by EMS workers following a car accident. She died in 1995.
• Part of a broad coalition that opposed an exception from the D.C. Department of Corrections from requirements in the D.C. Human Rights Act in 2008
• Marriage for same-sex couples in 2009
Current president Mitch Wood says the group is "really a labor of love" and that its non-partisan nature "allows us to build bridges across the political spectrum."
It's all volunteer and operates on a small budget of about $10,000 per year, most of which goes to maintain its website and blog and stage its annual awards reception. Money comes from nominal member dues — $25 per year — and ticket sales and donations. The group meets twice monthly for about 90 minutes, mostly at the Charles Sumner School but sometimes at the Wilson building. Meetings are usually followed by dinner and drinks, often at Dupont Italian Kitchen. New members are always welcome.
Among GLAA's signature work is its candidate ratings. Members always point out the ratings should not be seen as endorsements, but they rank those running for local office based on questionnaire responses and members' knowledge of the candidates' records on gay issues, to rank them on a scale that runs from -10 to +10.
"Usually in every election cycle somebody working with one of the candidates or another gets unhappy that so-and-so didn't get a high enough rating," Rick Rosendall, the group's vice president for political affairs and a former president, says. "So they'll make some snarky comments, but because we back up so thoroughly how we arrive at our ratings, we can show the point breakdowns and their responses to the questions, so they know what went into the ratings. It's a very open process, not some beauty contest score with us up in some ivory tower."
Over the years, the group's ratings gained heft. Though he notoriously voted against the marriage bill, Council member Marion Barry initially scored a -10 during his run for mayor in the early '80s. The low score led him to work with the local gay community and for years he was seen as a supportive public official.
Rosendall said the group's decades of groundwork pays off even in unlikely places. He cites the two Council members — Barry and Yvette Alexander — who voted against marriage, and also Council member Harry Thomas Jr., who opposed the infamous club relocation bill for gay bars in 2007.
"They've all at various times emphasized their pro-gay credentials," Rosendall said. "Even though Barry did speak at one of Bishop [Harry] Jackson's rallies in Freedom Plaza, it was a far cry from the hateful rhetoric you hear from state legislators. … And GLAA can take some of the credit for that, but the community has played a key role in this as well. … It's not just a handful of policy wonks, it's our community who has been active in this city since before home rule."
Gay D.C. Council member Jim Graham, who's received many perfect scores from the group, said he respects GLAA even when he occasionally disagrees with members.
"They put an enormous amount of sincere effort into it," Graham said. "I mean they really do. It's not anything they do in a casual way. And most recently I've been getting pretty much 10s, so you're always happy with a perfect score."
Rosendall says one big change over the years has been what he calls "street versus suite" activism. The group has moved away from demonstrations largely because it's usually given a seat at the discussion table.
"As you get more power and influence, there's less need to be standing outside," he said. "That doesn't mean there isn't a place for groups like GetEqual. Different groups are good at different things. I like to say we're working different parts of the vineyard."
The group has, at times, faced criticism. Within the last four years or so, some activists, including Michael Crawford, said the group wasn't moving fast enough on the marriage issue.
Rosendall said GLAA prides itself on avoiding excessive intramural fighting among other local activist groups.
"We really try not to let things deteriorate too much into personality and battles we don't need," he said. "We've tried to keep our collective eyes on the prize and the marriage victory demonstrated that. There's no way we would have been doing all this policy work and building coalitions if we weren't wanting it to happen. We just wanted to make sure it stuck."
Graham said the group deserves praise for its tenacity, especially considering the era in which it launched.
"It's difficult to imagine how very important and pioneering they were back in 1971," Graham said. "In this day and age when we've made such progress, it's important that we pause and acknowledge those who were there 40 years ago at a time when things were so very different. … The young men and women in our community really need to stop and realize this. We're here because of these folks."
Rental housing discrimination and you
There are many ways landlords can disadvantage LGBTQ renters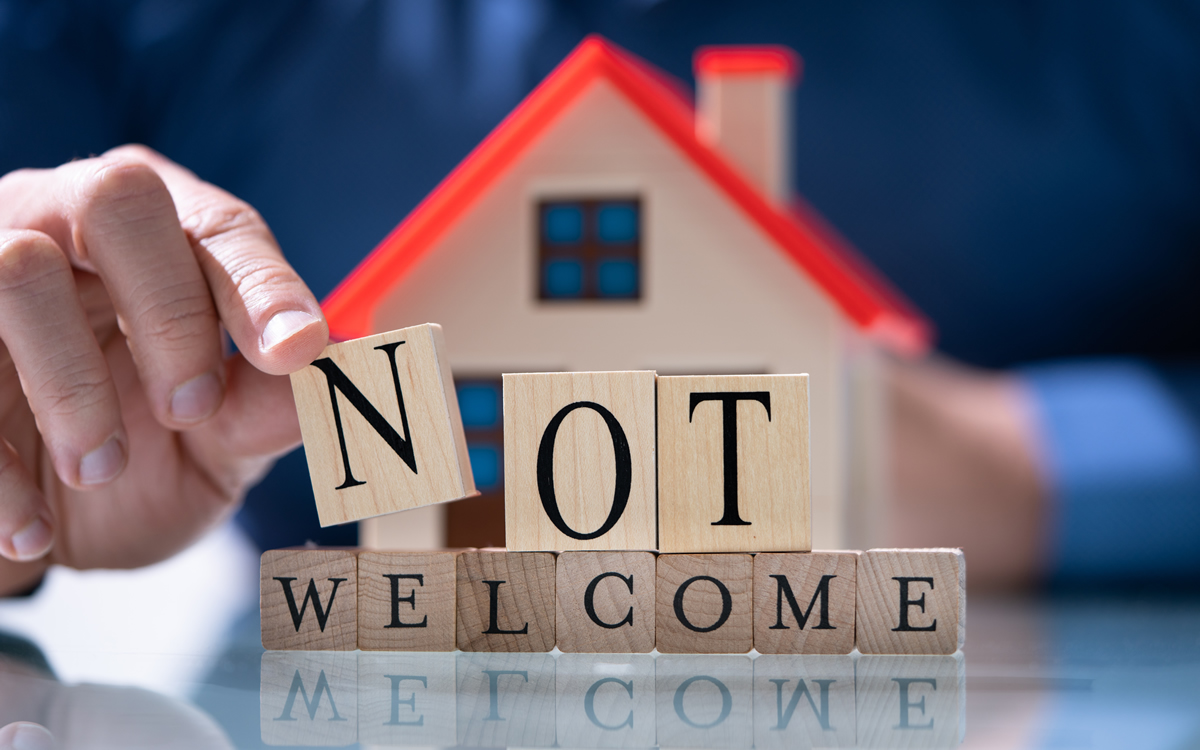 Housing discrimination based on sexual orientation and gender expression is illegal in the District of Columbia. This means that housing providers cannot refuse to rent to someone or treat them differently in their housing-related decisions because of their sexual orientation or gender expression.
But what might housing discrimination against LGBTQ home seekers look like?
Discriminatory treatment can occur at a number of stages in the home rental or purchase process, including when scheduling rental (or sales) showings, during a tour of the property, or during the application or post-application process.
But discrimination may also occur while you are living in a rental home. Today's discrimination may not be as blatant as an outright rejection or a snide remark about a protected category. There have been incidents of discrimination based on sexual orientation and gender expression discrimination cited in rental housing disputes and lawsuits.
Some of these include landlords refusing to rent or renew leases to LGBTQ tenants; harassment of LGBTQ tenants by landlords or from other tenants; imposing different rental terms and conditions; failing to provide necessary repairs or maintenance to a rental unit where LGBTQ individuals reside (while other non-LGBTQ tenants receive prompt service); as well as failing to take action against other parties who engage in discriminatory behavior toward the LGBTQ tenants.
But there is good news.
Housing industry leaders are actively working to eliminate these instances of discrimination in housing. Both at the national level through the National Association of Realtors (NAR) and at the local level through the Greater Capital Area Association of Realtors (GCAAR) association leaders are working with real estate professionals such as licensed sales agents, brokers, and property managers to improve understanding and sensitivity. Their overall promotion of Diversity, Equity and Inclusion (DEI) includes a substantial component surrounding sexual orientation and gender expression.
Christine Barnhart, Vice President of Strategic Communications at GCAAR told us, "We are doing our part to identify opportunities for diversity and inclusion conversation and education, and to promote the practice of inclusion and equity among our leadership, members, staff and within the industry." GCAAR seeks to drive a larger conversation around DEI In addition to their "DEI Champions" program, providing a summary of their larger DEI initiatives can be found on their website.  
That education of the key industry players is being delivered through a variety of initiatives and updates to codes and policies. Barnhart points out that the programmatic elements of the training being done keep their members up to date, "GCCAR's 'DEI Champions' program features three key diversity training elements:
"Completion of the six-hour 'At Home With Diversity' (AHWD) certification course
"The National Association of Realtors (NAR) 'Fairhaven fair housing simulation,' and
"NAR's Bias Override: Overcoming Barriers to Fair Housing video."
I took this certification course and found it very helpful. My original inspiration to become a GCAAR DEI Champion was to augment my service to the community. Now having been through the course, I'm better enabled to "put myself into others' shoes." I gained a stronger awareness of how each of us possesses inherent biases. And the program made me more authentically aware of the impact of my comments, my decisions, and my actions on others.
Similarly, the District of Columbia provides ethical codes and regulations for housing providers here in the city to address discrimination based on sexual orientation and gender expression. For example, D.C.'s Office of Human Rights (OHR) has implemented guidelines and training programs for landlords and property owners to ensure they are aware of their obligations under anti-discrimination laws.
These regulations, industry guidelines, ethic codes, and best practices all help to make the D.C. rental housing market more inclusive and welcoming than other jurisdictions for all individuals, regardless of their sexual orientation or gender expression,. However, if you feel that you have been a victim of discrimination, there are many agencies to turn to.
As a gay-owned business and long-term member of the Equality Chamber of Commerce, it is important to me that all who interact with me and my companies feel welcomed and taken care of, particularly the LGBTQ community.  Building on the foundation of the DEI courses, our firm will work to educate our staff and reinforce a culture of understanding and acceptance.  How about yours?
Scott Bloom is senior property manager and owner, Columbia Property Management. For more information and resources, go to ColumbiaPM.com.
All charged up: Ford Mustang Mach-E, Mercedes EQB
Move over, Tesla!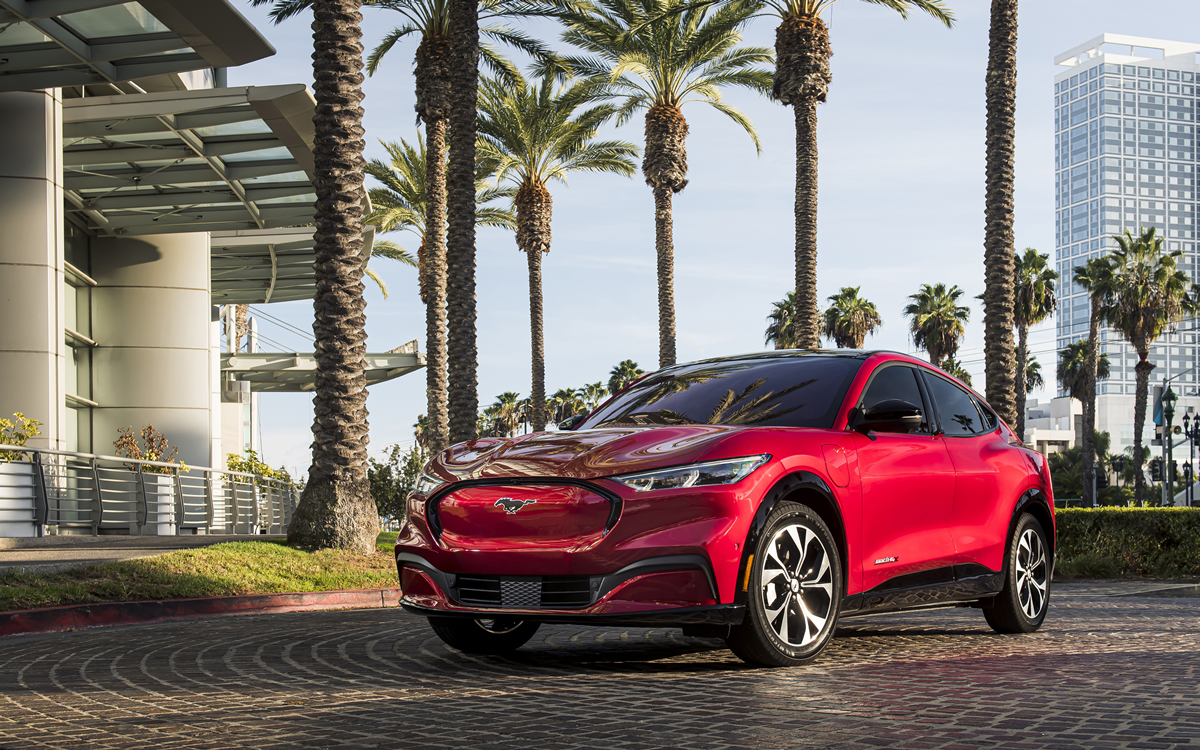 Move over, Tesla! Elon Musk may have delivered a record number of electric vehicles last year, but rivals are certainly nipping at his heels. Robust demand for the all-electric Mustang Mach-E, for example, has helped make Ford the second-best EV producer in the U.S. And global EV sales for Mercedes more than doubled in 2022, thanks in part to the automaker's all-electric crossover: the EQB. Motorheads like me are all charged about such electrifying rides, and for good reason.
FORD MUSTANG MACH-E
$46,000
Battery range: 270-312 miles
0 to 60 mph: 5.1 seconds
OK, fine, Ford sold fewer than 62,000 EVs in the U.S. last year compared with over 522,000 cars sold by Tesla. Yet while Tesla sales were up 40%, Ford EV sales skyrocketed a whopping 126%. Yes, Tesla sold an impressive 1.3 million-plus vehicles worldwide in 2022, but Ford expects to sell 2 million EVs by 2026. The Mustang Mach-E—first introduced as a 2021 model—shows you one way Ford expects to get there.
For 2023, Ford knew better than to mess with the winning design of the Mach-E, which is at once futuristic and timeless. My fave styling cue is the clever use of flush-mounted buttons on the outside door frames instead of clunky conventional door handles.
Inside, with the battery placed under the floor, there's oodles of room for passengers and cargo—including 60 cubic feet of stowage with the rear seats folded. Beneath the center console, there's enough space for a handbag or small computer case.
The wide dashboard has a built-in soundbar, as well as large vertical touchscreen for the infotainment system. An active-safety system—with forward-collision alert, emergency braking, evasive steering and such—is now standard across the lineup.
This year the battery range can reach up to 312 miles, which outpaces much of the competition—including the Hyundai Ioniq, Volkswagen ID.4 and Volvo C40 Recharge. Another plus: Mach-E sticker prices have been reduced between $400 and $5,700, depending on trim level. Pricing also has been slashed for the extended-range battery, from $8,600 to $7,000.
Sure, there's still a big difference between the $46,000 base model and $65,000 high-test GT. But trust me, the thrill of that GT is hard to resist. Stomp on the accelerator, enjoy the excitement as your body is thrust back against the driver's seat, and be prepared to achieve warp speed. Rocketing from 0 to 60 mph in just 3.5 seconds took my breath away—literally. Many auto aficionados were skeptical when Ford first gave this EV the seemingly bait-and-switch moniker of a "Mustang," but the GT version of the Mach-E comes closest to feeling like a true pony car.
One side note: With so much emphasis on EVs today, it's easy to forget how much of a gamble it was for Ford to create the Mach-E. After all, this was not the automaker's first electric-car rodeo. Henry Ford built a prototype for a low-cost battery-powered vehicle in 1913, then opted for the internal combustion engine. Other experimental EVs came and went, including the quirky 1966 Ford Comuta minicar and an all-electric 1998 Ford Ranger pickup, which lasted only four years.
Lucky for Ford, it looks like the Mustang Mach-E is a keeper.
(For more on the Ford Mustang Mach-E, read "One Lean, Mean Green Machine.")
---
MERCEDES EQB
$54,000
Battery range: 205-243 miles
0 to 60 mph: 5.6 seconds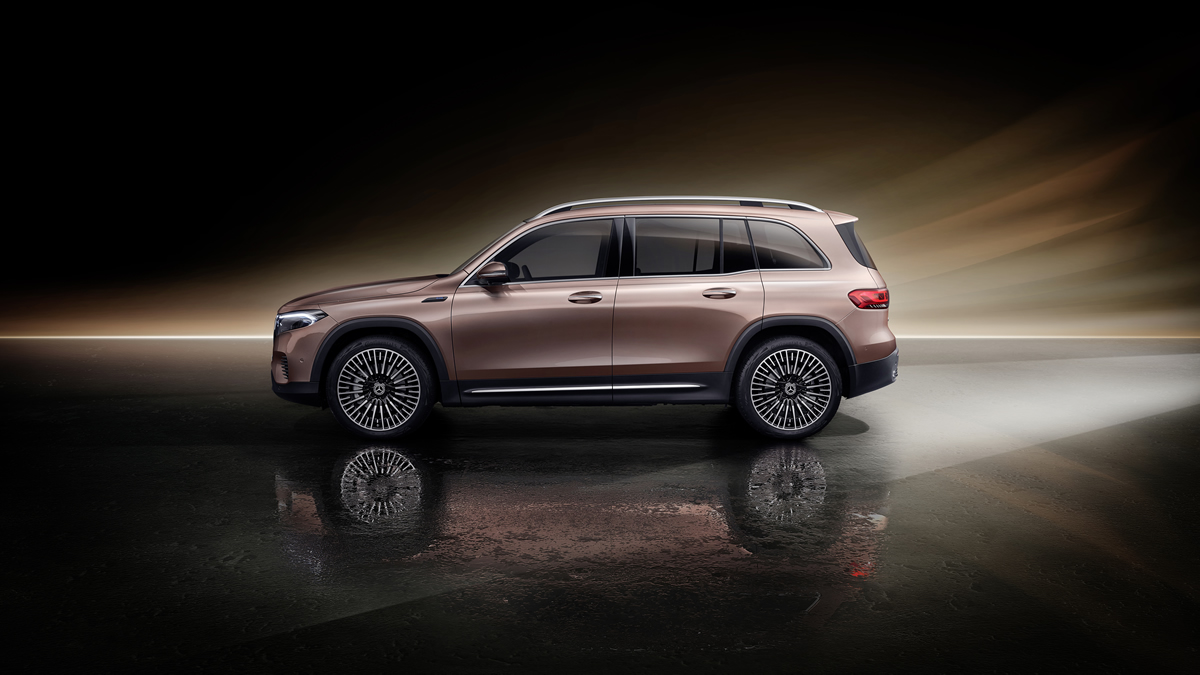 My, how time changes things. As recently as 2020, Mercedes said that its diesel-powered cars were here to stay. But within a year, Mercedes announced it would go all-electric by 2030.
Enter the Mercedes EQS. This flagship sedan debuted last spring in the U.S. and was followed by the seven-passenger EQS SUV. Both EVs are exquisite, oozing luxury and overflowing with techno gadgetry. But—ouch!—pricing for these beauties starts at $105,000 and tops out at close to $170,000.
Fortunately, for those of us on a plebian budget, there's the new Mercedes EQB. At half the price of its larger EQS siblings, the all-electric EQB is built on the same platform as the gas-powered GLB compact crossover. And except for minor styling tweaks and a bit quicker acceleration, the EQB looks and handles like the GLB. That's a good thing for anyone needing some reassurance when making the leap to their first EV.
Despite the low price on a base-model EQB, standard features include power liftgate, dual-zone climate control, automated parking, ambient interior lighting and other niceties. There's also the MBUX infotainment system, which comes with 10.25-inch touchscreen, voice-recognition technology, smartphone integration and a navigation system.
While the EQB does seat seven, third-row legroom is extremely tight. Best to leave those seats folded flat, unless carting around kids—and only for short distances.
Comparing the Ford Mustang Mach-E and Mercedes EQB is easy: Both have similar pricing and amenities. The Mach-E is certainly faster and has more of a space-age ambiance, but the traditional driving experience of the EQB is comforting on long drives. And, well, the EQB also has that coveted three-point star found only on a Mercedes.
The art beneath your feet
Select rugs that reflect your personal style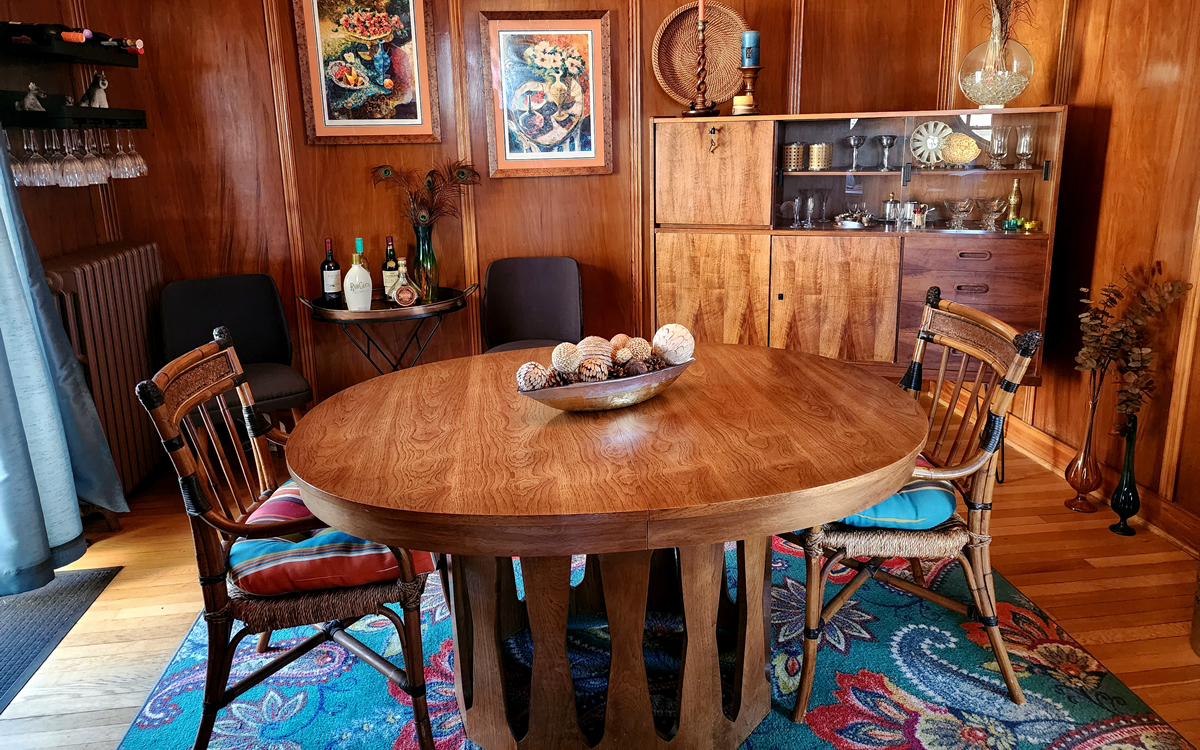 Buying art for your new home can be both fun and an investment for the future. You can scour local galleries, visit antique stores, or buy paintings and posters online. Sometimes, you'll even find local artisans displaying their work on the walls of real estate offices.
When it comes to a budget for art, the sky's the limit. From original oil or acrylic paintings to clay or marble sculpture, to lighting of Chihuly glass, there is much to choose from. Even street art and painted murals can bring joy to accent walls.
Personally, I have a fondness for contemporary lithographs in primary colors and Blenko glass, but no matter what your taste, you may find art you love right beneath your feet in carpets and rugs that enhance your décor. Before you choose a rug to anchor your furnishings, determine what it's made of and how it will work in your space.
Near the top of your budget, you'll find pure wool rugs. They stand up well to high-traffic areas like living rooms and feel cozy beneath your feet. Good at repelling water and dirt, they can be hand-knotted or loomed and may have fringed edges.
Natural fiber rugs made of jute, seagrass, and sisal work well on their own or as an underlayment for other rugs. While inexpensive, you may find that they shed fibers, so using a rug pad under them will keep those fibers from scratching your floor.
An animal hide rug often serves as a statement piece, with each being as unique as the animal from which it came. Thankfully, you can now obtain the same look with synthetic hides with natural coloring or even dyed in bright hues.
Cotton rugs, braided or hooked, provide a more casual look for less. Many are machine washable, but they fade easily, especially if used in areas of direct sunlight or high traffic. They are also slippery when used on hard floors, so be sure to place a rug pad beneath them.
Most wall-to-wall carpet and bound area rugs today are made of synthetic fibers such as polyester and nylon. Since these machine-woven beauties often mimic real wool and there are plenty to choose from, they are generally the most affordable.
Silk rugs are best in low traffic areas where there is little chance of pet accidents or spills. You may also see them hung on walls in lieu of paintings. These rugs will require professional cleaning and are among the most expensive offerings. In addition to the Persian and Oriental styles, you can now find more modern designs made of silk.
Another thing to consider is whether you want an eco-friendly or non-toxic rug. Determining which is which can sometimes be confusing. While eco-friendly refers to a product that is healthy for the environment, a non-toxic rug made without potentially harmful chemicals focuses on the health of people.
Always read the label of a rug that you are considering purchasing. Rugs made of olefin, polyester and nylon are created through chemical processes. Flame retardant and water repellant coatings can be toxic. Natural materials may have been sprayed with pesticides. Even dyes and rubber backings may contribute to an unhealthy home.
Several rug manufacturers advertise their products as non-toxic, including FLOR, Safavieh, Lorena Canals, and Hook & Loom. If you can't find a non-toxic rug you like, you can minimize the effect of chemical treatments and odors by allowing your rug to off-gas outside or by leaving a light coating of baking soda on it overnight before vacuuming.
Next, think about the size and shape of your new rug. Will there be at least 3 inches of rug behind the front legs of your furniture as suggested by Martha Stewart? Do you have an apartment or condominium that requires a certain percentage of hard flooring be covered? Do you want to soften the edges of a room by using a round or oval rug or will you need a runner for hall or stairs?
The style, pattern, and texture of your rug will determine whether it simply muffles noise or becomes a favorite piece of art. Try a modern shag or an antique dhurrie. Layer several silk rugs on top of each other. Select a bold chevron, an Ikat pattern, or a mid-century Mondrian vibe.
Embrace color with an abstract Bohemian or choose a floral, stripe, or sculptured, tone-on-tone rug. You can also let your creative juices flow by designing a custom piece.
Whatever you choose, let the art under your feet reflect your personality and style, and enjoy it for years to come.
Valerie M. Blake is a licensed associate broker in D.C., Maryland, and Virginia with RLAH Real Estate / @properties. Call or text her at 202-246-8602, email her via DCHomeQuest.com, or follow her on Facebook at TheRealst8ofAffairs.