Expensive year for gay donors
Baldwin Senate race, Obama re-election, ballot measures to compete for funds

An expected race for the U.S. Senate next year by lesbian Rep. Tammy Baldwin (D-Wisc.) will likely intensify an unprecedented demand for fundraising within the LGBT community for the 2012 elections on the national, state and local levels, according to LGBT advocacy groups.
Political observers in Wisconsin say Baldwin has emerged as the leading Democratic contender to compete for a Senate seat being vacated by Democratic Sen. Herb Kohl, who announced that he won't run for another term next year.
With Baldwin said to have a decent chance of becoming the nation's first openly gay senator, LGBT rights groups from throughout the country are gearing up to raise funds for her campaign, even though she isn't expected to officially announce her candidacy until later this summer.
Fundraising among LGBT donors for a Baldwin Senate campaign will come at a time when those same donors are being called on to give money to the re-election campaign of President Barack Obama and to the campaigns of LGBT and LGBT-supportive candidates running for Congress, state legislatures, and city and town government posts.
LGBT donors are also expected to be tapped for contributions to campaigns opposing state ballot measures seeking to ban same-sex marriage or to legalize the right of gay couples to marry in as many as five states in 2012.
Chuck Wolfe, executive director of the Gay & Lesbian Victory Fund, which raises money for LGBT candidates, said the cost of a Baldwin Senate race would likely rise to between $15 million and $20 million.
"So if our community can be a significant player in that race, and we hope it will be, that will mean a significant investment," he said. "And I would expect to see the LGBT community play an important role in that race."
Campaign finance records show that Baldwin has already amassed more than $1 million for her House re-election race, which she's expected to use for a Senate race. Rep. Ron Kind (D-Wisc.), who reportedly is considering challenging Baldwin for the Senate nomination in a Democratic primary, has raised far less money than Baldwin, and reported $478,000 cash on hand last week.
Nearly all observers say Baldwin would only back down from a Senate race if former Wisconsin Sen. Russ Feingold enters the race. Feingold, a champion of progressive causes for Wisconsin Democrats, lost his re-election bid last year to Republican Ron Johnson. He has hinted that he's not likely to run for the seat being vacated by Kohl.
Wolfe said he expects nearly 200 qualified LGBT candidates will be running in the 2012 election on the federal, state and local levels, a development that will prompt the Victory Fund to activate its network of LGBT donors nationwide.
"We'll continue to see more candidates running for higher levels of office, which, of course, means higher levels of investment," he said.
Andy Tobias, treasurer of the Democratic National Committee, said the DNC and Obama for America, the president's re-election campaign, will be doing all of their fundraising – including fundraising within the LGBT community – through a joint committee called Obama Victory Fund 2012.
Tobias, who's gay, said all of the other races seeking support from the LGBT community are important and he hopes others capable of making contributions will try to support them all.
But he said only the race for president "will determine who gets to shape the Supreme Court going forward, which will be the final word on our equality."
Added Tobias, "And only one race will determine whether the entire federal government sees us basically as allies deserving of support or citizens who've already gained too much equality that needs to be rolled back. We simply have to keep the White House."
According to Tobias, the Obama Victory Fund effort is aimed at registering and turning out "a huge number of progressive-leaning donors" through 60 field offices and more such offices to come. Thus he said this effort would help all of the other LGBT-related races by bringing supportive voters to the polls.
"So in my view, all of us should support the national effort in a very big way, even as we support other races," he said.
Among those agreeing with Tobias's assessment is gay philanthropist Bruce Bastian of Utah, who has made large contributions to Democratic candidates and LGBT advocacy groups and causes for nearly a decade.
"I am not well versed on all of the races or ballot measures," Bastian told the Blade this week. "That said, I believe the most important goal for the LGBT community in 2012 should be to re-elect President Obama. Why? Just look at the alternatives!"
The Human Rights Campaign has already endorsed Obama's re-election bid and is expected to continue its past practice of contributing campaign funds to LGBT-supportive candidates through its political action committee.
The HRC PAC contributed just over $800,000 to candidates in 2010 and just under $1.1 million to candidates in 2008, according to HRC's vice president for communications, Fred Sainz.
"The 2012 election year provides our community with a number of opportunities, including the successful re-election of our president, and a number of vulnerabilities," Sainz said. "Unfortunately, the one ingredient that all of them share is the need for financial resources to be successful," he said. "We will continue to monitor the landscape, work closely with our partners on these various contents and will make smart and realistic investments at the appropriate time."
Evan Wolfson, executive director of the marriage equality advocacy group Freedom to Marry, said the appropriate time to address the expected marriage-related ballot measures is now.
He is calling on LGBT contributors to help raise money for the defeat of a ballot measure in Minnesota, where marriage equality opponents are asking voters to approve a state constitutional amendment defining marriage as a union only between and man and a woman.
In Oregon and Maine, LGBT rights groups are taking steps to place on the ballot initiatives calling for overturning existing same-sex marriage bans. The proposed ballot measure would also put in place laws to give same-sex couples the legal right to marry.
Ballot measures seeking to ban same-sex marriage are also a possibility in Maryland and North Carolina in 2012. A ballot measure in Maryland is only expected to take place if the state legislature votes to legalize same-sex marriage, a development that LGBT advocacy groups and supportive lawmakers say is a possibility.
"It's unfortunately too early to be sure if we're going to have enough money but it's not too early to be doing the work," said Wolfson, in discussing the effort for winning marriage equality rights in Maine and Oregon and defeat marriage bans in the other states.
"So we really need to step up and invest in the early persuasion and organizing that are the key to winning," Wolfson said. "I strongly encourage funders, large and small, to make the best use of the money and time — the most crucial element beginning now so we can move hearts and minds in advance of the end game. That's how we win."
The two co-founders of eQualityGiving.org, an LGBT political donors group, said they plan to follow the same process for advising and guiding LGBT donors in 2012 as they have in past election years.
Juan and Ken Ahonen-Jover, a Miami-based couple, said their organization sets specific criteria related to the level of support a candidate must express on LGBT issues before the group places that candidate on its list as a possible recipient for contributions from LGBT donors.
"We want them to support all of the criteria," said Juan Ahonen-Jover. "We base our recommendations on their positions on our issues," he said.
He said the group doesn't keep track of how much money its members give to candidates but he believes donors affiliated with the group contribute a sizable amount of money to congressional and state legislative candidates throughout the country.
'Very familiar': Mark Glaze's story brings into focus mental health for gay men
Experts see common story as LGBTQ people enter middle age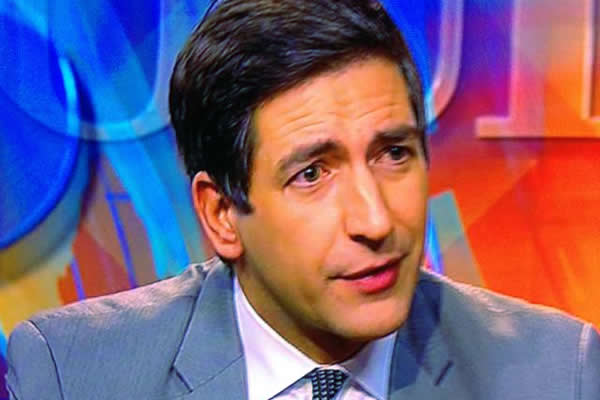 The death by suicide at age 51 of Mark Glaze, a gun reform advocate who was close to many in D.C.'s LGBTQ community, is striking a chord with observers who see his struggles with mental health and alcoholism as reflective of issues facing many gay men as they enter middle age.
Glaze's story resonates even though much of the attention on mental health issues in the LGBTQ community is devoted to LGBTQ youth going through the coming out process and transgender people who face disproportionate violence and discrimination within the LGBTQ community in addition to a growing focus on LGBTQ seniors entering later stages of life.
Randy Pumphrey, senior director of behavioral health for the D.C.-based Whitman-Walker Health, said Glaze's story was "very familiar" as a tale of mental health issues facing gay men in the middle stage of life.
"You're talking about a gay-identified man who is in his 50s, somebody who has struggled with alcohol misuse — or maybe abuse or dependence— and also depression," Pumphrey said. "I think that there has always been a higher incidence of suicide for men in general in their middle age 50 and above, but this increases when you're talking about gay men, and also if you're talking about gay men who suffer with mental health issues, or substance use disorder issues."
Several sources close to Glaze said his death did not come as a surprise. His family has been open about his death by suicide last month while he was in jail after allegedly fleeing the scene of a car accident in Pennsylvania and a long history of depression and alcoholism.
Pumphrey said Glaze's situation coping with mental health issues as well as the consequences for his role in the accident, were reflective of someone who might "begin to perceive that this is an issue that they can't get away from, or the consequences they can't get away from exposure and that can lead somebody to a fatal outcome."
"My experience is that there have been gay men that I have worked with over the years — particularly in their 50s and early 60s — it's taken them a long time to recognize the severity of the problem, whether it's their depression or their substance abuse, and then they find themselves in a very precarious situation because of shame, and so they may not necessarily seek help even though they need help."
A 2017 study in the American Journal of Men's Health found the prevalence of depression among gay men is three times higher than the general adult population, which means they are a subgroup at high risk for suicide.
The study found "scant research exists about gay men's health beyond sexual health issues," most often with HIV, which means issues related to depression and suicidality "are poorly understood."
"Gay men's health has often been defined by sexual practices, and poorly understood are the intersections of gay men's physical and mental health with social determinants of health including ethnicity, locale, education level and socioeconomic status," the study says.
The study acknowledged being male itself is one factor incorporated in addressing mental health issues in this subgroup because "regardless of sexual orientation, men can be reluctant to seek help for mental health problems." Another study quoted in the report found 23 percent, less than one quarter of gay men, who attempted suicide sought mental health or medical treatment.
In addition to mental health issues facing gay men in Glaze's age group, others saw his situation as a common story in the culture of Washington, which is notorious for celebrating and prioritizing success with little tolerance for personal setbacks.
In the case of Glaze, who had sparred on Fox News with Tucker Carlson as executive director of Everytown for Gun Safety, the threat of exposure and threat to his career may have seemed overwhelmingly daunting.
Steven Fisher, who knew Glaze since the 1990s and worked with him at the D.C.-based Raben Group, said one factor that contributed to Glaze's condition was "he could only see upward in terms of his career trajectory."
"We saw that in him and it had me very concerned because I felt like he might end up in a place that wasn't good once he left Everytown, and that's tragically and sadly what happened," Fisher said. "I think he just had trouble adjusting to what is usually a roller coaster ride, I think, in people's careers, especially in the D.C. world."
Along with Glaze, Fisher has worked on gun issues for Everytown, which has been a client of his since 2015 after he worked for them in 2012 after the Newtown shooting.
Compounding the challenges that Glaze faced is a culture among many gay men focused on sexuality, which prioritizes youth and appearance and presents problems as those qualities start fading when men enter middle age.
Fisher said another factor in Glaze's condition was social media, pointing out public perception about his identity was important to him.
"If you look at his social media — I think this is instructive to the rest of us — a lot of the comments are about how Mark was so good looking and he was charming, and he was so smart and so funny," Fisher said. "That's all true, and that's why he was very appealing to many people, but those qualities don't really tell you everything about a person. In fact, one could argue they're superficial in a way, and people have to remember people are more complicated than what you see on social media."
One issue for gay men facing mental health issues as they enter middle age is they don't have the same resources as those available to LGBTQ youth, who have been more of a focus in terms of mental health issues in the LGBTQ community.
Among the leading organizations for LGBTQ youth is the Trevor Project, which has resources and a hotline for LGBTQ youth facing mental health crises.
Kevin Wong, vice president of communications for the Trevor Project, said his organization would be receptive to an older LGBTQ person who calls the hotline, but ultimately would refer that person elsewhere.
"If an LGBTQ person above the age of 25 reaches out to The Trevor Project's crisis services for support and expresses suicidal thoughts, our counselors will listen, actively and with empathy, and work with them to de-escalate and form a safety plan, like any other contact," Wong said. "However, our organization has remained youth-centric since its founding and our volunteer crisis counselors are specifically trained with younger LGBTQ people in mind."
Much attention is focused on the coming out process for LGBTQ people, a time that can upend close relationships — as well as reaffirm them — and a process more commonly associated with youth.
Ilan Meyer, senior scholar of public policy at the Williams Institute at the University of California, Los Angeles, said data is scant about suicide rates among LGBTQ people, but information on suicide attempts shows they tend to be at a heightened rate for LGBTQ people as they go through the coming out process.
"What we do know is that there is a connection with the coming out period at whatever age coming out happens," Meyer said. "And so, we see a proximity to coming out whatever age that happened, we see the suicide attempts proceeding and after that."
Suicide attempts, Meyer said, are much higher for LGBTQ people than the population at large. The self-reported rate of suicide attempts in the U.S. population as a whole, Meyer said, is 2.4 percent, but that figure changes to 20 to 30 percent among LGBTQ youth, which about to 10 to 15 times greater.
Black and Latino people, Meyer said, have been less likely to make suicide attempts in their lifetimes, although he added that may be changing in recent years.
With the primary focus on mental health issues elsewhere in the LGBTQ community, Glaze's death raises questions about whether sufficient resources are available to people in his demographic, or whether individuals are willing to seek out care options that are available.
Meyer said whether the resources for suicidal ideologies among LGBTQ people are sufficient and what more could be done "is the the million-dollar question."
"It's definitely not determined by just mental health," Meyer said. "So many people have depression, but they don't attempt suicide. And so, then the difficult thing is to find the right moment to intervene and what that intervention should be."
Meyer said much of the focus on mental health is on a person's last moments before making a suicide attempt, such as making suicide hotlines readily available, but some of the stressors he sees "are more chronic, ongoing things related to homophobia and the kind of experience that LGBT people have as they come to terms to realize their sexual identity."
Pumphrey said another factor in mental health issues not to be underestimated for almost two years now is "dealing with the COVID and loneliness epidemic," which appears to have no immediate end in sight with the emergence of the Omnicron variant.
"There was always this piece of sometimes the experience of being in your 50s and early 60s…we talk about the invisibility factor," Pumphrey said. "But when there's just this sense of being disconnected from community, especially in the early days of the pandemic, and kind of being locked down, I think that just raised the risk."
U.S. Conference on HIV/AIDS to be held virtually Dec. 2-3
Fauci, Levine, Pelosi to speak at opening session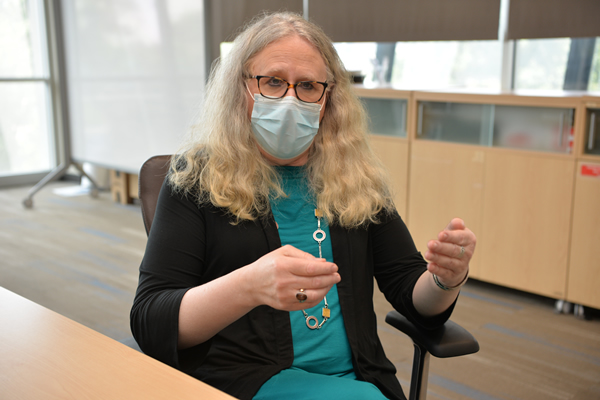 Dr. Anthony Fauci, director of the National Institute of Allergy and Infectious Diseases; and Dr. Rachel Levine, the U.S. Assistant Secretary of Health who became the nation's highest-ranking transgender public official earlier this year, are among dozens of experts scheduled to participate in the 25th Annual U.S. Conference on HIV/AIDS scheduled to take place virtually Dec. 2-3.
Fauci and Levine were scheduled to join Harold Phillips, director of the White House Office of National AIDS Policy; and Rep. Nancy Pelosi (D-Calif.), speaker of the U.S. House of Representatives, as speakers at the conference's opening plenary session at noon on Thursday, Dec. 2.
Phillips and Levine were expected to provide information about President Joe Biden's plans for updating the National HIV/AIDS Strategy, which Biden was scheduled to announce on Dec. 1 at a White House World AIDS Day event.
Members of the U.S. People Living With HIV Caucus were also expected to discuss the federal policy agenda on HIV/AIDS at the opening plenary session.
In addition to the opening plenary and three other plenary sessions, one more on Thursday, Dec. 2, and two on Friday, Dec. 3, the conference was scheduled to include 140 workshop sessions on a wide variety of HIV/AIDS related topics.
The annual United States Conference on HIV/AIDS is organized by the D.C.-based national HIV/AIDS advocacy organization NMAC, which was formerly known as the National Minority AIDS Council before it changed its name to that of its widely known initials NMAC.
"NMAC leads with race to urgently fight for health equity and racial justice to end the HIV epidemic in America," the organization states on its website. "Health equity with communities of color is everyone's challenge."
Several of the workshop sessions cover the topic of expanding the local, state, and national efforts of using pre-exposure prophylaxis drugs known as PrEP as a means of preventing HIV infection.
Other workshop sessions include: HIV CURE – Hot Topics in HIV Cure Research; A Town Hall on Aging and HIV; COVID, HIV, and Racism – How Providers Can Make a Difference; Expanding the Pleasure and HIV Prevention Toolkit: Kink As Harm Reduction; It's About Time – HIV Research Just For Transgender Women; and Impact of COVID-19 on HIV Prevention Services Among U.S. Centers for Disease Control and Prevention-Funded Community Based Organizations.
The conference's fourth and closing plenary session, Foundation Stones to Building the EHE Effort in Indian County, "will highlight the work of those addressing HIV and COVID in Indian Country, rural states and among Alaska Natives with limited infrastructure," according to a conference agenda statement.
"This plenary addresses these challenges and provides innovative solutions by the Indian Country – making the case to support Native HIV care by providing essential building blocks," the agenda statement says.
Paul Kawata, NMAC's executive director, says in a statement in the conference's agenda booklet that he and his NMAC team are disappointed that the 2021 conference is being held virtually for the second year in a row.
"But we felt the issue of safety was simply too critical to ignore," Kawata said in his statement. "I've been very concerned about our loved ones over 50 living with HIV through the whole COVID pandemic," he said, noting that people in that category were dealing with isolation as well as a higher risk for COVID.
"I hope this conference, even though it is virtual, will help alleviate some of that isolation," Kawata said. "We've worked very hard to make this conference not just an opportunity for training and education, but a chance to connect with others, reinforce those strands in your support net, and hopefully, establish some new connections."
More information about the U.S. Conference on HIV/AIDS and instructions on registering to attend can be obtained at nmac.org.
N.C. lieutenant governor compares gays to cow feces, maggots
"If homosexuality is of God, what purpose does it serve? What does it make? What does it create? It creates nothing," Robinson said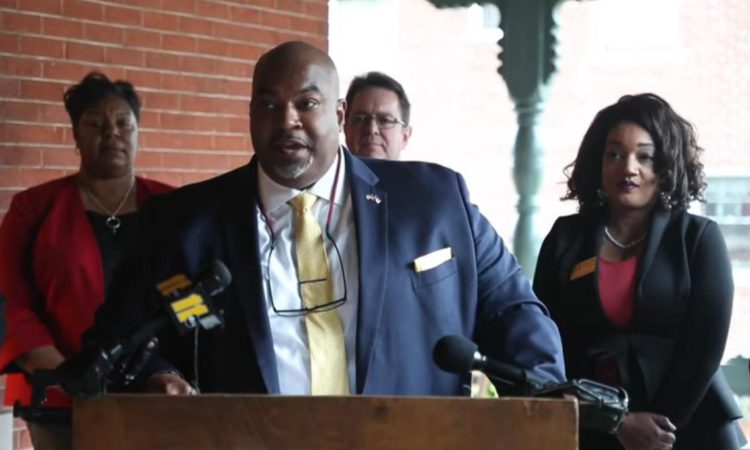 WINSTON-SALEM – Speaking to parishioners at the Berean Baptist Church in Winston-Salem last Sunday, November 14, North Carolina Lt. Governor Mark Robinson attacked the LGBTQ+ community in remarks caught on the church's livestreaming video on YouTube.
Robinson said in his sermon that he questioned the "purpose" of being gay; said heterosexual couples are "superior" to gay couples; and that he didn't want to explain to his grandchildren why two men are kissing if they see that on television the Charlotte Observer reported.
The state's Republican Lt. Governor then went on to compare being gay to "what the cows leave behind" as well as maggots and flies, who he said all serve a purpose in God's creation. "If homosexuality is of God, what purpose does it serve? What does it make? What does it create? It creates nothing," Robinson said.
Democratic lawmakers expressed their outrage on Twitter:
"This man's theology and religious practices are not only flawed and a perversion of the Christian tenets; he places countless people at risk of violent attacks and even murder every time he opens his mouth." #ncpol https://t.co/Uw8jeiqx7A

— NC House Democrats (@NCHouseDems) November 20, 2021
According to the Observer, "The video was distributed Friday by a pastor at St. John's Metropolitan Community Church in Raleigh, the day before the Transgender Day of Remembrance. A protest rally was held Friday in front of Robinson's office, but organizers also read the names of transgender people who have been killed.
"This man's theology and religious practices are not only flawed and a perversion of the Christian tenets; he places countless people at risk of violent attacks and even murder every time he opens his mouth," said Vance Haywood, senior pastor at St. John's, in a statement.
Robinson is expected to run for the governor's chair in 2024. In another video of the sermon captured the Lt. Governor ranting in transphobic terms his opinion of the Trans community:
North Carolina Lt. Gov. Mark Robinson (Twitter Video)
Video of remarks made by North Carolina Lt. Gov. Mark Robinson courtesy of the Charlotte Observer.