Best of Gay D.C.: People
Blade readers vote for their favorite people in the Washington LGBT community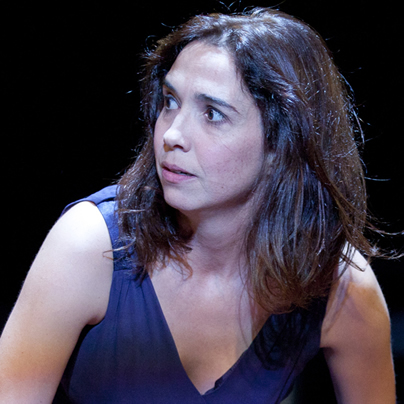 Best Musician: Tom Goss
Best Drag Queen: Ba'Naka Devereaux
Ladies of Town
Best Personal Trainer: Liz Warner-Osborne
Best Actor: Jeffrey Johnson
AKA Special Agent Galactica
Best Actress: Holly Twyford
Most Committed Activist: Brent Minor
Best Gay Politician: Rep. Barney Frank
U.S. House of Representatives (D-Mass.)
Best Amateur Athlete: Julie Oleson 
Julie Oleson is a rookie tight end who's been training with the Baltimore Charm of the Lingerie Football League for the past seven months (final cuts are made before the start of the next season). Oleson says she was, "humbled enough being nominated for the award of 'Best Amateur athlete' and is blown away winning it."
The Baltimore Charm is a third year franchise of the Lingerie Football League. The league is made up of several seven-on-seven women's tackle football teams. Mitch Mortaza created the LFL in 2009 and games can be watched on MTV 2 on Friday nights. The Charm joined the league for the 2010-2011 season and last year they finished the season with a 2-2 record. Of course they are hoping to get past that .500 mark this season. The Charm plays their home games at First Mariner Arena in Baltimore. (JH)
Best Stylist: Brandon Hoover — Zoe Salon and Spa
Brandon Hoover has been working at ZOE Salon and Spa in Fairfax for three-and-a-half years.
"It's great," he says of winning this award. "I'm amazed at how many D.C. residents come to Fairfax to see me."
His favorite part of being a stylist is the client interaction and the creative outlet it gives him. Many of his clients leave looking completely different after each visit.
"I love encouraging self confidence and making beautiful women even more beautiful," Hoover says.
This comes to light when he mentions the Pink Hair for Promise program that Zoe is participating in. From now until Feb. 2013, clients can pay $10 to get a pink hair extension, $9 of which goes toward the D.C. Breast Cancer walk. Last year the salon raised $19,000.
In the short time he's been at Zoe, he has been featured in a national hairstyling collection, and been nominated for a Trend visions award in photo editorial and hair editorial.
If Hoover could do any celebrity's hair, it would definitely be Lady Gaga.
"Hands down. I am the biggest little monster." (JE)
Zoe Salon and Spa
11906 Lee Jackson Memorial Hwy
Fairfax, Virginia 22033
Best Realtor: Ray Gernhart
Ray Gernhart has been in the real estate business for 25 years. He started in 1985 and since then has coordinated thousands of home sales. He specializes in residential and commercial sales in the D.C., Alexandria and Arlington areas.
He has earned top honors in many areas including a Lifetime Achievement Award, Re/Max Hall of Fame member, Re/Max Platinum Club and the $20 Million Plus Sales Producer since 1999 with the Northern Virginia and Greater Capitol Area Association of Realtors.
Gernhart's office is located at 5100 Leesburg Pike in Alexandria and he and his team are members of the Re/Max Allegiance.
For more information on Gernhart and his team, visit talktoray.com. (JE)
Ray Gernhart and Associates
5100 Leesburg Pike
Alexandria, VA 22302
Best LGBT TV Personality: Chuck Bell – NBC4
Chuck Bell has been a meteorologist at NBC4 in D.C. since October 2004.
"It's fascinating that I would be recognized for that," Bell says of winning this award. "It's very flattering. I'm pleasantly surprised that people are taking note. I'm very excited by it."
His most memorable local weather event was the blizzard in February 2010.
"For better or worse, I'm a weather extremes person. I like it most if it's a record high or record low, record rainfall or record snowfall," Bell says. "I realize that every day can't be a record … My favorite weather is always going to be the weather that most people don't like." (JE)
Best Hill Staffer: Brock Thompson
Brock Thompson has been working at the Library of Congress since the day after President Obama's inauguration. He previously worked in the Senate.
"Having your finger on the pulse of the political atmosphere and political scene," Thompson says is the best part of working on the Hill. "With the Library, it's the nation's oldest cultural institution so we get to promote and display our national treasures for everyone to see and enjoy. I never get tired of doing that."
He's president of the Library's LGBT employees group, LC GLOBE. The group has increased membership and programming. The group has also started a rare book fund for rare LGBT books and materials to be added to the library's LGBT collection.
His book, "The Un-Natural State: Arkansas and the Queer South," a study of gay and lesbian life in Arkansas in the 20th century, was published in 2010 and can be purchased at Amazon. He is also a member of the Rainbow History Project's board of directors, which he joined in 2011. (JE)
Best Student Leader: David Aponte — George Washington University
Virginia native David Aponte became interested in LGBT issues after learning what some teens were going through in school. He had been bullied in elementary and middle school for his religion, because he wasn't tall and because his fellow students said he acted too intelligent. He wanted to keep others from feeling that pain.
"As a straight ally myself, a lot of us don't speak up enough for communities that we don't identify with," Aponte says. "I think with the LGBT community, there's a lot going on right now and people don't understand what's going on in that community. It's important that we advocate for that."
Aponte is the co-chair of GLSEN's National Advisory Council and is the chair of the Northern Virginia chapter.
Aponte recently hosted an event with GLSEN for the organizations "Ally Week." The event was mainly for high school students and had an open mic, dinner and dance.
He's a junior at George Washington University majoring in integrated information science and technology, a special program geared toward people who are already working. (JE)
Best Masseur/Body Worker: Nildo Silva
It's hard to stick with a fitness regimen. But, working with an experienced certified personal trainer like Nildo Silva can make that hard work seem almost enjoyable.
After a stint at Tranquil Space, Silva is now working at the popular FIT Personal Training Gym in Dupont Circle. He has multiple certifications and has been in the industry for 15 years, having worked in gyms in several countries.
A favorite with LGBT patrons, Silva is praised for both his persistence and his patience. He is noted for being knowledgeable, friendly and approachable and for his ability to work with both novice and experienced clients. He teaches individual and group personal training sessions, calisthenics and aerobics classes, and "Localizada," a new style of group resistance training. (BTC)
Nildo Silva
FIT Personal Training Gym
1633 Q Street, NW Suite 110
202-255-7814
Local Hero: David Catania
David Catania made history when he was the first openly gay person elected to D.C. Council in 1997 and he's been making waves ever since.
Catania was initially elected as a Republican, but he has since broken with the party. In 2004, Catania left the GOP after President George W. Bush announced his support for a constitutional amendment banning same-sex marriage. Catania was decertified as a delegate to the Republican National Convention and announced his support for the Democratic candidate, John Kerry. In September 2004, he became an independent and still serves as an At-Large Council member in that capacity.
Catania is well known for his work on health care, including tackling the HIV/AIDS epidemic, education, housing, public safety and economic empowerment. In 2009, he became the driving force behind a D.C. same-sex marriage bill. The passage of the "Religious Freedom and Civil Marriage Equality Amendment Act" on March 3, 2010 was hailed as both a personal and political victory for the often controversial Catania. (BTC)
Best Bartender: David Chung
Sadly, this award is being given posthumously — David Chung, who tended bar at Nellie's, committed suicide in July.
Chung's friend Zachary Wine said Chung had been battling suicidal tendencies. Wine told the Blade that he decided to publicly discuss Chung's suicide as a way to help others who may want to take their own lives. "If you care about someone, tell them. If you can't tell them, show them," Wine says. "If you can't show them, make yourself find a way to let the people you care about know, and never stop. I myself am horrible about showing my emotions, but it's only through being there for someone that we can try to make sure this tragedy doesn't happen again."
Friends, family and patrons recalled Chung warmly, remembering his infectious smile and friendly manner. Wine eulogized his friend by saying, "he was one of the most caring individuals I've ever had the grace to know. And he carried that not just to the people he was close with, but the people he didn't know." (BTC)
Best DJ: Rosie Hicks
Popular DJ Rosie Hicks has a very full dance card these days. On the first Friday of every month she hosts Flirt Fridays at Phase 1 of Dupont. On the third Saturday, she plays for BARE (presented by the Ladies of LURe) at Cobalt. And, on the first, second and third Thursday of each month, she plays for Hip Hop Night at Club Hippo in Baltimore.
The native Baltimore resident is known for spinning a diverse blend of hip hop, top 40 and old school.
In her day job, Hicks works as a special education teacher at the Kennedy Krieger Center, where she "helps children with special needs reach their full potential." She has a master's in special education from Johns Hopkins University and an undergraduate degree in electronic media and film from Towson University. (BTC)
Best Drag King: Aidan Cox
Aidan Cox is often described as a drag king stripper and admits he likes to take his clothes off.
"I'm a little different than other drag kings," he says. "I sometimes do a tribal design on my chest and show the tape that binds my chest and I wear different pairs of little boy underwear. A lot of times I strip down to my underwear."
Cox began performing in 2009 after reading about drag kings online and watching their videos on YouTube. Then Cox discovered the website for the D.C. Kings. Aidan started talking to Ken Vegas who invited him to attend a meeting.
For Cox, the magic started when he first performed in December 2009. "The stage has made me a new person," he says. "Once you step into that light you get this amazing rush and you can't help but want to keep going back for more."
When not on stage, Cox, who identifies as queer, is working on a degree in counseling and hopes to work as a counselor for LGBT people. (BTC)
Aidan Cox
Dckings.com
Best Educator: Raymond Panas
Perhaps the best lesson Ray Panas offers his students at George Washington University is his ability to juggle his work as an educator, a researcher and an activist.
The popular instructor started teaching at GW in August 2009. He serves as an assistant professor in the Department of Clinical Research in the School of Medicine and Health Sciences.
As a researcher, Panas worked at the Allegheny County Public Health Labs in Pittsburgh and wrote a primer on AIDS Testing and Counseling for the Allegheny County Health Department. Panas is now director of medical and scientific affairs at Sucampo Pharmaceutical in Bethesda.
As an activist, Panas has been active in a variety of LGBT and HIV/AIDS groups. He has been on the board of Capital Pride since 2009 and currently serves as the organization's secretary. He is also an active long-time member of Dignity/Washington, a community of LGBT Catholics. Panas was president of the group from 2007-2010. (BTC)
Best Rehoboth Bartender: Christopher Chandler
This was a close contest, with last year's winner, Jamie Romano of Purple Parrot, and the multi-talented Holly Lane of Café Azafran, finishing just behind winner Chris Chandler of the Blue Moon. A Blue Moon fixture, Chandler (as he's known to regulars) is known for his friendly smile, an uncanny memory (he's usually mixing your drink before you order it) and, of course, his CrossFit-honed physique. Whether you visit the Moon on a packed summer weekend or a frigid, quiet February night, Chandler's usually there to welcome you.
Congratulations, Chandler, but a piece of advice: If you want to retain the title next year, try mastering Jamie's impressive rainbow shot or belting out show tunes while mixing drinks like Holly. (KN)
Blue Moon
35 Baltimore Ave.
Rehoboth Beach, DE 19971
Local Heroine: Katy Ray
Katy Ray is perhaps best known as a promoter for Phase 1. In that role, she proudly hosts and publicizes events for the country's longest-operating lesbian bar. She got her start shortly after she moved here from Richmond.
"I was new to D.C. and saw the ad for their karaoke night. It said if you bring 16 friends, you get a $25 bar tab. Well, I know how to network. I set up an event on my Facebook page and decided to make it a Lady Gaga night."
About 80 people showed up and the night was a great success. Angela Lombardi, manager of Phase 1, asked Ray, a lesbian, if she wanted to host karaoke on a regular basis. Ray said yes, and the monthly event is now a fixture on the D.C. lesbian social calendar. Ray generally organizes each evening around a theme and she is already looking forward to the holiday lingerie party in December.
Ray, who works as a high school teacher by day, established a Gay-Straight Alliance at her school and teaches straight students that they can work as allies. Last summer she worked with LGBT school liaisons from across the city to develop educational materials for the D.C. Public School system. She encourages her students "not to take crap from anyone and to own who they are." (BTC)
Katy Ray
Phase1dc.com
Best Clergy: Rev. Joseph Palacios
Joe Palacios is a Catholic priest on inactive status.
He's a professor at Georgetown University where he has taught sociology and mentored many young gay men. He is vice president of The Center and celebrates Mass with Dignity Washington and Northern Virginia. Many know him politically from Catholics for Equality with which he worked on the marriage campaign in D.C. and now in Maryland, Maine, Minnesota and Washington State.
Authenticity matters, Palacios says. When entering the seminary at 32 in 1983, he presented himself as gay, celibate and willing to abide by the rules. Years later at Georgetown, he discovered that he was one of very few Latino professors and that there were a lot of gay students on campus. This reinforced his commitment to authenticity in his teaching, ministries, academic research and political activism. To be anything less than authentic, he says, would be shortchanging both himself and those around him in their own quests for authenticity. (PF)
Best Trans Advocate: Mara Keisling
Mara Keisling once told the Blade that she would walk through hot coals for "anything she believed in." Her indefatigable pursuit of transgender equality, make us believe her.
As founding executive director of the National Center for Transgender Equality, Keisling (a transgender woman and parent) is one of the country's leading voices for transgender rights. Her work with the Center (which Keisling helped found in 2003) has involved several prominent achievements including the first-ever trans-inclusive federal legislation, modification of State Department rules for changing gender markers on passports and the first congressional hearing on transgender issues.
In a recent interview with her alma mater, Penn State University, Keisling said, "almost anytime anything gets done for transgender people or for LGBT people, as a whole, we get calls from people saying, 'Yes, but I still don't have a job.'"  She and the Center are working to change this. (PF)
Best Businessperson: Douglas Schantz
Douglas Schantz, a self-proclaimed StairMaster champion, is the owner-operator of Nellie's Sports Bar, which opened on U Street in 2007.
The win this year came as a surprise to Schantz, especially since he's doing what he loves.
"I've always been an entrepreneur at heart and Nellie's allows me to express that," he says.
Schantz opened the bar, named after his great- and great-great grandmothers, with Rocio Anzola-Mendez after becoming friends when they worked together previously.
"I'm very in touch with my family's genealogy," Schantz says about the name, his favorite thing about the bar. "It seemed like a fun and natural fit."
It's to be expected that if any of the local teams has a televised game — professional or collegiate — it will be shown at the bar and big events, such as playoff games and tournaments, will be on the stadium-sized viewing screen. There's no limit to which sports they'll show.
"Every sport is my favorite to watch, duh," Schantz says.
The bar also has regular events such as Drag Bingo, Drag Brunch, "Beat-the-Clock" happy hour, "Golden Girls" watch party and more.
Before opening Nellie's, Schantz worked at advertising agencies in Chicago, New York, San Francisco and Washington. (JE)
Nellie's Sports Bar
900 U St., N.W.
202-332-6355
Best Straight Ally: Brett Johnson
Brett Johnson started working at Level One about three years ago as a server. She steadily worked her way up the ranks becoming a bartender, then assistant manager and finally general manager.
Through her job, she meets and interacts with people all the time.
"A lot of this year has been hard on a lot of my friends and a lot of my clients or customers … we've become really close and we're there for each other … it's kind of an award that validates everything that happened," Johnson says. "I really appreciate it. I love the people that voted for me."
She says that interaction and even the interaction between customers is one of the best parts of working at the restaurant. She once had a friend take a customer to JR.'s because he wanted to go, but didn't want to go alone.
"They meet the staff and they meet other people sitting at the bar then they feel completely comfortable going upstairs," Johnson says. "It just builds a community."
Johnson became interested in LGBT rights in high school when her older brother came out. She started a gay-straight alliance in her high school and worked on a bullying and harassment policy in Omaha, Neb. She's worked with several organizations through her job at Level One, including the Mautner Project and the Gay Men's Chorus. (JE)
Level One
1639 R Street, NW
202-745-0025
Investing in real estate: What you need to know
From REITs to flips, tips for getting started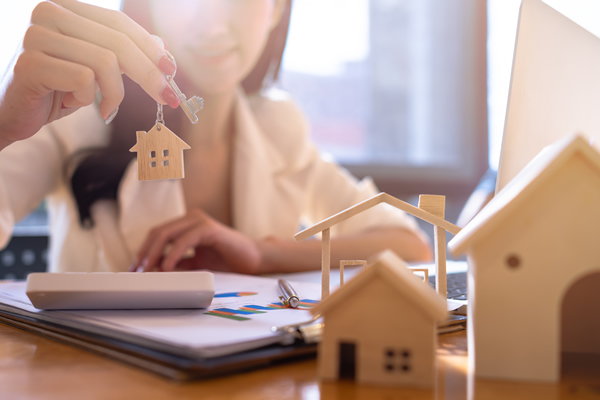 In many cases, buying or selling a home is a very personal experience. Many people buy a home with the intention of living there – making memories, building a family, becoming part of a community. The same is true of sellers. Selling a home, in many cases, is simultaneously difficult and exciting – it means the ending of one chapter and the beginning of another. While the majority of buying and selling experiences may be personal – increasingly, others in the market are interested in real estate not just to find a home, but also to make a great investment.
In our current market, it's easy to see why real estate can often end up being quite a profitable investment. In 2021, sellers often saw huge profits on the sale of real estate – but even in years where profits aren't quite as significant as this year, real estate has often proven to be a sound and reliable long-term investment strategy. Real estate investments can add diversification to your portfolio, and a very successful venture, particularly if you buy and sell when the circumstances are right.
Over the last several years, many gay neighborhoods around the country have shown steady appreciation, leading investors, and particularly LGBTQ investors, to consider whether the time is right to consider adding real estate to their investment portfolio. For those considering real estate as an investment strategy, here are a few helpful tips:
• Consider REITs: For those just getting started with real estate investment, Real Estate Investment Trusts, or "REITs" for short, might be a good option. These provide the opportunity to invest in real estate without owning the physical real estate yourself. They are often compared to mutual funds, and you invest in a company, a REIT, which owns commercial real estate like office buildings, apartments, hotels, and retail spaces. Generally, REITs pay high dividends, which make them a popular investment in retirement, as well as for investors not wanting to own one particular piece of property.
• Consider investing in rental properties: Rental income can often be a steady, reliable source of income if you do your due diligence researching the property itself, the surrounding neighborhood, and the potential community of renters. While maintaining a rental property will certainly require some investment of time and energy on your part, it can be a profitable long-term investment and one that is appealing to many people.
• Put your skills to work: If you have a skill set that includes being able to renovate and upgrade homes – or if you know a trusted person or team of people who does, flipping a home that could use some renovation can be quite a profitable investment indeed. Getting a home that could use some extra TLC at a good price and updating it can result in a sales price that is significantly higher than the purchase price. This can certainly be a very good investment – and a fulfilling project too.
• Be willing to listen and learn: When trying something new, it is almost always helpful to talk to those with experience in that area. Investing in real estate is no different. Having a mentor who can give you some tips and advice from their own experience is invaluable.
• Get to know the neighborhood: When making any real estate decision, whether you're going to live in a home yourself or purchase property for investment purposes, knowing the neighborhood and community you're interested in is important. A key part of that will be finding a real estate agent who knows and loves the community that you're interested in, and who understands the market in that area. This can make all the difference between a smooth and successful process, and a stressful one.

(At GayRealEstate.com, we are dedicated to our mission of connecting LGBTQ home buyers and sellers with talented, knowledgeable, and experienced real estate agents across the country who can help them to achieve their real estate goals. Whether you're interested in buying or selling a home that you live in personally, or buying and selling for investment purposes, we can connect you with an agent who knows and loves the community, and who can help you achieve your goals. Contact us at any time. We look forward to helping you soon.)
Jeff Hammerberg is founding CEO of Hammerberg & Associates, Inc. Reach him at
303-378-5526 or [email protected].
Bistro du Jour transports you from Wharf to Seine
New casually sophisticated restaurant a welcoming, inclusive space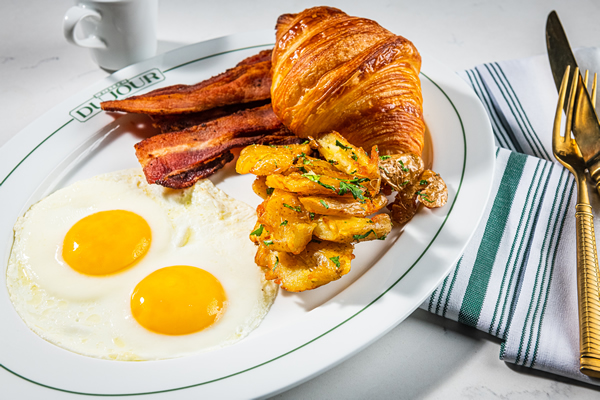 Delights run morning to night at The Wharf's new Bistro du Jour, a casually sophisticated French outpost sliding into a prime waterfront space.
Courtesy of gay-owned KNEAD Hospitality + Design, this new restaurant flaunts a menu born from a Seine-side bistro, serving coffee in the morning hours to Champagne in the evening. Its all-day culinary oeuvre begins with coffee (from La Colombe) and omelettes, and ends with items like a towering and meaty bi-patty cheeseburger L'Americain.
Taking over the sweet spot vacated by Dolcezza, Bistro du Jour is a sister to Mi Vida and The Grill, KNEAD group's two other Southwest waterfront locales. The group also runs several other formal and large-format restaurants they have populated across the city.
Why bring French to the Wharf?
"We have been here for almost four years and we knew what the area was missing and acted on it," says one of the co-owners, Jason Berry. "We wanted something where people could come in at all hours of the day and find something they wanted, from coffee and pastry to a full-on sit down at night."
The Bistro opens at 7:30 a.m. serving that local La Colombe coffee, plus flaky, buttery pastries from KNEAD's partner Mah-Ze-Dahr Bakery. Breakfast service starts at 8 a.m. with brioche doughnuts, quiches, a "massive" Belgian waffle, and French toast topped with a blueberry compote and sweetened whipped cream.
Executive Chef Treveen Dove – transferred after three years at another KNEAD spot, Succotash Prime) – oversees the offerings, a tour of the "greatest hits" of a typical Parisian bistro.
"Oeufs Sur Le Plat is to die for, with the griddled buttered bread topped with a sunny side up egg, sautéed mushrooms and a Mornay sauce… It's so rich and delicious."
By 11 a.m., the Bistro transitions to other traditional French fare, like French onion soup, tuna Niçoise salad, steak frites, mussels in a white wine and garlic butter, and a croque madame sandwich dripping with gruyere and creamy Bechamel. One unique offering is whipped brown butter with radishes and crostinis. There are also gougeres, warm cheese puffs shot through with gruyere.
Come 4 p.m., the dinner menu fills out even more, with additional dinner items confit de canard (duck leg with green lentils and red wine shallots); and a robust, earthy coq au vin (braised chicken with bacon, mushrooms and mashed potatoes); and a lamb shepherd's pie with mashed potatoes that would be at home on a French Alps farm.
Due to space limitations, the Bistro lacks a sit-down bar. Yet beverage director Darlin Kulla, who has been a part of the KNEAD family for more than four years, has put together a focused menu of six craft cocktails. You'll find not only a French 75 (gin, lemon verbena, lemon, bubbles), but also a Manhattan and a "Champs Elysees" with cognac, chartreuse, lemon, and bitters.
The bar itself carries only one brand of each liquor: one gin, rum, and vodka. " If you want vodka, you're having Grey Goose," notes Reg with a smile.
Given the cuisine, there is a considerable French wine list topping 60 bottles, leaning heavily on Champagne and sparkling wine. There are almost 20 red, white, rose, and Champagne options by the glass and carafe, as well. The bar rounds out its stock with French aperitifs and bottled beer.
Notably, the majority of the restaurant's seating is situated on the building's exterior, in a newly constructed all-season patio enclosure with almost 70 seats. The owners designed the space to maximize waterfront views, capacity, and flexibility. During warmer days, the Potomac breeze is welcome to flutter around coffee-sippers; in the colder months, the windows roll down for a fully enclosed and conditioned space. The patio's banquettes arrived directly from France, and twinkling strung lights sway from the ceiling.
The interior is done up in Mediterranean greens, pinks, and creams. Big windows welcome in daytime natural light, but allow for a dim, mood-lit atmosphere in the evening. Traditional bentwood bistro chairs dot the space and antique-style tin tiles reflect a classic Parisian flair. Over at the bar, the glassware display was created from a single panel of antiqued brass. At the rear, a daytime counter offers coffee, pastries, and drinks.
As Bistro du Jour's owners are both gay men, they note that, "Our restaurants are intended to be welcoming to all guests of all backgrounds, beliefs and demographics. We cater to everyone, which is the only way to lead a hospitality organization."
"When you're part of a minority group in society," they say, "the only way to lead your restaurants is as inclusive, welcoming, and hospitable leaders."
Though smaller than their other ventures, a French bistro right on the teeming, pedestrian-heavy Wharf "was the perfect fit," they say. 
Dining without a dining room
Today's hosts are likely more casual than in the past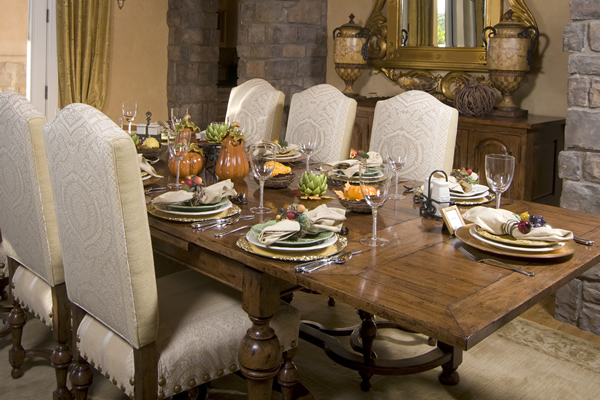 With Thanksgiving quickly approaching, you may be thinking about gathering your loved ones and kindred spirits to celebrate the positive things in your life, praise your higher power, pay homage to indigenous people, or just stuff your face and fall asleep in front of the television at the traditional Thanksgiving after-party: the football game.
Thinking back to my childhood, I remember the wonderful smells coming from the kitchen. The elegant table in the formal dining room was adorned with a crisp, white tablecloth, "the good china," sterling silver place settings, a variety of serving dishes for the forthcoming bounty, and a cornucopia centerpiece containing dried fruits and vegetables.
My dad, Ozzie, would carve the turkey and my mom, Harriet, would bring out the pecan and mincemeat pies for dessert…wait a minute…did I really grow up in a 1950s sitcom? Yup, I did, although Ozzie was Don and Harriet was Grayce.
Sometimes we would visit my maternal grandparents in Maine, whose formal dining room was less so – an extended part of the living room in the 1940s version of an open floor plan in their three-bedroom apartment over the general store and gas station that my grandfather owned.
On occasion, we would go to Massachusetts to spend a day or two with my paternal grandmother and her extended clan. There was nothing "formal" about the dining room there. Dinner took place on a litany of card tables set up on the jalousied porch off the kitchen.
When dinner was over, my grandmother would rise from the head of the table and declare, "I made the dinner. Now you do the dishes." My father and his sisters would scurry like baby chicks to adhere to her demand.
As I grew older, I rarely lived near family. Every so often, I would be invited to dinner as the obligatory guest – the girlfriend of whatever young man I was seeing at the time. Later, I would become part of the restaurant holiday dining crowd.
For several years, I had a standing date with a good friend for dinner and a movie on Thanksgiving Day. We would choose restaurants that advertised dishes like Lobster Thermador, Champagne Ravioli, or Boeuf Bourguignon, but would invariably select the traditional turkey dinner with dressing and all the trimmings from the prix fixe menu.
Fast-forward to 2020 and we may not have gathered at all, content to have Whole Foods or Door Dash deliver Thanksgiving dinner to be eaten in front of the television while watching Hallmark movies.
Now here we are. The formal dining room has gone the way of the good china and the sterling silver. For most of us, they are simply not necessities in our lives any longer. So how do you host a dinner party when there is no room specifically designated for dining?
First, you don't need to purchase things you have no room to store later. Although "rent" can be a four-letter word to a real estate agent, a party rental company's website allows you to select items online and have them delivered and removed at a fraction of the cost.
Are you trying to seat a large group for dinner? Let's start with the premise that all your guests do not need to be at a banquet table. Consider having several tables for two or four placed around the room. It will give you the ambiance of your favorite bistro and still allow for conversation among your guests.
You can also rent folding chairs, linens, place settings, and stemware. Once your order arrives, just set the tables and add candles or your favorite centerpieces to complete a festive look.
If you have no room for a seated event, you can order standing cocktail tables. Your breakfast bar or kitchen counter will make a perfect buffet line.
Better yet, have an open house, inviting guests at slightly different times so you see everyone without feeling like you're in the middle of a crowded concert.
Is your style even more casual? Rather than worrying about recycling plastic cups and sporks, pick up a bunch of Oftast dinner or dessert plates for 79 cents each at Ikea. Add a 6-pack of Svalka wine glasses and cutlery service for four from the Mopsig collection for $5 each. Pull out some pillows and eat while sitting cross-legged on the floor surrounded by family and friends.
Some of us may have trouble getting back up, but we'll be in perfect position to fall asleep during the football game.
Valerie M. Blake is a licensed Associate Broker in D.C., Maryland, and Virginia with RLAH Real Estate. Call or text her at 202-246-8602, email her via DCHomeQuest.com, or follow her on Facebook at TheRealst8ofAffairs.