Carson confirmed to HUD with support from 6 Democrats
New housing secretary has no experience, history of anti-LGBT views
Despite a history of expressing anti-LGBT views, the U.S. Senate confirmed on Thursday former neurosurgeon Ben Carson as secretary of housing and urban development by an 58-41 vote with the support of six members of the Democratic caucus.
The six members of the Democratic caucus who joined with the Republicans to vote for Carson were Sens. Joe Donnelly (D-Ind.), Heidi Heitkamp (D-N.D.), Angus King (I-Maine), Joe Manchin (D-W.Va.), Jon Tester (D-Mont.) and Mark Warner (D-Va.). All Republican senators who were present voted for Carson; Sen. Johnny Isakson (R-Ga.) wasn't present to vote.
Six Democrats joined Republicans to vote for Carson even though the new HUD secretary has no experience in managing housing or urban affairs and a long history of comments denigrating LGBT people. After his success as a neurosurgeon, those remarks animated his career as a conservative commentator and Republican presidential candidate.
Carson has called transgender people the "height of absurdity" and "a few people who perhaps are abnormal," suggesting amid opposition to them using the restroom consistent with their gender identity they should have their own bathrooms specifically designated for them.
During his presidential campaign, Carson waxed nostalgic for "Don't Ask, Don't Tell" and expressed opposition to allowing transgender people in the armed forces. The candidate signed a pledge with the anti-gay National Organization for Marriage to, among other things, back a U.S. constitutional amendment banning same-sex marriage nationwide and "conduct a review of regulatory, administrative and executive actions taken by the current administration that have the effect of undermining marriage."
In 2013, Carson landed in hot water when, as a neurosurgeon at Johns Hopkins University, he compared LGBT advocates to pedophiles during an interview on Fox News. Outcry over the remarks led him to apologize "if anybody was offended" and to cancel plans to give the commencement address for the medical school.
During his confirmation hearing, Carson derided LGBT rights as "extra rights" under questioning from Sen. Sherrod Brown (D-Ohio) on LGBT issues.
"What I mentioned in the past is the fact no one gets extra rights," Carson said. "Extra rights means you get to redefine everything for everybody else. That, to me, doesn't seem to be very democratic."
Carson as HUD secretary has the authority to roll back Obama-era regulations barring discrimination against LGBT people in government-sponsored housing and transgender people in homeless shelters, but that should remain in place if Carson keep to his words. In written testimony to the committee, Carson said he doesn't believe protecting equal access to housing for LGBT people is "extra rights" or something that should be withdrawn.
In a statement, Warner cited Carson's personal story of "rising from an impoverished background to become an accomplished surgeon" as a reason to confirm him to HUD.
"The Secretary of Housing & Urban Development plays an important role in addressing affordable housing, combatting homelessness and upholding civil rights and non-discrimination laws," Warner said. "During our meeting in January, I questioned Dr. Carson's commitment – based on previous public statements – to upholding those fundamental responsibilities. He assured me that he is a 'huge fan' of the Civil Rights Act of 1968 and its subsequent amendments, which prohibit discrimination in housing, and will vigorously enforce laws proscribing redlining."
Alluding to housing challenges facing West Virginia, Manchin said in a statement he voted to confirm Carson because of the importance of having a team in place running the government.
"I believe he understands that the housing and development needs facing West Virginia are different than those facing America's urban communities and I look forward to working with him to improve the lives of West Virginians," Manchin said.
Heitkamp said in a statement she voted to confirm Carson because in meetings with her he expressed a commitment to "recognize the full social and economic scope of impediments to safe, affordable housing."
"I'm supporting Dr. Carson today because that approach is crucial to spurring housing opportunity for rural and low-income families on tribal lands and in rural communities alike – and I intend to hold him to his word," Heitkamp said. "Any successful blueprint begins with a solid foundation, and I look forward to laying the trauma-informed groundwork with Dr. Carson so that our nation's housing solutions are strong enough for communities that have withstood poverty, crime, abuse, and other adverse experiences and are built to last."
Donnelly said in a statement he voted for Carson because the secretary made a commitment to East Chicago, which is experiencing a lead crisis.
"The families of East Chicago are counting on him and it is critically important we keep our focus on assisting these families," Donnelly said. "I also have been encouraged by Dr. Carson's understanding of issues important to Indiana, including housing assistance for homeless veterans, addressing housing blight, the nexus between housing and health outcomes, and the need for access to affordable housing."
The Washington Blade has placed a call in with the offices of King and Tester seeking comment on their vote to confirm Carson.
In a committee vote to approve Carson, Democratic members of the Senate Committee on Banking, Housing & Urban Affairs, joined Republicans to support him unanimously, much to the ire of many progressives who objected to their support for a Trump nominee.
Of those Democrats on the committee, Sens. Elizabeth Warren (D-Mass.), Chris Van Hollen (D-Md.), Jack Reed (D-R.I.), Robert Menendez (D-N.J.), Brian Schatz (D-Hawaii), Catherine Cortez Masto (D-Nev.) and Sherrod Brown (D-Ohio) voted "no" during the floor vote to confirm him, although Heitkamp, Tester and Warner doubled-down to support him again.
The 62-37 cloture vote Wednesday to proceed with debate and confirmation of Carson in the Senate was about the same as the confirmation vote, except Sens. Ben Cardin (D-Md.), Tom Carper (D-Del.) Menendez and Brown were among those voting to move forward.
Mara Keisling, executive director of the National Center for Transgender Equality, criticized the Senate for confirming Carson despite his lack of experience in housing and anti-LGBT comments.
"The Senate has just voted to confirm a man who called over 1.4 million of his fellow Americans who are transgender 'abnormal' and referred to acknowledging their very existence as 'silly,' 'beyond ridiculous,' and 'the height of absurdity,'" Keisling said. "Even setting aside Dr. Carson's self-professed inexperience, these mean-spirited statements alone should have been disqualifying. The Senate will now own those comments."
Justice Department eyes criminal probe of Santos' campaign finances
House Speaker Kevin McCarthy's (R-Calif.) office has not commented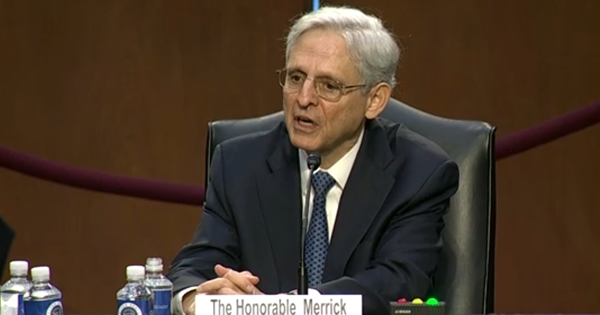 The Justice Department has asked the Federal Election Commission to hold off on law enforcement activity over Republican U.S. Rep. George Santos (N.Y.) as federal prosecutors conduct their own criminal probe into the congressman's campaign finances.
The news, first reported Friday by the Washington Post, was confirmed Saturday by the Washington Blade via a Justice Department source familiar with the matter who was not authorized to speak with the press.
The attorney who filed the FEC complaint against Santos previously told the Blade that the agency would yield to the Justice Department if prosecutors initiate a criminal probe — indicating that in Washington the matter would be overseen by the Department's Public Integrity Section. 
The Nassau County District Attorney's Office and the office of New York Attorney General Letitia James are also looking into Santos' financial conduct, while the congressman has simultaneously been enmeshed in controversies over his compulsive lying, having fabricated virtually every part of his life and identity.
As of this publication, House Speaker Kevin McCarthy's (R-Calif.) office has not responded to a request seeking comment. McCarthy, along with the rest of Republican leadership in the chamber, have addressed the controversies only minimally, telling reporters they have no plans to ask Santos to step down until or unless criminal proceedings against him are underway.
Santos voted for McCarthy's bid for speakership in each of the 15 ballots that were required to unite the House GOP conference behind him due to the objections of a couple dozen ultra-conservative members who were able to delay the vote and extract painful concessions because of the party's narrow control of the House majority.
Memphis police release Tyre Nichols arrest, fatal beating video
29-year-old Black man died after traffic stop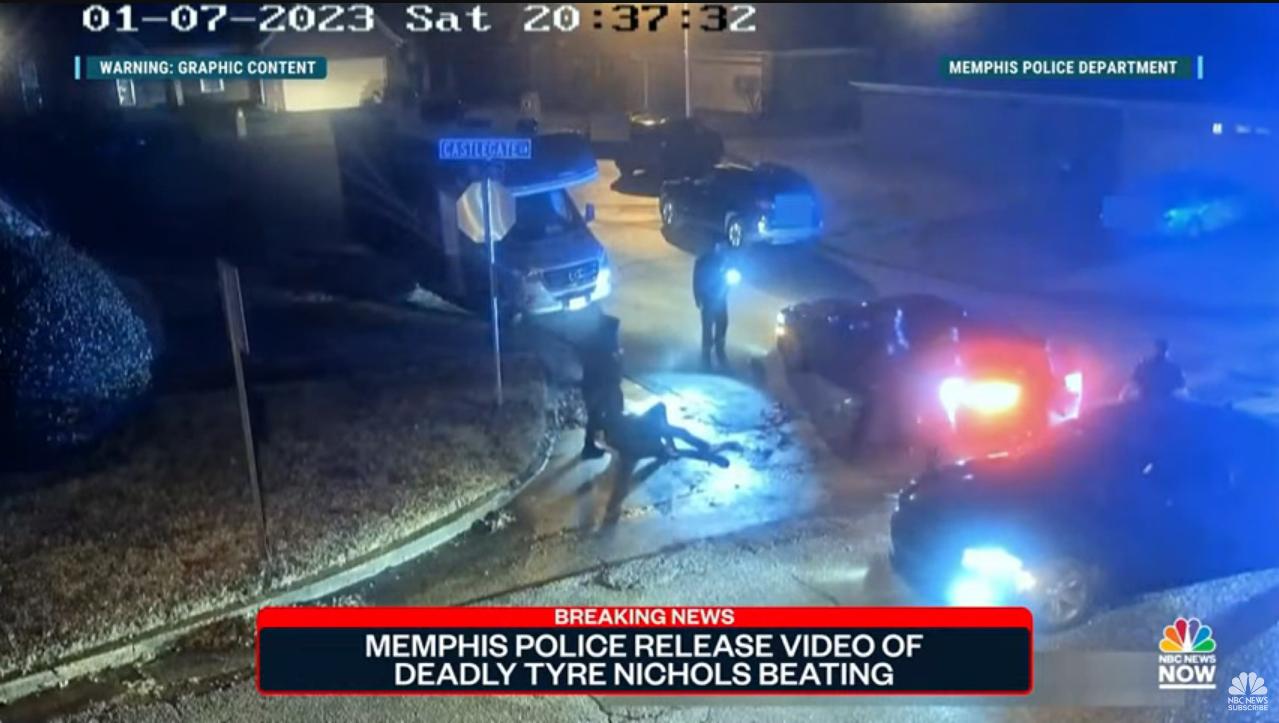 Three videos consisting of both body cam footage and street surveillance footage were made public by the Memphis Police Department Friday evening showing the violent arrest and beating of Memphis resident 29-year-old Tyre Nichols.
Nichols died three days after he was beaten by police in a traffic stop in the Hickory Hill neighborhood around 8:22 p.m. on Jan. 7, in an altercation Memphis Police Chief C.J. Davis described, saying "in my 36 years in law enforcement, I don't think I have witnessed the disregard for a human being displayed in this video." 
Shelby County District Attorney Steve Mulroy announced Thursday that five now-former Memphis police officers — Tadarrius Bean, Demetrius Haley, Emmitt Martin III, Desmond Mills, Jr., and Justin Smith — were fired for misconduct, indicted by a grand jury and taken into custody.
Each is charged with second-degree murder, aggravated assault, two counts of aggravated kidnapping, two counts of official misconduct and official oppression. By Friday morning, they had posted bond.
As news of the beating and death spread beyond Tennessee, officials expressed concern that release of the footage would touch off violent protest in reaction.
The attorneys and family of Nichols asked for justice for their son, and peace in their city, at a press conference in Memphis on Friday, WREG News 3 reported.
Speakers included family members, attorneys Ben Crump, Antonio Romanucci and Van Turner, president of the Memphis branch of the NAACP.
Rodney Wells, Nichols' stepfather, said that he initially wanted first-degree murder charges against the officers, but the family is satisfied with second-degree murder.
He pleaded for peace in Memphis Friday night.
"We want peace. We do not want any type of uproar. We do not want any type of disturbance," Wells said. "Please, please, protest, but protest safely."
Protests took place in Memphis after police released more than an hour of footage in the case with some major highways temporarily shut down.
Other protests were organized in New York, as well as D.C., Sacramento, Los Angeles, Atlanta, Philadelphia and Seattle, with police at the ready for potential violence.
"Tonight, I stand with the millions of Americans sending condolences and love to the family of Tyre Nichols as the navigate this unimaginably difficult tragedy," said D.C. Mayor Muriel Bowser in a statement. "We are a nation traumatized by violence, especially violence against Black Americans. We don't even need to see the video to feel outraged that those five former officers, sworn to protect their community and now arrested and charged with murder, killed Tyre. But tonight, many people will see the video and it will elicit strong feelings — from sadness and anger to confusion and despair. Tonight, we are a city and country united by tragedy, but we are also determined — to deliver justice for Tyre and change for our nation."
The White House held a joint emergency call Friday with the mayors of at least 16 cities before the video's release "to brief them on federal preparations in support of state and local leaders."
"Participating mayors shared their perspectives on how important it is to recognize the pain felt by communities across this country, be prepared in advance with a game plan to provide adequate community support, and to reinforce the importance of peace and calm during these difficult moments," the White House said in a statement about the call, which included cities from New York City, to Atlanta, Los Angeles, D.C., Seattle and Portland.
The Los Angeles Police Department issued a statement condemning the actions of the Memphis officers and calling for demonstrations to remain peaceful.
"The accounts of the circumstances of this heinous crime and the criminal actions of those involved are reprehensible," the LAPD said.
"The department will do all within its power to ensure the lawful expression of the public's anger and frustration is protected and prepared to facilitate those wishing to exercise their First Amendment rights."
The Los Angeles County Sheriff's Department told local media that it is preparing for the possibility of disturbances after the footage is made public. and is coordinating with other state, local and federal agencies.
"Our patrol stations and specialized units remain in a state of readiness to respond to any disturbances that might occur," the LASD said.
"The sheriff's department supports the First Amendment and the people's right to protest."
Speaking with reporters as he prepared to depart for Camp David at the White House Friday evening, President Joe Biden said that he had spoken with Nichols' mother prior to the video footage release for about 10 or 15 minutes.
"I spoke with Tyre's mother and expressed my condolences and told her that I was going to be making the case to the Congress to pass the George Floyd Act. We should get this under control. I can only do so much on the executive order at the federal level," Biden said. "I was really pleased that she called for peaceful protest, no violence," he added.
When asked about the potential for violence Biden said:
"I'm obviously very concerned about it. But I think she has made a very strong plea. She's obviously in enormous pain. I told her I had some idea of what that loss is like and although it is impossible to believe now, a time will come when his memory brings a smile before a tear."
The White House released a statement from the president that said in part:
"Like so many, I was outraged and deeply pained to see the horrific video of the beating that resulted in Tyre Nichols' death. It is yet another painful reminder of the profound fear and trauma, the pain, and the exhaustion that Black and Brown Americans experience every single day.

My heart goes out to Tyre Nichols' family and to Americans in Memphis and across the country who are grieving this tremendously painful loss. The footage that was released this evening will leave people justifiably outraged. Those who seek justice should not to resort to violence or destruction. Violence is never acceptable; it is illegal and destructive. I join Mr. Nichols' family in calling for peaceful protest."
California Gov. Gavin Newsom issued a statement in response to the Memphis Police Department's body camera footage being released, showing the deadly actions that took the life of Nichols, a Sacramento native, and led to the charging of five since fired Memphis law enforcement officers.
"Jennifer and I send our deepest condolences to the family and friends of Tyre Nichols. Tyre Nichols should be alive today. The video released shows abhorrent behavior and these officers must be held accountable for their deadly actions and clear abuse of power," said Newsom. "Today, we are a country in mourning, and must continue our work nationwide to push reforms to prevent excessive use of force and save lives."
"Tonight, we saw ferocious violence from an out-of-control herd," said Los Angeles Mayor Karen Bass.
Late Friday evening Vice President Kamala Harris' office released a statement from the vice president on Nichols:
"Tyre Nichols should have made it home to his family. Yet, once again, America mourns the life of a son and father brutally cut short at the hands of those sworn to protect and serve. The footage and images released tonight will forever be seared in our memories, and they open wounds that will never fully heal.

The persistent issue of police misconduct and use of excessive force in America must end now.
I join President Biden in his call for accountability and transparency. We must build trust—not fear — within our communities."

VIDEO COURTESY OF KTLA:
TYRE NICHOLS VIDEO VIEWER DISCRETION ADVISED, GRAPHIC CONTENT AND LANGUAGE WARNING.
LGBTQ Holocaust victims remembered on International Holocaust Memorial Day
Up to 15,000 gay men sent to concentration camps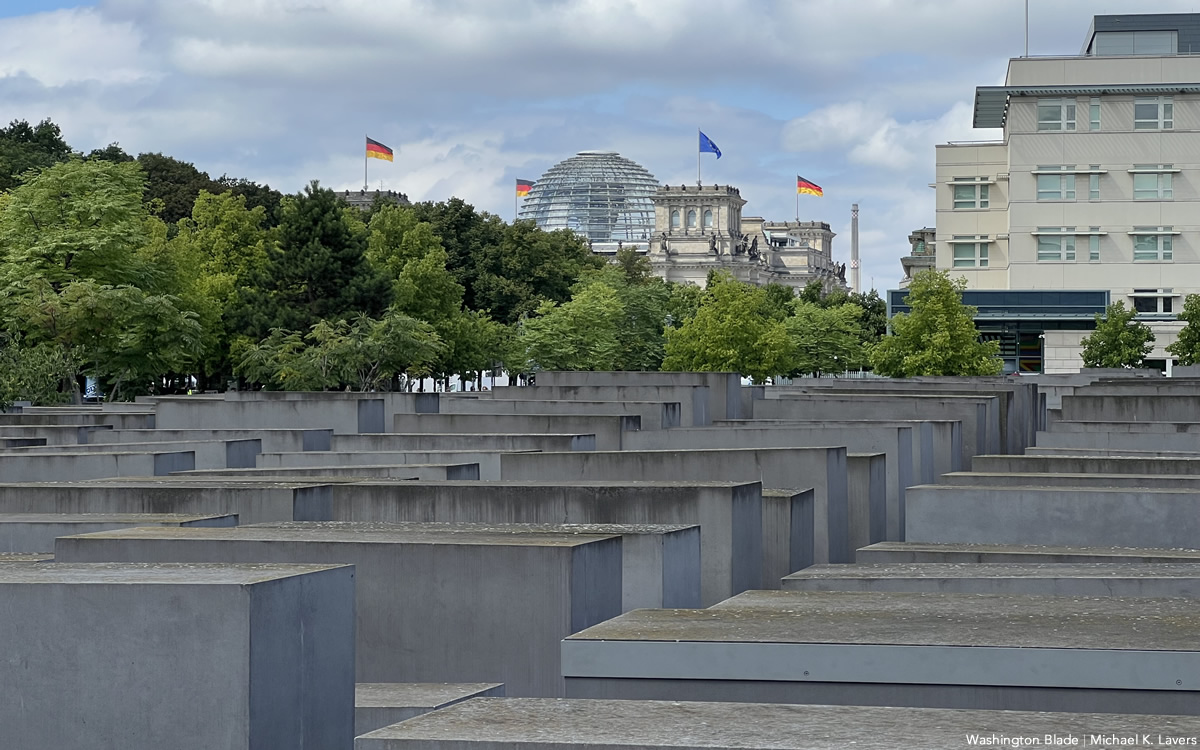 Ordinary People is the theme for International Holocaust Memorial Day 2023 as around the globe the day is set aside for everyone to remember the millions of people murdered in the Holocaust under Nazi persecution.
The Nazis targeted anyone they believed threatened their ideal of a "pure Aryan race," including Roma and Sinti people, disabled people, LGBTQ people, political opponents and others.
In a statement released by the U.S. Embassy in Lithuania, whose ambassador, Robert S. Gilchrist, is openly gay, a coalition consisting of other nation's diplomatic missions to the Baltic nation, including Israel, Germany, the Netherlands, Japan and the European Commission noted:
"As we mark International Holocaust Remembrance Day, we commemorate the Holocaust of six million Jews, men, women and children, including more than 200,000 Jews murdered in Lithuania. We remember other communities who were also murdered: Roma, disabled persons, LGBTQI+ persons, Slavs and others. We do not forget that the Nazis committed these heinous crimes with the support of local collaborators throughout Europe. And we remember the heroism of countless people who, at great personal risk, stepped in to save thousands of Jews."
Amy Gutmann, the U.S. ambassador to Germany, tweeted: "Today we remember the horrors of the Holocaust and the six million Jews, and millions of Roma, Sinti, Slavs, persons with disabilities, LGBTQ+ individuals and political dissidents murdered by the Nazis and their collaborators." Gutmann added: "As my father, a German Jew forced to flee Germany in 1934 said, "Everything we do — and everything we don't do — makes a difference."
Today we remember the horrors of the Holocaust and the six million Jews, and millions of Roma, Sinti, Slavs, persons with disabilities, LGBTQ+ individuals, and political dissidents murdered by the Nazis and their collaborators. pic.twitter.com/wfjBnCeoUB

— Ambassador Amy Gutmann (@USAmbGermany) January 27, 2023
PinkNewsUK journalist Patrick Kelleher wrote:
"It is thought that up to 50,000 gay men received severe prison sentences under Nazi rule. According to the Holocaust Memorial Day Trust, most were sent to police prisons, but between 10,000-15,000 were sent to concentration camps.
Life for queer people in Weimar Germany was a very different picture to what it would become under the Nazis.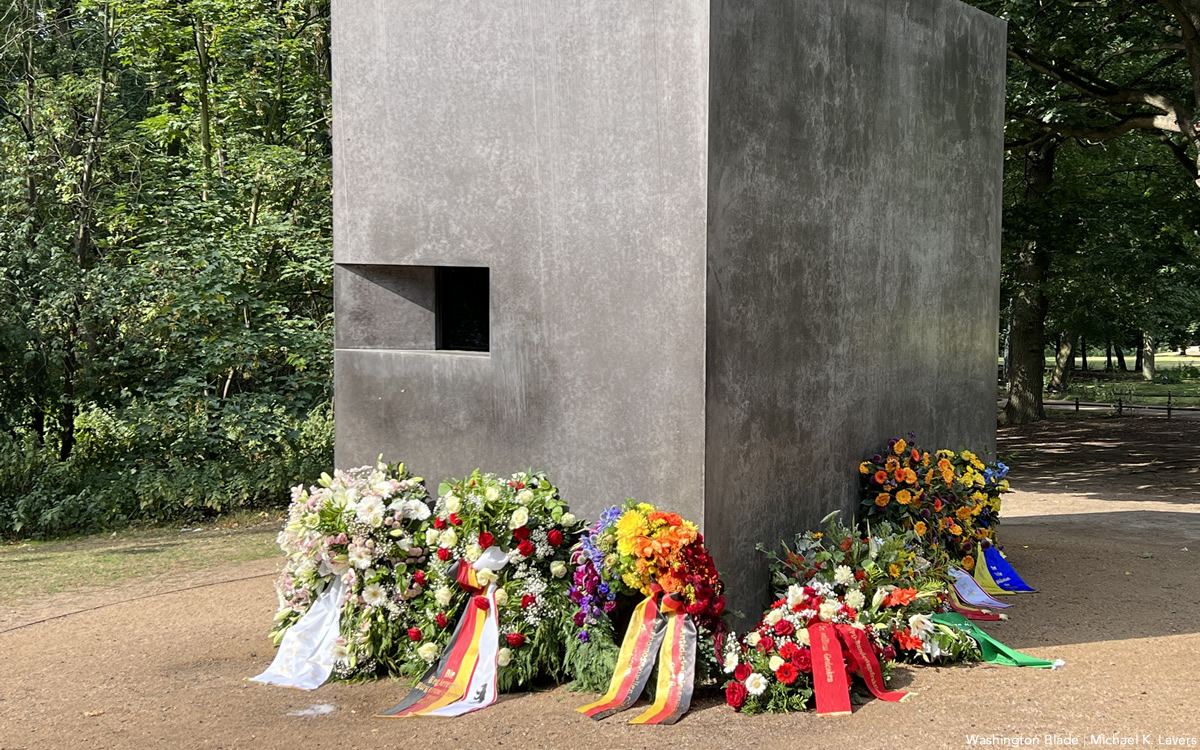 There were gay bars, there was a functioning queer scene — there was even an institute for sexual research, a concept that would be impossible to imagine in most European cities of the day.
When the Nazis came to power in 1933, everything changed. In the years that followed, millions of Jews, alongside other minority groups, were rounded up, tortured and murdered in concentration camps, up until 1945."
David Pressman, the U.S. ambassador to Hungary who arrived in that country with his husband and their two children last fall, also remembered the Holocaust in a tweet:
January 27, 2023