Tom Gallagher, U.S. Foreign Service officer, dies at 77
Longtime LGBT rights advocate came out publicly in 1975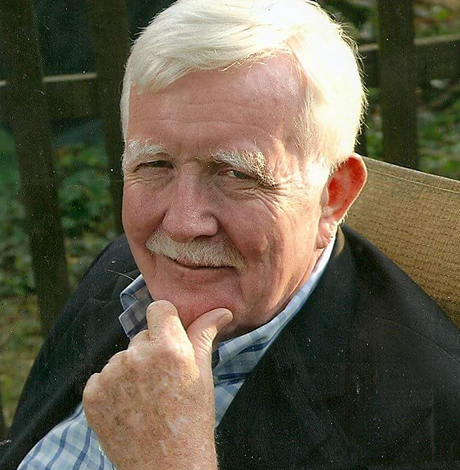 Tom Gallagher, who became the first known U.S. Foreign Service officer to come out as gay in 1975 and who switched careers to become a social worker before returning to the Foreign Service in 1994, died July 8 in his hometown of Tinton Falls, N.J. from complications associated with a bacterial infection. He was 77.
In a write-up of his life and career that he prepared shortly before his passing and in an earlier interview published in the online publication Slate, he said he decided to disclose his sexual orientation at a 1975 conference in Washington, D.C., organized by the then Gay Activists Alliance called Gays and the Federal Government.
Knowing the disclosure would jeopardize his then 10-year career at the State Department and Foreign Service, he decided to come out because he became tired of having to conceal the truth of who he was, he recounted in the interview.
One year later, in 1976, after he determined longstanding policies making it difficult if not impossible for gays working in the Foreign Service to retain their required security clearances, he resigned and moved to California, where he began a new career as a social worker
His biographical write-up says he was born Sept. 11, 1940 in Manhattan before his family moved to New Jersey. He graduated from Holy Spirit School and Red Bank Catholic High School in Asbury Park, N.J. before entering New Jersey's Monmouth University, where he received a bachelor's degree in 1962.
Five days after graduating from Monmouth he signed up as a Peace Corps volunteer and entered the first Peace Corps group to go to Ethiopia, his biographical write-up says. After completing a Peace Corps training program at Georgetown University he and his group of volunteers were invited to the White House, where President John F. Kennedy and first lady Jacqueline Kennedy hosted a send-off tea party.
According to his write-up, upon their arrival in Addis Ababa, Ethiopia, the Peace Corps group was welcomed by Emperor Haile Selassie, the country's monarch and leader. A month after arriving in the city of Agordot for his assignment to teach a seventh grade history class, Gallagher recounted he heard the "first shot" of what became the province of Eritrea's protracted war of independence.
His write-up says he "remained devoted to Eritrea and its people for the rest of his life" and "sixty years after leaving the Peace Corps Tom was still in touch with 13 of the 80 boys he taught in Agordot."
Upon returning to the U.S. he began his first full salaried job at the White House where he worked for President Lyndon Johnson's War on Poverty program. It was at that time that he met Carolyn Worrell, the bright young woman also interested in foreign affairs whom he married a short time later.
In his Slate interview with freelance journalist Jacqui Shine he said he believed he was in love with Worrell at a time when he was struggling within himself to fight what he always knew deep inside himself – that he liked men. He had "fooled around with boys" since he was a teenager growing up on the New Jersey shore, he said in the interview.
Gallagher began his first stint in the Foreign Service in 1965, with his first overseas assignment sending him to Jidda, Saudi Arabia.
Subsequent assignments took him to Nigeria and Ecuador, where he served as acting U.S. Consul General in the city of Guayaquil, becoming, at age 34, the youngest ever chief of a major U.S. diplomatic mission. He later returned to Washington where he served in various positions at the State Department headquarters before coming out at the gay conference.
In 1970, shortly after completing his tour in Nigeria, he told his wife he wanted a divorce and arranged for the couple to stay together until Worrell found a job with a federal agency and got "settled," he said in the Slate interview. It wasn't until years later that he told his then ex-wife that the marriage breakup was due to his struggle with his sexual orientation, he said in the interview.
Meanwhile, after resigning from the Foreign Service in 1976 he moved to California and underwent training to become a social worker. A short time later he began work in the first of a number of positions, including a post as an emergency room social worker at UCLA Hospital in Los Angeles. He also volunteered as director of counseling programs at the Gay Community Services Center in LA.
Other positions he held included supervisor for the Travelers Aid Society in San Francisco; director of a Napa County, Calif., psychiatric emergency program; and as a volunteer for AIDS programs in the state.
In 1994, when President Bill Clinton removed policies preventing gays from working in the Foreign Service, Gallagher returned to his earlier career as a Foreign Service officer, his write up says. His first assignment was that of the position of American Consul at the U.S. Embassy in Madrid, Spain. While holding that post Gallagher helped raise $3 million for the Spanish AIDS Foundation.
Following his post in Spain he was appointed as Country Officer for Eritrea and Sudan in the State Department's Office of East African Affairs. In 1999, he became head of the visa section at the U.S. Embassy in Brussels, where he was credited with refusing a visa for a radical Moroccan who was linked to a terrorist organization considering a plot to spray poison on a U.S. city, according to his biographical write-up.
The write-up says he next returned to Washington and worked at the State Department's Office of Central African Affairs where he served as Country Officer for the Republic of the Congo. His final tour at the State Department was with the Office of International Health, where he served as Regional Advisor for Europe and worked on an international AIDS program.
After retiring in 2005, Gallagher continued to take on short tours for the State Department including assignments at 17 embassies and consulates on five continents, the write-up says. He also taught a course on the Middle East as an Adjunct Professor of Political Science at Monmouth University.
In 2012, during an event at the State Department celebrating the 20th anniversary of the State Department's LGBT employee group, to which Gallagher was invited, then Secretary of State Hillary Clinton talked about Gallagher's role in advocating for LGBT equality when he came out as a Foreign Service officer in 1975.
"I don't want any of you who are a lot younger ever to take for granted what it took for people like Tom Gallagher to pave the way for all of you," Clinton told the gathering. "It's not a moment to be nostalgic," she said. "It's a moment for us to remember and to know that all of the employees who sacrificed their right to be who they are were really defending your rights and the rights and freedoms of others at home and abroad."
Shine, who conducted the Slate interview, said she got to know Gallagher when she interviewed him for another story about three years ago.
"I was very fond of Tom, who was very funny, sweet, and a hell of a storyteller," she told the Washington Blade. "He was as astonished as anyone by the extraordinary turns his life took, and humbled by and grateful for all he experienced."
Gallagher is survived by his former wife, Carolyn Worrell, who is now a judge in Nevada; and his husband, Amin Dulgumoni, a senior software engineer at Goldman Sachs.
Plans for a memorial were expected to be announced soon.
Pride Franklin County welcomes rural LGBTQ community
Pennsylvania organization planning October celebration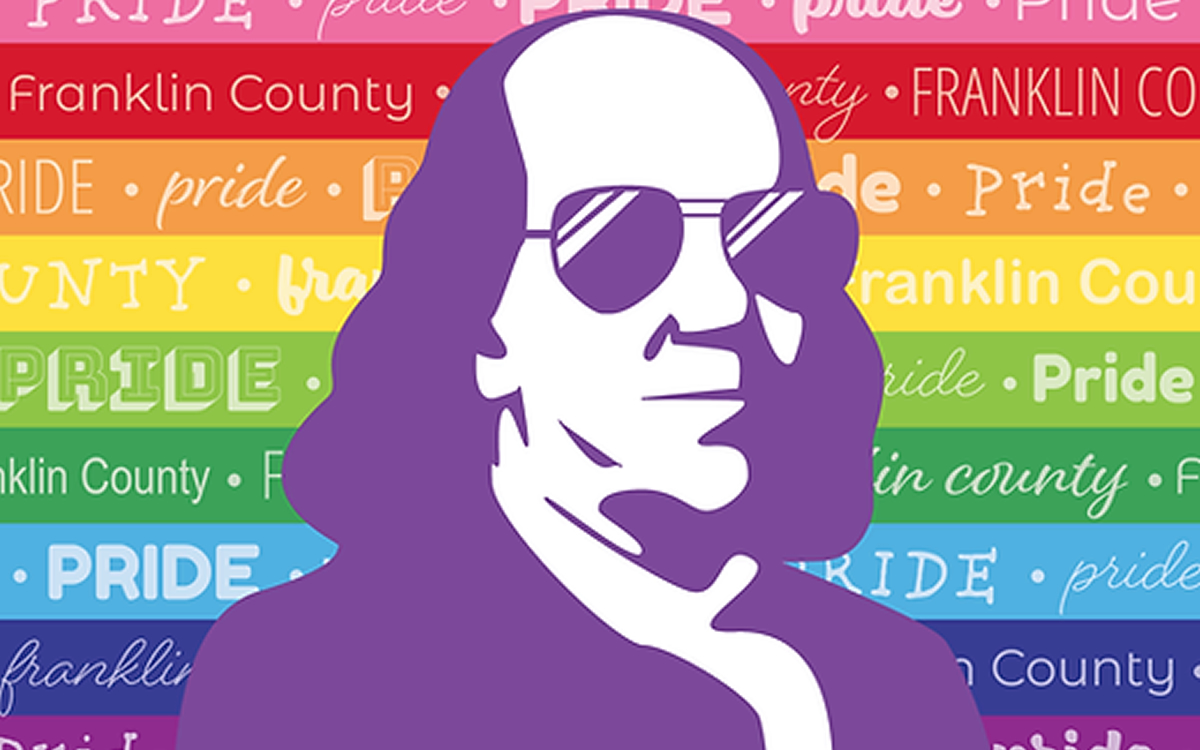 When Pride Franklin County held its first Pride celebration in 2018, it sought to address a lack of LGBTQ programming in rural southern Pennsylvania. Greeted by more than 1,000 attendees at its inaugural event, Pride Franklin County's leadership was reassured the event was something the area not only wanted, but needed. Since the onset of the COVID-19 pandemic, the local organization has once again sought to address community needs — in new and broadened ways.
Pride Franklin County operates under the Franklin County Coalition for Progress, a local social justice nonprofit that formed in the wake of the 2016 presidential election. "We live in a very rural, conservative area, but that election was a turning point all across the country," explained Noel Purdy, a founder of Pride Franklin County and founder and president of FCCP.
"People came out of the woodwork who were worried about the LGBTQ community … and other populations that had experienced different forms of oppression in our community," Purdy explained. This interest in supporting the local LGBTQ community led to a group of LGBTQ community members and allies leading the 2018 Pride celebration.
"We just really wanted to create a space where people know that they're accepted, no matter who they are," said Nathan Strayer, vice president of FCCP and a founder of Pride Franklin County. "We want people to know that you fit in. There are a lot of people here that are going to love you."
But in 2020, at the peak of the event's popularity — Strayer noted that upwards of 3,000 people attended Pride the year prior — Pride Franklin County had to cancel its programming in light of public health concerns.
With the "momentum" it has going, Strayer explained that the organization did not want the pandemic to limit its ability to serve the Franklin County community: " That's when we really decided to make the entire initiative something bigger," he said. "We're not just here to throw a party."
In 2021, the organization began advocating for a local non-discrimination ordinance codifying inclusivity for all community members, regardless of their identity. The Borough of Chambersburg Council, which represents the largest borough in the county, adopted the ordinance that fall — a major win for LGBTQ activists and allies in a rural Pennsylvania county that leans conservative socially and politically.
Yet, just months after the organization celebrated its achievement, new council members were elected in the borough in January 2022, and soon thereafter a majority of the council decided to repeal the non-discrimination ordinance.
While the ordinance's revocation greatly disappointed Pride Franklin County, it also reminded its leaders and activists how much work was left to be done.
"From the growth of Pride to the pushback we've gotten from some of our elected officials here locally, it's definitely lit a fire in us to continue pushing ahead so that we can truly make Franklin County an inclusive place for everyone," Strayer emphasized.
This year, the organization launched its Franklin County Welcoming Project, which spearheads public displays of support to the LGBTQ community. In June, the organization received a media grant to create billboard and radio advertisements throughout the county advocating for inclusivity within the Franklin County community.
The organization also reached out to local businesses, providing them with custom decals to put in their windows after signing a pledge stating that they are a "diverse, inclusive, accepting, welcoming, safe space for all," Strayer said, adding that, despite some initial hesitation, more than 100 local businesses signed the pledge and displayed the logo in their storefronts.
Pride Franklin County has also looked to meet the local demand for LGBTQ programming throughout the year while maintaining public health precautions. More recent projects have included mental health LGBTQ programming, community picnics, drag shows and a Taste of Pride food event. Strayer added that there has been significant demand from the community for more programming centering LGBTQ youth.
Purdy added that voting rights advocacy has become a center point of current efforts from the organization, as it hopes to educate the local community on the importance of their political involvement. "Hopefully, we're inspiring more people to learn to pay attention more to what's going on, and trying to understand the connection between policy and voting," Purdy explained
While the process of founding a grassroots organization has come with obstacles, Purdy and Strayer both noted that the community response has been rewarding.
"One thing that I've been surprised about is how you have this cultural context of being in a conservative area, thinking that that's going to be a barrier to doing an event that supports the LGBTQ community, and that it's going to be super controversial," but ultimately receiving a positive reception from many community members and resources needed to keep the organization running, Purdy explained.
Getting Pride Franklin County up and running has "definitely been very emotional," Strayer noted. When Strayer decided to come out in 1999, he turned to leaders in his school — a guidance counselor and principal — for advice, but he recalled them "both sitting down and looking at (him) like, 'We don't really know what to do,'" making him feel alone in a particularly important part of his life. But with Pride Franklin County, Strayer is "seeing how things are growing and changing."
"There's help out there for youth that are struggling with the same things I was struggling with," Strayer said. "When I look back at when I was coming out, I thought, 'This is never going to happen here.' Seeing now that it is happening here, it's just such an amazing feeling and it just gives me so much pride in my community."
Pride Franklin County will host its Pride Festival 2022 on Oct. 9 from 11 a.m. to 5 p.m. More information can be found on the organization's website at pridefranklincounty.org. 
Over 100 LGBTQ-themed books in a Florida school district labeled with advisory warning
They warn: "this book has been identified by some community members as unsuitable for students."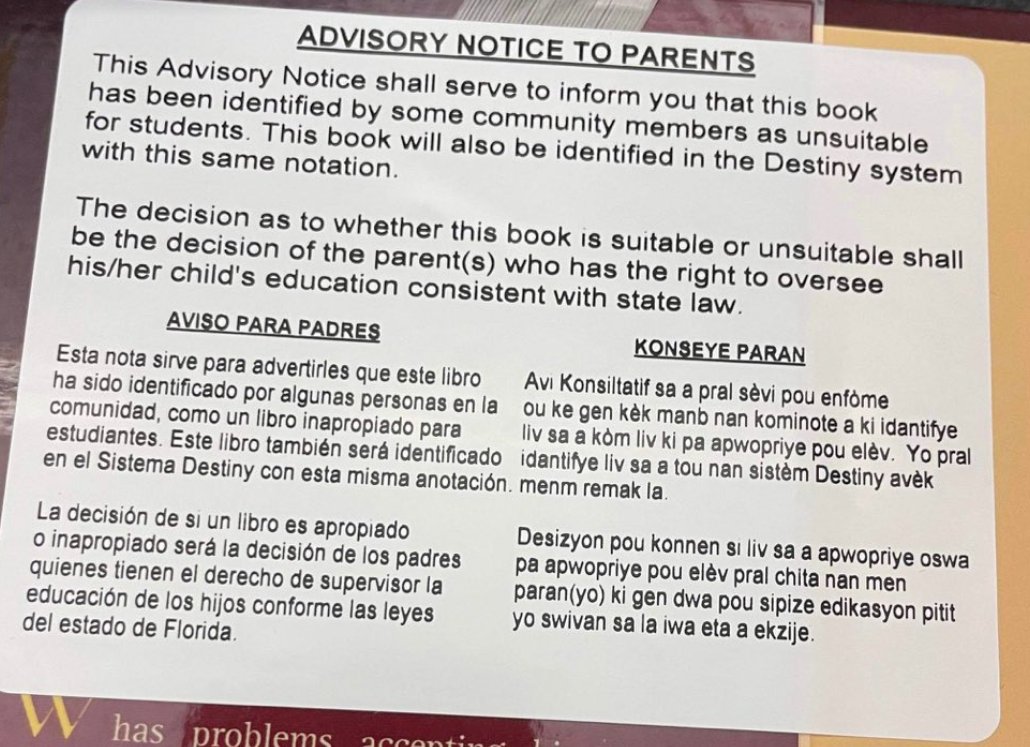 A southwest Florida district put parental "advisory notice" on over 100 books, many of which are race or LGBTQ-themed. 
A great number of books in Collier County Public Schools, either digital or physical, now have warning labels writing "Advisory notice to parents," according to an NBC report,
The label, tweeted by nonprofit free-speech-promoting group PEN American, states, "This Advisory Notice shall serve to inform you that this book has been identified by some community members as unsuitable for students. This book will also be identified in the Destiny system with the same notation. The decision as to whether this book is suitable or unsuitable shall be the decision of the parent(s) who has the right to oversee his/her child's education consistent with state law." 
The labels appear digitally in the library records & physically on the books. They warn: "this book has been identified by some community members as unsuitable for students." Apparently, a lot is 'unsuitable'. Even Everywhere Babies by Susan Meyers & illustrated by @MarlaFrazee. pic.twitter.com/wA5fT5fjLr

— PEN America (@PENamerica) August 5, 2022
Stephana Ferrell, co-founder of the Florida Freedom to Read Project, which means to fight book banning, told NBC that she had a call from Elizabeth Alves, the associate superintendent of teaching and learning for Collier County Public Schools. In the call, Alves told her that the district added the labels starting in February. 
These measures, which Alves described as a "compromise," happened after the district's legal representative talked with the Florida Citizens Alliance, a conservative group which initiated a "Porn in Schools Report" project last year. The report included a list of books that "promote gender self-identification and same-sex marriage" as well as titles that include "indecent and offensive material," as the group explained.
Chad Oliver, the Collier County Public Schools spokesperson, on the other hand offered a different story.
Oliver sent an email to NBC News and said, "Based upon advice from the General Counsel, we placed advisory notices on books about which parents and community members had expressed concern and in accordance with the recently passed Parents' Bill of Rights Law (HB 241)."
The law referred by Oliver is also known as the "Don't Say Gay" law.
According to PEN America, there are 110 labeled books in total, and the list greatly overlaps with the one Florida Citizens Alliance inquired about with Collier County Public Schools. 
Rep. Sean Patrick Maloney introduces bill to make monkeypox testing free
Health insurers would be required to cover costs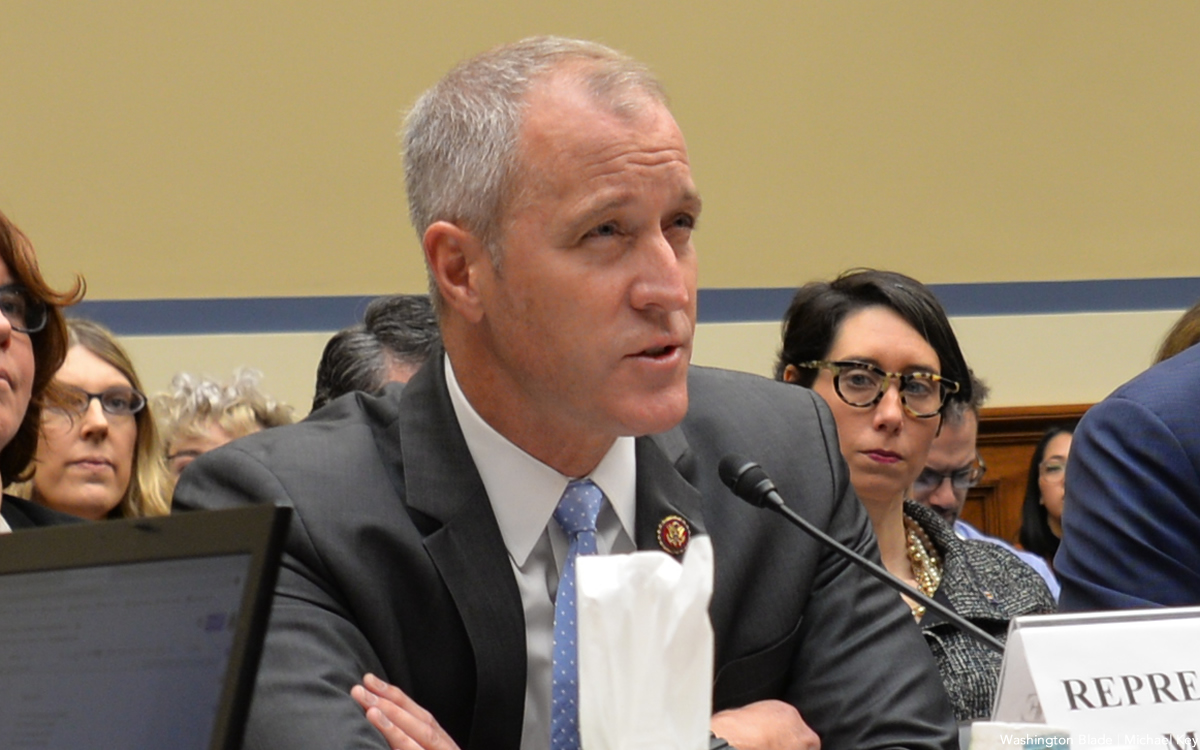 Rep. Sean Patrick Maloney (D-N.Y.), amid the ongoing monkeypox affecting gay and bisexual men, has introduced legislation in the U.S. House seeking to make testing for disease free to the public.
Maloney, one of seven openly gay members of Congress and chair of the Democratic Congressional Campaign Committee, said in a statement the measure, called the No Cost for Monkeypox Testing Act, would testing amid the monkeypox outbreak would be accessible to all.
"It is critical that we eliminate cost as a barrier to testing for monkeypox to ensure we can identify cases and prevent further spread," Maloney said. "This legislation takes the lessons we learned from past public health emergencies and protects those at risk of contracting monkeypox by making tests accessible to everyone."
The legislation would require private health insurers as well as Medicare and Medicaid to cover the costs of monkeypox testing at no expense to the patients, either through deductibles, co-payments, and co-insurance.
The bill introduction comes the week after the Biden administration declared the monkeypox outbreak a public health emergency and the same it has issued new guidance to enhance to the accessing of existing vaccines doses amid criticism federal officials were too slow in distributing shots.
The Washington Blade has placed a request in with the Centers for Disease Control seeking comment on the legislation. Secretary of Health & Human Services Xavier Becerra said Tuesday the federal government has the capacity to conduct an estimated 80,000 tests each week.
Maloney has been representing New York's 18th congressional district, but after redistricting is now seeking re-election in the 17th district. Amid controversy over a potential showdown between Maloney and Rep. Mondaire Jones (D-N.Y.), who's Black, another openly gay member of Congress and the current representative of that district, Jones has since opted to run for re-election in the New York's 10th congressional district. Maloney is now running unopposed in the 17th.