Nicaragua's rainbow revolutionaries
LGBTI community pays heavy price for leading anti-government uprising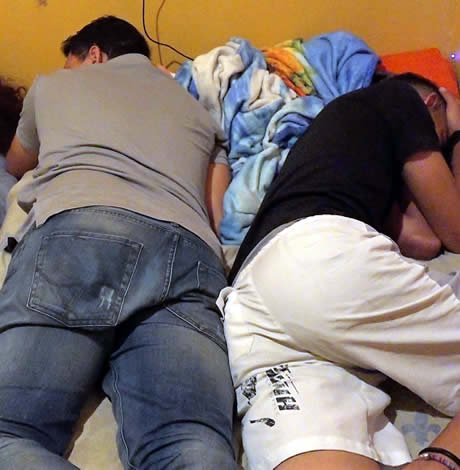 SAN JOSÉ, Costa Rica and BARCELONA, Spain — A humble cinderblock home with a tin roof in a poor neighborhood in the Costa Rican capital of San José has become a refuge for nearly 40 gay Nicaraguan youth who played a leading role in the popular uprising against Nicaraguan President Daniel Ortega's regime this past April. The destitute youth fled Nicaragua as refugees to nearby Costa Rica after Ortega launched a brutal and bloody crackdown on those who led months of mostly peaceful protests against changes in the country's social security system and government corruption. The 8-month long government repression, condemned by the U.N. and the Organization of American States, has left at least 500 dead including two dozen minors as well as many more injuries. Among the victims are scores of LGBTI Nicaraguans. The violence has touched off a worldwide diaspora surpassing one million Nicaraguans, including hundreds if not thousands of gays. They are fleeing a country where neighbors inform on each other, the police and paramilitary supporters harass, illegally detain, beat, torture or kill anyone they suspect and do so with immunity.
'They were shooting to kill'
"I never imagined that they would be so ruthless," says Randal, a university senior studying psychology. "They were shooting to kill." The bespectacled goateed youth's voice quakes as he recounts the emotion filled months before he, along with many other gays were forced to flee Nicaragua. "As the number of innocent dead increased so did our rage," he says. "The people were so enraged that we filled the streets of many cities in protests, we took over university campuses and flooded social media." The country's few LGBTI organizations were among the first to publicly denounce the violence. They were among the first to man the barricades, especially young gay influencers on social media. Randal says he was proud to see so many members of the LGBTI community participate in the protests.
"We were right there, upfront, in the struggle to defend our country," he recalls. "Manning the barricades, delivering water and food. Helping the wounded. Providing encouragement," he adds with a beaming, yet sad smile. "It was natural you see, we as a community are used to fighting for our rights. From an early age, I had to struggle for my right to be included and accepted in a homophobic culture."
'Payment for these protests has been death, prison and exile'
Once it became clear the Ortega regime was determined to kill or jail the dissenters even as it pretended to negotiate a settlement, many members of the LGBTI community involved in the protests realized they had little option but to flee to nearby Costa Rica. "The payment for these protests has been death, jail and exile," says Ulises Rivas. The slight young man with copper brown skin and deep black hair and eyes was a long-time environmental and gay rights activist before the April crisis. He says when he fled for his life to Costa Rica he encountered scores of gay Nicaraguan youth who had been involved in the protests wandering the streets and parks of San José, homeless and hungry.
"About 10 of us got together and created Asociación Hijos del Arco Iris LGBTI (Children of the LGBTI Rainbow Association)," says Ulises.
Ulises approached several influential Nicaraguans who had been forced into exile in Costa Rica, including Alvaro Leiva, Nicaragua's former human rights ombudsman. They contributed the seed money for the youth to rent the group home and launch Hijos del Arco Iris LGBTI. "We are so very grateful to them for their support. They have been among the few people willing to help us," says Ulises.
"It broke my heart to see so many young educated Nicaraguan members of our community lost and confused in San José," says Randal. "Hijos del Arco Iris LGBTI was our response. We not only gave them a roof and a plate of food but also a sense of purpose and a family."
'We share what little we have, even our body heat'
You have to drive through muddy rut filled roads on the outer fringes of San José to get to the Hijos del Arco Iris LGBTI home. It's in a poor neighborhood where cinderblock tin-roofed houses are perched precariously on lush verdant hills. Skinny mongrels roam the neighborhood. Loud bachata music permeates the cool moist mountain air. As you enter the house, painted in faded mango, green and turquoise the first thing that you notice is the energy. Nearly 40 youth from late teens to late 20s share the space. Some are busy sweeping the cracked tile floor, others are huddled around a small battered laptop while others strategize beneath a Nicaraguan flag next to a wall calendar of upcoming events in which they will participate. I watch as a slight young man named Alberto carries an old aluminum pot to an outdoor wood fired stove and begins to make rice and beans.
"Sometimes it's all we can eat," he says. "Provided there are donations."
What happens if there aren't donations. I ask. "We go hungry," he says almost apologetically.
Helping him cook is Arlen. The frizzy haired 20-something young lesbian was among the first people to move into the home "I was wandering through the parks, homeless," she says. "I don't know what would have become of me, if it weren't for the boys," she notes.
Arlen fled Nicaragua after she was flagged by security forces as one of the main providers of food, supplies and medicine to youth holed up in multiple barricades throughout Managua.
"Paramilitary crashed the door of the house where I was living," she says. "Fortunately, I wasn't there. That same day I headed to Costa Rica with just the clothes on my back and the little money I had." It's pretty much the same story for most of the youth here, fleeing one step ahead of paramilitary thugs under government orders. This humble home has indeed been a refuge. The youth share wafer thin mattresses on the floor. They huddle together like lost children, under multiple worn blankets that barely protect them from the cold sweeping up from the floor and hovering overhead. They hug battered teddy bears. On the walls, rainbow flags and even a unicorn.
"We have become like a family," says Magdiel, one of the group's leader, as he shivers beneath a blanket. "The older take care of the younger. We share what little we have even our body heat at night."
In one corner of the house towards the rear a slight young man and a blonde girl sit on a battered donated sofa talking about how much they miss their families. "I had always lived within the warm and loving embrace of my papa," she says and then bursts into tears, the sobs coming like a tidal wave. Soon the young man is also crying and so are the other youth nearby. "We are so young, so inexperienced and innocent," says Ulises in a cracked voice as he watches the youth embrace one another. "We long for our families so very much. It's very painful. We did what we believed was right. We stood up against oppression." But returning home is not an option, it could place not only them but their families in danger. So Hijos del Arco Iris LGBTI is giving these youth purpose. They participate in weekly activities such as cleaning up public parks, dance lessons and free haircuts.
"We want to show people in costa Rica that we can be a positive force in the country that has welcomed us," says Ulises. The youth also participate in workshops to learn survival skills in a new society including how to apply for asylum.
'A humanitarian crisis'
As undocumented refugees seeking asylum in Costa Rica, these gay youth face an uncertain existence. Unable to work legally, unused to paying for healthcare and with little support they are surviving in crisis mode. More than a million Nicaraguans have fled the political violence and the economic collapse of the country since April says Marcela Farrach, a caseworker for RET International, an international relief NGO. It's likely that thousands of LGBTI Nicaraguans are part of that diaspora says the young woman. Farrach has been working on a pilot program sponsored by the U.N. High Commissioner for Refugees to help Nicaraguan refugees and asylum seekers in Costa Rica. "They are extremely vulnerable and the funds to help them are insufficient especially as the number of refugees continues to multiply. It is a humanitarian crisis," Farrach says.
'I was terrified I would be tortured and raped'
Some Nicaraguan gays have managed to escape to other parts of the world where they have a better second chance at life, including Spain. That is the case for David.
The 23-year-old gay rights activist and vlogger came under government scrutiny for posting videos of his participation in the peaceful marches and subsequent postings calling out the Ortega regime's violent crackdown. In one tearful clip, a clearly distressed David with mascara running from his eyes says, "They are sending their thugs and mobs armed with guns, knives, rifles and shotguns. I don't want my country to become another Venezuela. I don't know where this will end." For David it ended in October after a gay friend Denis Madriz was found shot to death a few days after disappearing. Madriz had been active in the protests and an iconic photo of him holding a large Nicaraguan flag had made the rounds of social media. "I feared I was next," he says. "Human rights organizations had fled the country after death threats. There was no one left to protect us."
David crossed the border by bus to Costa Rica and after a few months of despair fled to Spain where he met two gay childhood friends, Victor and Justin. They also participated in the protests, providing food and drink to protesters. The slim young men are university students, one an industrial engineering major the other a psychology major. They both have white blond hair and that made them easy for government informants to finger them. A phone video recorded by Justin's mother and aunt captured the night two armed paramilitary thugs came to arrest them.
"We are here for the two blondes, the terrorists participating in the protests," says one of the thugs. The women denied the boys were there. "We don't know what you are talking about," they said defiantly. The thugs insisted and tried to break in the home and the women became shrill. Ultimately the thugs relented leaving with a final warning, "We were told they were here, we have their photos. We are coming back and we are going to fuck them up!" The youth had left the day before. Justin who is 5'5″ and weighs 120 lbs. and besides going to college was a professional makeup artist and manager at a family meat market. He says calling him a terrorist was an absurd but convenient label cooked up by the Ortega regime to arrest and disappear peaceful protesters.
"I was terrified that If I were to be arrested I would be tortured, raped, because that's what they do to gay people and then disappeared," says Justin, noting LGBTI protesters have been singled out for crueler treatment because of the homophobic nature of Nicaraguan society.
Discrimination based on sexual orientation and gender identity was commonplace in Nicaragua before the protests broke out, but the Ortega's government and specifically Vice President Rosario Murillo, who is Ortega's wife, made some overtures to the LGBTI community.
The government in 2009 created the Special Ombudsman for Sexual Diversity position within its Office of the Human Rights Ombudsman. The country's Health Ministry in 2014 issued a resolution that bans discrimination based on gender identity and sexual orientation in health care.
Murillo has appeared on Nicaraguan television with a trans woman who graduated from a prominent university with a communications degree, but the LGBTI community continues to face harassment and abuse from police officers and soldiers. Efforts to enact an LGBTI-inclusive nondiscrimination ordinance in Managua and in other cities have stalled because of the unrest. Most LGBTI groups not supportive of the government have closed their doors as their leaders and members have fled the country.
'Here I feel safe and welcome'
In Barcelona; Justin, Victor and now David have found a welcoming gay community that has helped them through the process of integrating into Catalonian and Spanish society. Their first stop was the community organization STOP SIDA, which means STOP AIDS. "We have lawyers who provide legal advice on how gays who are victims of violence because of their sexual orientation or gender identity can apply for asylum," says Luis Villegas, co-manager of STOP SIDA. Villegas says the organization provides information on how to integrate into Spanish society.
"We also have social workers who provide them with resources on how to survive and thrive and ways for them to participate in workshops and outreach efforts," he says. The youth applied for empadronamiento, a status that allows undocumented refugees to access a wealth of social and health services in Spain. They were helped to process asylum applications that would ultimately result in a NIE, an alien identification number that allows them to work as their asylum case is decided. "We are proud that as a community we are able to help fellow members of our community who are vulnerable and at risk," says Villegas.
Victor is very grateful for that help. He tells me so as we walk through Plaça d'Espanya on a beautiful crisp fall afternoon. A pair of police officers smile and nod prompting a comment from Victor. "I was very afraid of cops when I first arrived here," he says. "I know that in most places police are here to protect you but in my country they kill us. In Barcelona, I feel protected, I feel my rights are valued, you know?"
But life in Spain isn't easy for these gay Nicaraguan exiles. They work in the underground economy, walking dogs, doing hair and makeup or as waiters. Sometimes they stand in soup lines to save the little they make in order to pay rent. The young men rent a small bedroom in a fifth-floor walk-up apartment in a rundown building. It's in a working-class Barcelona neighborhood known as Venezuela because so many Latino immigrants live there. It's a step up from when they first arrived says one of the young men. "We had to spend the night with our dates because we had nowhere to sleep, it was either that or the parks," says Victor.
Shortly after that conversation, Justin and Victor were given NIE cards and David received empadronamiento The youth are very fortunate and on their way to a new life in Spain although the process is still many months from ending. For Hijos del Arco Iris LGBTI back in Costa Rica, it's a much more difficult process in a poorer country straining under a refugee and humanitarian crisis of staggering proportions with fewer resources.
Yet all of these gay Nicaraguan youth face every day with optimism, dignity and hope. Living proof of the truth of their motto Juntos somos un volcán or "United we are a Volcano." This volcano roared on April 19 and has continued to roar in Nicaragua and now roars in exile- Randal says his community fought for the rights of all Nicaragua and for a country where in the future the rights of all will be respected "for justice, for equality for what all of us as human beings deserve."
D.C. mayor to lift all restrictions on bars, nightclubs on June 11
'We will definitely be celebrating Pride' next month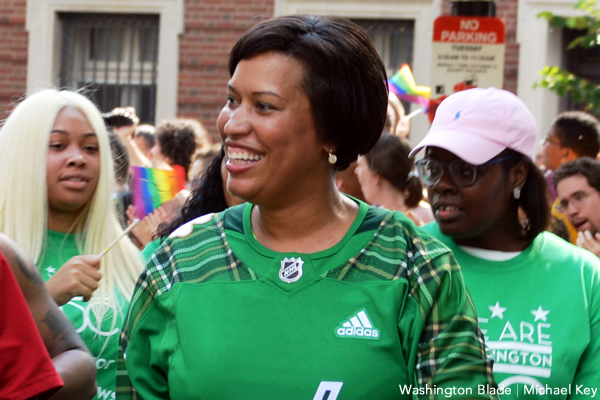 D.C. Mayor Muriel Bowser announced at a news conference on Monday that a continuing trend of significantly lower numbers of coronavirus cases and deaths in the city has enabled her to fully lift capacity and other restrictions on most businesses, including restaurants and places of worship, on May 21.
The mayor said bars and nightclubs will be allowed to increase indoor capacity from the current 25 percent to 50 percent on May 21, with all capacity restrictions for bars and nightclubs to be removed on June 11.
The mayor's announcement came after representatives of the city's nightlife businesses, including the city's gay bars and restaurants, expressed concern that D.C. had yet to lift its capacity restrictions beyond 25 percent while surrounding jurisdictions in Maryland and Virginia had already lifted most restrictions.
"On May 21, restrictions on public and commercial activity, including capacity limits, types of activities, and time restrictions, will be lifted," the mayor's directive says.
It says restrictions for bars and nightclubs would continue at a 50 percent capacity from May 21 through June 11. The directive says restrictions for large sports and entertainment venues would also continue from May 21 to June 11, which includes a requirement such events apply for a waiver of the restrictions on a case-by-case basis.
"On June 11, capacity limits and restrictions will be lifted on those venues that cannot fully reopen on May 21," the directive says.
In response to a question at the news conference, Bowser said the June 11 date would essentially end all restrictions on nightclubs and bars, including the current requirement that they close at midnight rather than the pre-epidemic closing times of 2 a.m. on weekdays and 3 a.m. on weekends.
In a development that could have a major impact on plans for D.C.'s LGBTQ Pride events, the mayor's revised health directive announced on Monday includes the lifting of all capacity restrictions on large outdoor and indoor sports and entertainment events beginning on June 11.
That change would remove restrictions that have, up until now, prevented D.C.'s Capital Pride Alliance from holding its annual Pride Parade and Festival in June during Pride Month.
Capital Pride Executive Director Ryan Bos told the Washington Blade shortly after the mayor's announcement that Capital Pride is assessing its options for expanding its current plans for in-person events in June.
"We will definitely be celebrating Pride in June," Bos said. "We just received this information as well. So, we will be getting further information," he said. "We have not been informed that they will be issuing any permits yet, so at this time we are moving forward with our original plans for doing things."
Bos was referring to a city requirement for obtaining permits for street closings and use of other public spaces for events such as a parade or street festival. He said existing plans, among other things, call for an informal parade of cars and other vehicles on June 12 that will drive throughout the city to view homes and businesses that will be decorated with Pride displays such as signs, photos, and other symbols of Pride.
Those familiar with the city's past Pride events don't think there will be enough time for Capital Pride to organize the traditional large parade and street festival in time for June. But Capital Pride officials have talked about holding a possible parade and festival in October, and the lifting of the capacity restrictions announced by Bowser on Monday would likely make that possible.
In addition to lifting all capacity restrictions on May 21 for restaurants, the mayor's May 21 timeframe for lifting restrictions includes these additional venues and events:
Weddings and special events
Business meetings and seated conventions
Places of worship
Non-essential retail
Personal services
Private at-home gatherings
Libraries, museums, galleries
Recreation Centers
Gyms and fitness centers
Pools
Office space
Schools
Childcare
"We're very pleased that over the last several days, we have seen our case spread, our community spread numbers, venture out of the red into the yellow and fast approaching the green," Bowser said in referring to a health department chart that shows the changes in coronavirus cases in the city.
"You might remember that our daily case rate peaked in January at 45.9. And today you can see it's down to 6.6," she said at her news conference on Monday.
"Throughout this process I have said how proud I am of D.C. residents and businesses who have responded, who have followed health guidance and have worked together to help protect our community throughout the pandemic. And we see it in these numbers today," she said.
"Containing the virus will continue to require all of us to be focused on maintaining a robust health system," the mayor said, adding that while over 200,000 D.C. residents have been fully vaccinated since December 2020, "many more thousands" still need to be vaccinated. "Vaccines are free and available on demand at walk-up sites across the District," she said.
The mayor also noted that the city will continue to require residents and visitors to use a mask in accordance with existing and updated guidance set by the U.S. Centers for Disease Control and Prevention.
Mark Lee, coordinator of the D.C. Nightlife Council, an association that represents restaurants, bars, nightclubs and other entertainment venues, said the mayor's directive on May 10 leaves some details to be addressed but will open the way to bring nightlife businesses back to life.
"What we do know is that on Friday, May 21, businesses begin returning to normal operations and, three weeks later, on June 11, all restrictions for all businesses in the District will end," Lee said. "It's a day we've long awaited and one that will save much of our community enterprise from financial ruin."
Family code bill to be introduced in Cuban Parliament in July
CENESEX made announcement during May 4 press conference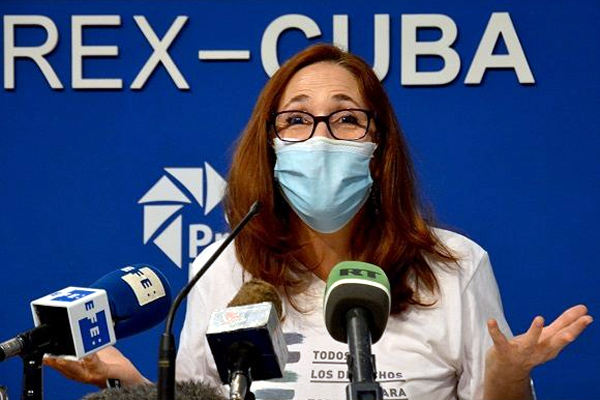 Tremenda Nota is the Washington Blade's media partner in Cuba. A Spanish version of this story was published on May 6.
HAVANA — The National Center for Sexual Education on May 4 during a press conference in which it unveiled the program for the 14th annual International Day Against Homophobia, Transphobia and Biphobia events in Cuba announced a bill to amend the family code will be introduced in Parliament in July.
CENESEX Director Mariela Castro Espín said during a meeting with official and foreign media outlets at the International Press Center that this year's events are part of the process of amending the family code.
She added that this legal change will reflect several rights guaranteed in the constitution, which is why it is necessary to sensitize and educate the Cuban population to avoid prejudice and discrimination.
"I was able to appreciate that the majority of the population … is in favor of recognizing the rights of LGBTI+ people and especially the rights in the family sphere that include the possibility, the option, of marriage," said Mariela Castro during the press conference.
The official referred to the results of the National Survey on Gender Equality in Cuba, conducted in 2016 and published in 2019. According to this official study, 77 percent of the Cuban population between 15 and 74-years-old said that gays, lesbians, bisexuals and transgender people should have the same rights as any other citizen.
CENESEX's director, however, did not use this information in the 2018 parliamentary debates sparked by Article 68 of the bill to amend the constitution. The idea that it was not the appropriate time to implement same-gender marriage in Cuba eventually won out.
Mariela Castro told Tremenda Nota a few days before the referendum in which Cuban voters approved the current constitution that she was aware of the survey, but she did not explain why she did not use the data it revealed as an argument (in favor of marriage equality.)
"It was a wasted tool that now we can only use in the next referendum," then-MP Luis Ángel Adán Roble told Tremenda Nota during a February 2019 interview, as did Mariela Castro.
The moment that Adán Roble mentioned has arrived.
It became known during the May 4 press conference that the family code will be introduced in the scheduled parliamentary session in July. The Council of State on March 22 appointed a commission that will be in charge of preparing the bill, but the list of its members was not made public until April 30. None of them are openly LGBTI+.
Activists over the last few weeks have demanded that Parliament reveal the identities of those who make up the commission and the deadline they have to prevent the Family Code. The May 4 press conference resolved the last outstanding point.
The Cuban IDAHOBiT program
Mariela Castro and CENESEX Deputy Director Manuel Vázquez Seijido explained that numerous activities with the goal of making visible and fighting against all types of discrimination based on sexual orientation and gender identity will virtually take place from May 4 through May 30.
The IDAHOBiT events in Cuba have a program that includes academic dialogue, social activism and artistic presentations from virtual spaces.
Forum debates are among the activities. The Juventud Rebelde newspaper will host the first one with the theme "Deconstructing myths around same-sex families and partners" and Cubadebate will hold the second called "Constitution and Sexual Rights in Cuba: Progress and Main challenges."
They also announced at the press conference the books "Paquito el de Cuba: A Decade of Online Activism" and "Non-Heteronormative Sexualities and Gender Identities. Tensions and Challenges for Human Rights" will be presented.
There will be virtual panels titled "Diverse Families: Histories of Non-Hegemonic Lives," "National Program for the Advancement of Women: Opportunities to Confront Homophobia and Transphobia," "Keys for Inclusive Communication" and "Sexual Rights and Religious Fundamentalisms."
Castro Espín explained that CENESEX will use its social media accounts to promote the program, contribute to the sexual education of Cubans and the recognition of rights for all people, regardless of gender or sexual orientation.
A show against homophobia and transphobia that will officially end the events will be broadcast on social media and on television.
Bill to ban conversion therapy dies in Puerto Rico Senate committee
Advocacy group describes lawmakers as cowards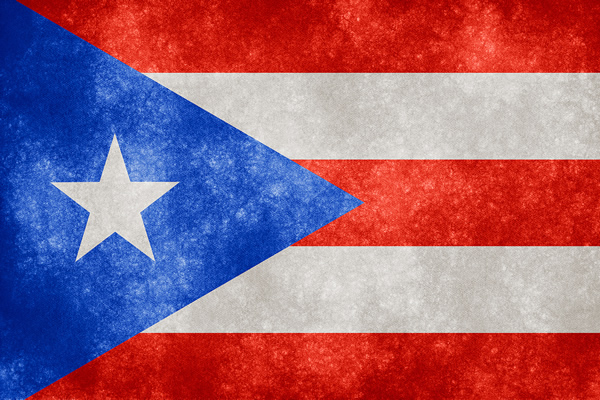 A Puerto Rico Senate committee on Thursday killed a bill that would have banned so-called conversion therapy on the island.
Members of the Senate Community Initiatives, Mental Health and Addiction Committee voted against Senate Bill 184 by an 8-7 vote margin. Three senators abstained.
Amárilis Pagán Jiménez, a spokesperson for Comité Amplio para la Búsqueda de la Equidad, a coalition of Puerto Rican human rights groups, in a statement sharply criticized the senators who opposed the measure.
"If they publicly recognize that conversion therapies are abuse, if they even voted for a similar bill in the past, if the hearings clearly established that the bill was well-written and was supported by more than 78 professional and civil entities and that it did not interfere with freedom of religion or with the right of fathers and mothers to raise their children, voting against it is therefore one of two things: You are either a hopeless coward or you have the same homophobic and abusive mentality of the hate groups that oppose the bill," said Pagán in a statement.
Thursday's vote comes against the backdrop of continued anti-LGBTQ discrimination and violence in Puerto Rico.
Six of the 44 transgender and gender non-conforming people who were reported murdered in the U.S. in 2020 were from Puerto Rico.
A state of emergency over gender-based violence that Gov. Pedro Pierluisi declared earlier this year is LGBTQ-inclusive. Then-Gov. Ricardo Rosselló in 2019 signed an executive order that banned conversion therapy for minors in Puerto Rico.
"These therapies lack scientific basis," he said. "They cause pain and unnecessary suffering."
Rosselló issued the order less than two weeks after members of the New Progressive Party, a pro-statehood party  he chaired at the time, blocked a vote in the Puerto Rico House of Representatives on a bill that would have banned conversion therapy for minors in the U.S. commonwealth. Seven out of the 11 New Progressive Party members who are on the Senate Community Initiatives, Mental Health and Addiction Committee voted against SB 184.
"It's appalling. It's shameful that the senators didn't have the strength and the courage that our LGBTQ youth have, and it's to be brave and to defend our dignity and our humanity as people who live on this island," said Pedro Julio Serrano, founder of Puerto Rico Para [email protected], a Puerto Rican LGBTQ rights group, in a video. "It's disgraceful that the senators decided to vote down this measure that would prevent child abuse."