April 23, 2019 at 5:19 pm EDT | by James Wellemeyer
Gay technology professional running for Fairfax Board of Supervisors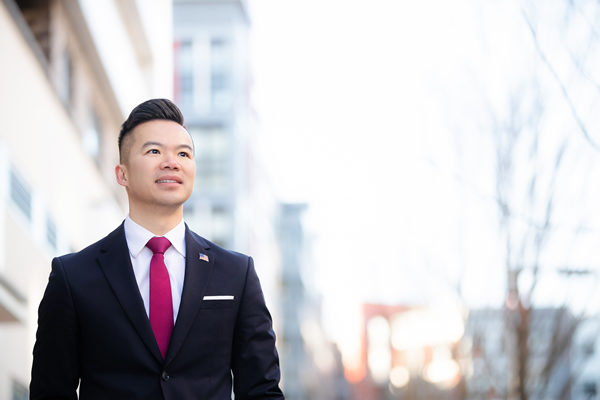 Linh Hoang has worked as a technology professional in the private sector for more than a decade. Now at 36, he's running for public office.
Hoang, who is openly gay, is running for the Providence District seat on the Fairfax County Board of Supervisors. He is among five candidates vying for the Democratic nomination.
He decided to leave his position in technology to run for office because he believes "Fairfax County is at a really important crossroad right now."
"Our economy is changing. Our community is changing. We're certainly much more diverse," Hoang said in a telephone interview with the Washington Blade on April 15. "I think we need someone who is going to come in with bold ideas and work with the business community and the diversity of the community to help take Fairfax to the next level."
Hoang hopes to promote international trade, improve the county's education system and celebrate the area's diversity if elected.
"We need to diversify our economy," Hoang said. "That means attracting companies from around the world to set up shops right here in Fairfax County."
He thinks bringing more technology companies to Fairfax will be key to this economic expansion and believes his experience in the private sector will help him facilitate this process.
"Cybersecurity, artificial intelligence, autonomous cars — all of these are investments that we need to make today to attract those companies and industries of the future into Fairfax," Hoang said.
Beyond working with businesses, Hoang plans to address issues he sees in the public education system in Fairfax.
His proposed initiatives include raising teacher pay, providing access to pre-K for all children in the county, and expanding vocational and skill-based training opportunities for high school students.
"Students, even at the high school level, should be able to access real world experiences to provide them with an idea of the possibilities that are out there," Hoang said.
He feels particularly invested in expanding educational opportunities for children in the county, as he believes education was his ticket out of poverty. Hoang is also the son of a refugee and an immigrant himself.
"My father was imprisoned at a labor camp, and he escaped from Vietnam in search of opportunity," Hoang said. "He believed that America was the land of opportunity, and he was willing to risk everything — including his own life — so that his family could have a better future."
Ten years after Hoang's father arrived in the U.S.; Hoang, his mother, and his seven siblings followed. They lived together in a three-bedroom apartment in Oakland, Calif.
"It was really hard at the beginning, but we worked hard, focused on our education, learned English, and seven years later, I got the chance to attend Georgetown University," Hoang said.
As an immigrant, the son of a refugee, and an LGBT person; Hoang also hopes to foster inclusion in Fairfax if elected.
"We have a large LGBT population in our county. And right now, today, you can still be fired for being LGBT," Hoang said. "We need to change that."
He served on the Democratic National Committee's LGBT Caucus during the fight for same-sex marriage in the U.S.
Hoang said he's pleased that fight has been won but knows "there's still much more work to be done to create an equal environment for everyone, including LGBT people."
Outside of the DNC LGBT Caucus, Hoang has served on a number of other political committees and boards during his career. These include the Fairfax County Democratic Committee, the 11th Congressional District Democratic Committee, the Democratic Asian Americans of Virginia, and the Virginia LGBT Caucus.
Hoang is also currently a member of the Virginia Small Business Financing Authority, where he helps to manage more than $1.7 billion in bond financings and $70 million in loans. Former Virginia Gov. Terry McAuliffe placed Hoang in the position, and Gov. Ralph Northam recently renewed his appointment.
"The mission of this authority is to empower small businesses around the commonwealth and spur jobs everywhere, especially in economically depressed areas," Hoang said.
While on the authority, Hoang helped facilitate projects that affected the Providence District, including an expansion of I-66 outside the Beltway to reduce traffic.
"Linh understands how to get things done, and he is one of the most focused people I know," Ted Waz, who worked with Hoang at a health care company, told the Blade in a telephone interview on April 19.
There are currently 10 positions up for grabs on the Fairfax County Board of Supervisors, and the June 11 primary will determine the Democratic nominee for the Providence District seat.
The Democratic candidates besides Hoang are Dalia Palchik, Edythe Kelleher, Ericka Yalowitz, and Philip Niedzielski-Eichner. They're all hoping to replace retiring Supervisor Linda Smyth.
"Comparing between me and other candidates, I think we need someone with bold ideas for the board of supervisors, someone with a technology background, someone who understands the roles of technology and innovation to make a difference in people's lives," Hoang said.