John Waters is never wrong
In new book, the 'filth elder' has an opinion on just about everything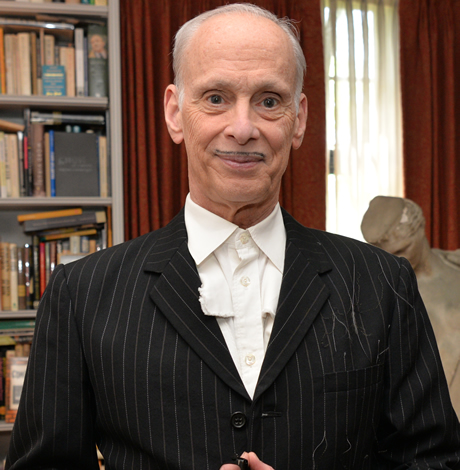 John Waters has had underwhelming meals in overpriced restaurants — so you don't have to.
He's been caught in long airport security lines. He's taken the BoltBus to New York City and been delayed while the driver took a dump in the on-board restroom. He's had to sit in a doctor's waiting room with an embarrassing ailment and been barraged with questions from other patients who recognize him and demand to know what he's got.
Now the Baltimore-based filmmaker and writer, who just turned 73, has put all of those experiences and more into a book of opinions and advice, presumably so people won't have to endure what he has. Called "Mr. Know-It-All: The Tarnished Wisdom of a Filth Elder," it's his ninth book, and it comes out on May 21. He's described it as "my opinion on everything" and "how to avoid respectability at 70 years old."
When it comes out, readers will discover that "Mr. Know-It-All" isn't just a book about coping with life's indignities and humiliations, even though there's plenty of guidance about that. It's also part memoir, part celebrity tell-all and part movie industry guidebook with separate chapters about each of his last seven films, all filmed in Baltimore ("Polyester," "Hairspray," "Cry-Baby," "Serial Mom," "Pecker," "Cecil B. Demented" and "A Dirty Shame.")
The book is filled with anecdotes about many of the actors he's worked with, including Kathleen Turner, Johnny Depp, Tracey Ullman and, of course, Divine. There's the time Waters turned down Brad Pitt at an audition for "Cry-Baby" because Pitt was too handsome to be cast as Depp's sidekick, a decision that he thinks makes him perhaps "the only director who ever said no to Brad Pitt." He remembers that Rikki Lake lost her virginity halfway through "Cry-Baby;" how he called Tab Hunter out of the blue to star in "Polyester" and how he battled with motion picture censors to let him use the word "Pecker" as a movie title.
Other readers may be drawn to his essays about non-cinematic subjects, which range from art collecting and Brutalist architecture to Yippie protests, Andy Warhol and taking LSD at 70. In one chapter, he names the one female he has adored since childhood. In another, he imagines returning to the apartment he lived in during the 1960s, a sign that, in some cases, you can go home again (especially when you still live in the town where you grew up).
"Mr. Know-It-All is here to tell you exactly how to live your life," he writes early in the book. "I'm never wrong."
Though the title says it's a book of wisdom, this is not a rehashed litany of someone else's platitudes. All the advice he offers grows out of his own experiences. As a result, readers gain insights into the maker of "Pink Flamingos" and "Female Trouble" by learning what he's gone through and how he dealt with it.
One of those insights is that Waters can be quite frugal and down to earth. He not only takes the inexpensive BoltBus to New York but also goes to a Laundromat when he spends the summers in Provincetown. (And of course, he hitchhiked across the country and wrote about it in his bestseller, "Carsick.")
In many of his stories, Waters reveals a knack for handling even the most humiliating situations with humor and aplomb. He also says he licks important packages before he puts them in the mail — "to remove any 'curse' of show business rejection" — and instructs his staff to do the same. In the LSD chapter, he mentions texting "my boyfriend," whom he never names.
Next week, Waters begins a national tour to launch his book, published by Farrar, Straus and Giroux. East Coast stops include Barnes and Noble's Union Square location in New York City on May 21; Politics and Prose Bookstore in Washington (the 5015 Connecticut Ave., N.W. location, with first-come, first-served seating) on May 24 at 7 p.m. and a book signing at Atomic Books, 3620 Falls Road in Baltimore, on May 25 at 7 p.m.
West Coast stops include ticketed events at The Green Arcade at the McRoskey Mattress Loft, 1687 Market Street in San Francisco on May 30 at 7 p.m., and Book Soup at The Renberg Theatre (Los Angeles LGBT Center's Village), 1125 N, McCadden Place in Los Angeles on June 1 at 7 p.m.
Waters recently sat down at his home for an interview with the Washington Blade to talk about his book and his life as a filth elder. The interview has been condensed.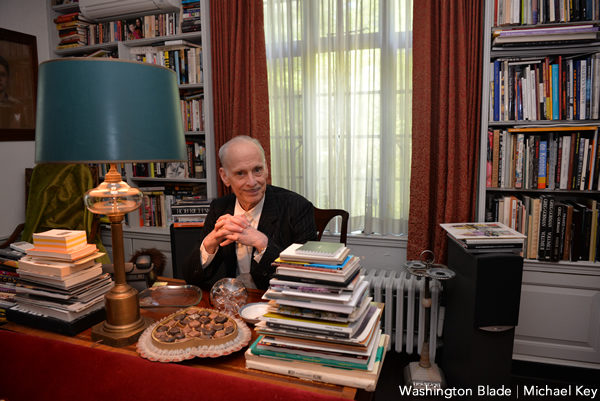 WASHINGTON BLADE: A good alternative title for your book would be "The Influencer," don't you think? How To Win Friends and Influence People 2?
JOHN WATERS: I'm Norman Vincent Peale, you're saying?
BLADE: You do give a lot of advice: Come up with a gimmick. Have backup plans. Get at least one other person to believe in you. Sound advice, with a John Waters twist.
WATERS: I agree with that totally.
BLADE: Why an advice book?
WATERS: Well, I always kind of parody things, so I thought an advice book coming from me would be kind of a parody in the first place. I needed that kind of genre to be able to talk about all the things I wanted to talk about.
In some ways it's like "Shock Value" because "Shock Value" ended right before we made "Polyester," so this has the rest of the movies in it. But I also wrote it from a viewpoint of how to tell young filmmakers how to deal with Hollywood and what happens and all that kind of stuff, and how you fail upward. And then the other subjects I had to put in about love, about fashion, about art, about death, about every possible thing. But to talk about them all, you need a theme that runs through the whole thing, so that's how I came up with [giving] advice.
Do I expect every person to follow my advice? No, but I believe that I gave good advice. It's not really told ironically. I believe everything I say in it. But I hoped to write a humorous book at the same time.
BLADE: Who are you giving advice to?
WATERS: I'm giving advice, first of all, to the people that like my work, because they're hopefully the first people that buy the book. Secondly, even if you don't know anything about me, I'm giving advice to younger people about how to handle what's coming, failure and success, in your life if you've chosen to be in the arts in any way. So I think I'm trying to give advice to anybody probably younger than me, because older than me are dead, you know. And I tell you how to beat that too.
BLADE: You're not writing just for the hardcore fans?
WATERS: No, not at all. If you're never seen any of my movies, you can still read the book.
BLADE: A lot of your fans may be the "others" in society, those who don't fit in or conform, the people in "Desperate Living" and other movies.
WATERS: The people that used to be the "others" in society are often now the leaders. Everybody wants to be the "other" now. They didn't used to. Even Trump would probably want to be an outsider. Obama thought he was an outsider. Everybody wants to be an outsider, and I want to be an insider. I said that in "Make Trouble," that it's more fun to cause trouble from within. Which is what "Hairspray" did.
BLADE: But a lot of the others aren't the ones who would typically be disposed to take advice.
WATERS: Maybe from me they might.
BLADE: Why should someone follow your advice?
WATERS: You don't have to. I think you could read the book and not follow one bit of it and still enjoy the book. You don't have to. I don't expect anybody to, really.
BLADE: Your advice grows out of your experiences. It's not warmed-over Norman Vincent Peale. And because it comes from within, your advice in turn provides insights into you.
WATERS: I always thought that is a joke, that book, which I probably never read. But my parents had it and it was such a thing then that it became a joke in a way. That same title could apply to this book.
BLADE: The other thing about your advice is, you chronicle all the ways you've suffered indignities. You've had bad dinners at good restaurants. You've had bad seats on international flights. You've been harassed at the doctor's office.
WATERS: I'm also saying all the wonderful things that happened to me. So basically, there are different kinds of problems. It is a high-class problem to worry about being recognized in a doctor's office. It's the one time that it's really bad to be seen. Although, if you weren't [famous], you wouldn't have gotten the appointment. So in the long run, it isn't bad.
BLADE: Do bad things happen to you more than most, like Joe Btfsplk in "Li'l Abner?"
WATERS: No. I say in the book, not one bad thing has ever happened to me from being famous, in any way. It really hasn't. I mean, high-class problems, some of the things I talk about. But, generally, I can bitch about flying all the time. Bitch about first class, which is really bold. But I get to fly all the time and I don't pay for it. But I'm working, you know? So I'm trying to tell people that when bad things happen to them, they can use it and how they can appreciate it and how they can look back on it and it doesn't mean really anything terrible.
BLADE: You bring up all these universal things that anybody can identify with and you've come out on the other side, none the worse for wear from the indignities you've suffered.
WATERS: Everybody has indignities.
BLADE: Are you more sensitive to things than others?
WATERS: No, I don't think so. I think I notice them more and it's more, like, ludicrous, some of the problems that you get from being known.
BLADE: And then you use it for comic relief.
WATERS: Yeah, comic relief. In my own life, even.
BLADE: Is there one disappointment that tops them all?
WATERS: I only regret one thing, smoking cigarettes. It's the only thing I regret in life. Because I'll probably die from it. I mean, I don't have cancer, but I'm just saying that, both my parents died from some form of cancer. They were 90 though. They had a long, good life. So, yes, I regret smoking cigarettes.
BLADE: You lived through all these indignities, and that's a sign that others can too.
WATERS: The other day in New York somebody yelled at me, a homeless person, 'You're still alive?' Which really made me laugh. I thought, 'Well, yes I am, are you?'
BLADE: You and the Queen of England ought to compare notes.
WATERS: She probably has some really good ones.
BLADE: On your book tour, you're appearing at Politics and Prose in Washington. Is this book political?
WATERS: Sure it is. All humor is political. And this book, definitely. I have a whole chapter, ACT BAD, which is really [suggesting ways] to go further than ACT UP did. I think comedy is political, trying to get you to laugh at things. I think every chapter in this book is political. But the worst way you can be political [is to] rant. If you get people to laugh, they'll listen. If you lecture, in a strident tone, like Elizabeth Warren, no one will pay attention. Even though I totally agree with her politics, I hate to hear her talk. She's never said a funny thing in her life. So the thing is, it's important, if you want to change people's minds, to make them laugh. It's the first way to get their attention.
BLADE: What will you be doing at Politics and Prose?
WATERS: Well, probably a conversation with somebody and read a chapter and sign books. Like what I do everywhere. It's always "a conversation with." It's basically a free lecture tour.
BLADE: As opposed to Atomic Books in Baltimore, where it's primarily a book signing.
WATERS: That is usually the biggest one in the whole country, which is pretty amazing. That tiny bookshop, on the last two books, I think, sold even more than Barnes and Noble in New York.
BLADE: For your "Carsick" book-signing there, it was raining and the line was around the block.
WATERS: That bookstore, I get all my fan mail there. It's really a great place, so I'm all for it.
BLADE: Does your book have any bombshells in it? Landing Tab Hunter for "Polyester?" Not casting Brad Pitt when he auditioned?
WATERS: That's not up to me to say. The only thing I could think in there, maybe, is the [taking] LSD thing, in a way. That's the stunt of the book. That's something that I did that I thoroughly enjoyed. I think if there's a sentimental chapter in the book about friendship, then maybe that is that. If I had known how strong the LSD was that I took, I probably would have been uptight. But I didn't and it was great. I spent eight months getting the right acid from the purest source I could find, practically from Timothy Leary's asshole. The Blade can print that. But the provenance of it was high and it was great. I don't have to ever do it again. Just like I don't have to ever hitchhike across the country again. Why would I? I did it. I don't know if that's newsworthy, but that would be, maybe.
BLADE: You had a big build-up about it in the book: We don't know what this is going to do to us. And then you stopped hallucinating and it was OK and the sun rose…
WATERS: It was more than OK. It was great. I never had a bad experience when I was young, or I probably would have never done it. What I wanted to see is, what is it like to do it now, when I'm 70 years old? I certainly would never imagine that many 70-year-olds try to take acid. Especially if you haven't done it since you were young.
BLADE: Do people still take LSD?
WATERS: Oh yeah. All the young people now do micro-doses. All the people that work in Google. All the tech kids take teeny doses of it. But not many 70-year-olds take it. People I know don't take it.
BLADE: You write that you tried to get transgender pioneer Christine Jorgensen in a movie. That's something probably a lot of people don't know. You've sprinkled in all kinds of things that are going to be part of your lore.
WATERS: There are lots of things that people don't know. But I don't know that that means it's Stop the Press. Most everything in the book is probably new information to most people.
BLADE: Who do you wish had been in one of your movies but never was?
WATERS: Always Meryl Streep. But I would have had to stop her from doing a Baltimore accent. And she would have done it brilliantly.
BLADE: Did you have a part for her?
WATERS: You know, at times, any of those movies she could have been in, yeah. We've met before, maybe a couple of times, at parties. She's lovely. But she didn't say, "Oh, I've been dying to work with you."
BLADE: Roseanne Barr has come up.
WATERS: Well, Roseanne, when I dealt with her, she was a liberal. Completely. Yes, she came up a couple of times. I was friendly with her.
BLADE: For "Serial Mom?"
WATERS: Yeah. "And A Dirty Shame." She was possible for that at one point. So, I was always friends with a liberal. I did her show and everything. Traci Lords was on her show. Who knows? I don't know. I guess she's just on the Internet too much.
BLADE: Who was the greatest delight to work with?
WATERS: They all were a delight, in a way. I mean, making movies is horrible. I say that in the book. Basically, it's not fun, because there's so much pressure and you have to do something every day and we're not going to get this shot and it's going to be over budget. But they all were team players. That's what I can say they were.
Somebody said about my mother after she died: She was game. And they were game. They had to be game, to come with us, come to Baltimore, especially joining a group of people that had known each other for 30 years, a lot of them. I didn't have any trouble with any of them. They were pros. But we were pros to them. I think I was prepared. I knew what to do. It wasn't like we mistreated them. And they sort of got into the spirit of it.
BLADE: Would you do a word association? Kathleen Turner.
WATERS: A pro. Still see her. Great actress. Stage. Screen. Movies. She could play men, women, anybody with great conviction.
BLADE: Johnny Depp from "Cry-Baby."
WATERS: I'm on his new album, I hear. I'm not sure how. I remember I talked to him on the phone with Alice Cooper recently and he said, "Say this." I don't remember what I said, so I guess they put it in the album like when I did in The Creep [a song with Nicki Minaj]. Johnny Depp was always a pro with me.
BLADE: Tab Hunter.
WATERS: Well, he voted for Reagan, you know. He used to shock me. He was for Trump, too. He used to laugh when he told me, because he knew how crazy it made me. I love Tab. You know, that's the thing. He was from a different era. Completely from a different era.
BLADE: Was he like Rock Hudson?
WATERS: Rock Hudson, I don't know if he was a Republican. Tab, I think was always a Republican. Oh yeah, he was in the closet forever. He had to be. It was illegal. You know. He was loved by every woman in America. It would have ruined his career. And he wrote about all that in his book.
BLADE: Did he write about you?
WATERS: Yeah. He was lovely. I stayed friends with him right up until the end. I just talked to his husband recently. Tab was great. He was a team player too. Lovely to Divine. Matter of fact, he liked the experience so much he went and made a movie with Divine afterwards, called "Lust in the Dust."
BLADE: Andy Warhol?
WATERS: I remember him at the Baltimore Museum of Art meeting Edith [Massey] and saying, where did you find her? And he was very supportive. He took Fellini to see "Pink Flamingos." He put Divine on the cover of Interview. He was always supportive.
BLADE: Mink Stole. You named her?
WATERS: Her real name is Nancy Stoll. S-t-o-l-l. I knew her forever. I met her in Provincetown. She was early in my films. She was a character actress, always. She usually played Divine's enemy. We've been friends forever and ever. And I think she's a really good actor. She still works all the time.
BLADE: Any way to sum up Divine, 31 years after his death?
WATERS: He gets more and more famous as the years go by. And he'd still rather be here. He'd be pissed he's dead. I'm still shocked he's dead. I still am. That's still a shock. But, it's kind of amazing. Well, we're all being buried in the same graveyard where he is, you know, all my friends. Obviously, he is still with us.
BLADE: You've been good to the guys who commissioned the Divine mural in Baltimore, Jesse Salazar and Tom Williams.
WATERS: They were lovely. Why wouldn't I be?
BLADE: Your book has only one chapter that's named after a female.
WATERS: Betsy.
BLADE: The finger-painting chimp from the Baltimore zoo. You reveal this life-long love affair that you've kept secret until now.
WATERS: Well, I didn't have sex with Betsy. I want to make sure that people understand that.
BLADE: You wrote a chapter about her appearances on TV and about The Golden Age of Monkey Art, which she inspired.
WATERS: I just remembered her in that dress and getting national attention and being all over the country. She was on Garry Moore, who was from Baltimore, too.
BLADE: In the last chapter, you write about death and dying, specifically about your death. You try to imagine what happens after you die, and you go back and visit your first apartment at 315 E. 25th Street in Baltimore. Why so morbid?
WATERS: Is it morbid? I don't think it's morbid. I think, who at 70-some years old doesn't think about that?
BLADE: Why such a potential downer?
WATERS: You think it's a downer? I don't think it's a downer… I think everybody at 73 [thinks about death], and I think my friends think about it more than I do. I don't think about it that much. But you can't help it when you go to funerals and you think, I am 73, you know, something is going to get you. So I tried to just imagine beating it, how I could be such a control freak that I would refuse to die. And I do always dream about that apartment, so it is just a fantasy of what happens after you die.
But it was to me dealing with the one subject that you're really not supposed to joke about or kind of focus on. To think about it was sort of liberating in a way, to go through the whole thing. Except that I want to be sure that just because I write something here to be funny, it doesn't mean that I want my heirs to follow every single thing. Like I say in there, I don't want something funny on my tombstone. So, I don't know. I thought it was optimistic. I beat death in it in a way, spiritually at least. That's optimistic.
BLADE: How is your health?
WATERS: My health is fine.
BLADE: You didn't write the book to fight death?
WATERS: Well, you write all books to fight death. I mean, I've never been as busy as I am. I have more projects than I've ever had in my entire life.
BLADE: You don't name in the book any kind of significant other or life partner.
WATERS: And I never would. Because every person I've ever been involved with …doesn't want to be public. I wouldn't want somebody that would want to do the red carpet with me. I don't want a groupie. I don't want a fan. I want somebody that has their own life.
BLADE: Do you have a partner?
WATERS: Yes, I do.
BLADE: Is that in the book?
WATERS: Obliquely.
BLADE: You don't want to say who it is?
WATERS: If you don't keep some things private, you don't have a personal life. It's the same thing I say, I have some restaurant receipts that are not tax-deductible. That means I have a personal life. When I read celebrities are telling everything, I think, don't you have any friends?
BLADE: Your book is so wide ranging it makes one wonder what you're saving for the next one. After "Mr. Know-It-All," what is there to write about?
WATERS: Do I have any stories left? Well, I'm writing a novel. I'm on page 64. So, yes, there's stuff to write about.
BLADE: Is that why your next book is fiction, because you've exhausted the autobiography?
WATERS: I've written 17 movies. They're fiction. The first part of "Carsick" was fiction, too, except that I was in it. That makes it a lot easier. I had never written a novel, so I wanted to try it.
BLADE: Are you ever going to slow down?
WATERS: I hope not. I don't need to slow down. I like what I'm doing. I don't know. I guess when I drop dead, I'll have to.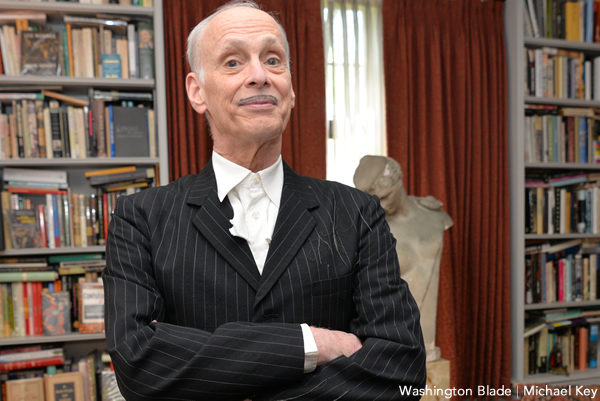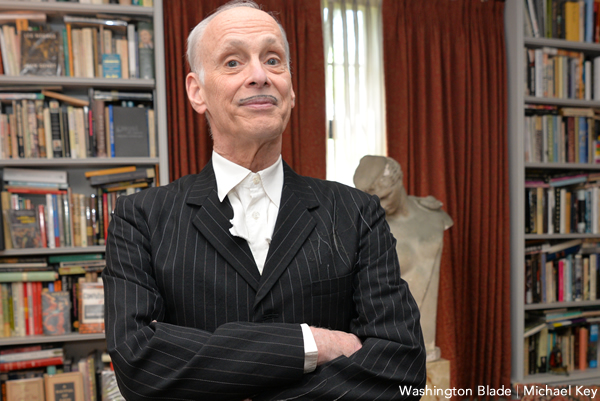 CAMP Rehoboth's president talks pandemic, planning, and the future
Wesley Combs marks six months in new role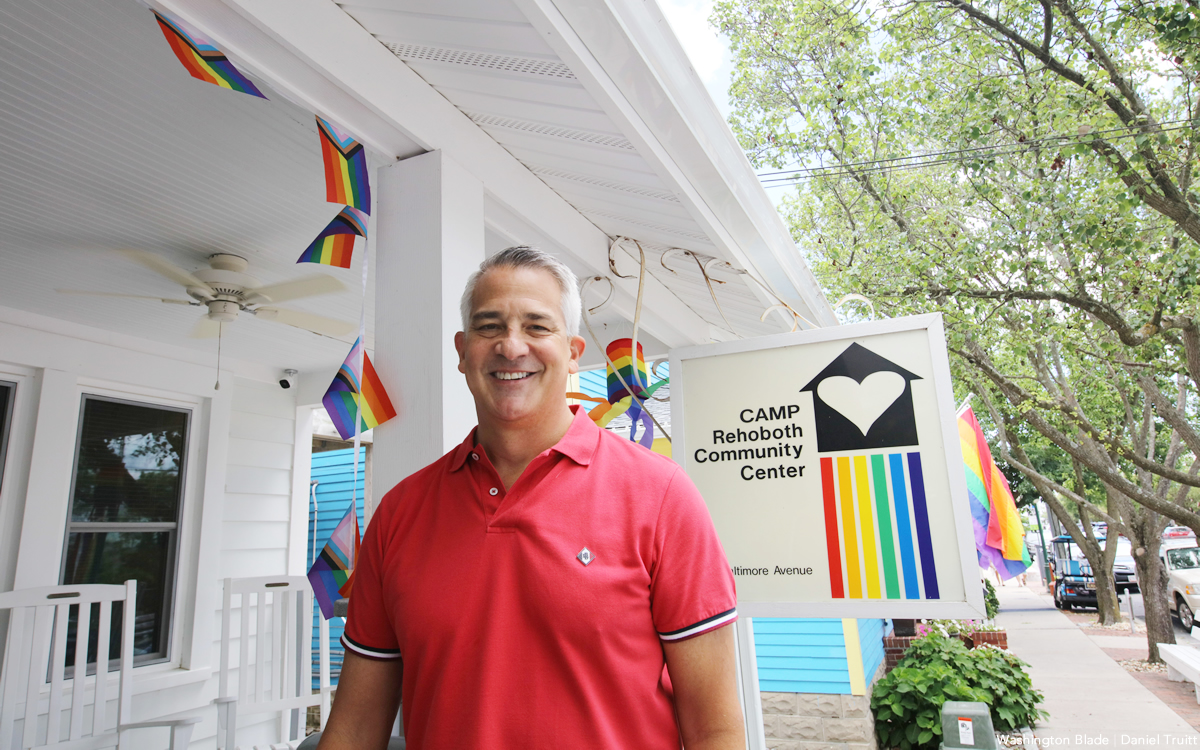 June marks half a year since Wesley Combs stepped into his role as president of CAMP Rehoboth. In a conversation with the Blade, Combs recounted his first six months in the position — a time he said was characterized by transition and learning.
Since 1991, CAMP Rehoboth has worked to develop programming "inclusive of all sexual orientations and gender identities" in the Rehoboth Beach, Del. area, according to the nonprofit's website. As president, Combs oversees the organization's board of directors and executive director, helping determine areas of focus and ensure programming meets community needs.
For Combs, his more than three decades of involvement with CAMP Rehoboth have shaped the course of his life. In the summer of 1989 — just before the organization's creation — he met his now-husband, who was then living in a beach house with Steve Elkins and Murray Archibald, CAMP Rehoboth's founders.
Since then, he has served as a financial supporter of the organization, noting that it has been crucial to fostering understanding that works against an "undercurrent of anti-LGBTQ sentiment" in Rehoboth Beach's history that has, at times, propagated violence against LGBTQ community members.
In 2019, after Elkins passed away, Combs was called upon by CAMP Rehoboth's Board of Directors to serve on a search committee for the organization's next executive director. Later that year, he was invited to become a board member and, this past November, was elected president.
Combs noted that CAMP Rehoboth is also still recovering from the pandemic, and is working to restart programming paused in the switch to remote operations. In his first six months, he has sought to ensure that people feel "comfortable" visiting and engaging with CAMP Rehoboth again, and wants to ensure all community members can access its programming, including those from rural parts of Delaware and those without a means of getting downtown.
Still, Combs's first six months were not without unexpected turns: On May 31, David Mariner stepped down from his role as CAMP Rehoboth executive director, necessitating a search for his replacement. Combs noted that he would help facilitate the search for an interim director to serve for the remainder of the year and ensure that there is "a stable transition of power." CAMP Rehoboth last week announced it has named Lisa Evans to the interim director role.
Chris Beagle, whose term as president of CAMP Rehoboth preceded Combs's own, noted that the experience of participating in a search committee with the organization will "better enable him to lead the process this time."
Before completing his term, Beagle helped prepare Combs for the new role, noting that the "combination of his professional background, his executive leadership (and) his passion for the organization" make Combs a strong president. Regarding the results of the election, "I was extremely confident, and I remain extremely confident," Beagle said.
Bob Witeck, a pioneer in LGBTQ marketing and communications, has known Combs for nearly four decades. The two founded a public relations firm together in 1993 and went on to work together for 20 years, with clients ranging from major businesses like Ford Motor Company to celebrities including Chaz Bono and Christopher Reeve. According to Witeck, Combs's work in the firm is a testament to his commitment to LGBTQ advocacy.
"Our firm was the first founded primarily to work on issues specific to LGBTQ identities, because we wanted to counsel corporations about their marketing and media strategies and working in the LGBTQ market," he explained. By helping develop communications strategies inclusive of those with LGBTQ identities, Combs established a background of LGBTQ advocacy that truly "made a mark," Witeck said.
Witeck emphasized that, in his new position, Combs brings both business experience and a renewed focus on historically underrepresented in LGBTQ advocacy — including people with disabilities, trans people and people of color.
Looking to the rest of the year, CAMP Rehoboth hopes to host a larger-scale event during Labor Day weekend. In addition, the organization will revisit its strategic plan — first developed in 2019 but delayed due to the pandemic — and ensure it still meets the needs of the local community, Combs said. He added that he intends to reexamine the plan and other programming to ensure inclusivity for trans community members.
"CAMP Rehoboth continues to be a vital resource in the community," he said. "The focus for the next two years is to make sure we're doing and delivering services that meet the needs of everyone in our community."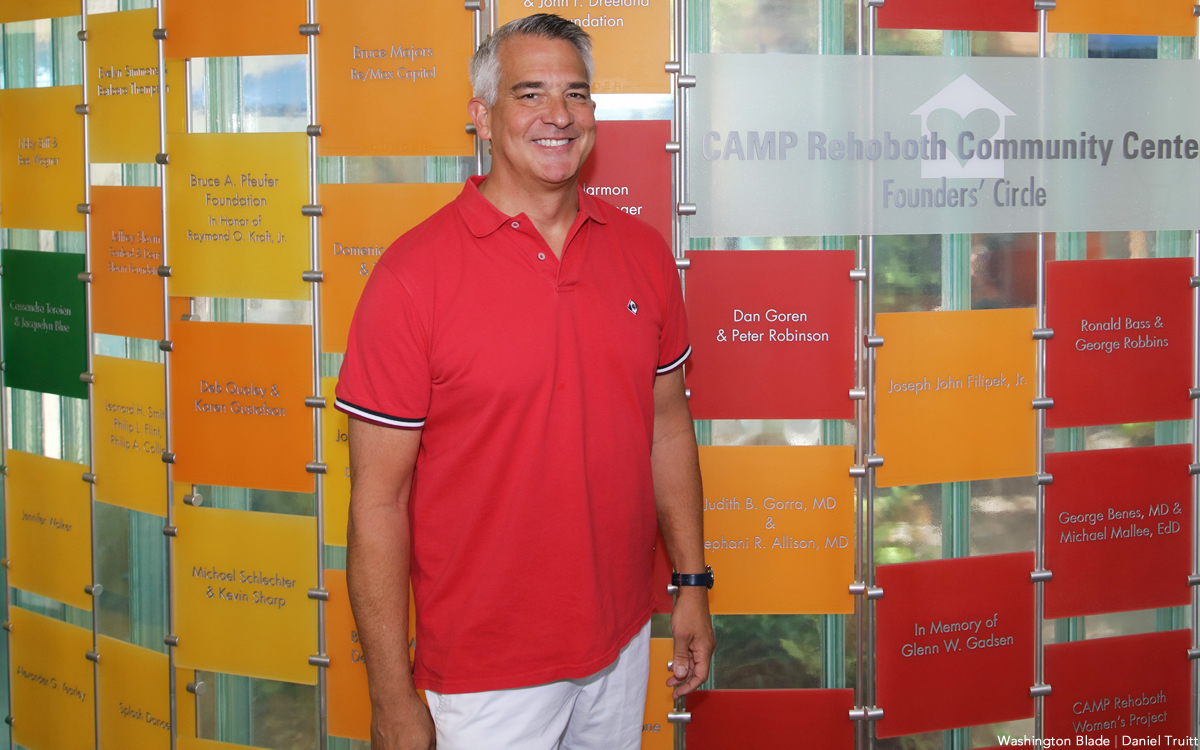 Melissa Etheridge shares Q&A in advance of April 26 Tysons tour stop
Rock pioneer finds inspiration in the past — from revisiting old demos to reconnecting with celeb pals like Ellen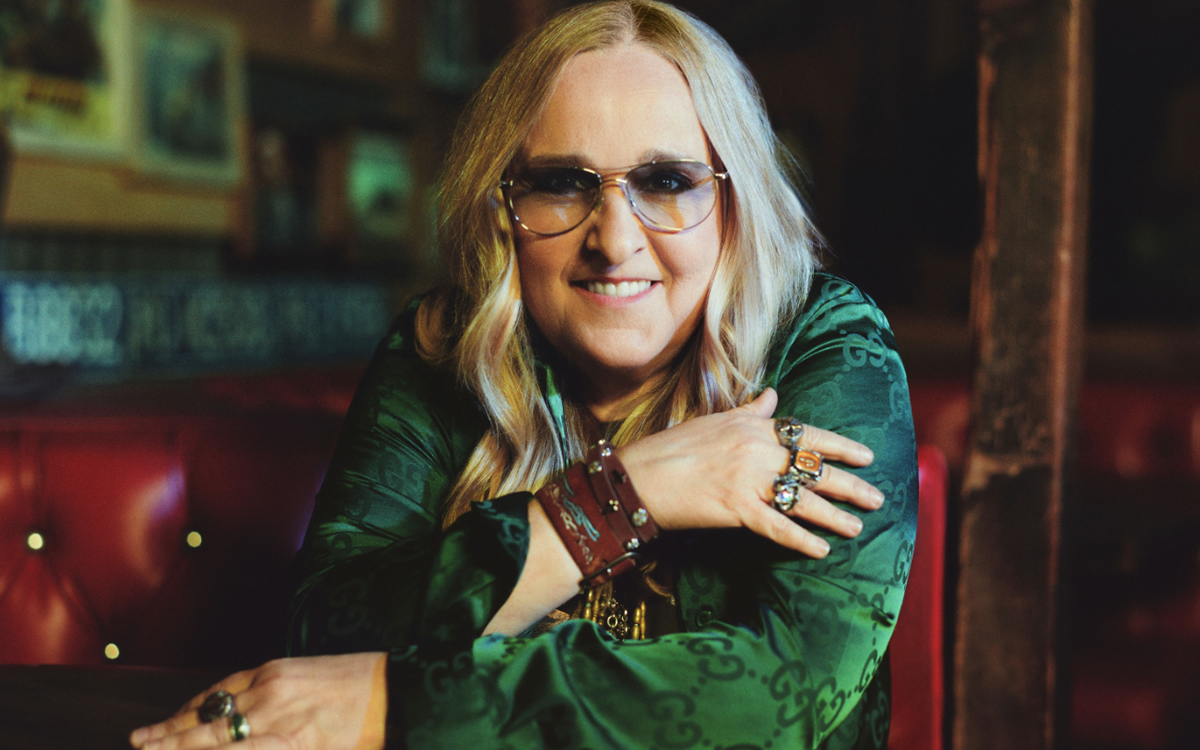 Melissa Etheridge
'One Way Out Tour'
Tuesday, April 26
Capital One Hall
7750 Capital One Tower Rd.
Tysons, VA
7:30 p.m.
Tickets: $55
ticketmaster.com
capitalonehall.com
melissaetheridge.com
We caught up with rock legend Melissa Etheridge on April 8 by phone from Snoqualmie, Wash. — it's about 26 miles east of Seattle —where she was playing the Snoqualmie Casino on her "One Way Out Tour," which plays our region on Tuesday, April 26.
It's named after her latest album, released last fall, which found Etheridge, who's been out since '93, revisiting demos from early in her career.
Her comments have been slightly edited for length.
WASHINGTON BLADE: "One Way Out" sounds like such a cool project. Was it all re-recorded stuff of old songs or were some of those vintage takes on the record as well?
MELISSA ETHERIDGE: The last two songs, the live songs, were from where? From 2002? OK, but the other songs were newly recorded.
BLADE: And how many of them did you remember?
ETHERIDGE: You know, when I found them again, they all came back very clearly. And I was like, "Oh, this is — why did I throw that away? That's weird." And I really enjoyed, you know, hearing them, they were just old demos. I'd never done full-blown recordings. So I thought, "This is great, I want to do these songs."
BLADE: We have a relatively new venue you're going to be playing, Capital One Hall. I've only been there once. You excited?
ETHERIDGE: Yeah, it's always fun. I love the D.C.-area crowd. It's just really, really nice.
BLADE: And how do you decide where you'll be? Or do you have any say in it?
ETHERIDGE: Well, it's not necessarily me. I do have a say in it, in what I want the whole tour to look like. But it is really up to William Morris, my agent, to find the right venue that understands what we need and the kind of atmosphere we're looking for that and the amount of people and, you know, that sort of thing.
BLADE: Tell me about Etheridge TV. I just wonder, when we were in that acute phase of the pandemic, wasn't it even remotely tempting to you to just take a break?
ETHERIDGE: No, because since I was 12 years old, I sang all the time for people, like five days a week and it's just been what I do. And so when it was like, I was looking at a massive, cavernous amount of time that I was going to be home, I still needed a way to pay the bills, so we put our heads together — I've got one of the greatest television minds with me, you know, my wife (TV producer Linda Wallem), so I had the space and I had the equipment, and I was like, "Let's do it." And it was really fun to learn new things. It was fun to learn about computers and sound and streaming and lights and cameras and all these things that I didn't know. … I feel a little smarter.
BLADE: When did you start back on the road?
ETHERIDGE: We went out last fall. We went out September, October, right around there. And you know, it was a little different, Now things are things are loosening up … but some places still require masks. But people are starting to get back out and it feels good. It's not the overwhelming thing that it was a few months ago.
BLADE: And what was it like being on 'Ellen' again for her final season?
ETHERIDGE: Oh, I love her. She's such an old friend. You know, I say that about myself, too. (chuckles) But, you know, she's just a relationship in my life that I have treasured. We've watched each other grow and the changes we've made and the successes and what we've gone through and I love that she had me on and just it was just a really — she's a dear friend. And she showed an old photo there, and we both said, "Oh, that was before we were so busy."
BLADE: Do you talk to her often?
ETHERIDGE: I would say we see each other socially once or twice a year. It just seemed like once we started having children, all my friends from my 20s and 30s when we were not as busy — it just gets harder to stay in touch and life got crazy.
BLADE: So when you were hanging out back in the day with Ellen and Rosie and everybody, how was it that Brad Pitt was in that group too?
ETHERIDGE: Well, my girlfriend (Julie Cypher) had been married to Lou Diamond Phillips and we were all very good friends with Dermot Mulroney and Catherine Keener and Catherine Keener did a movie with Brad, like a movie nobody saw, like Johnny Dangerously or something (1991's "Johnny Suede"), some really weird movie. So I met Brad before he was terribly famous. He was a part of that group. There was a whole group of all of us that just hung out, and we were all totally different. We were just like young, hungry Hollywood and we'd talk about, "Oh, I had this audition," or "I went and did this," and we were just all trying to make it in that town. So we'd get together and have fun.
BLADE: I was so terribly sorry to hear about Beckett (Etheridge's son, who died in 2020 at age 21 after struggling with opioid addiction). How are you and the rest of the family, especially (Beckett's twin) Bailey, dealing with it now?
ETHERIDGE: There are many, many families like us that deal with a loss like that. It just blows a family sideways. But we have a deep love and connection, all of us. We all knew he had a problem and it's a problem that starts way before he actually passes, so it was not a surprise. So now we're just living with the missing aspect. You try not to think about what could have been and you try to think about him in a happier place and that he's out of pain, so that helps us.
BLADE: Had he and Bailey been as close in recent years?
ETHERIDGE: They were very close, but in the last couple of years as he made worse and worse choices, we couldn't support that, so they were less close, but of course in her heart, it was her brother, he was very dear to her.
BLADE: Did you watch the Grammys? Was there anybody you were particularly rooting for?
ETHERIDGE: I watched bits and pieces of it. I had a show that night, so I didn't get to see the main thing, but I have seen pieces and I just love the crazy diversity and you know, the TikTok people winning stuff, it's like, "Wow, this is so not the Grammys I remember from the '80s," but that was what, 30 years ago? So it's all good.
BLADE: You were such a perennial favorite back in the day in the best rock female category. Were you pissed when they eliminated it?
ETHERIDGE: It's sad because I felt like the criteria they were using to judge what is female rock, they just really dropped the ball. I still think there are some amazing musicians that could be considered, you know, rock, but it feels like we're having a hard time even defining what rock and roll is now anyway. There's a whole bunch of strong women out there playing, rocking, you know, playing guitar, being excellent musicians and songwriters. If you can't call it best rock female, OK, call it something else.
BLADE: I remember so vividly when you were on the Grammys in 2005, in the midst of chemo, when you sang "Piece of My Heart." I remember you saying you were wondering how people would react to seeing you bald. Having been through that, any thoughts on the Will/Jada Oscars situation since her baldness, too, was due to a medical condition?
ETHERIDGE: You know, it's funny, I did feel a little remembrance of (thinking), "I just hope people don't make fun of me." That was kind of the first thing because to go out there bald, that was so different for me as an artist whose hair had kind of defined her. I was thinking, "How am I gonna rock without my hair?" I thought people might make fun of me, but I got over that. I just thought, "Well, if somebody makes fun of me, that just makes them look bad." So I just walked through it. And you know, it's hard to draw the line between what's funny and what's painful and how to look at something. I feel for all parties involved.
BLADE: When you go on these cruises, do fans give you some space or do they swarm around the minute you walk out? Is it even enjoyable for you?
ETHERIDGE: Yeah, it is. You know, we did our last one, now we're doing Etheridge Island, we now have a destination in Mexico, outside of Cancun, it's just this island that we're going to that is really fantastic. But I do I make myself available, I don't run away. When I have to be somewhere, I have a great company we work with called Sixthman that knows how to get me from point A to point B without being bogged down. But I do my make myself available. Everyone gets a picture with me. It's my work, but I love it. I try to make myself available but also have some time just for myself too.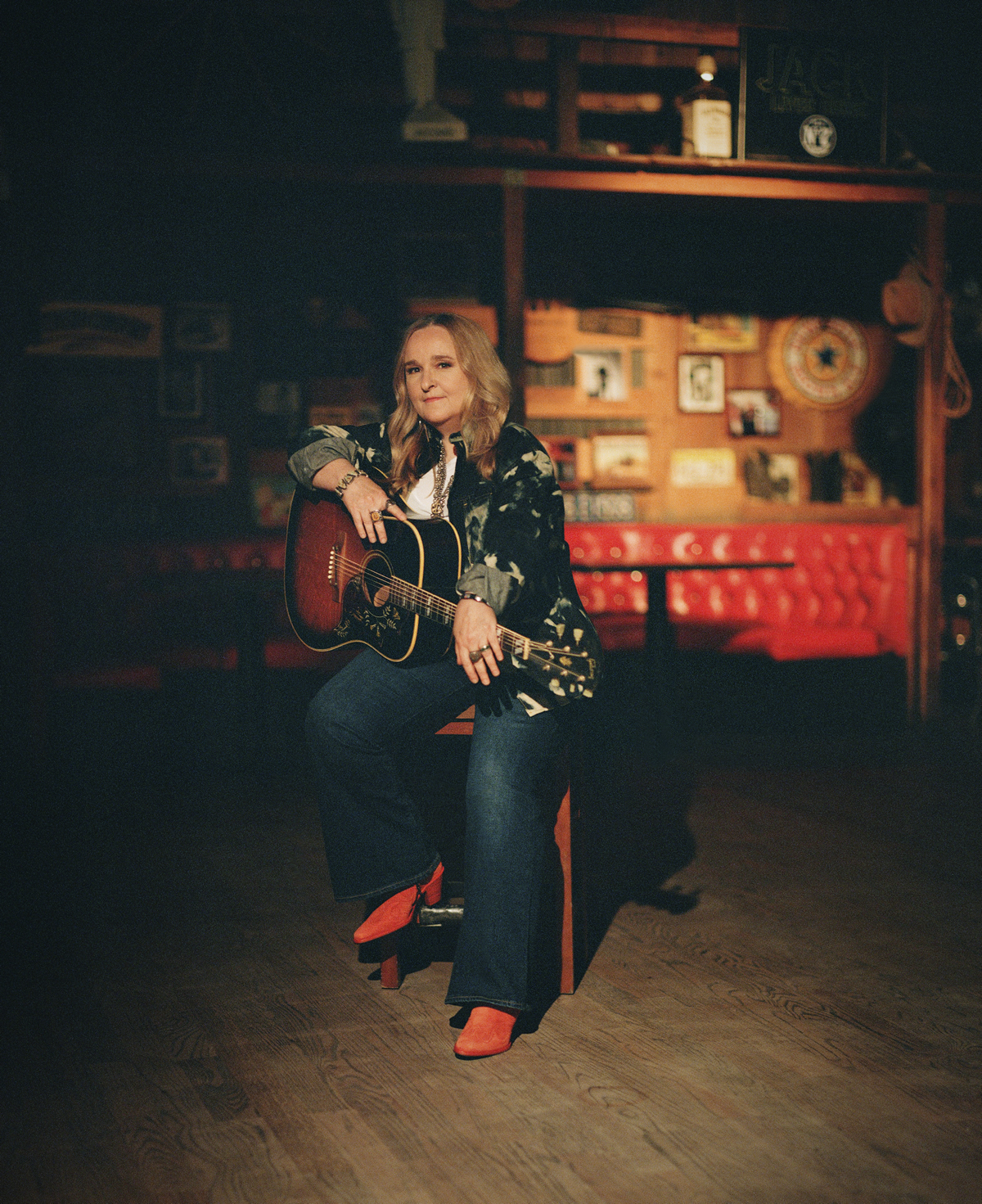 BLADE: You Tweeted a few nights ago about having a tight curfew of just 90 minutes at a casino but then it worked out and you got to do a full set. Why are the curfews so tight at casinos?
ETHERIDGE: Why do you think? They want people at the tables. Like for tonight, we we settled on 100 minutes. They're giving me 10 extra minutes. I don't like it, but in some areas, the only really good venue is a casino, so if you want to reach your folks there, you kind of have to meet them half way.
BLADE: Yeah, but it seems like in concert halls, the curfews can sometimes be really tight too. Even Madonna got her lights shut off a couple years ago. Of course, she's notoriously late, but why are they so strict with these things nowadays?
ETHERIDGE: There are all different situations — concert halls often have union crews that will absolutely shut you down if you go one second over. There are also sound curfews, noise curfews, mostly with outdoor venues, but sometimes indoor as well. They have an agreement with the neighborhood. So you have people in the neighborhood standing by with their phones ready to pounce the minute it goes over one minute, they're gonna call the police. As a performer, you just realize, "OK, it's not just about me." When I don't have a curfew, I usually land at about two hours and some change. That seems comfortable to everyone. Any longer and I think I'm wearing my audience out. When I'm at a place with a shorter show, I just do my best.
BLADE: I know you're a big Chiefs fan. Did you watch that game back in January all the way to the end?
ETHERIDGE: Well, at the end of it, I was on the floor. My wife was like, "Honey, honey, there's still 13 seconds," and I was moaning and sort of getting my feet on the floor and, you know, laying down and throwing a fit. And she's like, "No, there's still 13 seconds." I dragged myself back to the television. And I couldn't believe it. I was like, "Wait a minute. Did we just win?" You know, just really crazy, really crazy stuff. … When you're a fan like that, it's a ride you can't fully explain.
BLADE: Are you in a cordial or good place with your exes? Does it get easier when the kids are starting to grow up?
ETHERIDGE: Oh, yeah. Oh, yeah. And you realize that it's best for the kids if you can really get along and that any sort of conflict that can't get resolved, that gets emotional, does no good for anyone. And absolutely, I have, I've gotten better at that as the years have gone by.
BLADE: Do you have the slightest inkling yet what the next studio album might be like?
ETHERIDGE: Well, I've got some interesting projects that I'm not ready to talk about just yet. But they have to do with my life story. There's a lot of digging up of my past and really telling the story. So I imagine the next series of music you'll get from me is going to be very focused on my journey.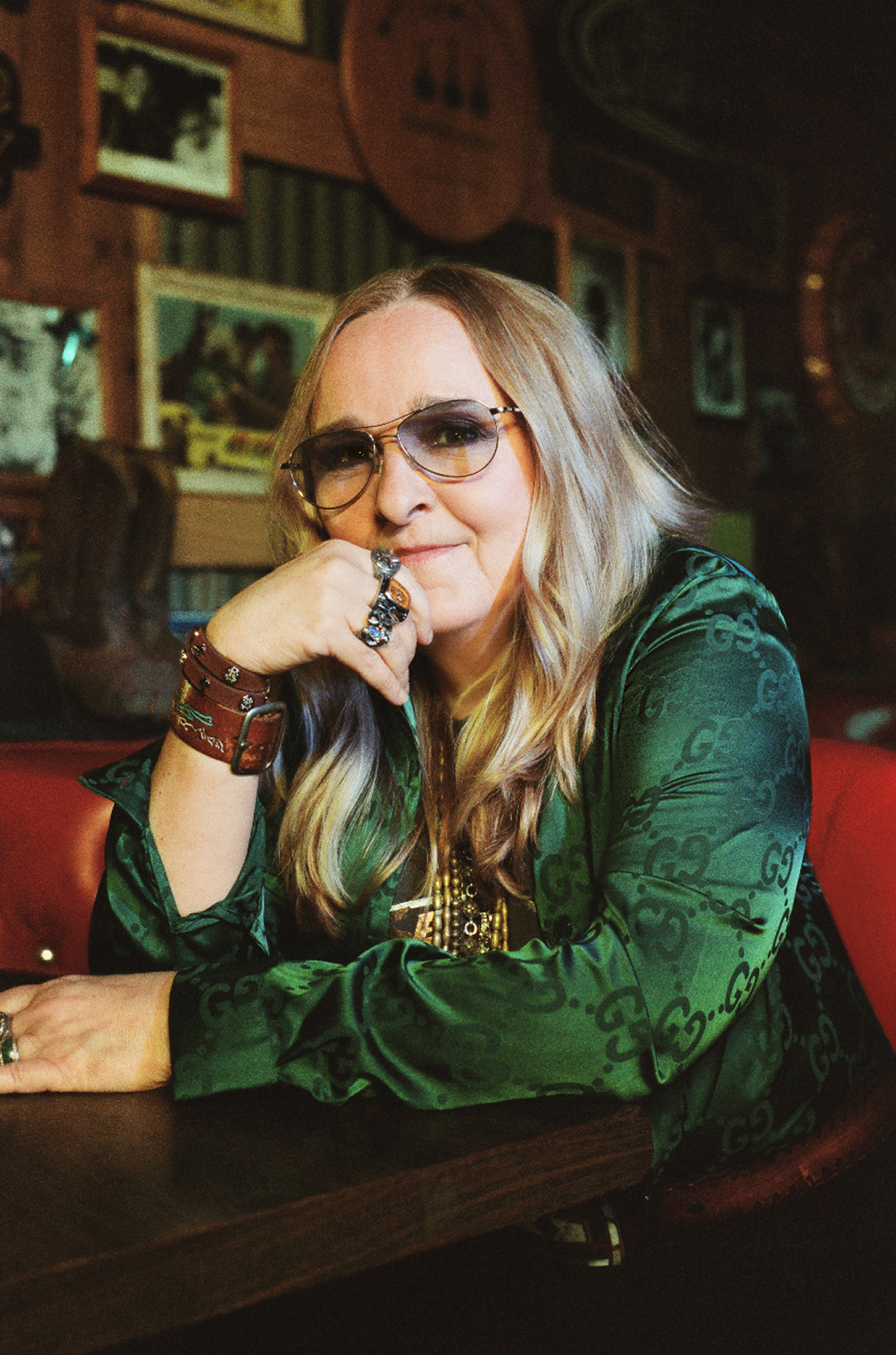 New Cranes sommelier brings spirit to wine and sake program
Stewart-Woodruff curates eclectic list for Michelin-starred restaurant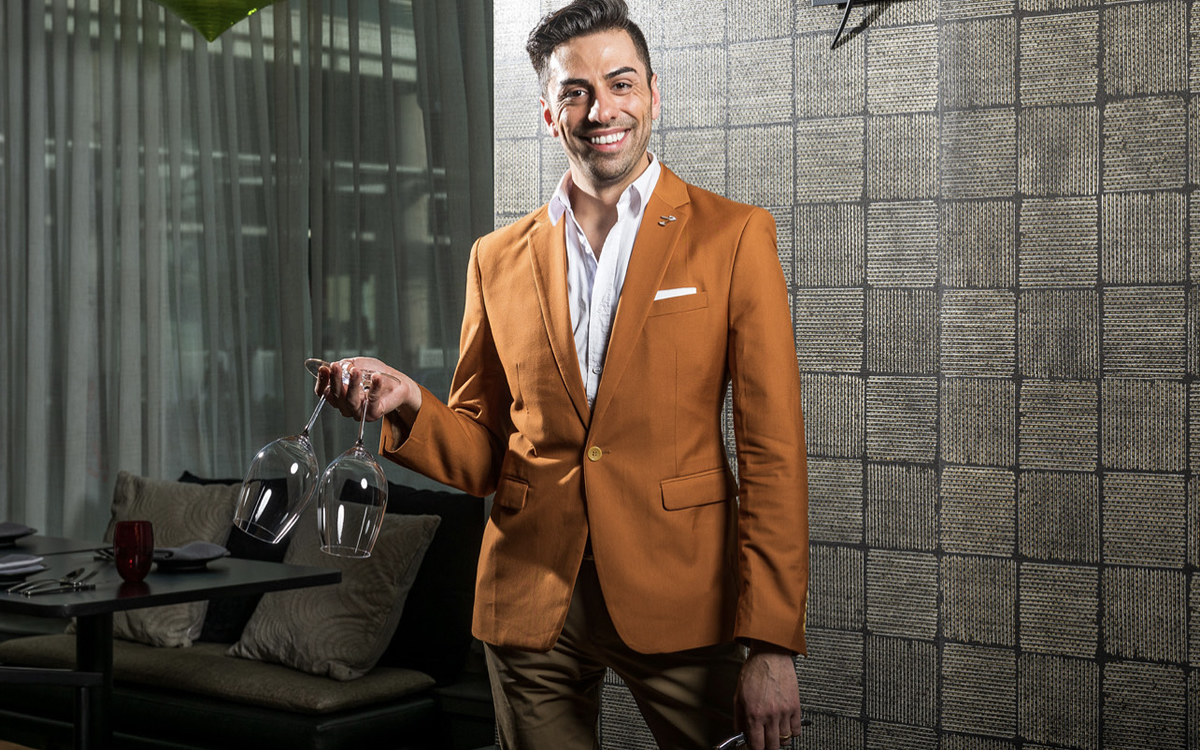 Outfitted in a blue damask dinner jacket with satin lapels and an energetic smile, Eric Stewart-Woodruff carves an impressive figure when chatting about his favorite vintages. Stewart-Woodruff, who's gay, is the new sommelier at Michelin-starred Cranes in Penn Quarter.
Stewart-Woodruff curates an eclectic wine – and sake – program focusing on pairings with celebrated Chef Pepe Moncayo's innovative, global flavors. Cranes, which explores intersections of Spanish and Japanese cuisine, opened just before the pandemic, and received a coveted Michelin star in 2021.
Stewart-Woodruff did not start off in the wine industry. In fact, he does not have any formal training in wine. Instead, after a career as a professional photographer, he pivoted to the restaurant industry, where he developed his love of wine. While working for a distributor, he connected with D.C.'s own District Winery. This opportunity allowed him to express his truest self, as a lead tour guide, wine ambassador and sommelier. He credits his identity and personality as his reason for thriving.
"I bring my whole self to work," he says, "offering a level of humanity and approachability."
After the pandemic temporarily shuttered District Winery, Stewart-Woodruff found himself interviewing at Cranes, enamored with Moncayo's "creative vision," he says – and was sold. He began in late summer of 2021.
Through his work in hospitality, Stewart-Woodruff notes that the industry can be hetero-male dominated. He has been able to break through by not holding back on his identity.
"I tend to play with expectations of what a sommelier may look or act like," he says. "I move away from what one may stereotypically look like, but still present like one."
For him, that means talking about wine and wine education "as if it were gossip," he says. "I like to view wine like we are at brunch. Wine has personality, it's performative, and it has stereotypes." He is seeking to break molds of specific likes and dislikes, exploring the depth that wine has to offer, in the context of the Spanish-Japanese Cranes menu. In fact, he says, Moncayo is supportive of his innovative, certification-less angle. "I become more relatable," he says.
He also presents original events. He paired with local guest sommelier Andrew Stover (also a gay man) on Tuesday, March 29 for a springtime showcase of specialty rosé wines paired with Moncayo's dishes. The duo poured tastes of specialty, small-batch wines from Brazil, Italy, Spain, Uruguay, and Maryland.
Leaning into the innovative spirit, the wine-by-glass list is not split by color. Instead, it is divided into evocative categories. For example, both a chardonnay and a pinot noir fall into the "Elegant, round, and mellow" category.
As a Spanish-Japanese restaurant, Cranes not only possesses an extensive wine cellar, but has consistently expanded its sake program. Sakes by the glass are split into the same exact categories. The very same "Elegant, round, and mellow" list includes Ginjo Nama Genshu and junmai daiginjo.
Stewart-Woodruff explains that wine and sake should be attended to similarly. "Sake is something you can think about like a beer in terms of production but treat like a wine," he says. Sake is a fermented polished-rice beverage, dating back more than two millennia in Japan.
"Sake has aromatics, texture, body, and finish." He takes pride in discussing customers' palate preferences, and turning them onto a specific sake, for their qualities of earthiness, acidity, or others.
"Many people don't experience sake outside of college or bars. Now, I can be a sommelier for sake, and for the marriage of Eastern and Western cuisine and beverage." He expresses excitement at being innovative in his sake beverage pairings, occupying a niche space. When discussing both wine and sake, he aims to bring an artistic flair and tour-guide enthusiasm to the table.
Woodruff credits his identity and background for his success. He aims to bring a level of humanity and approachability to what has been a formal, stuffy area. He has high ambitions to portray sake as sophisticated as wine in the customer's mind, "but it pairs well with Moncayo's conceptually ambitious menu," he says.
"Wine and sake are as eclectic as humanity. I want people to accept experiencing wine like the world has accepted me."