September 23, 2019 at 5:37 pm EDT | by Michael K. Lavers
OAS commission holds hearing on Cuba human rights abuses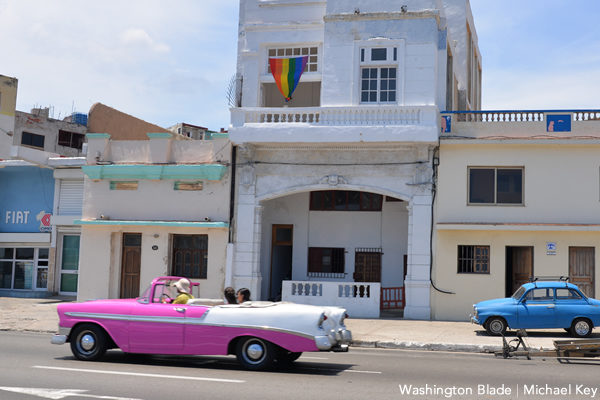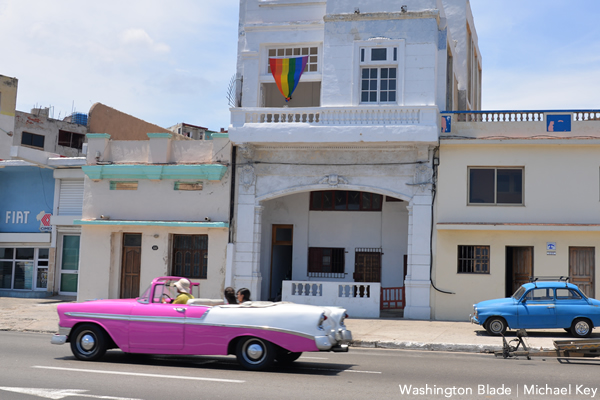 The Inter-American Commission on Human Rights on Monday held a hearing that highlighted the persecution of journalists and human rights activists in Cuba.
Carlos Alejandro Rodríguez Martínez, editor of Tremenda Nota, the Washington Blade's media partner on the Communist island, is among those who testified at the hearing that took place in D.C.
Rodríguez noted Tremenda Nota's website has been blocked in Cuba since Feb. 23, the day before a referendum on the country's new constitution took place. Rodríguez also said he has been detained several times while on assignment in Cuba.
"We know that it is impossible to work in Cuba as an independent journalist without exposing oneself to confinement, torture and harassment," he said.
Pablo Díaz, director of Diario de Cuba, a Madrid-based website that covers Cuba, said restricting travel is among the ways the Cuban government punishes journalists and human rights activists.
Rodríguez noted Roberto Quiñones, a reporter for CubaNet, a Miami-based website that covers Cuba, on Sept. 11 began to serve a year-long jail sentence after authorities in April arrested him while covering a trial in the city of Guantánamo in eastern Cuba. Díaz said 11 Cuban journalists are currently banned from leaving the country.
The Cuban government last month prevented Leandro Rodríguez García, director of the Cuban Foundation for LGBTI Rights, an independent advocacy group, from traveling to the U.S. in order to attend a months-long program at the Washington Center in D.C.
Cuban authorities on May 8 did not allow this reporter into the country after his flight from Miami International Airport landed at Havana's José Martí International Airport.
Cuban police three days later arrested several people who participated in an unsanctioned LGBTI march in Havana. Several independent LGBTI activists were detained in order to prevent them from attending the event, and several participants were later taken into custody.
Caitlin Kelly of the International Institute on Race, Equality and Human Rights noted Cuba's "human rights situation remains the same" since President Miguel Díaz-Canel took office in April 2018.
"There is a lack of respect for the rule of law, and a legal system that has many loopholes that permit the criminalization of people who speak against the government — human rights defenders, journalists and independent activists," said Kelly.
Margarette May Macaulay, a member of the commission from Jamaica who said she first traveled to Cuba in the late 1980s, described the human rights situation in the country as "particularly sad."
"One would think from the late 80s to now one would have expected the powers to be to develop a sense of justice and sensitivity of all people, that people's voices are heard about how their country is run and governed and how social policies are developed," she said.
Laritza Diversent, executive director of Cubalex, an organization that promotes human rights in Cuba, and Norberto Mesa Carbonnell, founder of Cofradía de la Negritud, a group that advocates on behalf of Cubans of African descent, also testified alongside Luis Cino, a reporter for Cubanet, a Miami-based website that covers Cuba. Representatives of the Cuban government did not participate in the hearing.
"The situation is very concerning," said Commissioner Antonia Urrejola, who is the commission's Cuba rapporteur.
Blade contributor from Cuba receives asylum in US
The Organization of American States created the commission in 1959 as a way to promote human rights throughout the Western Hemisphere. The commission works closely with the Inter-American Court of Human Rights, which the OAS created in 1979 to enforce provisions of the American Convention on Human Rights.
Cuba is not a member of the OAS, even though it ratified the OAS Charter before Fidel Castro came to power in the 1959 Cuban revolution.
"The state is not here," noted Commissioner Esmeralda Arosemena de Troitiño at the beginning of the hearing, referring to the Cuban government.
The hearing took place five days after Yariel Valdés González, a Blade contributor from Cuba who suffered persecution because he is a journalist, won asylum in the U.S. Valdés remains in U.S. Immigration and Customs Enforcement custody in Louisiana, and it is also unclear whether ICE will appeal the ruling in his case.