Triumphant 'In the Heights' is the musical we need
An infectious celebration of community, driven by a Latin beat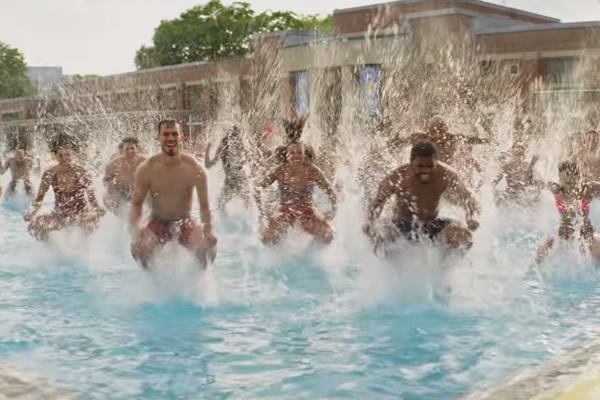 As the long-awaited film version of Lin-Manuel Miranda's "In the Heights" hits the screen this weekend, it's impossible not to reflect on the fate of the Hollywood musical.
Once one of the movie industry's most popular genres, the musical has been an inseparable part of Hollywood history ever since sound first came to the silver screen in 1927, launching a "golden age" in which the genre ruled the box office for more than 30 years.
Then the '60s happened. A generation disillusioned and distrustful of the "American Dream" hungered for edgier material than the old-fashioned fare enjoyed by their parents. The old studio system was failing, and although it managed to score some hits with blockbuster adaptations of Broadway shows like "My Fair Lady" and "The Sound of Music," by the end of the decade such movies felt incredibly tone-deaf in an American culture torn apart by turmoil. The country had lost its innocence, and despite occasional attempts to "reboot" the genre in the years ever since, the reign of the Hollywood musical was effectively over.
Until now, perhaps.
"In the Heights" arrives with a considerable amount of anticipation behind it. Adapted from the Tony-winning 2008 Broadway hit that brought Lin-Manuel Miranda into the limelight and paved the way for him to create "Hamilton" a few years later, it centers on a hard-working bodega owner named Usnavi (Anthony Ramos), who serves as our guide for a sweeping musical portrait of Manhattan's Washington Heights – an area mostly populated by Latin people of color from immigrant families – that follows the stories of several interconnected characters as they pursue their hopes and dreams. With songs by Miranda and a script by Quiara Alegría Hudes (who also wrote the book for the stage production), it showcases a diverse cast that also includes Corey Hawkins, Leslie Grace, Melissa Barrera, Daphne Rubin-Vega, Stephanie Beatriz, Gregory Diaz IV, Dascha Polanco, Jimmy Smits, Marc Anthony, and Olga Merediz, reprising her Broadway role as Abuela Claudia. Even Miranda himself shows up in the ensemble.
Needless to say, there was a lot of buzz around the film even before its release was postponed for a year due to COVID. If you're wondering if it lives up to that buzz, the answer is a resounding "yes." Onstage, "In the Heights" was an infectious celebration of community, driven by an irresistible Latin beat and infused with an uplifting message about following your dreams in the face of adversity. On film, as directed by John M. Chu ("Crazy Rich Asians"), it more than meets the challenge of translating all that energy to the screen – and in the process, it accomplishes a whole lot more.
First and foremost, it delivers the almost euphoric refreshment that comes from seeing a major Hollywood film populated almost entirely by people of color. In today's cultural environment, the power of this cannot be overstated.
Yet "In the Heights" does not let itself get weighed down by any perceived importance. Instead, it wins us over with good-natured approachability, personified by the endearing and charismatic Ramos in what deserves to be a star-making performance. He is joined by an ensemble of co-stars whose talents are quickly proven to be a match for his own.
Chu leans into the strength of his players, but he also recognizes that the real star of "In the Heights" is its music, and unlike many modern musicals, his movie fully embraces its songs as its entire reason for being. Miranda's extensive score is delivered largely intact, affording the composer's signature blend of showtunes and rap the spotlight it deserves. Even more importantly, Chu (aided by gifted collaborators like cinematographer Alice Brooks and choreographer Christopher Scott) uses it as a platform on which to build something truly audacious and wholly unexpected – a triumphant return to form for the Hollywood musical.
There have been new entries in the genre in the years since its decline, and a few of them, like Bob Fosse's "Cabaret," have even been great films. Still, these and other such successful one-offs have bent the formula to meet the prevailing cynicism of the postmodern age, merging reality with fantasy in a way that minimizes the need for jaded contemporary audiences to suspend their disbelief when a character bursts into song. They succeed not because they embrace the traditional conceits of the art form, but because they reinvent them – and often, with a palpable sense of irony.
The old musicals required no such tactics. Rather than distancing audiences from the escapism of the format, they encouraged people to revel in it. There was a kind of magic being projected on the screen, and everybody in the theater was not only willing, but eager to believe in it. Moviegoers today are no longer able to accept that kind of artificiality – or at least, that's become the conventional wisdom in Hollywood, which seems to have forgotten how to make a musical that doesn't feel like it's actually apologizing for being a musical.
"In the Heights" never apologizes. Executed with breathtaking cinematic vision and a healthy dose of "magical realism" that does nothing to undercut its streetwise swagger, "In the Heights" comes closer than any film in recent memory to recapturing the elusive charm that made the musical genre the pinnacle of cinematic excellence for so many decades. Filled with one dazzling musical number after another, it pays homage to its heritage – a swimming pool sequence suggests the intricate spectacles conceived by Busby Berkeley, a sublime pas de deux on a fire escape evokes MGM's masterful technicolor dreamscapes of the 1950s, the film's location cinematography invites associations with "West Side Story" — while audaciously asserting itself as a product of its own time. And though it acknowledges the hardships faced by its characters in a modern world – gentrification, threat of deportation, economic struggle, bigotry – it counters those realities with a generous spirit of empathy and inclusion (and yes, that includes LGBTQ people, too) and manages to elicit the kind of un-ironic hope that shone like a beacon in those glorious musicals of old. It makes us want to believe in the magic.
Whether or not that's enough to revive the Hollywood musical, only time will tell. In the meantime, "In the Heights" is exactly what we need after enduring the long isolation of a pandemic – and although it's being simultaneously released on HBO Max, it's also the perfect excuse to venture into a theater once more.
It deserves to be seen on the big screen, and you deserve to see it there.
'Tick, tick… BOOM!' explodes with the love of Broadway
A perfect film for fans of musical theater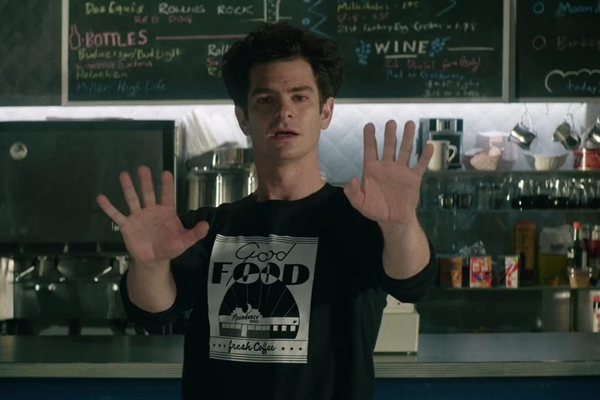 If you are a person who love musical theater – or if you know someone who does – then you know there is something about this particular art form that inspires a strong and driving passion in those who enjoy it, often to the point of obsession. For this reason, perhaps it's no surprise that those who work in musical theater – the creators, performers, and all the other people who make it happen – are often the biggest musical theater lovers of all.
Because of this, "tick, tick… BOOM!" (the new film directed by Lin-Manuel "Hamilton" Miranda and written by Steven "Dear Evan Hansen" Levenson) might be the most perfect movie ever made for such fans. Adapted from an autobiographical "rock monologue" by Jonathan Larson, it follows the future "Rent" composer (Andrew Garfield) for a week in the early 1990s, when he was still an unknown young Broadway hopeful waiting tables in a New York diner. He's on the cusp of turning 30, a milestone that weighs on his mind as he prepares for a showcase of a musical that he hasn't quite finished – even though he's been writing it for eight years. With limited time left to compose the show's most crucial number, his race against the clock is complicated by major changes in his personal life; his lifelong best friend Michael (Robin de Jesús) has quit acting in favor of a five-figure career in advertising, and his girlfriend Susan (Alexandra Shipp) is moving away from the city to accept a teaching job and wants him to come with her. With reminders everywhere of the ongoing AIDS epidemic still raging in the community around him, and with his own youth ticking away, he is inevitably forced to wonder if it's time to trade in his own Broadway dreams for a more secure future – before it's too late.
As every musical theater fan knows, the young composer's obsession with time (hence the title) is laced with bittersweet irony in the context of what eventually happened in his real life: the day before "Rent" opened on Broadway and became a smash hit that reshaped and expanded the boundaries of what musical theater could be, Larson died of an aortic aneurysm at the age of 35. He never lived to see the full fruition of all those years of hard work, and that tragic turn of events is precisely what makes "tick, tick… BOOM!" relevant and provides its considerable emotional power. In that light, it's essentially a musical "memento mori," a reminder that the clock eventually runs out for all of us.
That doesn't mean, however, that it's not also a celebration of life in the theater, and Miranda is probably better suited than anyone to make us see that side of the coin. Now unquestionably in the highest echelon of status as a Broadway icon, he came of age in the era of "Rent," and he takes pains to make his depiction of Manhattan in the '90s as authentic as possible.
Capturing the era with touches like Keith Haring-inspired murals and the use of "Love Shack" as a party anthem, his movie keeps Larson's story within the context of his time while drawing clear connections to our own. His reverence for Larson – whom he cites as a seminal inspiration for his own future work – manifests itself palpably throughout. Yet despite that (or perhaps because of it), so does an infectiously cheery tone. Yes, things get heavy; there are hardships and heartbreaks at every turn, because that's what a life in the theater means. But at the same time, there's just so much fun to be had. The camaraderie, the energy, and the joy of simply living in that world comes leaping off the screen (often thanks to the enthusiastic choreography of Ryan Heffington) with the kind of giddy, effortless ease that might almost make us jealous if it didn't lift our spirits so much. No matter that the lead character spends most of the movie second-guessing his path; we never doubt for a moment that, for him, the rewards of following his passion outweigh the sacrifices a thousand times over.
That's something Miranda also understands. His movie drives home the point that the joy of doing theater is its own reward, and he's willing to prove it by turning up in a bit part just for the sake of being a part of the show. And he's not the only one. The screen is littered with living legends; in one memorable sequence alone, a who's-who of Broadway's brightest stars – Chita Rivera, Bernadette Peters, Brian Stokes Mitchell, Andre DeShield, Bebe Neuwirth, Joel Grey, and at least a dozen more – serve as a high-profile backup chorus of extras for a song at the diner, but there are blink-and-you'll-miss-them cameos in almost every scene. It almost feels like a gimmick, or an effort to turn the movie into a "spot the star" trivia game for hardcore fans – until you realize that these are the best and brightest people in their field, who have willingly chosen to show up and participate even though they did not have to. They are there purely for love, and you can see it in their faces.
Miranda scores big across the board as a director – this is his feature film directorial debut, which confirms the standing assumption the man can do anything. But "tick, tick… BOOM!" is a star turn for its leading player, and full credit must also go – and emphatically so – to Garfield, who surpasses expectations as Larson. The one-time "Spiderman" actor trained extensively to be able to master the demands of singing the role, and it shows; he comes off as a true musical theater trouper, worthy beyond doubt of sharing the screen with so many giants. Even better, he integrates that challenge into the whole of a flamboyantly joyful performance that makes Larson endearingly, compellingly three-dimensional. It's a career-topping piece of work.
The rest of the principal cast – a refreshingly inclusive ensemble that reminds us that Larson was instrumental in making Broadway a much more diverse place – are equally fine. De Jesús gets a long-deserved chance to shine as Michael, and Shipp brings a quiet calm to the easily-could-have-been-overshadowed Susan that makes her the perfect balance to Garfield's high-octane energy.
Joshua Henry and Vanessa Hudgens contribute much more than their stellar vocal talents to their pair of roles as Larson friends and collaborators, and there are delicious supporting turns by Judith Light and Bradley Whitford – who gives an affectionately amusing and dead-on accurate screen impersonation of Broadway legend-of-legends Stephen Sondheim, one of Larson's (and Miranda's) biggest influences and inspirations, who accordingly looms large in the story despite his relatively short amount of screen time.
It should be obvious by now that "tick, tick… BOOM!" is a delight for people who love musical theater. But what if you're not one of those people? The good news is that there is so much to enjoy here, so much real enjoyment, so much talent, so much hard work on display that nobody will have any reason to be bored.
Even people who DON'T love musical theater.
Holiday movie and TV preview
Lesbian romance, 'Rent' adaptation, and Lady Gaga make the season bright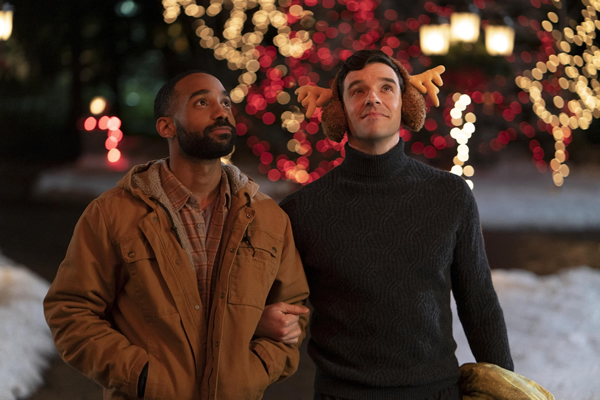 It wasn't all that long ago – barely one or two Decembers ago, really – that the holiday lineup of movies and TV shows offered very little in the way of LGBTQ inclusion. It may have been the time of year to don our gay apparel, but the closest thing to gay representation we were likely to get on our screens was an elven dentist and a few misfit toys.
This year, however, is a different story. The seasonal entertainment landscape of 2021 brings with it the usual crop of mainstream (read: straight) crowd-pleasers with queer appeal (Lady Gaga as scheming real-life social-climber and Gucci murderer Patrizia Reggiani? Yes, please!), but it also comes bearing a much heftier-than-usual bag of gifts in the form of actual queer content, with actual queer characters and stories, and with some of our favorite stars. Not all of them are holiday stories, of course, but that doesn't mean they don't all make the season brighter – and the Blade is here to help you sort through the bounty with our annual Holiday Preview, a roundup of titles our readers will want to check out. The list is below:
tick, tick…BOOM! (Netflix and in theaters 11/ 19): Perfect for Broadway lovers, this is the hotly anticipated film adaptation of the posthumously produced autobiographical musical by Jonathan Larson, who revolutionized musical theater as the creator of "Rent" but died suddenly of an aortic dissection at 35 before he could see it grow to a global phenomenon. The film follows the young theater composer – played by Andrew Garfield – as he struggles to write what he hopes will be the next great American musical while waiting tables in a NYC diner, dealing with pressures in his personal life, and watching the artistic community around him be ravaged by the ongoing AIDS crisis. Fittingly enough, this hotly anticipated film about a Broadway giant is the feature directorial debut of another Broadway giant – none other than "Hamilton" and "In the Heights" creator Lin-Manuel Miranda, himself. Written by Tony-winner Steven Levenson ("Dear Evan Hansen"), it also stars Alexandra Shipp, Robin de Jesús, Joshua Henry, Mj Rodriguez, Bradley Whitford, Tariq Trotter (aka Black Thought of The Roots), Judith Light, and Vanessa Hudgens.
House of Gucci (In theaters 11/24): As mentioned above, this tale of true crime and high fashion stars LGBTQ ally Lady Gaga, and it's already been called "disappointing" by the real-life Gucci family – so you know it's going to be juicy. Inspired by the shocking true story of Patrizia Reggiani (Gaga), whose marriage into the family behind the Italian fashion house takes center stage as the film chronicles three decades of love, betrayal, decadence, revenge, and ultimately murder. Directed by multiple Oscar-nominee Ridley Scott, this sure-fire award season contender also stars Adam Driver, Jeremy Irons, Salma Hayek, Al Pacino, Reeve Carney, and an unrecognizable Jared Leto as Paolo Gucci.
The Humans (Showtime and in theaters 11/24): Another import from the Broadway stage, this seasonally appropriate adaptation of Stephen Karam's Tony-winning drama centers on a dysfunctional NYC family as they help their youngest daughter Brigid (Beanie Feldstein) move into her new apartment with her boyfriend (Steven Yuen) on Thanksgiving Day. This sets the scene for a relatable – if occasionally uncomfortable – holiday dinner in which personal issues become fodder for discussion and family conflicts start rearing their ugly heads. More than just another cutting domestic drama for the holidays, this one goes deep to offer a slice-of-life observational commentary on the state of family life in America today. Amy Schumer co-stars as Brigid's older lesbian sister Aimee, and Jayne Houdyshell reprises her acclaimed Broadway performance as the girls' mother, in an ensemble cast that also features Richard Jenkins and June Squibb. Playwright Karam not only wrote the adaptation himself, but also directed, making his debut behind the camera and ensuring that this one is sure to be a must-see for fans of theater and film alike.
Saved by the Bell, Season 2 (Peacock TV 11/24): Peacock's reboot of the classic '90s sitcom returns for a second round, and besides the obvious appeal in the camp and nostalgia departments, it also features a trans leading character portrayed by a trans actress. Populating the halls of Bayside High is a cast that includes Elizabeth Berkley Lauren, Mario Lopez, John Michael Higgins, Haskiri Velazquez, Mitchell Hoog, Josie Totah, Alycia Pascual-Peña, Belmont Cameli, Dexter Darden, Mark-Paul Gosselaar, Tiffani Thiessen, and Lark Voorhies (Lisa Turtle).
Single All the Way (Netflix 12/2): Yet another Tony-winner (Michael Mayer) directs this promising entry to the Holiday roster, Netflix's first-ever gay-themed Yuletide romance starring Michael Urie ("Ugly Betty," Broadway's "Torch Song") as a gay man who asks his best friend (Philemon Chambers) to pose as his boyfriend at his family's Christmas dinner to avoid being questioned about his perpetually single status. Unbeknownst to him, his mom (Kathy Najimi) has already planned to set him up with her handsome personal trainer (Luke MacFarlane) – which obviously means that festive hijinks are sure to follow. This slice of seasonal sweetness also features Barry Bostwick ("The Rocky Horror Picture Show") and Jennifer Robinson, and capping it off is the incomparable Jennifer Coolidge, rounding out her "White Lotus" year with what will undoubtedly be another mesmerizingly dotty performance in a supporting role.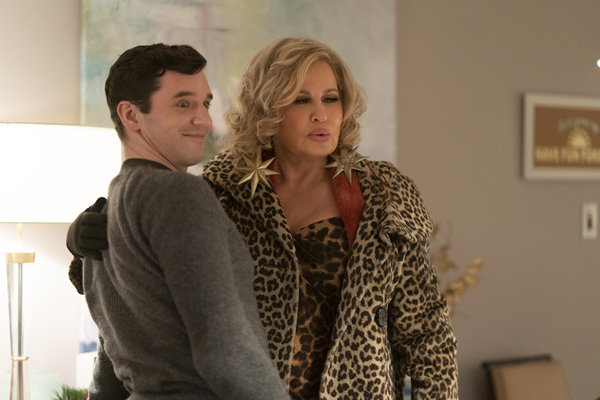 The Bitch Who Stole Christmas (VH1 12/2): In the "why didn't they do this sooner?" category is this holiday special from Emmy-winning TV icon and "Drag Race" legend RuPaul, who takes the screen as "a workaholic big-city fashion journalist" who (according to the show's official description) goes on assignment to "a Christmas-obsessed small town" and "finds herself in the middle of cut-throat housewives, a high-stakes 'Winter Ball' competition, and a sinister plot that could destroy Christmas fore-evah!" Joining Mama Ru onscreen will be 20 "Drag Race" winners and a host of other celebrities. We're there.
With Love (Amazon Prime 12/17): From Gloria Calderón Kellett, the critically acclaimed showrunner of the queer-inclusive reboot of "One Day at a Time," comes Amazon Prime Video's first holiday miniseries, complete with a heavily inclusive LGBTQ cast and queer storylines that feature a gay couple (played by Mark Indelicato and Vincent Rodriguez III) and one of the first transgender love stories ever to be found in a holiday rom-com. The series consists of five hour-long episodes tracking the Diaz family as they search for love and purpose across five different holidays during the year. Also starring are Emeraude Toubia, Desmond Chiam, Rome Flynn, Isis King, Todd Grinnell, Constance Marie, and Benito Martinez.
Under the Christmas Tree (Lifetime 12/19): Lifetime's first-ever lesbian romance begins when "Christmas tree whisperer" Charlie Freemont (Tattiawna Jones) finds the perfect tree for the governor's holiday celebration – in the backyard of marketing whiz Alma Beltran (Elise Bauman). The two women spar, naturally, but it's not long before – with a little help from the tree and "some Christmas fairy dust" from the town's resident pastry chef (Ricki Lake) – the romantic sparks begin to fly.
Michael Kearns, the godfather of LGBTQ authenticity
First 'out' actor in Hollywood on his road from porn to fatherhood to latest film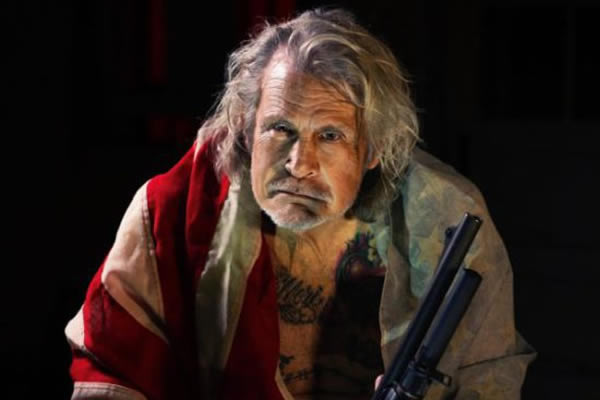 The arc of LGBTQ+ history over the past 50 years has been one of constant upheaval and evolvement. From a period when it was both illegal and insane to be gay, through the achievement of being able to serve openly in the military, to marriage equality and the ability to create families to today's fight against the tyranny against Trans people, the movement has not stopped to take a breath.
Michael Kearns, the first recognized "out" actor on the Hollywood landscape, has been a visible presence through it all. More importantly, he has always been visible on the gay scene. In the seventies he epitomized the free love and erotic freedom that many gay men lived. He was featured in classic gay porn movies and did a PR stint as the face of the "happy hustler."
"That was my introduction to a lot of people," Michael told me when we sat down for a chat on Rated LGBT Radio. "I kind of captured the zeitgeist of the times, the freewheeling seventies. We forget that there was that period of time when sexuality was joyful and exciting and thrilling."
In the eighties he was visible in mainstream media as a gay man playing gay men characters. In 1983, Michael was cast in a minor role on the "Cheers" Emmy-winning episode "The Boys in the Bar." He was instantly recognized for his gay sexual iconic status by LGBTQ audiences, even though the population at large did not know who he was. The casting director who fought for his casting was Stephen Kolzak, who would himself become a prominent AIDS activist before he died at 37 in 1990. Stephen cast Michael to make a statement. He wanted to signal to the LGBTQ community that "Cheers" had our backs. "He was one of the only ones that had the guts," Michael remembers.
"There were a lot of stereotypes in television regarding gay portrayals. I was pegged and cast in some of those roles. I did play the stereotype, but rather than a straight guy playing those roles, I brought authenticity. I was real. Straight guys playing gay would always spoof the role. They were always 'winking' and signaling to the camera 'I am not really that way.' So, the performances are by in large horrible, even with some Academy Award winners. The actors were constantly saying that it was not who they were — if they weren't making that clear on the talk shows, they were doing it in the performance itself," Michael says.
Michael soon morphed into an HIV-positive man playing HIV-positive characters, while off camera becoming a visible and vocal AIDS activist. "It was a new kind of cliché. They had to always make me look horrible. The ghastlier the better. They could not have an HIV character who looked normal — as I did when I arrived at the set. Finally, I had enough and refused to do that anymore." Michael then immersed himself in theater where he found greater character honesty and truth.
As gay men captured their identities in the '90s as husbands and fathers, Michael was there too — becoming one of the first gay men to adopt a child. It is that role, as a father, that Michael has said is his greatest.
Today, Michael has been a driving force behind QueerWise, a multigenerational writing collective and performance group. Through QueerWise, Michael gives poetic voice to talent that would otherwise be voiceless. Its members include published poets, writers of fiction and non-fiction, playwrights, singers, musicians, social activists, dancers, actors, artists and teachers.
QueerWise launched its latest work last month, "The Ache for Home."
"The Ache for Home is a video presentation of heartfelt stories from formerly homeless/unhoused individuals in and around West Hollywood. It was developed through a mentorship program facilitated by QueerWise members. The production represents citizens-turned-writers who share their inspirational stories from those glamorous streets and sidewalks, ranging from soaring self-acceptance to narratives of truth-telling defeats," said Michael. The production can be seen on QueerWise's YouTube channel.
The "Ache for Home" features a young cis male with a passion for music and art, who finds joy "when I can put a smile on someone's face and give back", a retired mixed race bisexual government worker who is a voracious reader and literacy advocate, two trans males who share their experiences of living on the street, and a former resident playwright who was homeless for 44 days and nights in the city. "I am thrilled at our inclusion of trans men in this work," Michael says. "It is a poorly represented community within a poorly represented community."
On current controversies, particularly the Dave Chappelle issue, Michael notes, "I am glad it is generating passion. It is bringing up conversation on the plights of Black trans women who are victimized at an alarming rate, we should not say victimized… we should say murdered. I am glad we are shedding light on that."
Michael's work has been described as "collisions of sex and death, of eroticism and grief," but he has truly dug to an even deeper level. "The Ache for Home" takes its inspiration from the Maya Angelou quote, "The ache for home lives in all of us, the safe place where we can go as we are and not be questioned." Michael Kearns' work has always encouraged us to go, and live, "as we are." He is the amalgamation of eroticism, grief, healing, and appreciating the richness of life itself.
He is the godfather of LGBT+ authenticity. In earlier days, he may have represented sex; he may have walked us through a period of darkness and death into the arms of the creation of the new family. He has now brought us home, and when we look at him, we see a new quality: wisdom.