As NYC Pride nears, ban on police seen as support for trans, BIPOC attendees
Organizers to provide 'community-based security and first responders'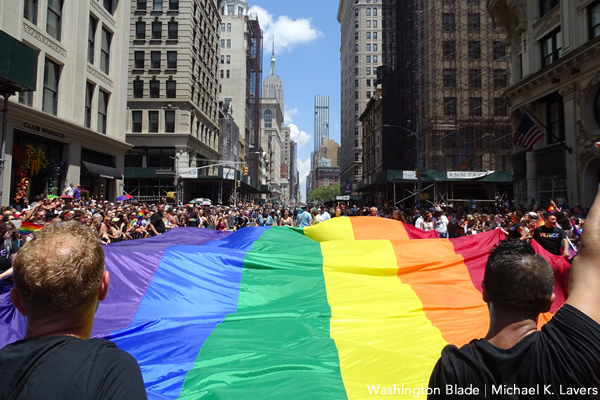 NYC Pride announced last month that it would no longer allow corrections and law enforcement exhibitors to participate in NYC Pride events until 2025. The decision is in accordance with NYC Pride's commitment to create safe spaces for marginalized LGBTQ groups including BIPOC and transgender individuals at their Pride festivities.
"Effective immediately, NYC Pride will ban corrections and law enforcement exhibitors at NYC Pride events until 2025. At that time their participation will be reviewed by the Community Relations and Diversity, Accessibility, and Inclusion committees, as well as the Executive Board," reads NYC Pride's statement. NYC Pride is scheduled for June 27.
To make sure that safety regulations are still adhered to at events, NYC Pride will "transition to providing increased community-based security and first responders, while simultaneously taking steps to reduce NYPD presence at events."
Police officers being banned from participating in Pride parades and festivities is not an unfamiliar conversation to LGBTQ advocacy and activist groups in North America. In 2018, Capital Pride in D.C. announced that uniformed officers would not be allowed to march in the Pride parade. In 2019, Pride Toronto announced that uniformed police officers would not be permitted to attend any Pride Toronto events.
The announcement was preceded by a voting session that took place among Pride Toronto members. Global News, a Canadian news platform, reported a final result of 163-161, disallowing police participation in Pride Toronto events.
Global News also reports that Pride Toronto committed to using their $1.25 million federal grant to examine the LGBTQ community's feelings regarding police, and to forge a way forward.
In solidarity with the #BlackLivesMatter movement, Vancouver Pride Society announced in 2020 that police officers were no longer welcome to march and exhibit during any of Vancouver Pride Society's festivities.
"The roots of Pride are in righteous anger, riot and uprising against police brutality. These riots against the violence of the police were led by Black and Brown trans women and queer people. The Stonewall Riots propelled gay movements from assimilationist tactics towards unapologetic Pride. These riots worked," reads Vancouver Pride Society's statement.
The organization also pledged to ensure public safety by participating in calls to defund the police and "commit to learning and convening community dialogues about what these alternative forms of managing public safety look like."
Why ban the police? The decision from NYC Pride was simple: given the law enforcement's history of police brutality in America, there is a need to ensure that BIPOC and transgender individuals who attend Pride events can do so comfortably, without feeling vulnerable at events meant to be safe havens that allow full, unabashed identity expression and manifestation.
"After many interactions between the police and LGBTQ community locally, [including] the passive aggressive moves between the NYPD and peaceful protestors in Washington Square Park last year, we have to look at the history," said André Thomas, NYC Pride co-chair. "The ability to welcome Black, Brown, and trans Americans at our events is an even higher priority than for someone to be able to wear police uniform in a parade."
It is no secret that BIPOC and transgender communities are some of the most vulnerable groups when it comes to interactions with corrections and law enforcement officers.
Mapping Police Violence reports that in 2020, Black people constituted 28% of those killed by the police despite only constituting 13% of the country's population. The 2015 U.S. Transgender Survey also reports that Black transgender people were 50% more likely to report that their interactions with police officers as suspecting them of soliciting sex work and leading to an arrest. In addition, the Movement Advancement Project reports in a 2017 study that nearly 40% of incarcerated girls identify as LGB and 85-90% of incarcerated LGBTQ youth are LGBTQ youth of color.
With this in mind, NYC Pride's goal is to make their events harm-and-fear-free for members of the LGBTQ community.
To supplement the absence of corrections and law enforcement officers at NYC Pride events, the organization will provide community-based security companies and first responders who will ensure that Pride events are secure and will also be on standby in case of emergencies.
As part of their training, the security companies are primed on how to deal with all kinds of situations including responding to an active shooter.
"Our staff has gone through active shooter training and everything it entails including what they're wearing and how they're identifiable to the community," said Thomas. "We want to ensure people that even though the NYPD may be a block away, there is still security [present] to take care of your needs."
A lot of NYC Pride's information regarding security measures is currently being relayed through social media and reportage from various news sources.
"We tweeted about our meetings that we had with the NYPD to reinforce public safety after the initial news broke out of what's been going on," said Thomas.
Regarding whether NYC Pride will implement this year's model for next year's Pride, "[NYC Pride is] figuring out what works and what doesn't," said Thomas. "We're trying to do things in a hybrid model with some limited in-person and some virtual events. We're going to figure out what to keep and what to change, and this will influence the planning and processes that we do."
As for future Prides, Thomas wants everyone to remember this: "It's always someone's first Pride, and so, you want to be able to give someone that special experience. So, for future Prides, we'll be working on greater inclusivity and representation."
Blinken: PEPFAR 'shows us what American diplomacy can do'
Secretary of state spoke at World AIDS Day event in D.C. on Friday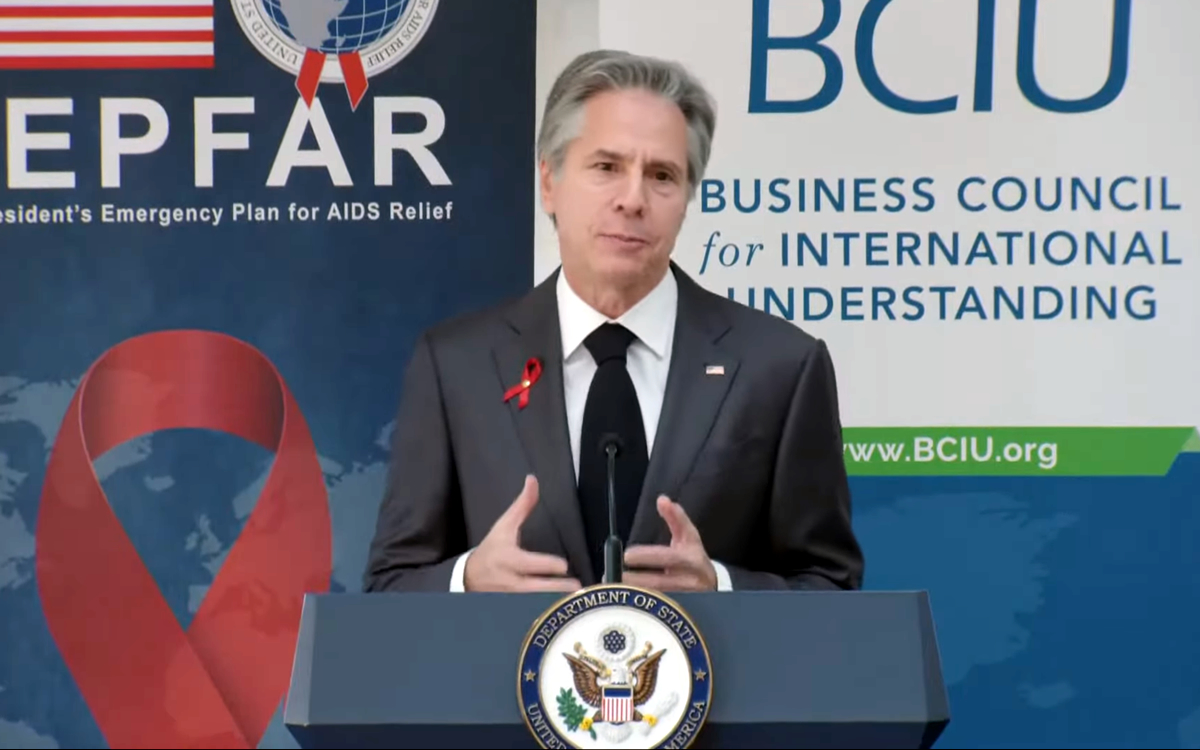 Secretary of State Antony Blinken on Friday noted the President's Emergency Plan for AIDS Relief has saved more than 25 million lives since its launch in 2003.
Blinken, who spoke at the Business Council for International Understanding's World AIDS Day event at the Hay-Adams Hotel in D.C., said the more than $100 billion the U.S. has earmarked for PEPFAR over the last two decades has funded 70,000 new community health clinics, 3,000 new laboratories and the hiring of 340,000 health care workers.
"Entire public health systems formed, with over a dozen countries which have either reached their HIV-treatment goals or managed control of the virus altogether," said Blinken.
Then-President George W. Bush in 2003 signed legislation that created PEPFAR. California Democrat Barbara Lee, members of the Congressional Black Caucus and Dr. Anthony Fauci, the director of the National Institute of Allergy and Infectious Diseases and chief White House medical advisor who is retiring at the end of this month, are among those who played a key role in PEPFAR's creation.
"PEPFAR has benefitted from bipartisan support, as we've heard, across four presidencies, across ten Congresses," said Blinken. "It's resulted in an investment of more than $100 billion to the global HIV/AIDS response. This is the largest commitment by one country ever to address a single disease."
Lee and Fauci were among those who attended the event alongside U.S. Global AIDS Coordinator John Nkengasong; Assistant Health Secretary Rachel Levine; Dr. Deborah Birx, the former White House Coronavirus Response Director, and HIV and Hepatitis Policy Institute Executive Director Carl Schmid.
Blinken in his speech noted "the systems put in place by PEPFAR have become an integral part of the health security architecture of countries around the world."
Blinken also said PEPFAR has bolstered responses to COVID-19, Ebola and the avian flu.
"We are continuing to build on PEPFAR's many successes to create a stronger global health security architecture to prevent, to detect, to respond to future health emergencies. Doctor Fauci, you once said that PEPFAR 'shows what the goodwill of a nation can do,' and you were right," said Blinken. "PEPFAR also shows us what American diplomacy can do: Bring together governments, bring together the public and private sectors, communities to tackle challenges that none of us can actually effectively deal with alone and that creates and has created a healthier, safer and ultimately more secure world."
Five-year PEPFAR strategy to target LGBTQ people
Blinken acknowledged there is still "very serious work still required for us to end the global HIV health epidemic by 2030," noting HIV/AIDS continues to disproportionately impact LGBTQ and intersex people and other marginalized groups.
"Too many countries still have fragile and insufficiently resourced public health systems, which makes it difficult to offer services beyond HIV/AIDS treatments, and that undercuts our capacity to respond to emerging threats," he said.
Blinken noted the U.S. on Thursday announced a new PEPFAR strategy that will help "fill those gaps" over the next five years. It includes the following:
• Targeted programming to help reduce inequalities among LGBTQ and intersex people, women and girls and other marginalized groups
• Partnerships with local organizations to help reach "hard-to-reach" communities.
• Economic development and increased access to financial markets to allow countries to manufacture their own antiretroviral drugs, tests and personal protective gear to give them "the capacity to meet their own challenges so that they're not dependent on anyone else."
"This latest PEPFAR strategy will keep making advancements like that possible so that millions more people can live healthy lives and live lives to their full potential," said Blinken.
Hakeem Jeffries makes history with appointment to lead House Democrats
Democratic Rep. Hakeem Jeffries of New York, an LGBTQ ally, will become the first Black lawmaker of either party to serve in the top spot of either of the two chambers of Congress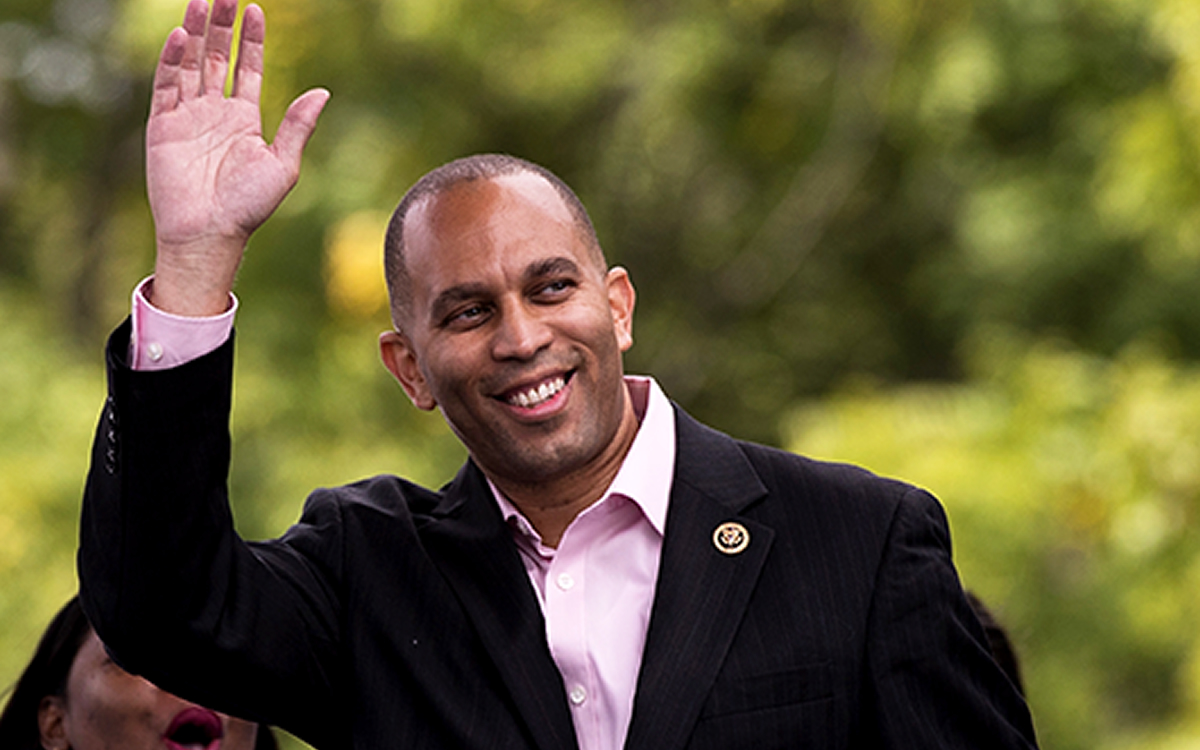 With his election on Wednesday to take over as House Democratic minority leader next year, Rep. Hakeem Jeffries (D-N.Y.) became the first-ever Black lawmaker from either party who will serve in that role in either of the two chambers of Congress.
House Democrats also chose, for the second and third-highest ranking positions, Reps. Katherine Clark (Mass.) and Pete Aguilar (Caif.). All ran unopposed and rather than by formal ballots were elected by voice vote for unanimous consent.
The moves signaled broad consensus among House Democrats in their decision to send the new slate of lawmakers, young and diverse with some progressive bona fides, to serve in the party's senior leadership positions.
The three lawmakers are all members of the Congressional LGBTQ+ Equality Caucus and longtime allies of the community. Jeffries, as chair of the House Democratic Caucus, introduced the Respect for Marriage Act in the House this summer.
The Caucus declined to comment on the House Democratic leadership elections.
When Aguilar succeeds Jeffries in that role next year, it will be the highest-ranking position in House leadership ever held by a Latino member. Clark, meanwhile, will become the second woman to serve as Democratic House Whip after Rep. Nancy Pelosi (D-Calif.), the current House Speaker.
Pelosi announced on Nov. 18 her plans to step down from House Democratic leadership after the next Congress is seated. She made history in 2001 as the first woman elected to the second highest-ranking position in the chamber, and then again in 2007 when she took the top slot, becoming the first woman Speaker of the House.
Following her announcement, Pelosi was celebrated for her many legislative accomplishments at the top of her party's caucus, where she served for two decades under four presidents. A Washington Post column called Pelosi the "best speaker in U.S. history."
Considering that Pelosi also presided over some of the biggest legislative milestones in the modern LGBTQ rights movement, such as the 2011 repeal of "Don't Ask, Don't Tell," Jeffries has a high bar to clear when he's handed the torch in January.
In addition to his leadership on the Respect for Marriage Act, Jeffries has been a major advocate in Congress for other pro-LGBTQ pieces of legislation like the Equality Act and, in 2014, the Hate Crime Reporting Act.
Jeffries has been a vocal champion of measures to make the U.S. Capitol more welcoming for transgender and gender nonconforming people – such as by calling for single-occupancy gender-neutral restrooms on the Hill and rules that would adopt gender-neutral language in the House.
He has also spoken out forcefully against anti-LGBTQ hate from some members of the House Republican caucus, such as the dangerous rhetoric from Rep. Marjorie Taylor Greene (Ga.), who has repeatedly tried to link queer people to child sexual abuse.
Homeland Security says more attacks against LGBTQ people are possible
Gunman killed five people at ClubQ in Colo. on Nov. 19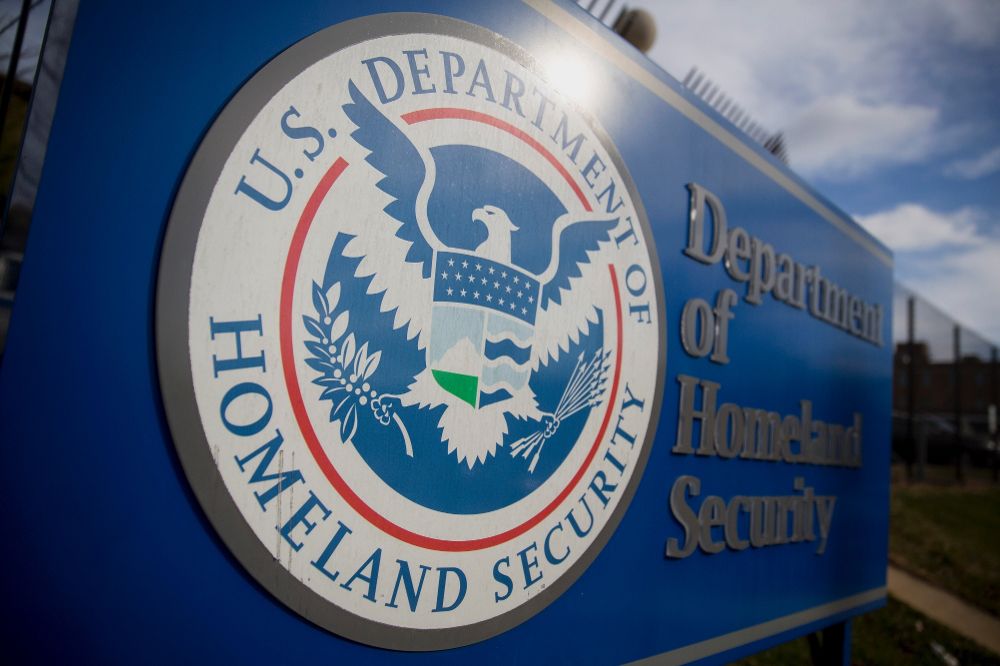 The Department of Homeland Security issued a terror threat bulletin Wednesday warning that domestic extremists have posted online praise for the fatal shooting at an LGBTQ nightclub in Colorado earlier this month. and have called for copycat attacks.
In its bulletin, Homeland Security officials noted that several recent attacks, plots and threats of violence demonstrate the continued dynamic and complex nature of the threat environment in the U.S:
"Some domestic violent extremists who have conducted attacks have cited previous attacks and attackers as inspiration. Following the late November shooting at an LGBTQI+ bar in Colorado Springs, Colorado — which remains under investigation — we have observed actors on forums known to post racially or ethnically motivated violent extremist content praising the alleged attacker. Similarly, some domestic violent extremists in the United States praised an October 2022 shooting at a LGBTQI+ bar in Slovakia and encouraged additional violence. The attacker in Slovakia posted a manifesto online espousing white supremacist beliefs and his admiration for prior attackers, including some within the United States," Homeland Security warned.
Homeland Security also asked that Americans report potential threats: