The Stonewall Inn bans Anheuser-Busch during NYC Pride weekend
"We urge Anheuser-Busch and other companies doing this to publicly commit to stop donating to anti-LGBTQ politicians"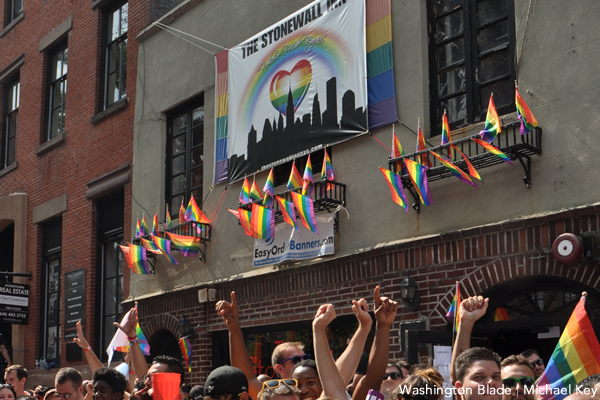 NEW YORK – In response to news that the Anheuser-Busch InBev company had made political contributions to lawmakers behind bills targeting transgender youth, the owners of the Stonewall Inn announced its ban of AB InBev products during New York City's Pride weekend.
The historic West Village pub, widely regarded as the location of one of the seminal defining events in the history of the LGBTQ rights movement, is sponsoring a public 'pour-out' of Bud Light, Michelob ULTRA, and Stella Artois in front of the bar on Wednesday, June 23, to demand that the Leuven, Belgium based AB InBev stop donating to anti-LGBTQ legislators and commit to using its lobbying efforts to advance the Equality Act.
Should the Equality Act be passed, it would afford LGBTQ people with equal nondiscrimination protections under federal law.
"You can't turn your logo rainbow on social media, call yourself an ally, and then turn around and make donations that fuel hate. There are really no excuses, and companies like Anheuser-Busch need to own up to what they've done," said Stonewall Inn co-owner Stacy Lentz. "As a business owner, it's never easy to stop selling a product that affects your bottom line — especially during the busiest weekend of the year. But I'm an activist above all else and we at The Stonewall Inn know we bear a unique responsibility to call out hypocrisy when we see it. Anheuser-Busch and other companies must do better."
According to data from the Keep Your Pride campaign, since 2015, Anheuser-Busch has made 48 donations totaling $35,350 to 29 anti-LGBTQ legislators behind recent bills attacking trans youth.
Through its nonprofit arm, The Stonewall Inn Gives Back Initiative, Stonewall recently launched the Safe Spaces program, which identifies and certifies entertainment venues, food and beverage locations, stores, businesses, and other public venues as Safe Spaces for LGBTQ people. Under its criteria for certification, businesses that donate to anti-LGBTQ lawmakers would not qualify for designation as a Safe Space.
"As one of our best-selling products, Bud Light has been a longtime staple here at The Stonewall Inn. It's deeply disappointing to learn that Anheuser-Busch has given money to lawmakers who are attacking trans kids, some of the most vulnerable people in the LGBTQ community," said Stonewall Inn co-owner Kurt Kelly.
"We're horrified to see so-called allies supporting lawmakers who would make life harder for anyone in our community. We urge Anheuser-Busch and other companies doing this to publicly commit to stop donating to anti-LGBTQ politicians and use their lobbying power to support the Equality Act," Kelly added.
Senate confirms lesbian, trans nominees to high-profile defense roles
Skelly is second out transgender appointee to obtain confirmation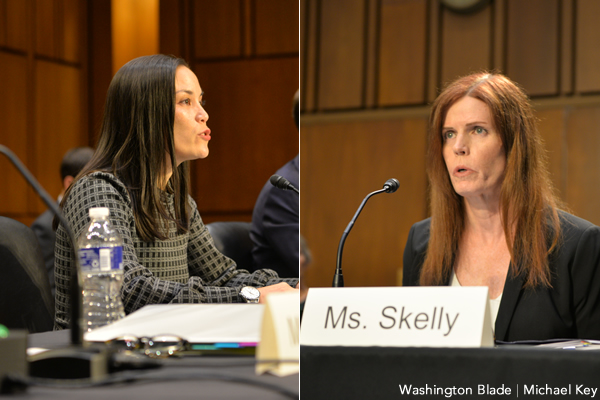 The U.S. Senate confirmed on Tuesday two Biden nominees — one lesbian, another transgender — for high-profile positions at the Defense Department by unanimous consent.
Gina Ortiz Jones, a lesbian former Air Force pilot and Texas congressional candidate, was confirmed as under secretary of the Air Force, and Shawn Skelly, a transgender 20-year U.S. Navy veteran and a defense appointee in the Obama administration, was confirmed as assistant secretary of defense for readiness.
For the second time in U.S. history, the Senate has confirmed an openly transgender person as a presidential appointee — and did so without controversy by unanimous consent.
Just months ago, Rachel Levine was confirmed as assistant secretary of health on a party-line basis after enduring rude, invasive questioning from Sen. Rand Paul (R-Ky.) during her confirmation hearing on transgender health care.
Jones has also made an achievement through Senate approval: She's the first out lesbian to win confirmation to serve in a high-level defense position.
The Senate confirmation of the nominees by unanimous consent is consistent with their confirmation hearing, which both Jones and Skelly breezed through without hostility.
Annise Parker, president of the LGBTQ Victory Institute, pointed out in a statement the two newly confirmed presidential appointees both served in the U.S. military under bans against LGBTQ people in the armed forces.
"Gina and Shawn served their country when living openly could result in discharge and a lost career, so their ascension to key leadership positions is a powerful moment for those servicemembers who served or continue to serve in silence," Parker said. "Their confirmation will transform perceptions of LGBTQ people within the ranks of the U.S. military, but also among the leaders of militaries we work with around the world."
Another out LGBTQ person nominated by Biden for a high-profile defense role is Brenda Sue Fulton, whom Biden nominated to become assistant secretary of defense for manpower and reserve affairs. Her nomination, however, has not even had a hearing in the Senate Armed Services Committee. It's unclear why her nomination hasn't moved forward.
House resolution apologizes for treatment of LGBTQ troops, federal workers
U.S. gov't workers once faced explusion for being gay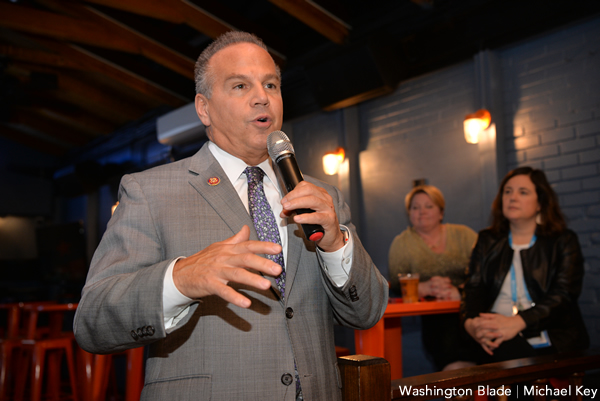 A new resolution introduced in the U.S. House apologizes for the federal government's treatment of LGBTQ federal civilian workers and U.S. service members, who were once subject to expulsion from their positions because of their sexual orientation or gender identity.
The measure, introduced on Wednesday by Rep. David Ciciline (D-R.I.), is a companion to an identical resolution introduced last month in the U.S. Senate by Sens. Tim Kaine (D-Va.) and Tammy Baldwin (D-Wis.).
"Our government spent years persecuting or wrongfully terminating LGBT individuals for no reason other than they loved the wrong person," Cicilline said in a statement. "The call to service is one of the greatest acts of patriotism, but to be denied that opportunity because of who they were is one of our country's greatest injustices. It's long past time the government acknowledged this horrific practice, apologize to those who were harmed and commit to full equality for all Americans."
LGBTQ federal civilian workers, Foreign Service officers and U.S. service members are addressed in the apology in the resolution. Although they can now serve in their positions freely, that is a change after decades of policy and law requiring them to be discharged for being LGBTQ.
The 1993 law known as "Don't Ask, Don't Tell" required the discharge of U.S. service members for being openly gay, although that law was repealed in 2010 under former President Obama. Previously, the U.S. military had an administrative policy that allowed investigations into service members and their discharge if they were found to be gay.
Civilian federal workers also have a history of facing discharge for being gay. Most famous is Frank Kameny, who was fired from his job in the U.S. government as an astronomer in 1958, prompting his work as a gay rights pioneer.
Most recent among the categories enumerated in the resolution are transgender service members, who until the Biden administration were essentially barred from military service as a result of policy under President Trump. Biden reversed that prohibition in his first week in office via executive order.
Joining Cicilline in introducing the resolution as an original co-sponsor is Rep. Mark Takano (D-Calif.), who along with Cicilline is an openly gay member of Congress and a co-chair of the Congressional LGBTQ+ Equality Caucus.
"LGBT civil servants and service members have served with honor, distinction, and often, in the face of intense discrimination and fear of termination," Takano said in a statement. "They heroically committed their lives to the betterment of our nation, only to be met with longstanding policies barring them from service or forcing them to conceal who they are. In our ongoing effort to create a more equal, inclusive, and accepting country, we must acknowledge our past shortcomings and reaffirm our commitment to treating all people with fairness and respect.
Defending Chick-Fil-A, Lindsey Graham Vows To "Go To War"
The latest skirmish in a decade plus long running cultural war battle over the company's founding family's support of anti-LGBTQ groups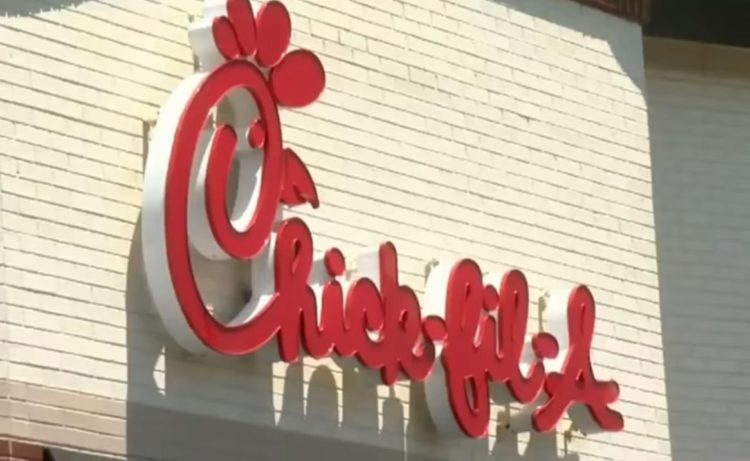 WASHINGTON – In a series of tweets Wednesday, South Carolina's Republican senior U.S. Senator Lindsey Graham wrote; "I hope we don't have to, but I will go to war for the principles Chick-Fil-A stands for."
The controversy that provoked Graham's ire was the news that University of Notre Dame students and faculty signed an open letter calling on the university's Campus Dining division to nix a proposed Chick fil-A on the campus of the 178 year old private Catholic research university.
This fight over the chicken sandwich fast food company's proposed outlet at University of Notre Dame du Lac is just the latest skirmish in a decade plus long running cultural war battle over the company's founding family's support of anti-LGBTQ groups, some designated as hate groups by the Southern Poverty Law Center, for lies and malicious propaganda attacking LGBTQ+ Americans.
In an Instagram post on May 12, the university's Campus Dining division disputed a purported claim by the Chick fil-A that the company would be opening an on campus outlet.
The resulting open letter followed an op-ed in The Observer, on July 1 in the student-run, daily print and online newspaper serving Notre Dame, Saint Mary's and Holy Cross.
"Our first concern relates to Chick-fil-A's long history of antagonism toward the LGBTQ+ community. Over the past two decades, Chick-fil-A has donated significant sums to groups that oppose LGBTQ+ rights. From 2003 to 2012, the restaurant's charitable arm gave over $5 million to queerphobic groups, including groups supporting conversion therapy. Despite public outcry and promises to halt anti-LGBTQ+ donations, in 2017, the donations to anti-LGBTQ+ organizations resumed, including the Fellowship of Christian Athletes, the Paul Anderson Youth Home, and the Salvation Army," the op-ed states.
The brewing fight over Chick-fil-A caught the attention of a right-wing news letter and blogsite, 'Campus Reform,' which defines itself; "As a conservative watchdog to the nation's higher education system, Campus Reform exposes liberal bias and abuse on the nation's college campuses. Our team of professional journalists works alongside student activists and student journalists to report on the conduct and misconduct of campus administrators, faculty, and students."
This past April, independent journalists at The Intercept wrote an in-depth piece on Campus Reform and its financial backers noting that Campus Reform is emblematic of the raging battle in American public discourse over so-called cancel culture, which the site's writers have regularly lamented even as they set out to cancel the reputations and jobs of the people they attack.
This so-called expose on Notre Dame's Chick-fil-A conflict was then in turn was then given additional signal boost by right-wing media giant Fox News on July 13 based on the Campus Reform Coverage.
Enter Senator Graham in a series of tweets defending the chicken sandwich outlets empire.
I want everyone in South Carolina and across America to know I have Chick fil-A's back.

I hope we don't have to, but I will go to war for the principles Chick fil-A stands for.

Great food.
Great service.
Great values.

God bless Chick fil-A!

— Lindsey Graham (@LindseyGrahamSC) July 14, 2021
On May 21 of 2019, YouTube Food Channel Mashed covered the decade long battle over the chicken sandwich chain.