How do you solve the Kyrsten Sinema problem?
Bisexual senator absent from WH Pride reception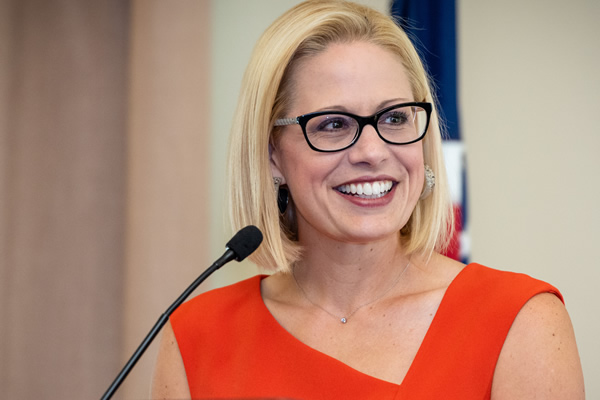 Attendees of the White House reception for Pride month last week included high-profile LGBTQ leaders from activist groups, state legislatures, and the federal government. One lawmaker, however, was conspicuously absent.
Sen. Kyrsten Sinema (D-Ariz.), the only out bisexual in Congress, didn't attend the event — an absence that stood out as members of the House LGBTQ Congressional Equality Caucus were there. Sen. Tammy Baldwin (D-Wis.), Sinema's LGBTQ companion in the Senate, also showed up and was in the front row for President Biden's remarks.
When the Washington Blade reached out to Sinema's office to ask why the senator skipped the reception, her staff confirmed she had been invited.
"Kyrsten was invited, but was unable to attend as the Senate had recessed Thursday evening for state work period," said Hannah Hurley, a Sinema spokesperson.
But the Senate recess didn't stop Baldwin from attending the Pride reception.
It's not the only event Sinema has skipped in recent weeks. When Vice President Kamala Harris hosted a dinner at the White House for all women members of the Senate, Sinema was the only Democrat not in attendance.
The absence of Sinema is almost metaphorical as she has become the target of ire for progressives who view her as an obstructionist to their agenda in the Senate.
Sinema, as she articulated in a recent op-ed for the Washington Post, has come out in strong defense of the filibuster in the Senate, which has been criticized as a relic of structuralism racism (although she's not the only Senate Democrat to oppose dropping the filibuster).
"It's no secret that I oppose eliminating the Senate's 60-vote threshold," Sinema writes. "I held the same view during three terms in the U.S. House, and said the same after I was elected to the Senate in 2018. If anyone expected me to reverse my position because my party now controls the Senate, they should know that my approach to legislating in Congress is the same whether in the minority or majority."
As a result of her position, Sinema has been accused of holding up key legislation like the Equality Act, which would expand LGBTQ protections under the law. (It should be noted the bill as it stands doesn't have unanimous support in the Democratic caucus and wouldn't even pass without the filibuster on a majority vote.)
Also, the dramatic thumbs down she gave on the Senate floor on an amendment to raise the minimum wage to $15 an hour was interpreted as an insult to progressives pushing for the increase.
The transition for Sinema is remarkable. Starting her political career for the Arizona Legislature as a Green Party candidate who once dressed up in a tutu to oppose the Iraq war, Sinema's latest incarnation as a conservative Democrat has some of her one-time supporters scratching their heads.
That will make things complicated for LGBTQ advocacy groups like the Human Rights Campaign and the LGBTQ Victory Fund, which have endorsed her efforts to win election, and for Democrats who sold her as the only out bisexual in Congress.
Sinema, after winning election in 2018 to a six-year term, will be in the Senate for a while and won't face re-election until 2024. But progressives are already clamoring for LGBTQ advocacy groups to take a hard line with her regarding any future support.
Michelangelo Signorile, a progressive activist and Sinema critic, went so far in an email to the Blade as to say LGBTQ groups should withhold their endorsements entirely from Sinema.
"LGBTQ groups definitely shouldn't be endorsing anyone blocking the Equality Act from being passed. Right now that includes every Republican and Joe Manchin and Kyrsten Sinema, who refuse to eliminate the filibuster," Signorile said. "So of course they shouldn't endorse her. How could the Human Rights Campaign or Victory Fund have any credibility while telling the community to invest hard-earned dollars with this politician?"
Sinema has always taken a one-foot-in, one-foot-out approach to her sexual orientation as a political figure. Accepting endorsements from LGBTQ groups, Sinema has attended events after her election hosted by them, such as an event with new LGBTQ members of Congress upon her election to the U.S. House in 2012. But Sinema has dodged questions about her bisexuality, telling the Washington Post in 2013 she doesn't understand "why it's big deal."
The LGBTQ Victory Fund, for its part, is putting a degree of distance between itself and Sinema in response to inquires from the Blade, but not repudiating its support for her entirely.
Elliot Imse, a Victory Fund spokesperson, said his organization endorsed Sinema when the choice for Arizona voters was between her and "the anti-LGBTQ Republican candidate Martha McSally."
"She is not currently endorsed by Victory Fund and we won't be considering 2024 endorsements until summer 2023 – and much will happen between now and then," Imse said. "As with all our incumbent candidates, the Victory Campaign Board will review her efforts to advance equality while in office as it is a key criteria for our endorsement."
In response to an inquiry on whether the Victory Fund has reached out to Sinema about her policy positions, Imse said that would be inconsistent with his organization's mission.
"Victory Fund has a very clear mission and we believe organizations are most successful when they remain laser-focused on that mission – so we do not take positions on specific policy or procedural questions," Imse said. "We endorse and support LGBTQ candidates who will fight for and advance equality legislation and policies once in office and the LGBTQ members of Congress we've helped elect are the most outspoken and passionate voices on the Equality Act and other LGBTQ rights legislation."
Having that "laser-focus," however, isn't true for other LGBTQ political groups, which do both endorsements and lobbying before Congress. Chief among them is the nation's largest LGBTQ group, the Human Rights Campaign.
The Human Rights Campaign, however, didn't respond to multiple requests for comment on Sinema or any discussions the organization has with her. That silence, however, likely won't be enough for progressive activists angered with Sinema.
Signorile said Sinema's absence from the White House should be seen as a red flag for LGBTQ advocacy groups on any future support.
"Sinema, by not attending Pride at the WH, doesn't even make herself visible there. It's almost like she wants to distance herself from being part of the community," Signorile said. "She never talks about being bisexual, doesn't discuss her coming out story — even if you ask her — and I defy anyone to find me a recent time in which she's discussed being part of this community."
17th Street High Heel Race draws large crowd
D.C. Mayor, three Council members, police chief mingle with drag queens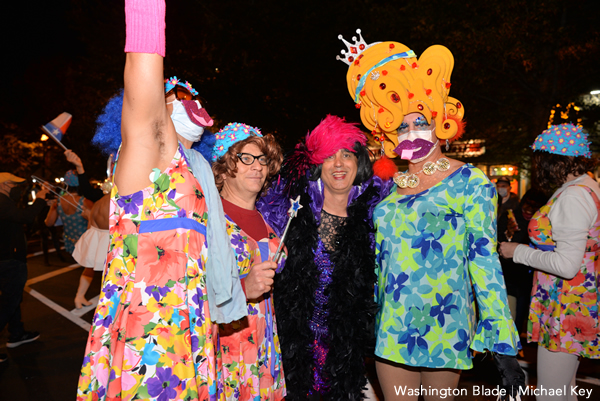 Close to 1,000 spectators turned out Tuesday night to watch D.C.'s 34th Annual 17th Street High Heel Race in which several dozen men dressed in drag and wearing colorful high heel shoes raced along a three-block stretch of 17th Street near Dupont Circle.
As she has in past years, D.C. Mayor Muriel Bowser, whose office organizes the annual event, gave the official signal for the runners to start the race from a stage at the intersection of 17th and R streets, N.W.
Joining the mayor on the stage was Japer Bowles, who Bowser recently named as director of the Mayor's Office of LGBTQ Affairs, which plays the lead role in organizing the High Heel Race.
Also appearing on stage after being introduced by Bowser were D.C. Council Chair Phil Mendelson (D-At-Large) and Council members Robert White (D-At-Large) and Brooke Pinto (D-Ward 2).
Bowser, who along with the three Council members delivered brief remarks before the start of the race, said the event highlights the city's diversity and resilience coming after over a year of coping with the COVID-19 pandemic.
"What we want the world to know – that even in a pandemic, even when we had to trim the budget, we stayed focused on how we can make life better for our LGBTQ community," Bowser told the crowd. "And we're going to keep on doing it," she said. "We're investing in making sure everybody in our community is accepted and safe."
D.C. Police Chief Robert Contee, who walked along the three-block section of 17th Street before the race began, was greeted warmly by bystanders, some of whom called out his name to welcome him to what has become the city's largest Halloween celebration.
"This is a great event," Contee told the Washington Blade. "I enjoy coming out to be among D.C. residents and all who find our D.C. culture," he said. "It's just a great evening, so we're happy to be out here supporting our community."
Members of the D.C. police LGBT Liaison Unit were among the police contingent on duty at the event and overseeing the closing of the streets surrounding 17th Street.
Like past years, many of the race participants and dozens of others dressed in Halloween costumes paraded up and down 17th Street beginning at 6:30 p.m., more than two hours before the start of the race, which was scheduled to begin at 9 p.m.
However, the mayor this year gave the signal to start the race at about 8:35 p.m. Although a large number of drag runners participated in the race, some who planned to join the race didn't make it to the starting line in time because they expected the race to begin at 9 p.m. as advertised, according to people in the crowd who knew those who missed the race.
To ensure that everyone had an opportunity to participate, Bowles and others from the mayor's office agreed to hold a second race about a half hour after the first one. The number of participants in the second race appeared to be about the same as those who joined the first race, indicating many of the drag participants ran twice.
"This is a special treat," said one bystander. "We got to see two races instead of one."
The High Heel Race was cancelled last year due to restrictions related to the COVID pandemic. Many in the crowd watching the race on Tuesday night said they were delighted the city decided to go ahead with the event this year at a time when other large events continue to be canceled or postponed.
Also similar to past years when the High Heel Race took place, the restaurants and bars that line 17th Street were filled on Tuesday night, including the gay bars JR.'s and Windows as well as the longtime LGBTQ-friendly Annie's Paramount Steakhouse.
Prior to the mayor's arrival, gay local radio and TV personality Jimmy Alexander of DCW 50 TV served as host to a drag show and costume contest on the stage. DCW 50 also set up and hosted a separate stage on the sidewalk next to JR.'s bar in which race participants and others dressed in costumes were invited to have their pictures taken and provided with copies of the photos of themselves.
"I think it's amazing," Bowser told the Blade after the completion of the first race. "It's good to be back. It was tough missing a year of activities," she said referring to the business shutdowns brought about by the pandemic. "We had a lot of great, beautiful racers. And so, I'm really excited about it."
To see more photos from this event, click here.
Meet the new LGBTQ liaison for the Democratic National Committee
Sam Alleman joins DNC after work in abortion rights movement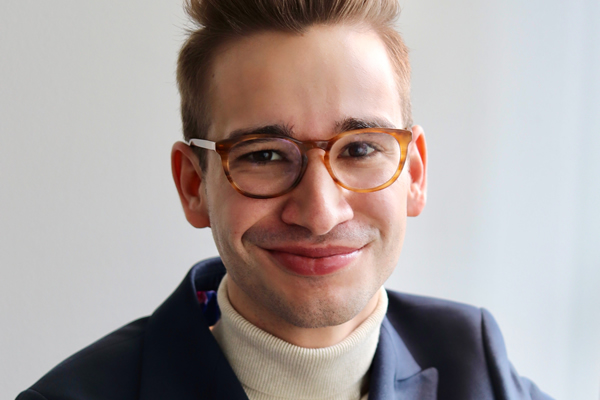 The new LGBTQ liaison for the Democratic National Committee comes from a background not in LGBTQ advocacy, but in the abortion rights movement, and sees the two as working "hand in hand" for a common cause.
Sam Alleman, who started Monday as LGBTQ coalitions director for the DNC, said in an interview with the Washington Blade that his previous job as political outreach manager for five years at the Planned Parenthood Action Fund will inform his LGBTQ work going forward.
"The reproductive rights movement goes hand in hand with what we've been fighting for in the LGBTQ equality and equity movement as well," Alleman said. "There is no being LGBTQ without your ability to have bodily autonomy and to make those same choices."
The relationship between the LGBTQ movement and abortion rights may be more pronounced in the coming months: A national battle is taking place over a Texas law banning abortion in the state for any woman pregnant for more than six weeks as the U.S. Supreme Court will consider litigation with the potential to overturn Roe v. Wade. LGBTQ legal advocates, faced with a term at the Supreme Court with no major cases specific to LGBTQ rights, are already turning their focus to the abortion cases.
"I think that the gender equity lens here, as we move toward building out that permanent infrastructure that really brings all of those things together through more of a social justice lens, will be absolutely critical to being successful, particularly speaking to our younger demographics, to making sure trans and queer people feel included in a way that's actually equitable and just," Alleman said.
Alleman identified two key priorities for him in his new role at the DNC — turning out LGBTQ voters for Democratic candidates and building an internal infrastructure for the LGBTQ community — and said his previous work at Planned Parenthood Action Fund working with candidates and coalition groups will help him reach that goal.
"I really plan to use a lot of the lessons that I learned there in building out to making an inclusive campaign, both in programs and in voter contact infrastructure, within the party itself as well," Alleman said.
Alleman, reiterating he was still in the first days of his job, said the process for building out the LGBTQ community infrastructure at the DNC is still in its initial phases. Alleman said his vision would be not only turning out LGBTQ voters, but finding a way that "allows them to plug in as volunteers and leaders within the party to do the voter contact to hold the events on the ground, to work with our state party partners, and making sure that their voices are represented."
Key to building out that infrastructure, Alleman said, would be making sure all voices within the LGBTQ community are heard. Alleman made a special point to say queer and transgender people "who have been our partners for so long and deserve a seat at the table" will be an essential part of the infrastructure.
The voice of LGBTQ people, Alleman said, will be increasingly important in elections as the numbers of voters who identify as LGBTQ increase. Pointing to 2020 exit polls showing 7 percent of the electorate identified as LGBTQ, Alleman said more LGBTQ people than ever turned out in the presidential election and overwhelmingly backed Biden by 61 percent. (Republicans were also able to claim a small victory, having doubled their share of LGBTQ voters from 14 percent to 28 percent who voted for Donald Trump after the previous election.)
"We know that that demographic is only growing," Alleman said. "Within under 18 year olds, approximately 16 percent of folks identify as LGBTQ in this country. So really my priorities are building out an infrastructure here at the DNC, that will turn out LGBTQ voters for Democratic candidates as they become a larger and larger subsection of our voting population."
Alleman joins the Democratic National Committee days before a Virginia gubernatorial election observers see as a national bellwether for upcoming congressional midterm elections. Terry McAuliffe, a Democratic former governor who said in a interview with the Blade his opponent is the "most homophobic, anti-choice" candidate in Virginia history, is running against Glenn Youngkin, who said recently he continues to oppose same-sex marriage but "will support" the law.
Polls show an exceedingly close race in a state President Biden won handily in the presidential election. An Emerson College/Nexstar Media poll found the race is a dead heat and McAuliffe and Youngkin are tied with 48-48 percent each. The election is Tuesday.
Asked what he sees as his role in the closing days of the Virginia election, Alleman reiterated he was still on Day One of his role at the DNC, but believes Democrats are "doing everything possible to turn out different constituency groups for Terry McAuliffe and Democrats, up and down the ballot in Virginia."
"My role as I start to step in here is really working to make sure that our national partner organizations are doing everything possible to turn out that book as we head into GOTV, and be a partner to them as they drive their supporters out to make sure that we're not leaving anything on the table come next Tuesday when we elect Terry McAuliffe governor of Virginia again," Alleman said.
Lucas Acosta, a spokesperson for the DNC who joined in on the interview with Alleman, said the DNC is working with groups such as the Human Rights Campaign (his former employer) to highlight the records of both Virginia candidates.
"I think what happened last week — Youngkin's comments on same-sex marriage — are concerning," Acosta said. "That's definitely something that we are going to continue to highlight in the closing days of the campaign. That obviously is just a further example why Youngkin is not the moderate he purports to be, but rather a Trump acolyte, who is going to turn back time on rights for a litany of Virginians, including LGBTQ folks."
Democrats have enjoyed an advantage as a result of the sea change in support in favor of LGBTQ rights. But things may be beginning to shift as LGBTQ issues change and move away from same-sex marriage to other battlegrounds, such as transgender people participating in school sports consistent with their gender identity.
Washington Post columnist James Hohmann reported this week on new data from the National Republican Senatorial Committee finding gender and race issues play out in favor of Republicans among suburban voters, if they're on terms like critical race theory or concepts like "genderism." According to the data, 65 percent said "allowing biological males to compete against women in high school and college sports is hugely unfair and will erase many of the gains women have made in athletics over the last 50 years."
Just this week, Texas Gov. Greg Abbott signed into law House Bill 25, which effectively bars transgender girls from participating in school sports consistent with their gender identity, making the Lone Star State the latest state to enact such a measure in defiance of federal laws against discrimination based on sex.
Alleman, asked whether the DNC would change the way it approaches these issues, said he wasn't aware of the data and questioned whether the conclusion of the data "really makes much sense."
"I think we'll at least continue to push forward the message of what we've done as Democrats which is fight for these individuals to be treated just the same as everyone else," Alleman said.
State Department to issue passports with 'X' gender marker
Special LGBTQ rights envoy celebrates 'significant step'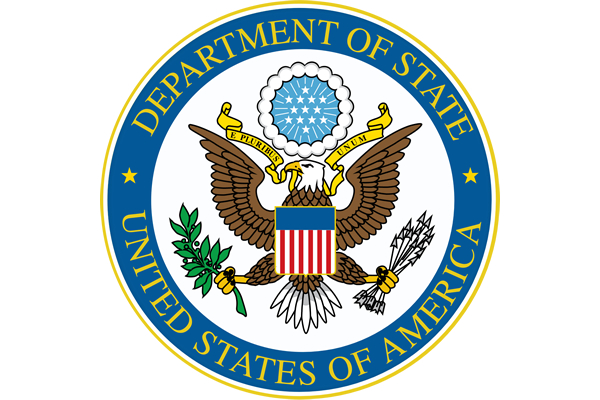 The State Department on Wednesday is expected to issue the first U.S. passport with an "X" gender marker.
Jessica Stern, the special U.S. envoy for the promotion of LGBTQ rights abroad, on Tuesday told the Washington Blade and the Associated Press during a conference call the State Department will initially issue a gender-neutral passport to one person.
Stern said the State Department will begin "offering the 'X' gender marker option to routine passport applicants" in early 2022. A State Department official said the delay is necessary because the U.S. Office of Management and Budget needs to approve "the required form updates."
Secretary of State Antony Blinken in June announced the State Department will allow passport applicants to "self-select their gender as 'M' or 'F'"
People who identify as intersex, non-binary or gender non-conforming can choose a gender-neutral gender marker for their passports and Consular Report of Birth Abroad, a document that confirms an American who was born overseas is a U.S. citizen. The new policy that Blinken announced in June no longer requires "medical certification if an applicant's self-selected gender does not match the gender on their other citizenship or identity documents."
"Offering a third gender marker is a significant step towards ensuring that our administrative systems account for the diversity of gender identity, gender expression and sex characteristics," said Stern during the conference call. "Because people do not always fit within a male or a female designation, it doesn't benefit anyone to have inconsistencies between people and systems."
Stern added passports with an "X" gender marker will "reflect the true gender of the passport holder and make people safer, hopefully by reducing the likelihood of dehumanizing harassment and mistreatment that so often happens at border crossings when a person's legal documentation does not correspond with their gender expression."
"When a person obtains identity documents that reflect their true identity, they live with greater dignity and respect," said Stern.
The State Department's announcement comes a day after it publicly acknowledged Intersex Awareness Day, which commemorates the world's first-ever intersex rights protect that took place in Boston in 1996.
Dana Zzyym, an intersex U.S. Navy veteran who identifies as non-binary, in 2015 filed a federal lawsuit against the State Department after it denied their application for a passport with an "X" gender marker. The State Department official with whom the Blade spoke on Tuesday declined to say whether Zzyym is the first person who will receive a gender-neutral passport in the U.S.
"The department does not generally comment on individual passport applications due to privacy considerations," said the official.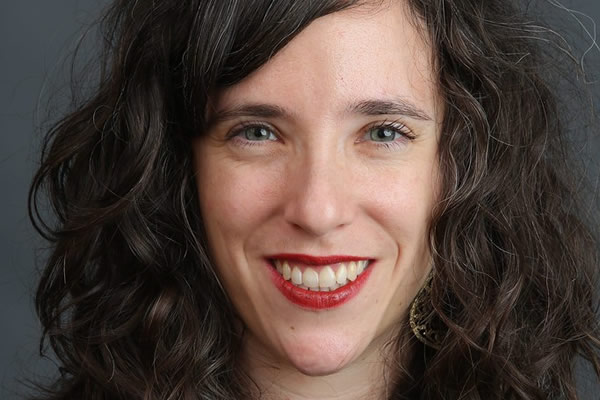 President Biden in February signed a memorandum that committed the U.S. to promoting LGBTQ rights abroad.
The White House in June named Stern, who had previously been the executive director of OutRight Action International, a global LGBTQ advocacy group, to her position. Stern said the issuance of passports with "X" gender markers demonstrates the Biden administration's commitment to LGBTQ rights.
"I am proud that the United States seeks to protect and promote the human rights of LGBTQI+ persons globally and this is an excellent example of leading by example," said Stern.
Canada, Australia, New Zealand and Argentina are among the handful of other countries that issue gender-neutral passports.
The State Department official said their colleagues have "been coordinating with Canada and New Zealand on best practices as we work towards this goal, based on their experiences." They said the State Department has also "coordinated with several LGBTQI+ organizations, both directly and through the White House Domestic Policy Council, throughout this process."