US urges Central America governments to protect LGBTQ rights
Effort part of strategy to address migration 'root causes'
Editor's note: International News Editor Michael K. Lavers was on assignment for the Washington Blade in El Salvador, Honduras and Mexico from July 11-25.
A State Department spokesperson says the U.S. will continue to urge the governments of Guatemala, El Salvador and Honduras to protect LGBTQ rights as part of its efforts to address the "root causes" of migration from the three countries.
"Human rights, including those of LGBTQI+ persons, is one of the central pillars of our engagement with leaders from Guatemala, Honduras and El Salvador," said the spokesperson in response to a series of written questions from the Washington Blade.
"The United States raises concerns about violence, discrimination, abuse, harassment and stigma targeting LGBTQI+ (people) across northern Central America with various stakeholders," added the spokesperson. "We work to engage on these issues across multilateral fora, such as the United Nations, the Equal Rights Coalition and the Organization of American States."
Guatemala, El Salvador and Honduras form what is known as Central America's Northern Triangle.
Vice President Kamala Harris, who met with Guatemalan President Alejandro Giammattei last month during her trip to Guatemala City, has said on numerous occasions that violence based on sexual orientation and gender identity is one of the factors behind migration from the region. Harris and other administration officials have also told migrants not to travel to the U.S.-Mexico border because it remains closed to them due to the pandemic.
LGBTQ Hondurans with whom the Blade recently spoke acknowledged violence has forced them to flee their homes.
Leonela Barralaga and Jerlín Martel are a same-sex couple who are raising an 11-year-old daughter in La Ceiba, Honduras.
They told the Blade on July 20 during an interview at the offices of Organización Pro Unión Ceibeña, a local human rights group, that they have fled Honduras twice. Barralaga and Martel said they returned to the country once because they did not want their daughter to further endure the squalid conditions in which they were living in Tapachula, Mexico, a city in the country's Chiapas state that borders Guatemala.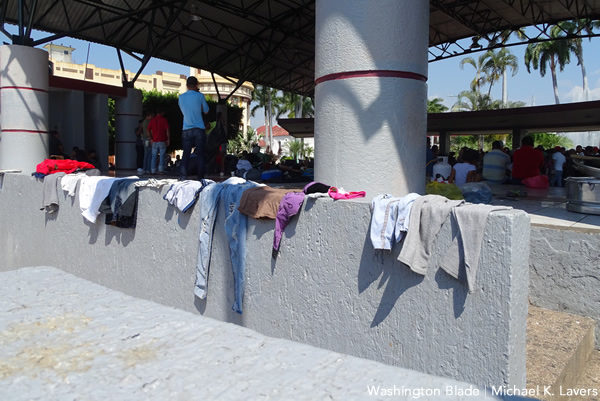 Marvin, a gay man from Honduras who plans to ask for asylum in the U.S., currently lives at Jardín de las Mariposas, a shelter for LGBTQ asylum seekers in the Mexican border city of Tijuana.
Marvin during a July 12 interview with the Blade at Jardín de las Mariposas spoke about his brother, who was murdered earlier this year in Honduras. Marvin was sobbing when Jaime Marín, who runs the shelter with his mother, Yolanda Rocha, showed this reporter a picture of his brother's mutilated body in the morgue in San Pedro Sula, Honduras' second-largest city.
A court in the Salvadoran capital of San Salvador last August sentenced three police officers to 20 years in prison for the 2017 murder of Camila Díaz Córdova, a trans woman who the U.S. deported. The Inter-American Court of Human Rights last month found Honduras responsible for the murder of Vicky Hernández, a trans woman who was killed hours after the 2009 coup that ousted then-President Manuel Zelaya.
Alexa, a trans woman who receives services at Organización Pro Unión Ceibeña, told the Blade during an emotional interview that she was raped in prison while serving a sentence for a stabbing she claims was an act of self-defense. Alexa also said guards forcibly cut her hair.
The Blade the day before witnessed a man stop his car on a street in San Pedro Sula, which is about three hours west of La Ceiba, and solicit for sex work two trans women with Colectivo Unidad Color Rosa, a local LGBTQ rights group. The U.S. granted asylum to Claudia Spellman, a trans woman who co-founded Colectivo Unidad Color Rosa, after death threats forced her to flee Honduras.
"The United States is committed to fighting for the human rights of LGBTQI+ persons at home and abroad," the State Department spokesperson told the Blade. "LGBTQI+ persons are among the most vulnerable to forced displacement in and from El Salvador, Guatemala and Honduras."
"Promoting and advancing these human rights is a foreign policy priority," added the spokesperson. "As such, we endeavor to combat the violence and abuse, criminalization, discrimination and stigma targeting LGBTQI+ persons around the world, including in these three countries."
Two members of Guatemalan civil society who work with LGBTQ people and people with HIV/AIDS — Visibles Executive Director Daniel Villatoro and Ingrid Gamboa of the Association of Garifuna Women Living with HIV/AIDS — are among those who participated in a round table with Harris in Guatemala City.
Samantha Power, administrator of the U.S. Agency for International Development, and U.S. Ambassador to Guatemala William Popp on June 17 visited the Guatemala City headquarters of Organización Trans Reina de las Noche, a trans advocacy group. The visit took place less than a week after Andrea González, the organization's executive director who previously participated in the State Department's International Visitors Leadership Program, was murdered near her Guatemala City home.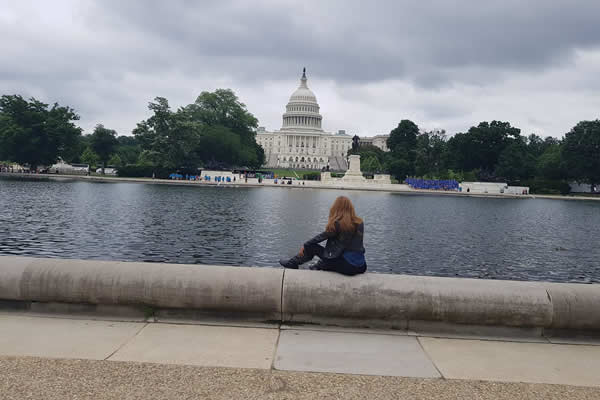 Sasha Rodríguez, a trans woman who works for Organización Pro Unión Ceibeña, is also an IVLP alum.
Bianka Rodríguez, executive director of COMCAVIS TRANS, a trans Salvadoran rights group, is among those who participated in what a USAID spokesperson described to the Blade as a "youth leaders lunch roundtable that we organized" with Power in San Salvador last month. The USAID spokesperson noted "they exchanged important points of view regarding USAID support (past and present) and the challenges of the LGBTIQ+ community in the country."
"USAID human rights projects based in El Salvador support anti-discrimination efforts against the LGBTQI+ community," said the State Department spokesperson. "They also support a regional effort that engages private sector companies in inclusive strategies to open labor opportunities for the LGBTQI+ community."
"Projects also do research on hate crimes against the LGTBQI+ community and provides to the justice sector to investigate such crimes," they added. "The majority of activities are led by local or regional LGBTQI+ groups."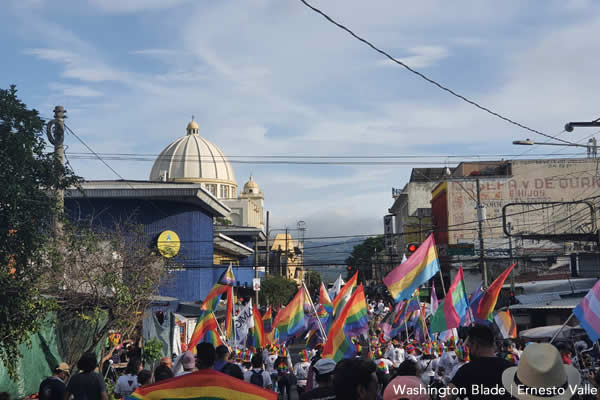 The State Department spokesperson noted "discussions between civil society leaders" and the U.S. Embassy in Honduras, "as well as USAID-led forums on LGBTQI+ migration push factors, help us learn more about the root causes and ways we can better support this community." They also pointed out that USAID's Unidos por la Justicia project "has supported the LGBTQI+ community to develop an anti-discrimination law and the law of gender identity" in the country.
USAID and Unidos por la Justicia in 2019 officially recognized Unidad Colectivo Color Rosa for its work. The Blade on July 19 saw a plaque with the two organizations' logos on it hanging inside their San Pedro Sula office.
"USAID in Honduras has done extensive work with the LGBTQI+ population who lack access to formal education and workforce development services by supporting training that included self-esteem and human rights to prevent stigma and discrimination, and promote respect for diversity," said the State Department spokesperson. "Through private sector engagement, businesses have agreed to interview members of the LGBTQI+ community, which is the foundation to valuing diversity in the workplace."
USAID also works with Asociación PASMO, an organization that conducts HIV testing in San Pedro Sula.
The State Department spokesperson told the Blade that Honduran LGBTQ activists have attended workshops that focused on their participation in the country's political process. They said USAID for the project's next phase "will work with local higher education institutions to certify community members to participate as candidates in elections."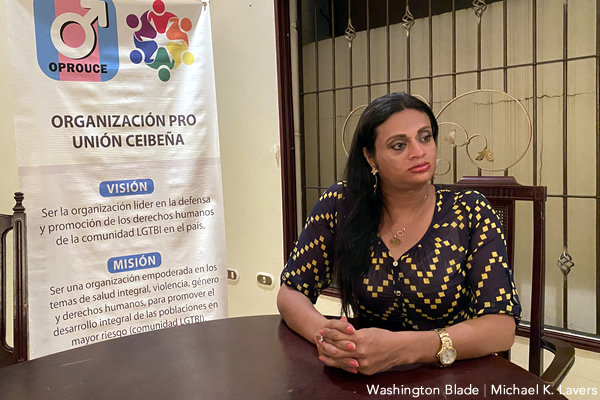 Honduras' national elections are scheduled to take place on Nov. 28.
A federal judge in New York in March sentenced Honduran President Juan Orlando Hernández's brother, former Honduran Congressman Juan Antonio "Tony" Hernández, to life in prison after a jury convicted him of trafficking tons of cocaine into the U.S.
The Biden administration on July 20 banned former Honduran President Porfirio "Pepe" Lobo Sosa, his wife and their children from traveling to the U.S. because of "their involvement in significant corruption." Salvadoran prosecutors last week charged former President Salvador Sánchez Cerén and nine other members of former President Mauricio Funes' administration with the misuse of more than $300 million in government funds.
Juan Francisco Sandoval, a leading anti-corruption prosecutor in Guatemala, fled to El Salvador on July 24 after Guatemalan Attorney General Consuelo Porras fired him. The Biden administration this week announced it has stopped working with Porras' office.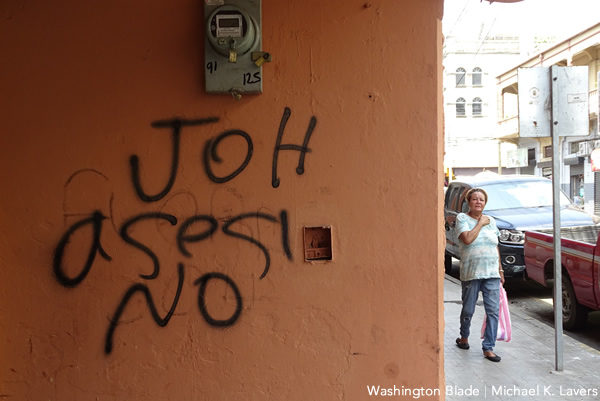 Corruption is one of the myriad issues that activists in the region have raised with the Blade. They also remain highly critical of their respective governments over the lack of LGBTQ rights.
"The United States is concerned with the protection governments extend to LGBTQI+ persons throughout the region," said the State Department spokesperson. "While we have seen some positive developments; we will continue to raise the importance of protections for LGBTQI+ persons whenever appropriate, as well as the importance of holding accountable perpetrators of discrimination and violence."
The State Department spokesperson also responded to the Blade's question about what the Biden administration can do to ensure the Guatemalan, Honduran and Salvadoran governments adequately address anti-LGBTQ discrimination and violence in their respective countries.
"The U.S. government monitors and reports on the state of human rights across the world, including protections for the LGBTQI+ community," said the State Department spokesperson. "Our efforts to draw attention to abuses of the human rights of LGBTQI+ persons create transparency and promote accountability for such abuses. The U.S. government also has sanctions and visa restriction authorities it can apply to perpetrators to promote accountability for human rights violations and abuses."
Abdiel Echevarría-Caban and Dunia Orellana of Reportar sin Miedo contributed to this story.
Columbia University researcher helps evacuate LGBTQ Afghans
Taylor Hirschberg working with Belgian lawmaker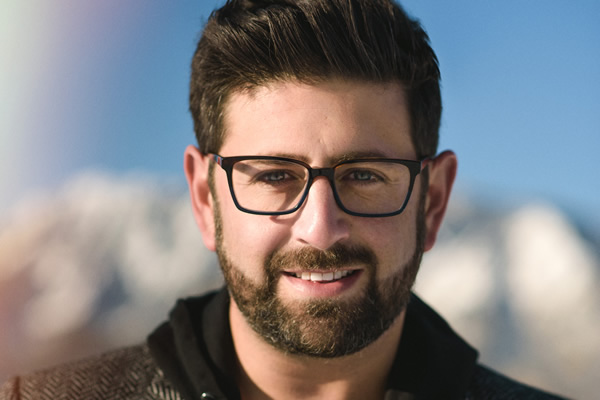 Some of the 50 human rights activists that a Columbia University researcher has helped evacuate from Afghanistan since the Taliban regained control of the country are LGBTQ.
A press release the Washington Blade received notes Taylor Hirschberg — a researcher at the Columbia Mailman School of Public Health who is also a Hearst Foundation scholar — has worked with Belgian Sen. Orry Vandewauwer to help 50 Afghan "activists leave the country."
"The refugees included those who identify as LGBTQI+ or gender non-conforming and their families," notes the press release.
The Blade has seen the list of names of the more than 100 people that Hirschberg and Vandewauwer are trying to evacuate from Afghanistan. These include the country's first female police officer, the independent U.N. expert on Afghanistan and a number of LGBTQ activists.
"There are many more human rights advocates we are still trying to get out of the country," said Hirschberg.
Hirschberg has previously worked in Afghanistan.
He and Vandewauwer were also once affiliated with Skateistan, an NGO that works with children in the Middle East and Africa. The documentary "Learning to Skateboard in a Warzone" features it.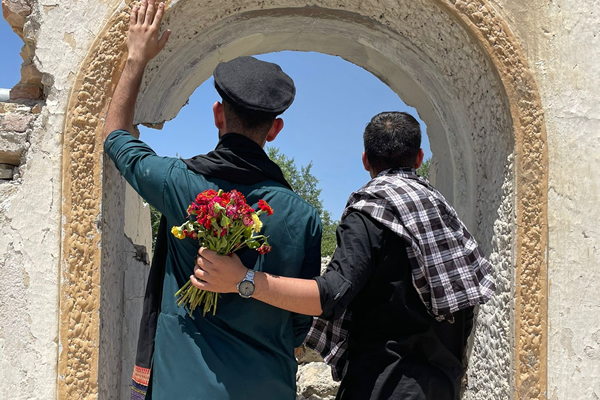 The Taliban entered Kabul, the Afghan capital on Aug. 15 and toppled then-President Ashraf Ghani's government.
A Taliban judge over the summer said the group would once again execute gay men if it were to return to power in Afghanistan.
The U.S. evacuated more than 100,000 people from the country before American troops completed their withdrawal from the country on Aug. 30. It remains unclear whether the U.S. was able to successfully evacuate LGBTQ Afghans from Kabul International Airport, but Immigration Equality earlier this month said it spoke "directly" with 50 LGBTQ Afghans before the U.S. withdrawal ended.
Secretary of State Antony Blinken on Sept. 13 during a House Foreign Affairs Committee hearing expressed concern over the fate of LGBTQ Afghans who remain in the country.
The Human Rights Campaign; Immigration Equality; the Council for Global Equality; Rainbow Railroad; the International Refugee Assistance Project and the Organization for Refuge, Asylum and Migration have called upon the Biden administration to develop a 10-point plan to protect LGBTQ Afghans that includes prioritizing "the evacuation and resettlement of vulnerable refugee populations, including LGBTQI people." Canada is thus far the only country that has specifically said it would offer refuge to LGBTQ Afghans.
Hirschberg on Monday told the Blade that he and Vandewauwer have charted an airplane to evacuate Afghans, but they have not secured a "third country" to which they can bring them.
"Currently, we are working towards a multi-country collaboration for resettlement," he said. "Our work has now expanded to include election officials and women activists, including those from the LGBTQI+ community."
Hirschberg also urged the U.S. and humanitarian organizations to do more to help evacuate LGBTQ people, human rights activists and others from Afghanistan
"I understand that this is complicated and that I do not have all the working pieces but why does the United States ignore those who helped in building their agenda in Afghanistan. The same goes for multilateral organizations," he told the Blade. "Why are neither funding charters and creating agreement with partnering states? If they are why have the not contacted the countries that we are creating collaborations with?" 
Mexicans with HIV/AIDS struggle with treatment access
Government in 2019 created new health care entity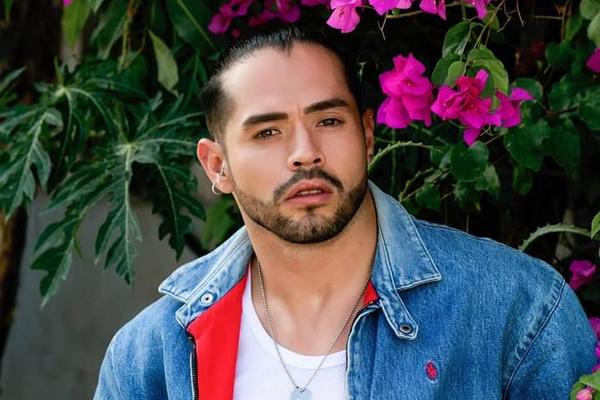 Roberto Navarro has been a dancer since he was 17. Jazz became his passion and he fell in love with classical dancing after he took many classes. And he began to teach four years later.
"I'm so happy when I teach dancing to my girls because they bring me so much joy, I feel like I help my girls to become better women, without noticing I'm some kind of a therapist," Navarro told the Washington Blade.
He discovered the discipline of dancing in heels in 2014, which made him connect and explore more with his sexuality. He did, however, suffer a lot of bullying because of it.
Navarro — a 33-year-old gay man who is originally from Sahuayo de Morelos in Michoacán state — currently owns a dance salon. Navarro said he started to become an entrepreneur, but it hasn't been easy because of the pandemic.
He was diagnosed with HIV in 2016. Navarro suffered from depression for several months after he learned his status.
"I woke up very overwhelmed in the morning thinking that I had to go to the hospital to make a long line of patients; to have blood drawn for fast screening tests," he said. "We arrived at 7 in the morning and left until 1 in the afternoon."
Navarro has been receiving treatment for almost five years, and he is still dancing.
"Subsequently, I went to my consultations every three or six months depending on my results," he stated. "By the third month I was undetectable."
Navarro started with Atripla, an antiretroviral drug he received through Mexico's Seguro Popular, and he was undetectable a month later.
A shortage of Atripla forced a change to Biktarby after President Andrés Manuel López Obrador in 2019 scrapped Seguro Popular and created the Health Institute for Wellbeing (INSABI). The pharmaceutical company Gilead has said there are many counterfeit versions of the drug on the market.
Seguro Popular in 2018 had almost 52 million beneficiaries. The National Council for the Evaluation of Social Development Policy (CONEVAL) said INSABI at the end of 2020 had more than 34 million beneficiaries.
Antiretroviral drugs have been available in Mexico since 2003, although the Mexican health system is divided into various subsystems based on where one works.
Institute of Social Security and Services for State Workers (ISSSTE)
Mexican Institute of Social Security (IMS)
INSABI (Health Institute for Wellbeing) that was previously known as the Seguro Popular
They vary in the time it takes to receive medication and the time for CD4 viral load tests. The availability of appointments with infectious disease specialists varies in each of the three public health systems.
People with INSABI will take longer to get tests and have access to doctors. It must also be recognized that everyone, in theory, has the possibility of accessing medicines, but it also depends on the states in which they live.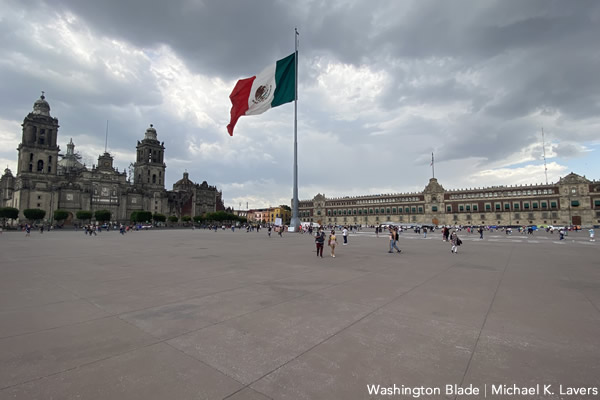 From Seguro Popular to INSABI
The number of people without access to healthcare in Mexico rose from 20 million to almost 36 million between 2018-2020. INSABI, more than a year after its creation, still does not completely cover the same amount as its predecessor.
INSABI is an independent agency through the Ministry of Health that aims to "provide and ensure the free provision of health services, medicines and other inputs associated with people without social security." The General Health Law says it was to replace Seguro Popular, which was in place from 2004-2019.
"The situation for treatment right now, it's quite complex, particularly because there have been many changes in the health department of Mexico, and this has to do with the fact that in 2003 when the Seguro Popular was established; there was an increase to comprehensive care for people living with HIV and resources for prevention strategies which are mainly handled through civil society organizations that obtained money from the government." stated Ricardo Baruch, who has worked at the International Family Planning Federation for almost 15 years.
López,, who took office in 2018, sought to eliminate Seguro Popular, which was the mechanism by which access to antiretroviral drugs were given to most people living with HIV in the states with greater vulnerability. This change was done in theory to expand access for everyone, but the opposite happened.
There is less access due to the modification of purchasing mechanisms and a huge shortage throughout the country. Baruch says this situation has caused a treatment crisis across Mexico.
"The truth is that the Seguro Popular helped me a lot to have my treatments on time, what I do not like is that there is not enough staff to attend all the patients that we are waiting for our consultations," said Erick Vasquez, a person who learned in February he is living with HIV.
Vasquez, 34, is an artist who works in Guadalajara and Playa del Carmen.
Vasquez did not have health insurance like other people through IMS. He obtained access to Seguro Popular through an organization that supports people with HIV, but he has to wait until October for his first appointment.
Vasquez, who has a very low viral load, in March began a job through which he obtained IMS. He had access to his treatments through it.
He received three months worth of Biktarvy at the end of June; one prescription for each month. He said the drug is not difficult to obtain.
"I have not had any problem with the medication, it is not difficult to get it when you are on the insurance, but there is still a long time left until October," said Vasquez.
The cost of the antiretroviral treatment in Mexico is approximately $650 per month, and one bottle has only 30 pills.
"I have not had side effects, I have not had nausea, I don't vomit, I take a pill daily, it is one every 24 hours," Vasquez said. "I feel very well and I hope very soon to be undetectable."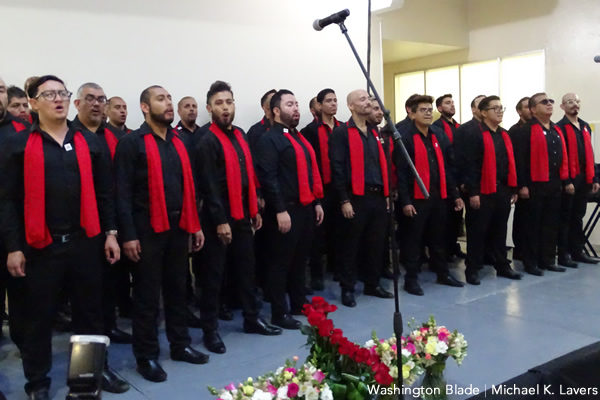 Infrastructure over health
Prevention resources were eliminated, and health resources today are used to finance the Felipe Ángeles International Airport at the Santa Lucía military base in Zumpango in Mexico state, a new refinery, the Mayan train and other major infrastructure projects. And this causes many people who want to access treatment not to receive them. It takes much
The cost of the work, including the land connected with the Mexico City International Airport and various military facilities, is set at 82,136,100,000 Mexican pesos and there are provisions to serve 19.5 million passengers the first year of operations, according to a report from the Secretariat of National Defense (SEDENA).
There are, on the other hand, far fewer HIV tests and this shortage has led to a much higher arrival of late-stage HIV cases and even AIDS in hospitals. This trend is particularly serious among transgender women and men who have sex with men.
"Here in Mexico we concentrate the HIV pandemic, and that we are at a time when this issue of shortages has not stabilized, that there is already more clarity in purchases, but it is well known that all these changes in health systems continue for a year over the years they cause the situation to be increasingly fragile and in the matter of migrants that previously there was certainty so that they could access medicines through the Seguro Popular, now there is a legal limbo for which in some states it depends: on the states, the clinic or social worker; whether or not they give you medications," said Baruch.
"If you are not a resident or a national here in Mexico, this is a matter won for people in transit seeking political asylum or who had stayed in Mexico," he added.
Migrants lack access to HIV treatment
Mexico is located between the three regions with the world's highest rates of HIV: the Caribbean, Central America, and the U.S. This has been used as a foundation for a culture of hatred against migrants, according to Siobhan McManus, a biologist, philosopher, and researcher at the Center for Interdisciplinary Research in Sciences and Humanities of the National Autonomous University of Mexico.
The lack of opportunities, violence and climate change that forces people whose livelihoods depend on agriculture to abandon their homes prompts migration from Central America.
Most migrants — LGBTQ or otherwise — experience violence once they arrive in Mexico.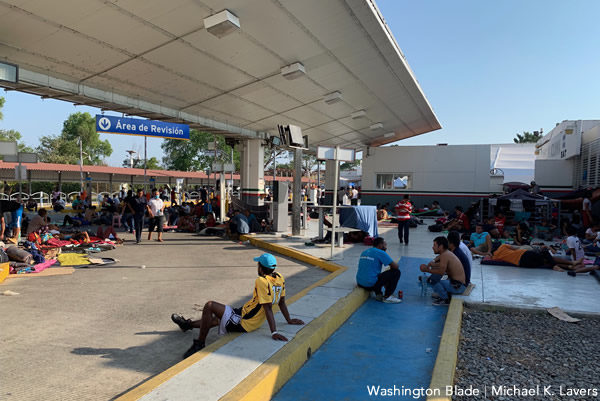 Chiapas and other states have created an extensive network of clinics known by the Spanish acronym CAPASITS (Centro Ambulatorio para la Prevención y Atención en SIDA e Infecciones de Transmisión Sexual) that are specific HIV and STD units in major towns. They are often within close proximity to most people's homes.
Sonora and Chihuahua states, which border the U.S., often have such clinics in only one or two cities. This lack of access means people will have to travel up to six hours to access these treatments.
People who have already been receiving treatment for a long time were previously given up to three months of treatment. They now must travel every month to receive their medications because of the shortages.
PrEP available in Mexico
The shortage of medical drugs for people who already live with HIV is a current issue for the Mexican government, but they have made free PrEP available for those who want to prevent themselves from the virus.
Ivan Plascencia, a 24-years old, who lives in Guadalajara, the capital of Jalisco state , has been using PrEP for several years since he became sexually active and he never had any complaints about the medication. Plascencia instead recommends his close friends to take advantage of this prevention drug that is available in one of the CAPASITS where he lives.
Post-pandemic screening tests
There are an estimated 260,000 people in Mexico who are living with HIV. Upwards of 80 percent of them knew their status before the COVID-19 pandemic.
The number of new cases that were detected in 2020 were 60 percent less than the previous year, but this figure does not mean HIV rates have decreased.
In Jalisco, which is one of Mexico's most populous states with upwards of 8 million people, there was a 40 percent increase in positive cases in 2020 compared to 2019. This increase has put a strain on service providers.
Swiss voters overwhelmingly approve marriage equality law
'Marriage for All' statute received 64 percent support in referendum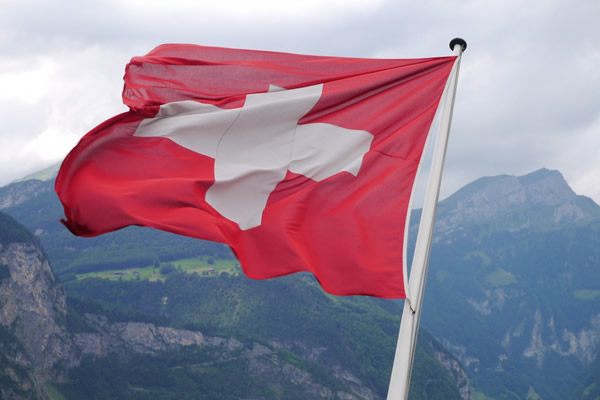 Voters in Switzerland on Sunday voted overwhelmingly in favor of a law that extends marriage rights to same-sex couples.
Swiss voters supported the "Marriage for All" law by a 64-36 percent margin in the referendum.
Lawmakers approved the statue late last year. Marriage equality opponents were able to force a referendum on it.
Switzerland joins neighboring France, Germany, Austria and other European countries that have extended marriage rights to same-sex couples.
Maria von Känel, co-president of the "Marriage for All" campaign, described the referendum results as "a historic day, a milestone for LGBTQ equality."
"It's a great achievement," she told the Washington Blade. "All cantons and 64.1 percent of Swiss voters have voted yes for marriage for all. Our partnerships and families are now recognized equally and legally."
"We have great support of the family, children and human rights organizations and many thousands of people who took to the streets for this cause and did public work," added von Känel. "We are infinitely grateful."