Gay Asian man, parents attacked in D.C.'s Observatory Circle area
Suspect shouted, 'faggots,' 'You are not Americans!'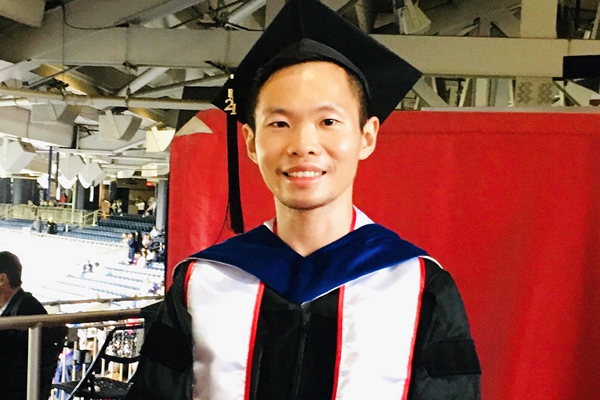 A gay Chinese man and his parents were attacked and beaten about 10:30 p.m. on Saturday, Aug. 7, on the 3700 block of Fulton Street, N.W. near the National Observatory by a male suspect who called them "faggots" and shouted, "You are not Americans!," according to charging documents filed in D.C. Superior Court.
The charging documents show that D.C. police, who arrived on the scene as the incident was unfolding, arrested Patrick Joseph Miller Trebat, 38, on one count of Felony Assault, two counts of Simple Assault, and one count of Destruction of Property. A police incident report lists the assault as a suspected hate crime.
A statement released by the Watch Commander of the D.C. Police Second District, whose officers made the arrest, said the family of three were transported to a local hospital for treatment of injuries listed as non-life threatening.
The Watch Commander, who is not identified by name, added in the statement that suspect Trebat punched and kicked the three victims as he stated, "Get out of my country."
Among the victims was Sean Lai, 30, an out gay man of Chinese ancestry who last year completed his doctorate degree in physics at Georgetown University and currently works as a data scientist. He has been a D.C. resident since 2013.
Court documents state that Trebat allegedly attacked Lai and his parents as they were walking on the street in the city's Observatory Circle neighborhood where they are currently living and which is a short distance from the National Cathedral.
The court documents show that prosecutors with the Office of the U.S. Attorney for D.C. filed documents in D.C. Superior Court, charging Trebat with two counts of Bias-related Assault with Significant Bodily Injury and one count of Bias-related Assault in connection with the incident along with a charge of destruction of property related to damage to Lai's cell phone during the attack.
But the charges filed by the U.S. Attorney's Office attribute the bias aspect of the crime only to the three victims' "actual or perceived national origin." The charges filed by the U.S. Attorney's Office do not attribute the attack to bias related to Lai's actual or perceived sexual orientation, even though one of the charging documents quotes Trebat as reciting the word "faggots."
William Miller, a spokesperson for the U.S. Attorney's Office, said the office does not comment on its reasons for charging decisions in pending cases. "The U.S. Attorney's Office is continuing to investigate the facts and circumstances of the case and has no further comment at this time," Miller told the Washington Blade.
The court documents show that Trebat is a resident of an apartment at 4201 Cathedral Ave., N.W., which is located less than a mile from where the incident occurred. The documents show he was released by a judge two days after his arrest on the condition that he be placed in the court's High Intensity Supervision release program.
Court records show D.C. Superior Court Judge Judith Pipe also issued a pretrial stay away order. The details of the order were not immediately made public, but most such orders require an arrested person to stay away from anyone he or she is charged with harming.
The court records also show that court status hearings set for the Trebat case initially scheduled for Aug. 30 and Oct. 20 were cancelled and his next scheduled appearance in court for a felony status conference is set for Nov. 15.
Details of the incident are provided in the police incident report and a two-page arrest affidavit prepared by police and prosecutors with the U.S. Attorney's Office.
Although Lai's sexual orientation is not disclosed in the police report or the arrest affidavit, a close friend who contacted the Washington Blade said Lai wishes to be identified as an out gay man. The friend said Lai plans to release a public statement about the incident after more details about the case become known.
According to the two documents, Lai, who is listed as Victim 3, told police he and his parents were walking home along the 3700 block of Fulton Street, N.W. when Suspect 1, later identified as Trebat, started following them. The police report says the family lives on the 3900 block of Fulton St.
"Victim 3 states that he and his family tried to cross the street to create distance between them and Suspect 1," the police report says. "Victim 3 states that he heard Defendant 1 call him and his family 'faggots' and that he heard D-1 exclaim, 'You are not Americans!' before D-1 began to assault his family," the arrest affidavit states.
The affidavit identifies Victim 1 as the mother, age 61, and Victim 2 as the father, age 64.
"Victim 1 and Victim 2 did not speak English," the affidavit says, adding that police arriving on the scene immediately placed a radio call for a police officer who is a Mandarin speaker who quickly arrived on the scene to provide translation services to help police interview the parents.
"V-1 stated that D-1 assaulted her husband V-2, causing him to fall to the ground," the affidavit continues. "V-1 states that D-1 then pushed her to the ground, causing the listed injury. V-2 stated that D-1 came from behind and struck him with a closed fist in the back of the head, causing him to fall to the ground," says the affidavit.
"V-3," Sean Lai, "states he turned around and observed D-1 assault his parents," says the affidavit. "V-3 intervened and pushed D-1 away from his parents, ensuing in a physical struggle between V-3 and D-1," the affidavit says.
The affidavit says the father then tried to intervene to protect his son from Trebat's assault, but Trebat "kept pushing them both to the ground." It says that at some point during the assault, each of the three victims sustained injuries serious enough to send them to a hospital.
It says that during his struggle with Trebat, Lai's phone fell out of his pocket and was damaged when it struck the ground. The affidavit says the damaged phone prompted prosecutors to charge Trebat with the single count of destruction of property.
The attack against Lai and his parents took place five months after the release of a report in March by the group Stop Asian American Pacific Islander Hate that found at least 140 hate-related incidents had been reported against people of Asian ancestry across D.C., Maryland, and Virginia since March of 2020.
Civil rights organizations have attributed the anti-Asian attacks to the bogus and racist belief by some that Asians should be blamed for the coronavirus pandemic because it originated in China.
Capital Stonewall Democrats backs Robert White over Bowser
LGBTQ group endorses Erin Palmer over incumbent Mendelson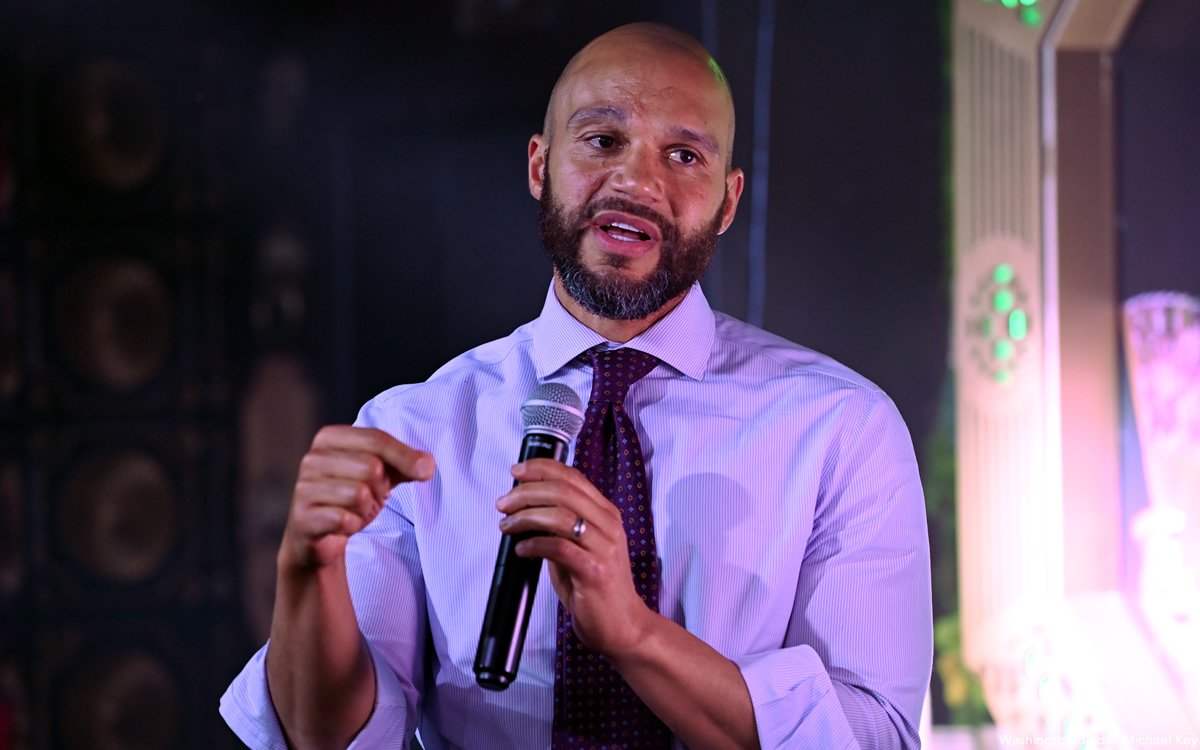 The Capital Stonewall Democrats, the city's largest local LGBTQ political group, announced on May 17 that it has selected D.C. Council member Robert White (D-At-Large) over incumbent Mayor Muriel Bowser and political newcomer Erin Palmer over D.C. Council Chair Phil Mendelson as its endorsed candidates in the city's June 21 Democratic primary.
With Bowser and Mendelson as well as White having longstanding records of support for LGBTQ rights and Palmer expressing strong support for the LGBTQ community, local observers say the LGBTQ Democratic group's 163 voting members appear to have based their endorsement decisions on other pressing issues facing the city rather than only LGBTQ specific issues.
In other races, Capital Stonewall Democrats, formerly known as the Gertrude Stein Democratic Club, which was founded in 1976, voted to endorse incumbent Ward 1 Council member Brianne Nadeau over gay former D.C. police officer Salah Czapary and community activist Sabel Harris who are running against Nadeau.
In the Ward 5 Council race, the group has endorsed gay D.C. Board of Education member Zachary Parker in a five-candidate contest for the seat being vacated by incumbent Council member Kenyan McDuffie, who ran unsuccessfully for the office of D.C. Attorney General.
The group has also endorsed Council member Charles Allen (D-Ward 6), who is running unopposed in the primary; D.C. Congressional Del. Eleanor Holmes Norton (D), who's favored to win re-election against two lesser-known opponents; and D.C. shadow U.S. Rep. Oye Owolewa, who's also favored over a lesser known opponent.
Capital Stonewall Democrats announced it did not make an endorsement in the Ward 3 and At-Large D.C. Council races and in the D.C. Attorney General race because no candidate received a required 60 percent of the vote under the group's longstanding rules for endorsements.
By not endorsing in the At-Large race, the group passed over incumbent At-Large Council member Anita Bonds, a longtime supporter of LGBTQ issues. Bonds is being challenged by Advisory Neighborhood Commissioner Lisa Gore, former D.C. shadow House member Nate Fleming, and former D.C. Council staffer Dexter Williams.
In the hotly contested Ward 3 Council race, nine candidates are competing for the seat being vacated by incumbent Mary Cheh, another longtime LGBTQ rights supporter.
In the race for attorney general, three prominent local attorneys — Brian Schwalb, Ryan Jones, and Bruce Spiva — are competing for the AG position being vacated by incumbent Karl Racine, who chose not to run for re-election.
Capital Stonewall Democrats' endorsements follow a series of five LGBTQ candidate forums the group held virtually in which most of the candidates running in the various races attended.
In the group's mayoral form, Bowser was the only one of the four mayoral contenders that did not attend. Her supporters said she had a conflicting event organized by gay Democratic activist Kurt Vorndran that prevented her from attending the Stonewall event.
Those who attended the mayoral forum were Robert White, D.C. Council member and mayoral candidate Trayon White (D-Ward 8), and former attorney and community activist James Butler.
A detailed vote tally released by Capital Stonewall Democrats shows the vote count for each of the endorsed candidates as well as candidates in the races for which the group did not make an endorsement.
In the mayoral race, Robert White received 120 votes, or 74.5 percent. Bowser came in second place with 37 votes or 23.0 percent; Trayon White received just two votes or 1.2 percent, with Butler receiving just 1 vote at 0.6 percent. One vote was cast for no endorsement.
In the D.C. Council Chair race, Palmer received 89 votes or 60.1 percent, just surpassing the 60 percent threshold needed for an endorsement. Mendelson received 48 votes or 32.4 percent. Eleven votes were cast for no endorsement.
In the Ward 1 Council race, Nadeau received 100 votes or 69.4 percent compared to gay candidate Czapary, who came in second place with 23 votes or 16.0 percent. Candidate Sabel Harris came in third place with 9 votes or 6.3 percent, with a no endorsement selection receiving 12 votes or 8.3 percent.
In the Ward 5 contest, gay school board member Parker received 91 votes or 64.5 percent. Candidate Faith Hubbard came in second with 31 votes or 22.0 percent. The remaining candidates received fewer than 10 votes each, including former At-Large and former Ward 5 Council member Vincent Orange, who received 5 votes or 3.5 percent.
"Since Capital Stonewall Democrats has only 221 members, and only 163 bothered to vote, this is clearly not representative of the LGBTQ+ community in the District," said gay Democratic activist Peter Rosenstein, who is supporting Bowser for mayor.
But longtime D.C. LGBTQ rights advocate A. Billy S. Jones-Hennin is among the local activists who view the Capital Stonewall Democrats' endorsement of lesser-known challengers – most of whom have progressive, left-leaning views – as a reflection of changes in the demographics of the LGBTQ community and the Stonewall group's members.
"At the forefront for voters is who they feel can address core problems like crime, open drug transactions, and increased homeless populations," Jones-Hennin told the Blade. "Just asking voters for support based on their support of the LGBTQ+ community in the past does not cut it," he said. "We are multi-faceted voters looking for new, more progressive and aggressive leadership."
The Capital Stonewall Democrats list of endorsements as well as races with no endorsement can be viewed below:
• Mayor: Robert White, with 74.5% of the round one vote
• DC Attorney General: No Endorsement
• DC Council Chair: Erin Palmer, with 60.1% of the round one vote
• Ward 1 Council: Brianne K. Nadeau, with 69.4% of the round one vote
• Ward 3 Council: No Endorsement
• Ward 5 Council: Zachary Parker, with 64.5% of the round one vote
• Ward 6 Council: Charles Allen, with 83.2% of the round one vote
• At-Large Council: No Endorsement
• Delegate to U.S. House of Representatives: Eleanor Holmes Norton, with 69.7% of the round one vote
• U.S. Representative: Oye Owolewa, with 66.1% of the round one vote
Pannell resigns in protest from Ward 8 Council member's LGBT Commission
Says Trayon White has no out member of his staff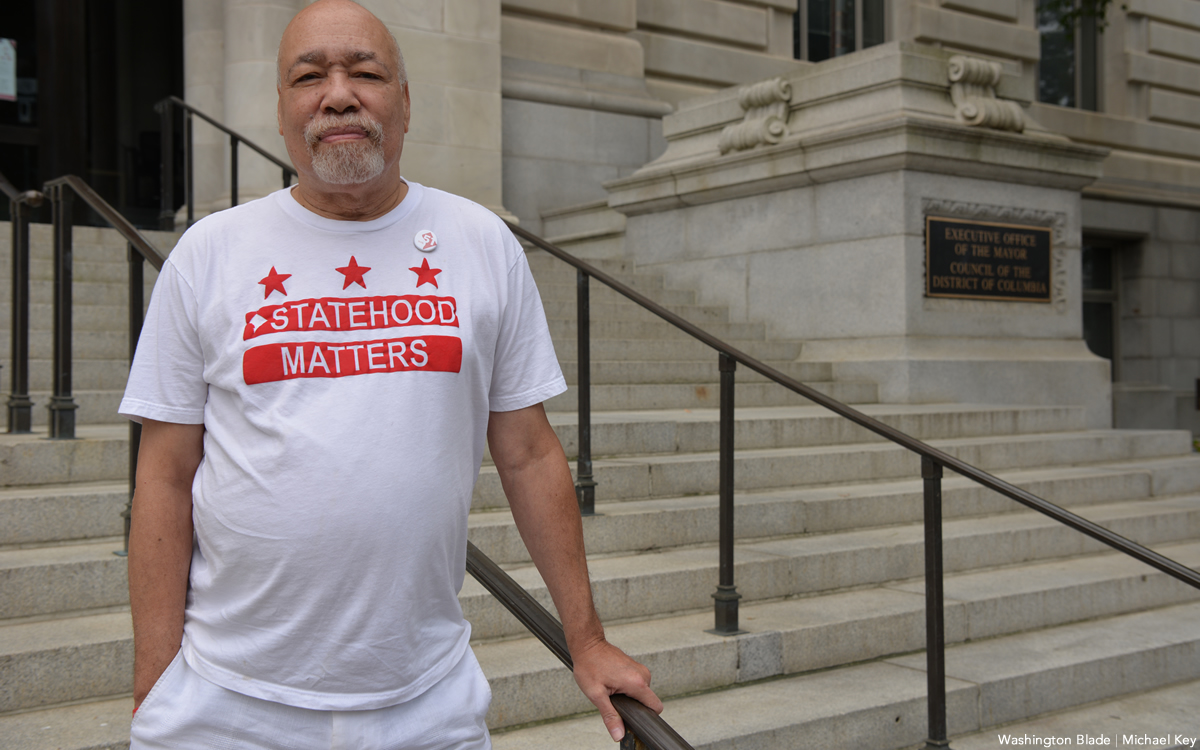 Longtime D.C. LGBTQ rights activist Phil Pannell announced on May 6 that he has resigned as a member of the Ward 8 LGBT Commission created by D.C. Council member Trayon White (D-Ward 8) on grounds that White does not have an LGBTQ person on his Council staff.
White's office has said the Council member created the commission to "focus on the specific needs of this community" in his role as a supporter of LGBTQ equality.
"For me, this is a major issue of inclusion, affirmative action and diversity," Pannell said in an email message announcing his resignation. "I as a Black Gay man cannot in good conscience continue to be a member of my Councilmember's LGBT Commission when he has no one from my community on his staff," Pannell's announcement message continues.
"This is hypocritical at best and structurally homophobic at worst," he said. "I deeply resent and refuse to be used as anyone's homosexual prop for any purposes. Therefore, I resign from the commission effective immediately."
In response to a request by the Washington Blade for comment on Pannell's resignation, Julia Jessie, White's director of communications, said White's Council office "follows all legal HR procedures and hires based on experience and skillset." Jessie added, "As an employer, we do not discriminate or consider a person's race, color, religion, or sex, including sexual orientation or gender identity, when making decisions about employment qualifications."
According to Jessie, "We do, however, harvest a safe and inclusionary work environment where employees who wish to voluntarily disclose their sexual orientation of gender identity feel comfortable doing so."
White's office released a statement from the Ward 8 LGBT Commission's chair, Marvin 'Rahim' Briggs, saying the commission "regretfully accepts" Pannell's resignation.
"The Commission will continue to focus on and address issues affecting Ward 8 LGBTQ," Briggs says in the statement. "We'll continue to organize to promote acceptance of LGBTQ community diversity and to foster respect and appreciation for each member of the community residing in Ward 8."
Two gay candidates disqualified from D.C. primary ballot
Republican, Libertarian activists withdraw from races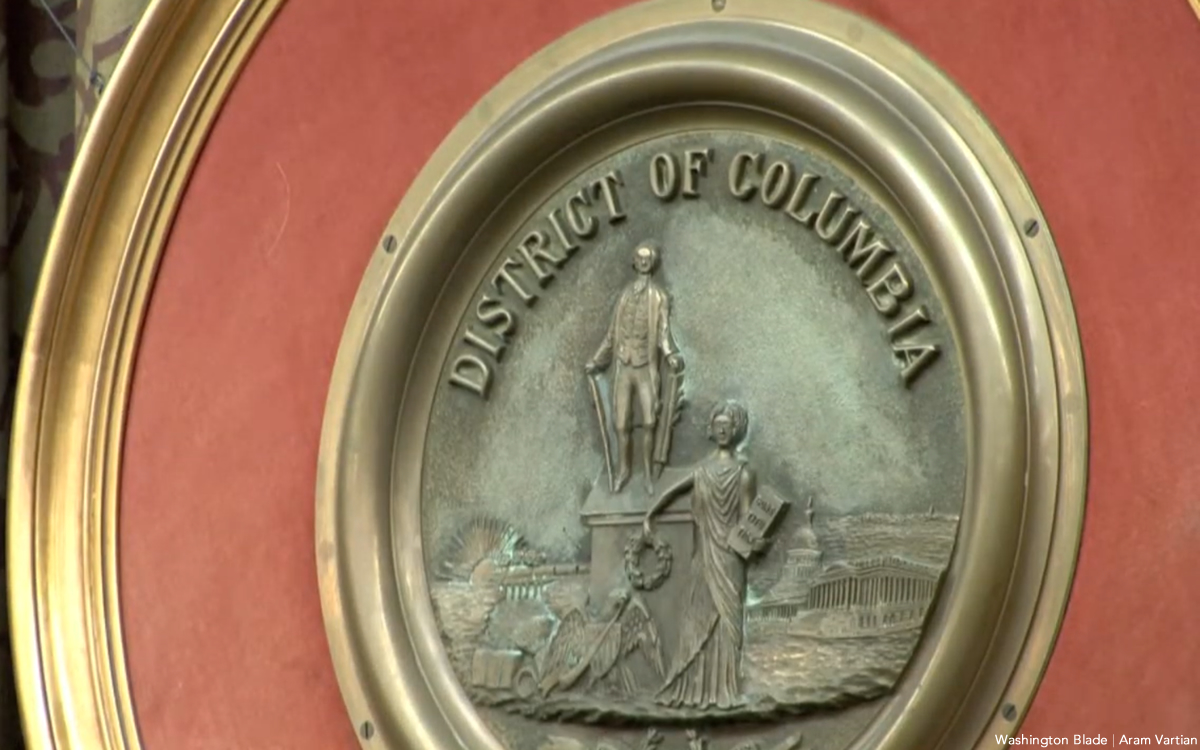 A member of the Capital Stonewall Democrats, D.C.'s largest LGBTQ local political group, mounted a successful challenge before the D.C. Board of Elections earlier this month that resulted in a gay Republican and a gay Libertarian Party activist withdrawing as candidates for public office in the city's June 21 primary.
James Harnett, 24, a member of the Ward 2 Democratic Committee and a member of the staff of U.S. Sen. Sherrod Brown (D-Ohio), filed challenges to the candidacy of gay Libertarian Party activist Bruce Majors, who was running unopposed in the June 21 primary for the office of both D.C. Delegate to the U.S. House and chair of the Libertarian Party of D.C.
The Board of Elections upheld Harnett's challenge claiming that Majors failed to obtain a sufficient number of valid petition signatures needed to be placed on the ballot for both offices, according to elections board spokesperson Nicholas Jacobs. Majors withdrew his candidacy for both offices rather than contest the challenge.
The Board of Elections also upheld a challenge filed by Harnett against the candidacy of gay Republican and D.C. Log Cabin Republicans organization member Andrew Desser, who was running unopposed in the primary for the position of Ward 1 Chairperson of the D.C. Republican Committee.
Desser told the Blade he acknowledged that he fell short in obtaining the needed number of valid petition signatures and would not contest the challenge.
Harnett, who appeared to be acting on his own behalf and not representing the Capital Stonewall Democrats in his challenges to Majors and Desser before the election board, did not respond to the Blade's request for comment.
Board of Elections records showed that he also successfully challenged six other candidates seeking ballot placement in the June 21 primary, one of whom, Lori Furstenberg, was running for mayor as a Republican and another, Corren Brown, was running for mayor as a Statehood-Green Party member.
The others Harnett mounted a successful challenge against were GOP candidates running for the Ward 2, Ward 4, and Ward 7 GOP Chairperson positions; and Leniqua 'Dominique' Jenkins, a Democrat running for the at-large D.C. Council seat, who was the only Democrat challenged by Harnett.
Harnett, a former ANC commissioner in the Foggy Bottom neighborhood, ran unsuccessfully in 2020 for the nonpartisan office of D.C. Board of Education for Ward 2. Among the candidates he ran against was gay education advocate Allister Chang, who won that race.