USAID seeks to bolster LGBTQ rights efforts in Colombia
LGBTQ-inclusive peace agreement took effect in 2016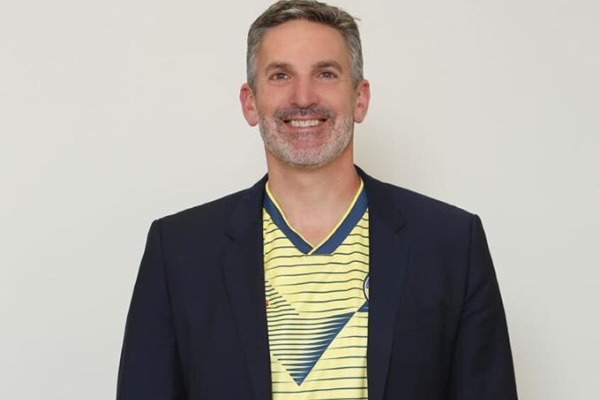 BOGOTÁ, Colombia — The director of the U.S. Agency for International Development's Colombia mission says he and his colleagues remain committed to the implementation of the country's LGBTQ-inclusive peace agreement.
"The entire portfolio that we have and all of our work here in Colombia is really to support a durable and an inclusive piece," Larry Sacks told the Washington Blade on Sept. 21 during an interview in Bogotá, the Colombian capital. "The core principles of what we do are based on equality, inclusion, rights and justice."
The agreement then-President Juan Manuel Santos and the Revolutionary Armed Forces of Colombia Commander Rodrigo "Timochenko" Londoño signed in Cartagena on Sept. 26, 2016, specifically acknowledged LGBTQ Colombians as victims of the decades-long conflict that killed more than 200,000 people. The accord also called for their participation in the country's political process.
Wilson Castañeda, director of Caribe Afirmativo, an LGBTQ group in northern Colombia with which USAID works, is one of three activists who participated in the peace talks that took place in Havana.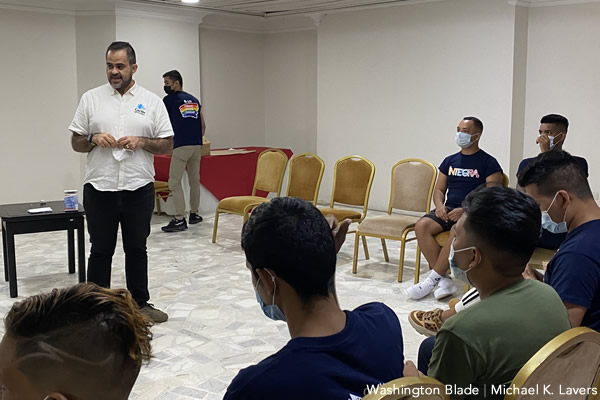 Colombian voters on Oct. 2, 2016, narrowly rejected the agreement in a referendum that took place against the backdrop of anti-LGBTQ rhetoric from religious and conservative groups. Santos and Londoño less than two months later signed a second peace agreement — which also contains LGBTQ-specific references — in Bogotá.
"That was a very progressive move," said Sacks in describing the inclusion of LGBTQ Colombians in the agreement.
President Iván Duque, who campaigned against the agreement ahead of his 2018 election, spoke to the U.N. General Assembly hours before the Blade interviewed Sacks. Duque described it as "fragile."
"Peace accords worldwide tend to be made or broken within the first five years of implementation, and Colombia is right at that point," Sacks told the Blade when asked about Duque's comments. "There are certain people deep in the territories and others and high governments who are really helping and making sure that it's successful, and that there's continuity, and that the gains that have been made are irreversible. And there's others who may question, but at the end of the day, I think that from our analysis, it's on pace with what we've seen of the implementation of other peace accords worldwide."
"At least from USAID's perspective, we're doing everything that we can to help support the implementation on multiple chapters of the peace accord," he added.
USAID specifically supports the implementation of rural development programs through the agreement, efforts to reintegrate former child soldiers into Colombian society and expand the government's presence into "violence-affected areas." USAID also works with the Truth Commission, the Unit for the Search of Disappeared Persons, the Special Jurisdiction for Peace, the government's Victims' Unit and NGOs that support the conflict's victims.
USAID's fiscal year 2021 budget for Colombia is $212.9 million. Upwards of $50 million of this money is earmarked for human rights work that specifically focuses on indigenous Colombians and Colombians of African descent, security, access to the country's justice system and victims of the conflict.
More than 200 LGBTQ Colombians reported murdered in 2020
Sacks said USAID's LGBTQ-specific work in Colombia focuses on four specific areas.
"The first is really to kind of shine a light on, raise the visibility, raise the profile on issues of discrimination and violence and stigma and all the issues that this population is facing," he said.
Colombia Diversa, a Colombian LGBTQ rights group, on Sept. 15 issued a report that notes 226 LGBTQ people were reported murdered in the country in 2020. This figure is more than twice the number of LGBTQ Colombians — 107 — who Colombia Diversa said were known to have been killed in 2019.
Sacks acknowledged anti-LGBTQ violence is increasing in Colombia.
He said the mission works with Ombudsman's Office of Colombia, an independent agency within the Colombian government that oversees human rights protections in the country, to provide additional support to LGBTQ rights groups. Sacks noted USAID also works with the Interior Ministry to "support the development of their LGBTQI-plus policies" and the country's attorney general "to hold those accountable."
Sacks told the Blade that USAID also works to provide "technical and legal support to help" LGBTQ Colombians and other vulnerable groups "access public goods, services and justice."
USAID-supported groups assist Venezuelan migrants
The Colombian government earlier this year said there were more than 1.7 million Venezuelan migrants in the country, although activists and HIV/AIDS service providers with whom the Blade has spoken say this figure is likely much higher. Duque in February announced it would legally recognize Venezuelan migrants who are registered with the country's government.
The Coordination Platform for Migrants and Refugees from Venezuela notes upwards of 5.4 million Venezuelans have left the country as of November 2020 as its economic and political crisis grows worse. The majority of them have sought refuge in Colombia, Brazil, Ecuador, Peru and Chile.
Venezuelan migrants are among the upwards of 570,000 people who have benefitted from a USAID program that provides direct cash assistance — between $49-$95 per family — for six months in order to purchase food and other basic needs. USAID also supports Americares, a Connecticut-based NGO that operates several clinics along the Colombia-Venezuelan border and in northern Colombia that specifically serve Venezuelan migrants with the support of the Colombian Health Ministry.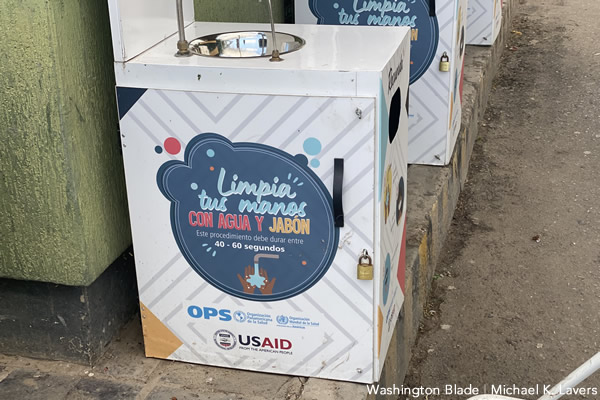 Sacks noted USAID has an "agreement with" Aid for AIDS International, a New York-based group that serves Venezuelans with HIV/AIDS. Aid for AIDS International has used this support to conduct a survey of 300 sex workers in Maicao, Medellín and Cali.
USAID is also working with the Health Ministry to provide health care to Venezuelan migrants with HIV/AIDS, among others, who are now legally recognized in Colombia.
Caribe Afirmativo has opened three "Casas Afirmativos" in Maicao, Barranquilla and Medellín that provide access to health care and other services to Venezuelan migrants who are LGBTQ and/or living with HIV/AIDS. Medellín officials have also invited Caribe Afirmativo staffers to speak with LGBTQ migrants in the city's public schools.
"Colombia has shown a generosity that you don't see in many other countries with regard to migrant populations," Sacks told the Blade. "They really open their borders, their homes, their hearts, to migrants, including the LGBTI community."
Biden global LGBTQ rights memo is 'tremendous benefit'
The White House earlier this year released a memorandum that committed the U.S. to promoting LGBTQ rights abroad. State Department spokesperson Ned Price in May told the Blade the protection of LGBTQ migrants and asylum seekers is one of the Biden administration's priorities on this front.
Sacks said the memo "gives us the political framework with which to operate and obviously sends a message from the highest levels of the U.S. government about LGBTQI-plus rights and equality and inclusion."
"So for us, it's a tremendous benefit," he told the Blade.
USAID Administrator Samantha Power — a vocal champion of LGBTQ rights — has yet to visit Colombia, but Sacks said she has spoken with Vice President Marta Lucía Ramírez.
"We hope to get her down," said Sacks.
Editor's note: Michael K. Lavers was on assignment in Colombia from Sept. 11-22.
Chilean House approves marriage equality bill
Vote took place two days after presidential election's first round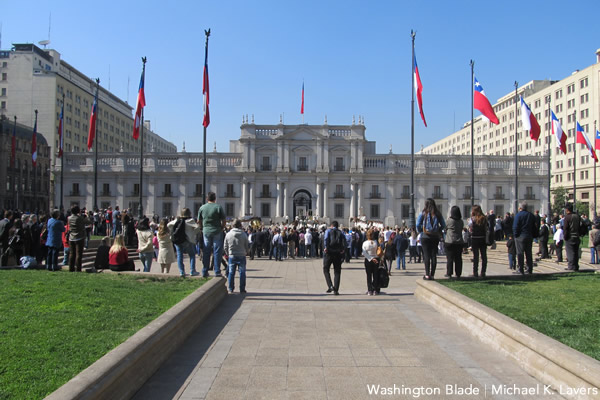 VALPARAÍSO, Chile — The Chilean House of Representatives on Tuesday approved a bill that would extend marriage rights to same-sex couples.
The measure passed by a 101-30 margin roughly three months after the Chilean Senate approved by a 28-14 vote margin.
Two lawmakers abstained. The bill now goes back to the Senate for a final vote.
"After three decades of struggle, there is only one Senate vote left to achieve the so far elusive legal equality that all couples and families deserve," said Javiera Zúñiga, a spokesperson for the Movement for Homosexual Integration and Liberation, a Chilean LGBTQ rights group, in a press release. "We celebrate this new step, now with the total conviction that we are at the final leg."
Tuesday's vote took place two days after the first round of Chile's presidential election.
José Antonio Kast, a far-right former congressman, will face off against Congressman Gabriel Boric, who previously led a student protest movement, in a Dec. 19 runoff. Outgoing President Sebastián Piñera in June announced he supports the marriage equality bill.
Esteban Guzmán contributed to this story.
Israeli deputy foreign minister denies country engages in 'pinkwashing'
Idan Roll, 37, lives in Tel Aviv with husband, two children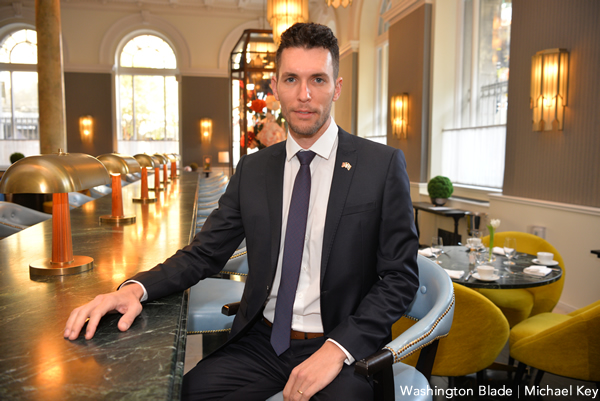 Israel's openly gay deputy foreign minister this week dismissed the idea that his country's government promotes LGBTQ rights in order to divert attention away from its policies towards the Palestinians.
"I would never, ever, put myself in a position that I would be the face of 'pinkwashing' as part of my role because I'm confident that there's no such thing in Israel," Idan Roll told the Washington Blade on Wednesday during an interview at the Riggs Hotel in downtown D.C.
Roll, 37, spoke with the Blade at the end of a 4-day trip to D.C., which took place less than six months after eight political parties formed a coalition government that ousted long-time Prime Minister Benjamin Netanyahu.
The Knesset earlier this month passed Israel's first national budget in three years. Roll, who is the youngest person in the Israeli government, noted to the Blade it earmarks $30 million (NIS 90 million) to LGBTQ organizations across the country.  
Health Minister Nitzan Horowitz in August announced Israel had lifted restrictions on blood donations from men who have sex with men. The Israeli Supreme Court in July ruled same-sex couples and single men must be allowed to have a child via surrogate.
A group of teenagers on Nov. 12 attacked a group of LGBTQ young people near Jerusalem's main bus station as they were traveling to a transgender rights conference in Tel Aviv. Neil Patrick Harris is among the actors who expressed their support for the Tel Aviv International LGBT Film Festival amid calls from BDS (boycott, economic divestment and sanctions) Movement supporters to boycott it over Israel's policies towards the Palestinians.
Roll acknowledged Israel does not extend civil marriage to same-sex couples, but he also pointed out to the Blade the country does not "have civil marriage for straight people either" because marriage in the Jewish state is a religious institution. Roll noted he is among the openly LGBTQ people in the Israeli government and they "live a full, fulfilling life."
"Are we perfect?" he asked rhetorically. "No. Are we one of the best places for gay people to live in the world? Definitely so, and I feel safe. And I feel welcomed. And I feel empowered and I feel like the best of it is ahead."
Roll told the Blade the idea of "pinkwashing" comes from the fact "that not everyone is as informed as others about life in Israel."
"That's something that's a task this new government and our ministry has, to better convey the Israeli story, and it's a wonderful and complex and diverse story," he said.
Roll also stressed he "would love for people to stop pinning one thing against the other."
"Us doing tremendous work for LGBTQ equality does not get eliminated or erased or cancelled just because we have to also manage a very intricate conflict, which is the Israeli-Palestinian conflict," he said. "Promoting progressive values is still something that is worth mentioning, and we are working towards bettering the lives of the Palestinians on a humanitarian and economic level. Things are not as black and white as they are portrayed."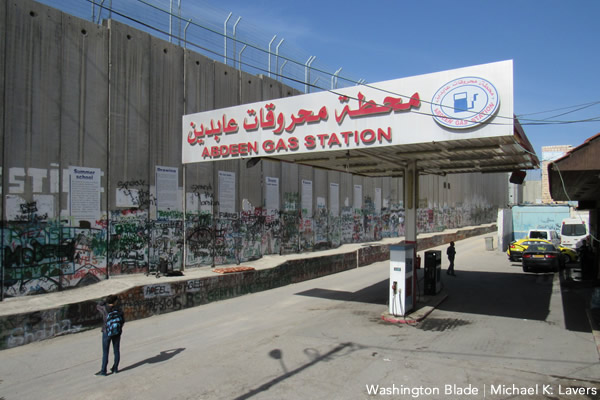 Roll lives in Tel Aviv with his husband, Harel Skaat, an Israeli pop star who he married in Utah in March, and their two children who they had via surrogates in the U.S.
The lawyer and former model who is a member of the centrist Yesh Atid party founded Pride Front, a group that encourages LGBTQ Israelis to become involved with the country's political process. Roll told the Blade he decided to run for office after he and his husband started their family.
"It was quite a struggle," he said, noting their second child was born via surrogate in Oklahoma. "And then it struck me that I have to practice what I preach. I have to not only just encourage others to take political action and move forward, but also I had to take the lead."
Roll in 2019 won a seat in the Israeli Knesset. Lapid appointed Roll as deputy foreign minister after the new government took office.
"I'm a very young member of this government … and I am an openly gay member of this government," said Roll. "I am very grateful of the life that I have been able to create for myself in Israel."
"That's a story that I feel like I can portray very authentically and I think that's a story that needs to be told outside of Israel," he added. "I'm also very proud to be part of the new face of a new government that is doing things differently and in a way I think now allows people of all different ethnicities and colors and agendas to find someone they can relate to in this government."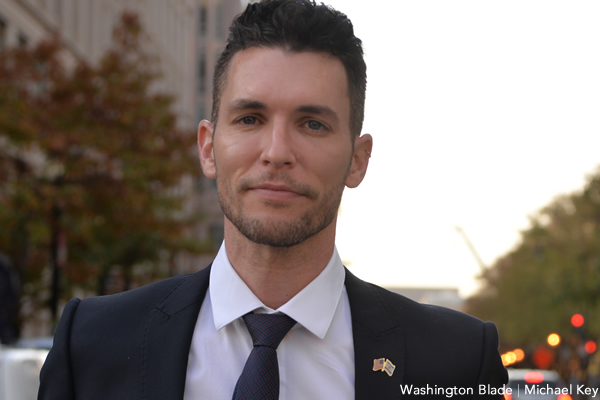 U.S. Sens. Tammy Baldwin (D-Wis.), Jon Ossoff (D-Ga.), Chris Van Hollen (D-Md.), Bill Hagerty (R-Tenn.), U.S. Rep. Ritchie Torres (D-N.Y.) and other members of the Congressional LGBTQ+ Equality Caucus are among those who met with Roll when he was in D.C. Roll also sat down with Deputy National Security Advisor Jon Finer, Deputy Secretary of State Wendy Sherman, American Israel Public Affairs Committee members and Jewish students at George Washington University.
I was privileged to meet members of the @LGBTEqCaucus to discuss how we can promote #LGBTQ rights & how much we have in common in the pursuit of #Equality. I met a group of friends who care deeply about 🇮🇱🇺🇸 relations & I look forward to working w/ them to strengthen our alliance pic.twitter.com/9ZTJAAT65G

— Idan roll – עידן רול (@idanroll) November 17, 2021
It was a great pleasure to meet with @RepRitchie today. He is a true friend of Israel and a mensch. The personal experiences he shared provided important insights to help strengthen the U.S. — Israel alliance and I am grateful for his unwavering support for Israel 🇺🇸🇮🇱 pic.twitter.com/EKJRvRhSs2

— Idan roll – עידן רול (@idanroll) November 17, 2021
I enjoyed meeting again with progressive leader @SenatorBaldwin during my visit to Washington. We continued our conversation from just last week in Jerusalem, discussing ways to further strengthen the US-Israel relationship on the basis of our countries' shared values. pic.twitter.com/K1KkAxZlPz

— Idan roll – עידן רול (@idanroll) November 18, 2021
"We have a new government, and the new government is really different in many great ways," Roll told the Blade. "It's the most diverse government in our history and in a way it is the most diverse reflection of a very diverse society."
He said one of the reasons he traveled to D.C. was "to reach out and to open a dialogue." Roll also stressed Israel "has always been a bipartisan issue.
"It's crucial to keep it that way and we intend to do that," he said. "The U.S. is the most cherished and important ally we have and you need to cultivate relationships."
Thailand Constitutional Court rules against marriage equality
Advocacy group challenged Section 1448 of country's Civil and Commercial Code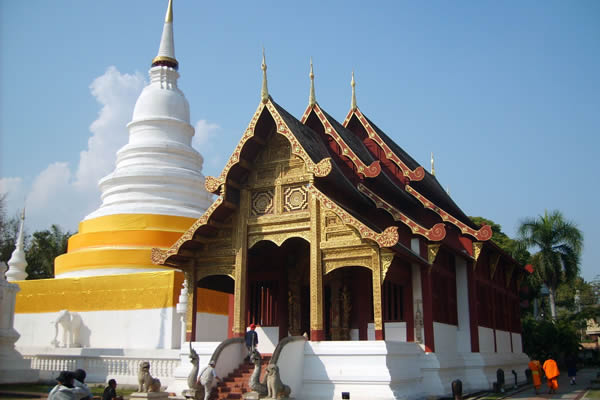 Thailand's Constitutional Court on Wednesday ruled a law that defines marriage as between a man and a woman in the country is constitutional.
The Foundation for Sexual Orientation and Gender Identity Rights and Justice, a Thai advocacy group, filed a lawsuit that challenged Section 1448 of the country's Civil and Commercial Code, which does not extend marriage rights to same-sex couples. Bloomberg said the Constitutional Court in its ruling said Thai lawmakers "should draft laws that guarantee the rights for gender diverse people."
Sunai Phasuk, a senior researcher for Human Rights Watch who focuses on Thailand, in a tweet said the decision makes the "government's pledges to promote gender equality meaningless."
Breaking! #Thai Constitutional Court upholds marriage law, which states that marriage can only be contracted between man and woman, making government's pledges to promote gender equality meaningless. @HRW #WhatsHappeningInThailand pic.twitter.com/cSmQOKE7Pd

— Sunai (@sunaibkk) November 17, 2021
Taiwan in 2019 became the first country in Asia to extend marriage rights to same-sex couples.
The Thai Cabinet in 2018 approved a bill that would allow same-sex couples to enter into civil unions. The government last year backed a second version of the measure.
Tunyawaj Kamolwongwat, a Thai MP who is a member of the Move Forward Party, has introduced a marriage equality bill.