Meet the new LGBTQ liaison for the Democratic National Committee
Sam Alleman joins DNC after work in abortion rights movement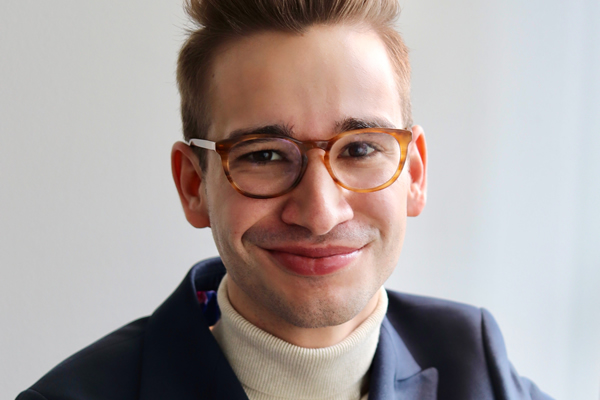 The new LGBTQ liaison for the Democratic National Committee comes from a background not in LGBTQ advocacy, but in the abortion rights movement, and sees the two as working "hand in hand" for a common cause.
Sam Alleman, who started Monday as LGBTQ coalitions director for the DNC, said in an interview with the Washington Blade that his previous job as political outreach manager for five years at the Planned Parenthood Action Fund will inform his LGBTQ work going forward.
"The reproductive rights movement goes hand in hand with what we've been fighting for in the LGBTQ equality and equity movement as well," Alleman said. "There is no being LGBTQ without your ability to have bodily autonomy and to make those same choices."
The relationship between the LGBTQ movement and abortion rights may be more pronounced in the coming months: A national battle is taking place over a Texas law banning abortion in the state for any woman pregnant for more than six weeks as the U.S. Supreme Court will consider litigation with the potential to overturn Roe v. Wade. LGBTQ legal advocates, faced with a term at the Supreme Court with no major cases specific to LGBTQ rights, are already turning their focus to the abortion cases.
"I think that the gender equity lens here, as we move toward building out that permanent infrastructure that really brings all of those things together through more of a social justice lens, will be absolutely critical to being successful, particularly speaking to our younger demographics, to making sure trans and queer people feel included in a way that's actually equitable and just," Alleman said.
Alleman identified two key priorities for him in his new role at the DNC — turning out LGBTQ voters for Democratic candidates and building an internal infrastructure for the LGBTQ community — and said his previous work at Planned Parenthood Action Fund working with candidates and coalition groups will help him reach that goal.
"I really plan to use a lot of the lessons that I learned there in building out to making an inclusive campaign, both in programs and in voter contact infrastructure, within the party itself as well," Alleman said.
Alleman, reiterating he was still in the first days of his job, said the process for building out the LGBTQ community infrastructure at the DNC is still in its initial phases. Alleman said his vision would be not only turning out LGBTQ voters, but finding a way that "allows them to plug in as volunteers and leaders within the party to do the voter contact to hold the events on the ground, to work with our state party partners, and making sure that their voices are represented."
Key to building out that infrastructure, Alleman said, would be making sure all voices within the LGBTQ community are heard. Alleman made a special point to say queer and transgender people "who have been our partners for so long and deserve a seat at the table" will be an essential part of the infrastructure.
The voice of LGBTQ people, Alleman said, will be increasingly important in elections as the numbers of voters who identify as LGBTQ increase. Pointing to 2020 exit polls showing 7 percent of the electorate identified as LGBTQ, Alleman said more LGBTQ people than ever turned out in the presidential election and overwhelmingly backed Biden by 61 percent. (Republicans were also able to claim a small victory, having doubled their share of LGBTQ voters from 14 percent to 28 percent who voted for Donald Trump after the previous election.)
"We know that that demographic is only growing," Alleman said. "Within under 18 year olds, approximately 16 percent of folks identify as LGBTQ in this country. So really my priorities are building out an infrastructure here at the DNC, that will turn out LGBTQ voters for Democratic candidates as they become a larger and larger subsection of our voting population."
Alleman joins the Democratic National Committee days before a Virginia gubernatorial election observers see as a national bellwether for upcoming congressional midterm elections. Terry McAuliffe, a Democratic former governor who said in a interview with the Blade his opponent is the "most homophobic, anti-choice" candidate in Virginia history, is running against Glenn Youngkin, who said recently he continues to oppose same-sex marriage but "will support" the law.
Polls show an exceedingly close race in a state President Biden won handily in the presidential election. An Emerson College/Nexstar Media poll found the race is a dead heat and McAuliffe and Youngkin are tied with 48-48 percent each. The election is Tuesday.
Asked what he sees as his role in the closing days of the Virginia election, Alleman reiterated he was still on Day One of his role at the DNC, but believes Democrats are "doing everything possible to turn out different constituency groups for Terry McAuliffe and Democrats, up and down the ballot in Virginia."
"My role as I start to step in here is really working to make sure that our national partner organizations are doing everything possible to turn out that book as we head into GOTV, and be a partner to them as they drive their supporters out to make sure that we're not leaving anything on the table come next Tuesday when we elect Terry McAuliffe governor of Virginia again," Alleman said.
Lucas Acosta, a spokesperson for the DNC who joined in on the interview with Alleman, said the DNC is working with groups such as the Human Rights Campaign (his former employer) to highlight the records of both Virginia candidates.
"I think what happened last week — Youngkin's comments on same-sex marriage — are concerning," Acosta said. "That's definitely something that we are going to continue to highlight in the closing days of the campaign. That obviously is just a further example why Youngkin is not the moderate he purports to be, but rather a Trump acolyte, who is going to turn back time on rights for a litany of Virginians, including LGBTQ folks."
Democrats have enjoyed an advantage as a result of the sea change in support in favor of LGBTQ rights. But things may be beginning to shift as LGBTQ issues change and move away from same-sex marriage to other battlegrounds, such as transgender people participating in school sports consistent with their gender identity.
Washington Post columnist James Hohmann reported this week on new data from the National Republican Senatorial Committee finding gender and race issues play out in favor of Republicans among suburban voters, if they're on terms like critical race theory or concepts like "genderism." According to the data, 65 percent said "allowing biological males to compete against women in high school and college sports is hugely unfair and will erase many of the gains women have made in athletics over the last 50 years."
Just this week, Texas Gov. Greg Abbott signed into law House Bill 25, which effectively bars transgender girls from participating in school sports consistent with their gender identity, making the Lone Star State the latest state to enact such a measure in defiance of federal laws against discrimination based on sex.
Alleman, asked whether the DNC would change the way it approaches these issues, said he wasn't aware of the data and questioned whether the conclusion of the data "really makes much sense."
"I think we'll at least continue to push forward the message of what we've done as Democrats which is fight for these individuals to be treated just the same as everyone else," Alleman said.
Rachel Levine: Efforts to deny health care to trans youth are 'politics'
Former Pa. health secretary opened Victory Fund conference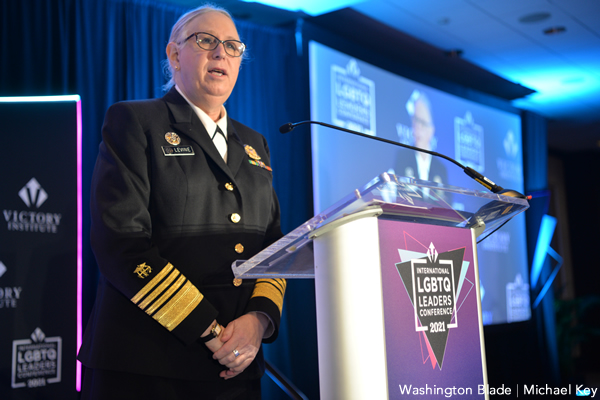 Assistant Health Secretary Rachel Levine on Thursday criticized efforts to prevent transgender youth from accessing health care.
"Unfortunately, some have fought to prevent transgender youth from accessing the health care that they need," she said in a speech she delivered at the opening of the Victory Fund's 2021 International LGBTQ Leaders Conference that took place in-person at the JW Marriott in downtown D.C. "This is politics and this politics has no place in health care and public health and they defy the established standards of care written by medical experts."
Levine was Pennsylvania's Health Secretary until President Biden nominated her to become assistant secretary of health.
She became the first openly trans person confirmed by the U.S. Senate in March. Levine in October became a four-star admiral in the U.S. Public Health Service.
The conference will take place in-person and virtually through Sunday.
VIDEO: Biden addresses advocates on World AIDS Day
President says end to transmission 'within striking distance'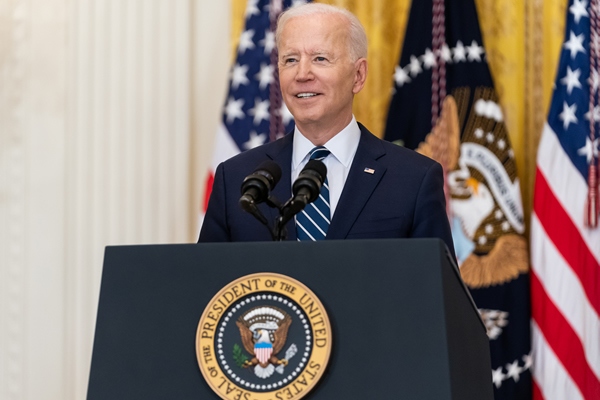 President Biden, in remarks delivered Wednesday at the White House in recognition of World AIDS Day, said to advocates in the fight against HIV/AIDS the end to HIV transmission was near.
"It's because of you and it's not hyperbole to suggest that we are within striking distance of eliminating HIV transmission, within striking distance," Biden told attendees in the East Room.
Joining Biden in the East Room were Secretary of Health & Human Services Xavier Becerra and Gabriel Maldonado, an HIV/AIDS Advocate and founder of TruEvolution, a Riverside, Calif.-based LGBTQ group.
Biden also during his remarks touted having made the appointment of Harold Phillips to lead the White House Office of National AIDS Policy — a position that had gone vacant throughout the entirety of the Trump administration.
Notably, Biden talked about the Ending the HIV Epidemic plan, an initiate health officials started in the Trump administration, by saying was to beat HIV domestically by 2030. That was initial target date when the initiative, but Biden had campaigned on defeating by HIV by 2025 to the skepticism off observers.
Watch Biden full remarks below:
Matthew Shepard honored at National Cathedral
Daylong services held to mark his 45th birthday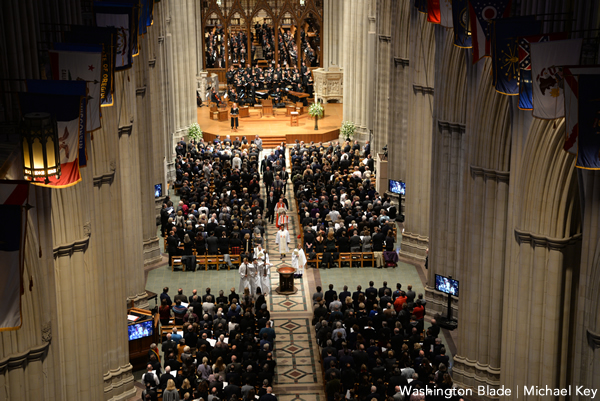 The parents of gay University of Wyoming student Matthew Shepard, who was murdered in a 1998 hate crime that drew international attention to anti-LGBTQ violence, were among those attending a day of religious services commemorating Shepard's 45th birthday on Wednesday at the Washington National Cathedral.
The services, which the Cathedral organized in partnership with the Matthew Shepard Foundation, included tributes to Shepard at the Cathedral's St. Joseph's Chapel, where his remains were interred in a ceremony in 2018.
"Matthew Shepard's death is an enduring tragedy affecting all people and should serve as an ongoing call to the nation to reject anti-LGBTQ bigotry and instead embrace each of our neighbors for who they are," the Very Rev. Randolph Marshall Hollerith, Dean of Washington National Cathedral, said at the time of Shepard's interment.
"In the years since Matthew's death, the Shepard family has shown extraordinary courage and grace in keeping his spirit and memory alive, and the Cathedral is honored and humbled to serve as his final resting place," Hollerith said.
The first of the Cathedral's Dec. 1 services for Shepard began at 7 a.m. with prayers, scripture readings, and music led by the Cathedral's Rev. Canon Rosemarie Logan Duncan. The service was live streamed on YouTube.
An online, all-day service was also held from 8 a.m. to 5 p.m. that Cathedral officials said was intended to "connect people around the world to honor Shepard and the LGBTQ community and pray for a more just world."
The Shepard services concluded with a 5:30 p.m. in-person remembrance of Shepard in the Cathedral's Nave, its main worship space. Among those attending were Shepard's parents, Dennis and Judy Shepard, who have said they created the Matthew Shepard Foundation to continue their son's support for equality for all.
A statement released by the Cathedral says a bronze plaque honoring Matthew Shepard was installed in St. Joseph's Chapel to mark his final resting place at the time Shepard was interred there in 2018.
Following the Cathedral's Dec. 1 services for Shepard, the Adams Morgan gay bar Pitchers hosted a reception for Dennis and Judy Shepard, according to Pitchers' owner David Perruzza.
One of the two men charged with Shepard's murder, Russell Henderson, pleaded guilty to the charge after prosecutors agreed not to seek the death penalty for him. The second of the two men charged, Aaron McKinney, was convicted of the murder following a lengthy jury trial.
Prosecutors said McKinney repeatedly and fatally struck Shepard in the head with the barrel of a handgun after he and Henderson tied Shepard to a wooden fence in a remote field outside Laramie, Wy., on Oct. 6, 1998. Police and prosecutors presented evidence at McKinney's trial that McKinney and Henderson met Shepard at a bar in Laramie on that day and lured him into their car, where they drove him to the field where authorities said McKinney fatally assaulted him.
Shepard died six days later at a hospital in Ft. Collins, Colo., where he was taken after being found unconscious while still tied to the fence.
In a dramatic courtroom scene following the jury's guilty verdict for McKinney, Dennis Shepard urged the judge to spare McKinney's life by not handing down a death sentence. He said that out of compassion and in honor of his son's life, McKinney should be allowed to live. The judge sentenced McKinney to two consecutive terms of life in prison without the possibility of parole, the same sentence given to Henderson.