'Lesbian Bar Project' film shown at Library of Congress
Sen. Baldwin, Rep. Davids join LGBTQ activists for viewing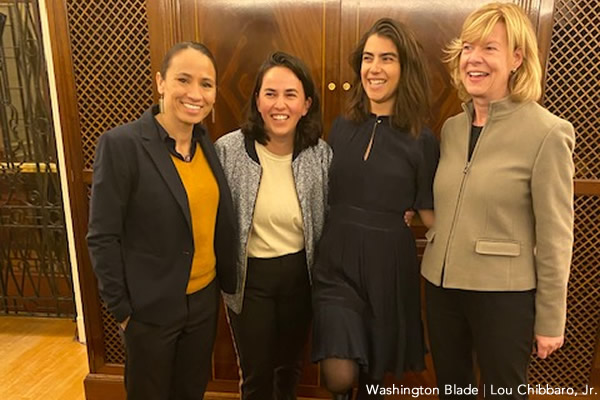 U.S. Sen. Tammy Baldwin (D-Wisc.) and U.S. Rep. Sharice Davids (D-Kan.), both of whom are out lesbians, joined about 100 LGBTQ activists and supporters at the Library of Congress's main auditorium on Thursday night, Oct. 28, for the premiere showing in the nation's capital of the film "Lesbian Bar Project."
The film is named after a project founded last year by New York-based lesbian filmmakers Erica Rose and Elina Street who are listed as the film's directors. The two women told the Washington Blade earlier this year that they started the Lesbian Bar Project to help the nation's 21 remaining lesbian bars that were struggling to survive during the COVID pandemic.
The project has raised more than $250,000 since its founding, which it has provided in the form of grants to lesbian bars in financial need during the pandemic. Among the bars receiving support from the project was D.C.'s only remaining lesbian bar, A League of Her Own, in the city's Adams Morgan neighborhood.
"In the late 1980s, there were an estimated 200 lesbian bars across the country," a statement posted on the Lesbian Bar Project website says. "These bars are disappearing at a staggering rate, and we cannot afford to lose more of these vital establishments to the fallout of COVID-19," the statement says.
Street and Rose said they arranged for the production of the 20-minute documentary film, Lesbian Bar Project, with financial support from the Jagermeister liquor company's Save the Night campaign, which the company launched to provide financial support for nightlife businesses such as bars and restaurants during the pandemic. A Jagermeister spokesperson said the company has also provided financial support for the Lesbian Bar Project's website in an effort to promote the project's awareness of the role lesbian bars play in the greater LGBTQ community.
In remarks before the film was shown at the Library of Congress's Coolidge Auditorium, Baldwin and Davids praised the work of the Lesbian Bar Project, calling the nation's 21 remaining lesbian bars across the country safe spaces for lesbians to meet and socialize.
"While so much has changed for the LGBTQ community, Sharice Davids and I stand here before you as elected members of the House and Senate. We're proof of that," Baldwin told the audience. "But we also know that for too many people in too many places we still have a long, long way to go," she said. "We still need places to feel safe that are supportive and a part of the community, places where we can be unequivocally and unreservedly ourselves."
Baldwin became the nation's first out lesbian member of the U.S. House of Representatives following her election to the House in 1998. She became the nation's first out LGBTQ U.S. senator following her election to the Senate in 2012.
Davids became the nation's first out LGBTQ Native American member of Congress in 2018, when she won election to her House seat.
Following the showing of the film, Rose, Street and owners or representatives of four of the lesbian bars that were portrayed in the film, including Ally Spaulding, general manager of D.C.'s A League of Her Own, appeared for a panel discussion on the stage in front of the screen where the film was shown.
Also appearing on the panel were D.C. lesbian activists Jo McDaniel and Rachel Pike, who appear in the film, and who talked about their plans to open an LGBTQ welcoming bar in D.C. called As You Are.
Other speakers included Lisa Meninchino, owner of the New York City lesbian bar Cubbyhole; Lisa Cannistraci, owner of the lesbian bar Henrietta Hudson, also located in New York City; and Rachel and Sheila Smallman, co-owners of the Mobile, Ala. lesbian bar Herz.
The event was sponsored by the LGBT Congressional Staff Association; Library of Congress GLOBE, which represents LGBTQ staff members at the Library of Congress; and the U.S. House Equality Caucus, which is co-chaired by the nine out LGBTQ House members.
Laura Munoz Lopez, an official with the House Democratic Caucus and the LGBT Congressional Staff Association, was the lead organizer of the event and served as moderator for the panel discussion.
Prior to the showing of the film, officials at the Library of Congress set up an exhibit for attendees to view that included some the library's collections of lesbian-related artifacts, including lesbian publications going back to the early 1960s.
Anti-transgender heckler interrupts Danica Roem during debate
Trans lawmaker is running for the Va. state Senate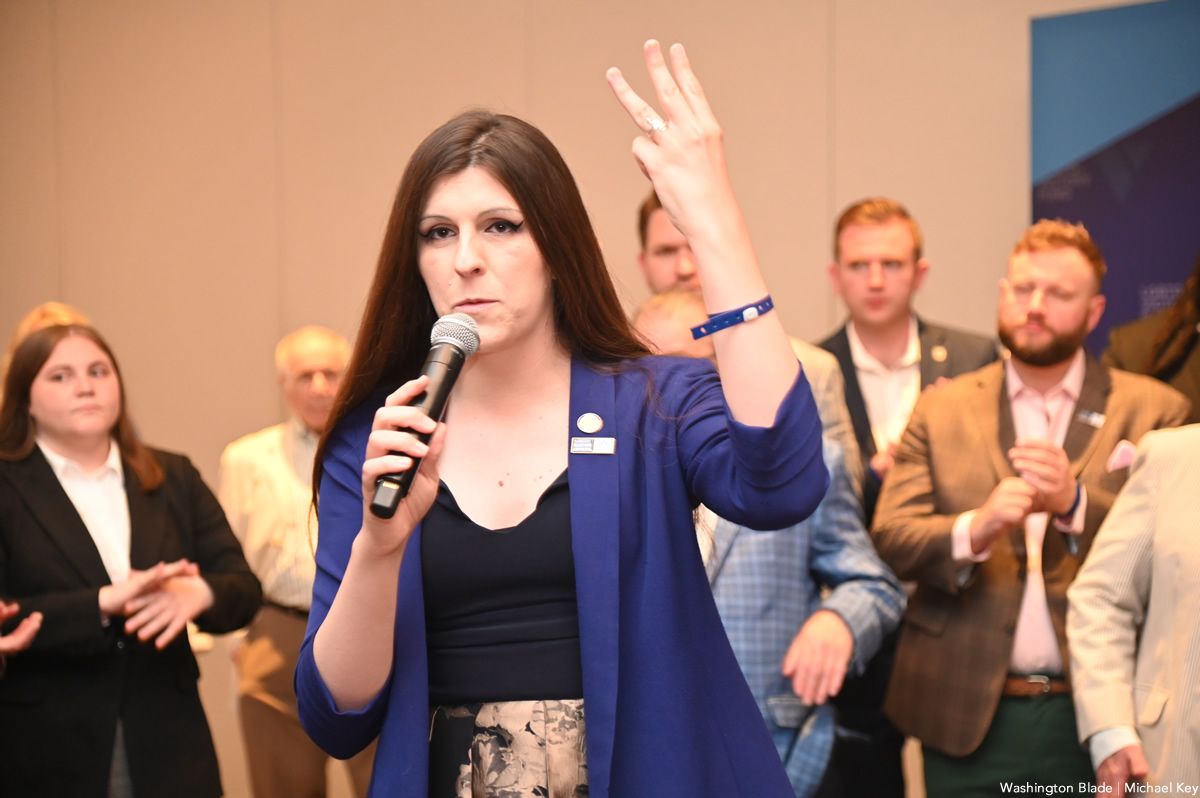 An anti-transgender heckler interrupted Virginia state Del. Danica Roem (D-Manassas) on Sept. 28 during a debate with her Republican opponent for the state Senate.
The woman heckled Roem during the Prince William Committee of 100-organized debate between her and Bill Woolf that took place at Metz Middle School in Manassas. 
"Thank you for reminding me why I won three elections in this district in Prince William County, which is the most diverse county in all of Virginia and the 10th most nationally where we welcome everyone because of who they are, not despite it, no matter what you look like, where you come from how you worship, if you do, or who you love because you should be able to thrive here because of who you are, never despite it," said Roem.
Audience members applauded Roem after she responded to the heckler who was eventually removed from the auditorium.
Roem in 2017 defeated then-state Del. Bob Marshall, a vocal LGBTQ rights opponent who co-wrote Virginia's constitutional amendment defining marriage as between a man and a woman that voters approved 11 years earlier. Roem subsequently became the first openly transgender person seated in a state legislature in the U.S.
Roem in 2019 became the first out trans state legislator to win re-election. Roem in May 2022 announced she is running to represent the newly redistricted Senate District 30, which includes western Prince William County and the cities of Manassas and Manassas Park.
Woolf during the Sept. 28 debate did not say whether he would support the repeal of the marriage amendment. Woolf also reiterated his support of a bill that would require school personnel to out trans students to their parents.
Virginia Beach high school students stage walkouts to support transgender rights
City's school board approved policy to out trans students to parents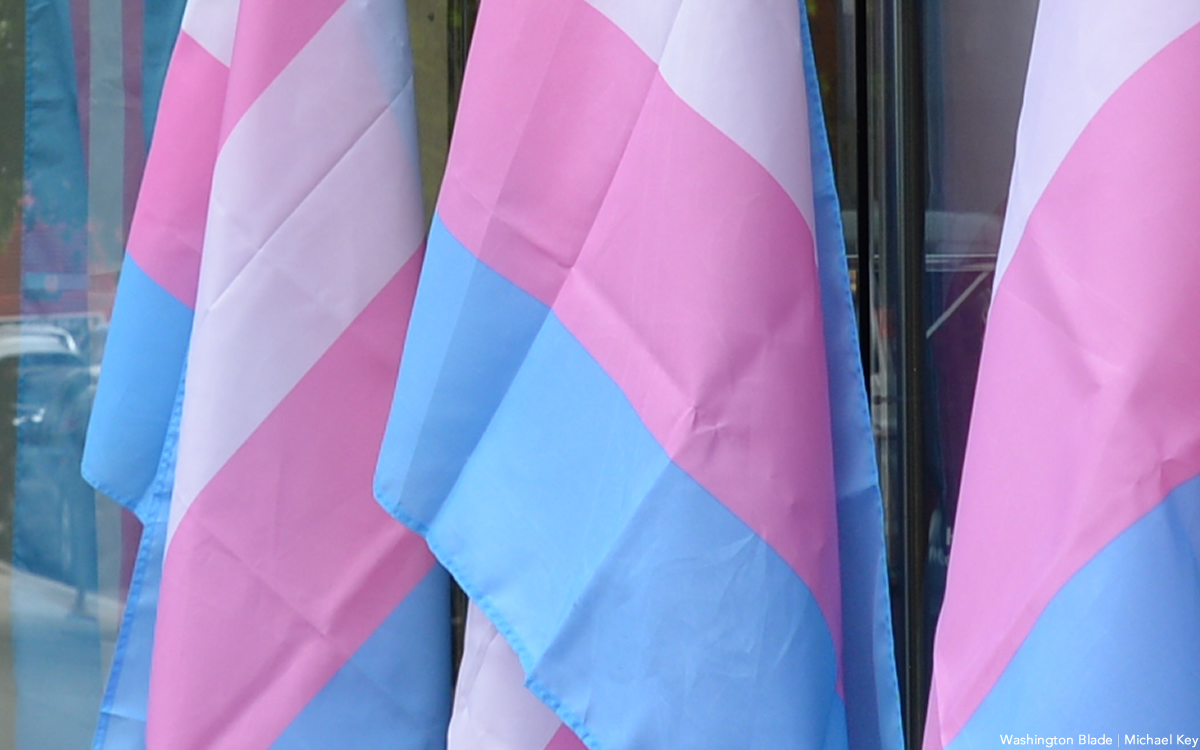 Students at five Virginia Beach high schools on Friday staged walkouts in support of transgender rights.
The walkout is in response to the Virginia Beach School Board potentially approving policy 5-31, which the Pride Liberation Project says will require schools to out trans students to their parents.
Students have been organizing walkouts across the state since Republican Gov. Glenn Youngkin earlier this year announced new guidelines for trans and nonbinary students.
"Students like me aren't going to be able to talk to our teachers if we're constantly worried about our school officials calling home to forcibly out us," AJ, a trans Kellam High School Student, told the Pride Liberation Project.
Pepco, Exelon announce $2.7 million in funding for four minority-owned businesses
'It's good business sense to bring more people to the table'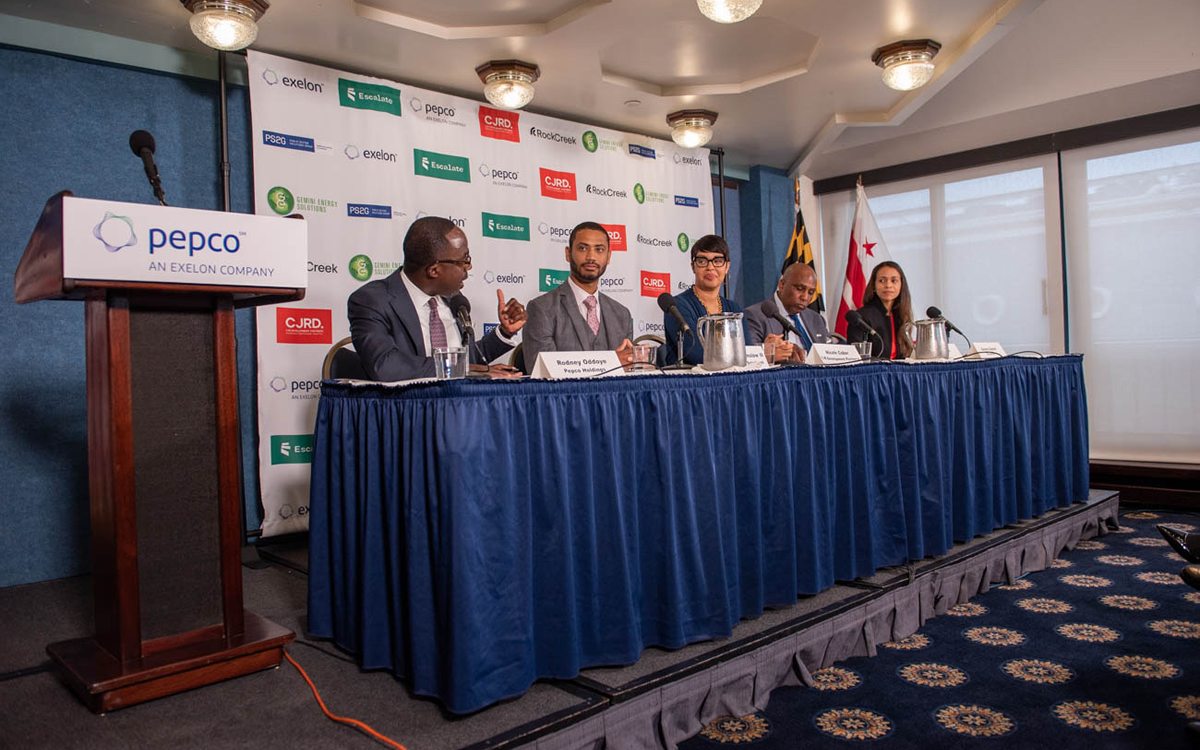 Pepco and Exelon announced a $2.7 million investment in four minority-owned businesses on Friday.
"Today's been a long time coming," said Pepco Vice President of Governmental and External Affairs Valencia McClure.
Pepco's parent company, Exelon, launched the Racial Equity Capital Fund (RECF) in 2022 to expand capital access to diverse businesses. This latest $2.7 million investment is just a portion of RECF's $36 million in funding.
At the announcement, D.C. Mayor Muriel E. Bowser spoke about the other ways Pepco and Exelon have "put their money where their mouth is" through their partnership with the D.C. Infrastructure Academy. She reported that all 22 of the residents that graduated from the program last week have a job offer from Pepco.
"We know that is not just a job, but a career," she said to the crowd's applause. "We know that working together, we can invest in D.C. residents, provide opportunity, and ensure that our D.C. businesses are a part of D.C.'s growing prosperity."
The four minority businesses that received funding were Gemini Energy Solutions, Public Sector Solutions Group, CJR Development Partners, and Escalate.
"It's good business sense to bring more people to the table," said fund recipient Nicole Cober, CJR Development's Principle Managing Partner.
Gemini Energy Solutions, which is Black owned, received $1 million, the most of the four companies. Its mission is to equitably scale energy efficiency to marginalized communities. For the founder and CEO Anthony Kinslow II, this investment means that he is able to get paid and advance the work of his organization.
"We are now able to accelerate the work in our software and technology development," he said. "What we were going to do in two years, we are now going to do in six months."
For Escalate, a workforce development platform focused on frontline worker retention, the funding means that it will be able to double the pay for frontline workers.
Public Sector Solutions Group CEO Darryl Wiggins emphasized that this investment was not just 'charity' work, but mission-driven work.
"The principle and the intent is greater than the money we receive," he said. Public Sector Solutions is Black owned.
Public Sector Solutions Group received a $600,000 debt investment; CJR Development, a minority and woman-owned small business, received a $600,000 debt investment; and Escalate, a majority Black and woman-owned company, received a $500,000 equity investment.
Exelon launched the RECF in partnership with RockCreek, one of the world's largest diverse-owned global investment firms, in 2022. The RECF expands capital access to diverse businesses so they can create more jobs, grow their companies and reinvest in their neighborhoods and communities, according to a statement from Exelon.
New RECF applications are accepted on a rolling basis. Interested businesses may apply online or contact RockCreek at [email protected] for more information.