Biden gets lackluster reviews on response to monkeypox outbreak
Comparisons made to inaction during coronavirus, HIV/AIDS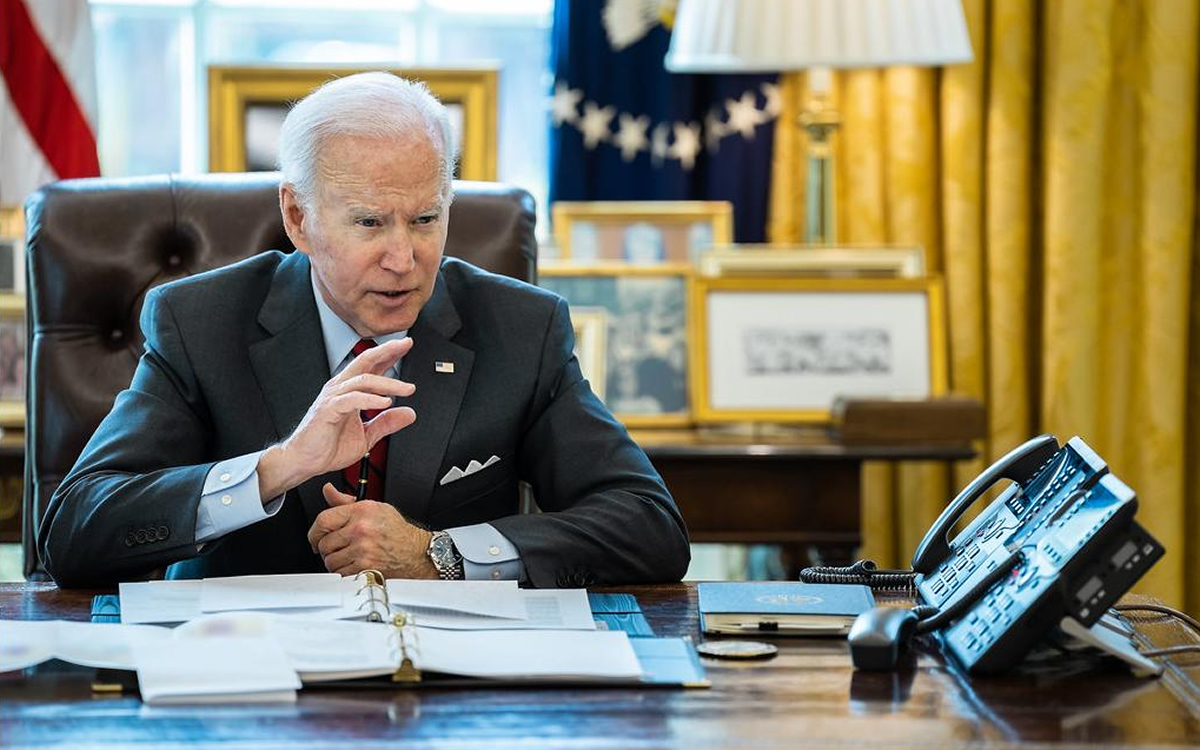 For a population still suffering through the coronavirus pandemic and with lasting memories of HIV/AIDS, the monkeypox outbreak is triggering memories of a U.S. government unable to respond quickly to the emergence of a new disease — and many who see mistakes being repeated are giving lackluster and even negative reviews of the Biden administration's handling of the issue.
Criticism has emerged from voices in the LGBTQ community, where monkeypox has primarily spread, especially among gay and bisexual men, as well as among public health experts amid the perception the Biden administration has fallen short in vaccine distribution as only two cities — New York and D.C. — are offering vaccines on a pre-emptive basis and immediate distribution is halted despite reports that 1 million vaccines are in reserve overseas.
Lindsey Dawson, associate director of HIV Policy and director of LGBTQ Health Policy for the Kaiser Family Foundation, acknowledged Monday in an interview with the Blade there's "certainly been criticism the administration was slow to act" in the past six weeks, although she tempered her remarks in hopes the Biden administration would ramp up efforts in time to curb the virus.
"The amount of vaccinations available right now, it's really quite limited," Dawson said. "As of last week, about 40,000 vaccines have either been shipped out or are being processed for allocation to jurisdictions. That isn't nationwide; that was for about 15 jurisdictions, and the supplies that we're getting are fairly limited. And so, that means that only in certain places, will there be vaccinations available."
Dawson added the Centers for Disease Control & Prevention has promoted vaccines as a kind of post-exposure prophylactic for those who think they may have been exposed to monkeypox, stopping short of guidance making vaccines more generally recommended for populations that may be at risk, such as gay and bisexual men. New York City and D.C. are two jurisdictions that are giving vaccines out on a more general basis.
The Biden administration late last month unveiled a multi-step plan to take on monkeypox, which included the distribution of 296,000 vaccine doses with plans to distribute at total of 1.6 million in the coming months, which is enough to vaccinate 800,000 people because they are a two-dose series. Although HHS announced the purchase of an additional 2.5 million vaccines, the timeline completing the distribution isn't until 2023 — which critics say is far too late for a disease already beginning to spread.
One prominent point of contention is the failure to distribute 1 million doses of monkeypox vaccine owned by the United States and in freezer storage at a Bavarian Nordic facility in Denmark, according to a June 28 letter to the White House from PrEP4All and Partners in Health. The medication has yet to be deployed fully despite concerns about the spread of monkeypox, which is transferred by skin-to-skin contact. The reason for the delay is the Food & Drug Administration dropped the ball and failed to conduct a timely review of vaccines and refuses to distribute the agency's counterpart the European Union has approved, the letter says.
Josh Barro, a gay political commentator and journalist, called the failure of the U.S. government to distribute the vaccines "absolute insanity" and more evidence of failure by the FDA to meet speedy deadlines in approvals.
"Literally we have bought these doses already and they're sitting in a freezer in Denmark until some bureaucrats decide to allow them into the US," Barro wrote.
The FDA, CDC and FDA didn't respond Wednesday to the Blade's request to comment on the slow rollout of vaccines and the 1 million doses reportedly in storage in Denmark.
Evidence of the Biden administration falling short on monkeypox is already leading observers to make comparisons to HIV/AIDS and the coronavirus, when the U.S. government was criticized for inaction. President Trump was accused of dropping the ball on coronavirus with delays in testing and erratic messaging — as well as even lying to the American public about its seriousness — as President Biden  faced early criticism for a vaccine-only approach and failing to make good on campaign promises to shut down the virus. During the HIV epidemic in 1980s, activists with the grassroots group ACT UP held die-in protests at government offices and the Food & Drug Administration because the U.S. government was too slow in approving and distributing potential treatments.
Dawson said COVID is different from monkeypox for many reasons, but lessons could be applied to the new outbreak in terms of messaging, testing, and vaccine distribution based on COVID demonstrating "how challenges with mounting a quick response and COVID likely impacted transmissions."
"And certainly it took a while for vaccinations to be widely available at COVID," Dawson said, "And so, I think the important lesson there with all infectious diseases be that COVID or monkeypox is that getting out in front of an outbreak and preventing future transmission is essential."
To be sure, the monkeypox outbreak isn't nearly on the scale of the HIV/AIDS or COVID-19 pandemic, which have spread far and wide and claimed millions of lives. According to the Centers for Disease Control, the total number of recorded monkeypox infections in the United States as of two days ago is 767. Anthony Fauci, director of the National Institute of Allergy & Infectious Diseases, told the Blade in a conference call with reporters last month the risk of gay and bisexual men contracting monkeypox is not high, but the numbers could increase. Monkeypox generally isn't a fatal disease.
The LGBTQ watchdog group GLAAD, which has strong connections to both media and entertainment, has teamed up with the White House in its messaging on monkeypox, with a heavy emphasis on LGBTQ influencers and a closed press meeting on Wednesday. The White House didn't respond to the Blade's request to comment for additional information.
Sarah Kate Ellis, CEO of GLAAD, said in a statement to the Blade the initiative would supplement ongoing efforts to combat monkeypox taken by the.Biden administration and public health officials.
"Getting accurate information out about monkeypox virus (MPV) is critically important to the LGBTQ community and all communities, and we need to continue to hear from public health leaders about what's being done to combat the virus and inform the public," Ellis said. "GLAAD is helping convene those who can help get the word out about this threat to public health and to ensure accurate and respectful reporting to keep everyone safe. Media must continue to hold public health officials accountable to accurate data gathering, testing, treatment, and vaccine distribution to stop the spread of MPV."
Elsewhere, localities are stepping up efforts to implore the Biden administration to do more on monkeypox as vaccines remain in limited supply for reserved for distribution in certain jurisdictions.
In San Francisco, District 8 Supervisor Rafael Mandelman announced Tuesday his introduction of a resolution urging the Department of Health & Human Services and the Centers for Disease Control & Prevention to accelerate efforts on monkeypox vaccines, calling for a vaccine prioritization plan and streamlined testing as well as enough vaccine doses for high-risk populations, including gay and bisexual men, transgender people, and sex workers.
"This should be a preventable public health crisis – unlike COVID-19, we did not have to wait for new vaccines to be developed," Mandelman wrote on Twitter. "It begs the question: would monkeypox have received a better response if it wasn't primarily affecting queer people?"
Equity concerns for a population sensitive to racial disparities are also at the top of list among observers and public health experts with experience in health outreach to LGBTQ patients, especially in the aftermath of the coronavirus pandemic having a disproportionate impact on Black people.
Dawson expressed concern about localities like New York and D.C. focusing its messaging on monkeypox through social media, which she said may not be visible to workers unable to access it during the day.
"To the extent that vaccination and testing are difficult and burdensome to people, they're going to be less likely to take it up," Dawson said. "And people who do take it up are probably people who have more privilege, right? They can take time off work, or they are aware of these slots opening up because they've seen that on social media and they're on social media in the middle of their workday, and so it does raise potential equity challenges there."
In New York City, despite being a locality deemed a priority spot for monkeypox vaccines, officials are also demanding a better response. Lynn Schulman, a city council member, spearheaded a letter to the CDC with the LGBTQIA+ caucus declaring efforts on monkeypox to have fallen short.
"The biggest concern is the lack of vaccines," the letter says. "New York City has recently received additional doses of vaccine from the federal government, but vaccine supplies remain low. Currently, if an individual would like to get vaccinated, DOHMH has no appointments available. At a time when we are still dealing with COVID infections, this is unacceptable."
Dawson said to make a more comprehensive assessment of the Biden's administration's approach to monkeypox she'll observe the pace at which vaccines become more readily available to the public.
"We see those appointments open up and shut down again just minutes later because the demand is just outpacing the availability," Dawson said. "So it'll be really important to watch. How likely are vaccines to get get to jurisdictions … Right now, certainly demand is outpacing the vaccinations available, but we could get to a point where we are with COVID vaccines now, where work actually has to be done to encourage uptake of vaccinations."
CORRECTION: An earlier version of this article misattributed a quote about local governments to the Biden administration. The Blade regrets the error.
Justice Department eyes criminal probe of Santos' campaign finances
House Speaker Kevin McCarthy's (R-Calif.) office has not commented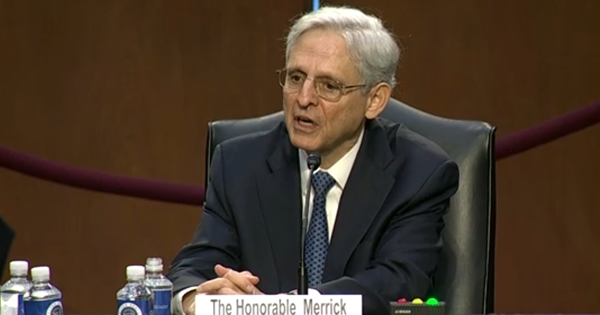 The Justice Department has asked the Federal Election Commission to hold off on law enforcement activity over Republican U.S. Rep. George Santos (N.Y.) as federal prosecutors conduct their own criminal probe into the congressman's campaign finances.
The news, first reported Friday by the Washington Post, was confirmed Saturday by the Washington Blade via a Justice Department source familiar with the matter who was not authorized to speak with the press.
The attorney who filed the FEC complaint against Santos previously told the Blade that the agency would yield to the Justice Department if prosecutors initiate a criminal probe — indicating that in Washington the matter would be overseen by the Department's Public Integrity Section. 
The Nassau County District Attorney's Office and the office of New York Attorney General Letitia James are also looking into Santos' financial conduct, while the congressman has simultaneously been enmeshed in controversies over his compulsive lying, having fabricated virtually every part of his life and identity.
As of this publication, House Speaker Kevin McCarthy's (R-Calif.) office has not responded to a request seeking comment. McCarthy, along with the rest of Republican leadership in the chamber, have addressed the controversies only minimally, telling reporters they have no plans to ask Santos to step down until or unless criminal proceedings against him are underway.
Santos voted for McCarthy's bid for speakership in each of the 15 ballots that were required to unite the House GOP conference behind him due to the objections of a couple dozen ultra-conservative members who were able to delay the vote and extract painful concessions because of the party's narrow control of the House majority.
Memphis police release Tyre Nichols arrest, fatal beating video
29-year-old Black man died after traffic stop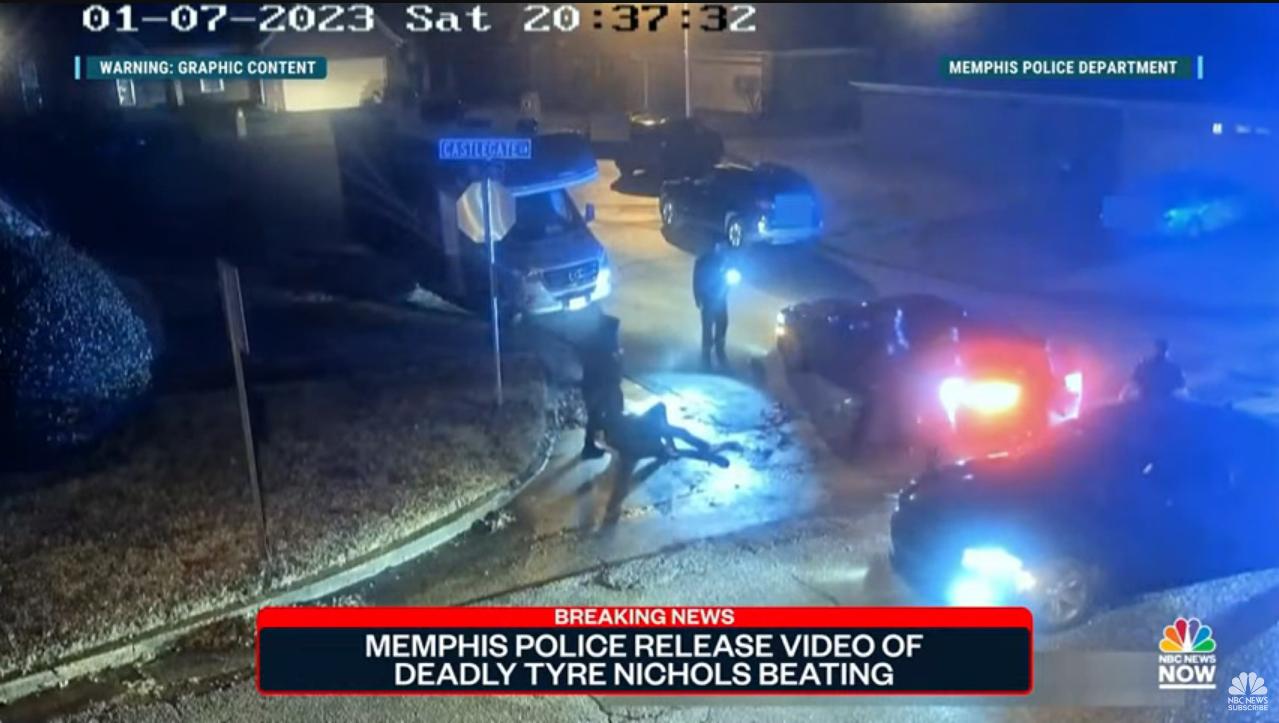 Three videos consisting of both body cam footage and street surveillance footage were made public by the Memphis Police Department Friday evening showing the violent arrest and beating of Memphis resident 29-year-old Tyre Nichols.
Nichols died three days after he was beaten by police in a traffic stop in the Hickory Hill neighborhood around 8:22 p.m. on Jan. 7, in an altercation Memphis Police Chief C.J. Davis described, saying "in my 36 years in law enforcement, I don't think I have witnessed the disregard for a human being displayed in this video." 
Shelby County District Attorney Steve Mulroy announced Thursday that five now-former Memphis police officers — Tadarrius Bean, Demetrius Haley, Emmitt Martin III, Desmond Mills, Jr., and Justin Smith — were fired for misconduct, indicted by a grand jury and taken into custody.
Each is charged with second-degree murder, aggravated assault, two counts of aggravated kidnapping, two counts of official misconduct and official oppression. By Friday morning, they had posted bond.
As news of the beating and death spread beyond Tennessee, officials expressed concern that release of the footage would touch off violent protest in reaction.
The attorneys and family of Nichols asked for justice for their son, and peace in their city, at a press conference in Memphis on Friday, WREG News 3 reported.
Speakers included family members, attorneys Ben Crump, Antonio Romanucci and Van Turner, president of the Memphis branch of the NAACP.
Rodney Wells, Nichols' stepfather, said that he initially wanted first-degree murder charges against the officers, but the family is satisfied with second-degree murder.
He pleaded for peace in Memphis Friday night.
"We want peace. We do not want any type of uproar. We do not want any type of disturbance," Wells said. "Please, please, protest, but protest safely."
Protests took place in Memphis after police released more than an hour of footage in the case with some major highways temporarily shut down.
Other protests were organized in New York, as well as D.C., Sacramento, Los Angeles, Atlanta, Philadelphia and Seattle, with police at the ready for potential violence.
"Tonight, I stand with the millions of Americans sending condolences and love to the family of Tyre Nichols as the navigate this unimaginably difficult tragedy," said D.C. Mayor Muriel Bowser in a statement. "We are a nation traumatized by violence, especially violence against Black Americans. We don't even need to see the video to feel outraged that those five former officers, sworn to protect their community and now arrested and charged with murder, killed Tyre. But tonight, many people will see the video and it will elicit strong feelings — from sadness and anger to confusion and despair. Tonight, we are a city and country united by tragedy, but we are also determined — to deliver justice for Tyre and change for our nation."
The White House held a joint emergency call Friday with the mayors of at least 16 cities before the video's release "to brief them on federal preparations in support of state and local leaders."
"Participating mayors shared their perspectives on how important it is to recognize the pain felt by communities across this country, be prepared in advance with a game plan to provide adequate community support, and to reinforce the importance of peace and calm during these difficult moments," the White House said in a statement about the call, which included cities from New York City, to Atlanta, Los Angeles, D.C., Seattle and Portland.
The Los Angeles Police Department issued a statement condemning the actions of the Memphis officers and calling for demonstrations to remain peaceful.
"The accounts of the circumstances of this heinous crime and the criminal actions of those involved are reprehensible," the LAPD said.
"The department will do all within its power to ensure the lawful expression of the public's anger and frustration is protected and prepared to facilitate those wishing to exercise their First Amendment rights."
The Los Angeles County Sheriff's Department told local media that it is preparing for the possibility of disturbances after the footage is made public. and is coordinating with other state, local and federal agencies.
"Our patrol stations and specialized units remain in a state of readiness to respond to any disturbances that might occur," the LASD said.
"The sheriff's department supports the First Amendment and the people's right to protest."
Speaking with reporters as he prepared to depart for Camp David at the White House Friday evening, President Joe Biden said that he had spoken with Nichols' mother prior to the video footage release for about 10 or 15 minutes.
"I spoke with Tyre's mother and expressed my condolences and told her that I was going to be making the case to the Congress to pass the George Floyd Act. We should get this under control. I can only do so much on the executive order at the federal level," Biden said. "I was really pleased that she called for peaceful protest, no violence," he added.
When asked about the potential for violence Biden said:
"I'm obviously very concerned about it. But I think she has made a very strong plea. She's obviously in enormous pain. I told her I had some idea of what that loss is like and although it is impossible to believe now, a time will come when his memory brings a smile before a tear."
The White House released a statement from the president that said in part:
"Like so many, I was outraged and deeply pained to see the horrific video of the beating that resulted in Tyre Nichols' death. It is yet another painful reminder of the profound fear and trauma, the pain, and the exhaustion that Black and Brown Americans experience every single day.

My heart goes out to Tyre Nichols' family and to Americans in Memphis and across the country who are grieving this tremendously painful loss. The footage that was released this evening will leave people justifiably outraged. Those who seek justice should not to resort to violence or destruction. Violence is never acceptable; it is illegal and destructive. I join Mr. Nichols' family in calling for peaceful protest."
California Gov. Gavin Newsom issued a statement in response to the Memphis Police Department's body camera footage being released, showing the deadly actions that took the life of Nichols, a Sacramento native, and led to the charging of five since fired Memphis law enforcement officers.
"Jennifer and I send our deepest condolences to the family and friends of Tyre Nichols. Tyre Nichols should be alive today. The video released shows abhorrent behavior and these officers must be held accountable for their deadly actions and clear abuse of power," said Newsom. "Today, we are a country in mourning, and must continue our work nationwide to push reforms to prevent excessive use of force and save lives."
"Tonight, we saw ferocious violence from an out-of-control herd," said Los Angeles Mayor Karen Bass.
Late Friday evening Vice President Kamala Harris' office released a statement from the vice president on Nichols:
"Tyre Nichols should have made it home to his family. Yet, once again, America mourns the life of a son and father brutally cut short at the hands of those sworn to protect and serve. The footage and images released tonight will forever be seared in our memories, and they open wounds that will never fully heal.

The persistent issue of police misconduct and use of excessive force in America must end now.
I join President Biden in his call for accountability and transparency. We must build trust—not fear — within our communities."

VIDEO COURTESY OF KTLA:
TYRE NICHOLS VIDEO VIEWER DISCRETION ADVISED, GRAPHIC CONTENT AND LANGUAGE WARNING.
LGBTQ Holocaust victims remembered on International Holocaust Memorial Day
Up to 15,000 gay men sent to concentration camps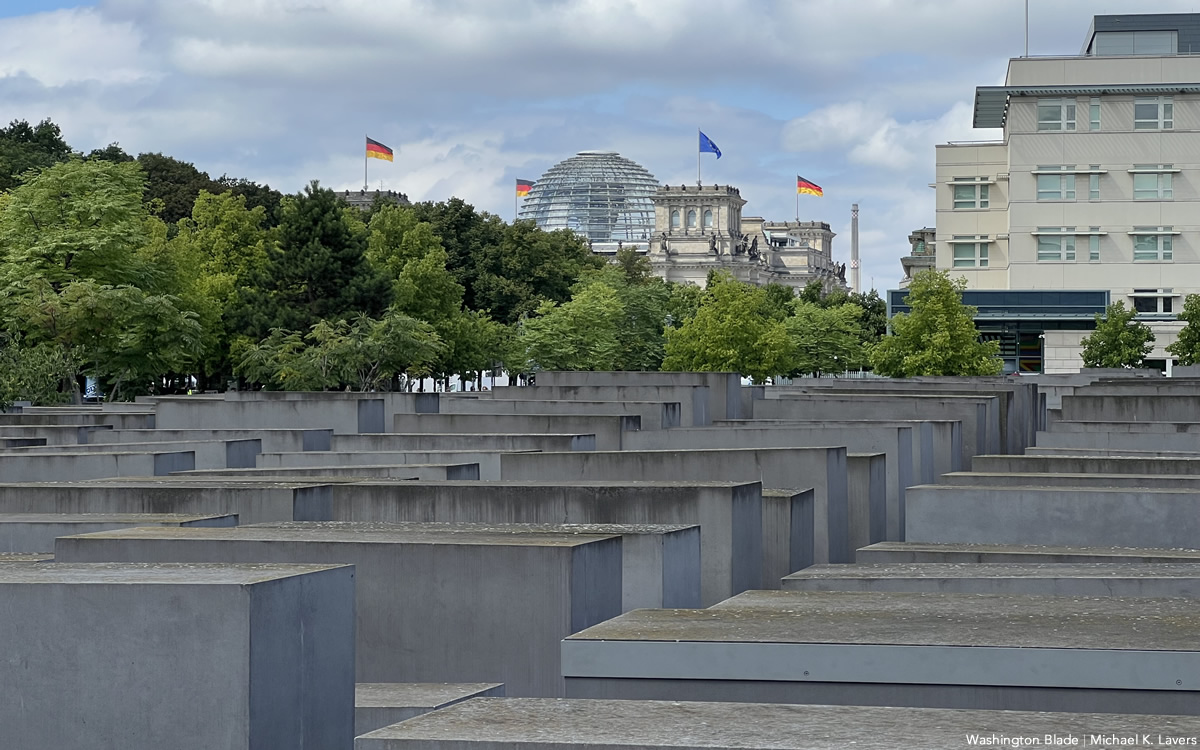 Ordinary People is the theme for International Holocaust Memorial Day 2023 as around the globe the day is set aside for everyone to remember the millions of people murdered in the Holocaust under Nazi persecution.
The Nazis targeted anyone they believed threatened their ideal of a "pure Aryan race," including Roma and Sinti people, disabled people, LGBTQ people, political opponents and others.
In a statement released by the U.S. Embassy in Lithuania, whose ambassador, Robert S. Gilchrist, is openly gay, a coalition consisting of other nation's diplomatic missions to the Baltic nation, including Israel, Germany, the Netherlands, Japan and the European Commission noted:
"As we mark International Holocaust Remembrance Day, we commemorate the Holocaust of six million Jews, men, women and children, including more than 200,000 Jews murdered in Lithuania. We remember other communities who were also murdered: Roma, disabled persons, LGBTQI+ persons, Slavs and others. We do not forget that the Nazis committed these heinous crimes with the support of local collaborators throughout Europe. And we remember the heroism of countless people who, at great personal risk, stepped in to save thousands of Jews."
Amy Gutmann, the U.S. ambassador to Germany, tweeted: "Today we remember the horrors of the Holocaust and the six million Jews, and millions of Roma, Sinti, Slavs, persons with disabilities, LGBTQ+ individuals and political dissidents murdered by the Nazis and their collaborators." Gutmann added: "As my father, a German Jew forced to flee Germany in 1934 said, "Everything we do — and everything we don't do — makes a difference."
Today we remember the horrors of the Holocaust and the six million Jews, and millions of Roma, Sinti, Slavs, persons with disabilities, LGBTQ+ individuals, and political dissidents murdered by the Nazis and their collaborators. pic.twitter.com/wfjBnCeoUB

— Ambassador Amy Gutmann (@USAmbGermany) January 27, 2023
PinkNewsUK journalist Patrick Kelleher wrote:
"It is thought that up to 50,000 gay men received severe prison sentences under Nazi rule. According to the Holocaust Memorial Day Trust, most were sent to police prisons, but between 10,000-15,000 were sent to concentration camps.
Life for queer people in Weimar Germany was a very different picture to what it would become under the Nazis.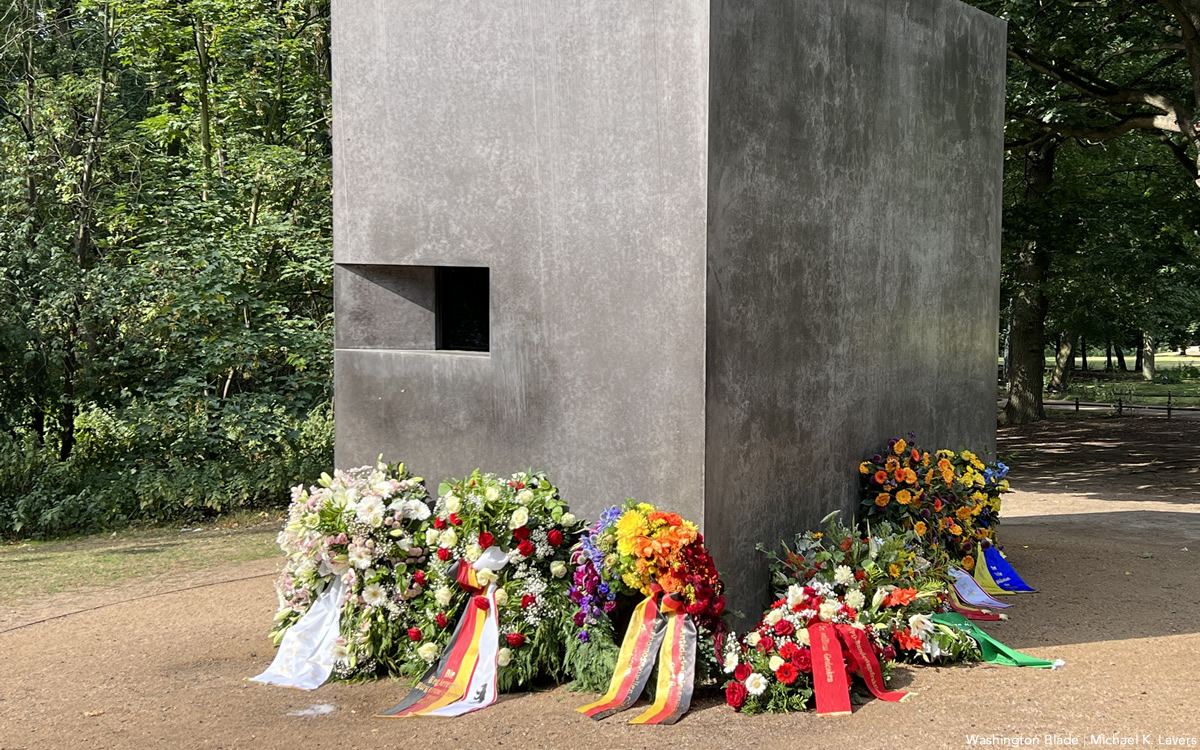 There were gay bars, there was a functioning queer scene — there was even an institute for sexual research, a concept that would be impossible to imagine in most European cities of the day.
When the Nazis came to power in 1933, everything changed. In the years that followed, millions of Jews, alongside other minority groups, were rounded up, tortured and murdered in concentration camps, up until 1945."
David Pressman, the U.S. ambassador to Hungary who arrived in that country with his husband and their two children last fall, also remembered the Holocaust in a tweet:
January 27, 2023