Senate holds off on marriage bill, may vote in September
Sen. Baldwin says 10 GOPers could support measure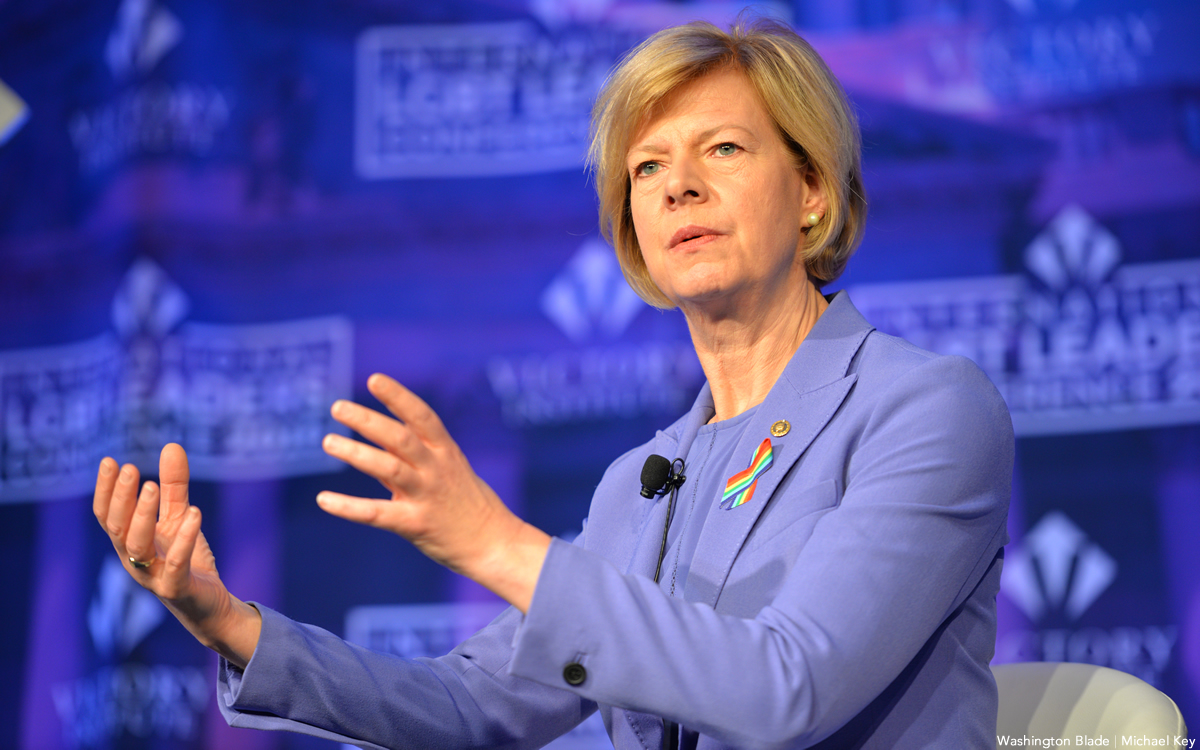 A vote in the U.S. Senate on legislation to codify same-sex marriage, following a surprise bipartisan approval in the U.S. House, now appears on track for consideration in September after lawmakers return from summer recess.
Questions emerged on when the Senate would take up the Respect for Marriage Act, which was advanced amid fears the U.S. Supreme Court would act to rescind same-sex marriage next after the decision overturning Roe v. Wade, after the House voted 267-157 in favor of the bill. Among the "yes" votes were 47 Republicans, a full one-fourth of the caucus, which triggered momentum for a Senate vote on the legislation.
Sen. Tammy Baldwin (D-Wis.), a lesbian, has been credited with taking the lead on the legislation. She said over the weekend on PBS Wisconsin the vote would likely be put off until September when lawmakers return from recess, and anticipated 10 Republicans may vote to join Democrats in ending a filibuster to advance the measure.
"There are five Republicans who have publicly stated that they will support the Respect for Marriage Act, and I have spoken with an additional — well, additional many, but five additional members have indicated they are leaning in support, but I think because of how crowded the calendar is for next week, which is our last week before the August recess, and in light of the fact that we can't have any absences, we need everybody there, and we have a few members with COVID, this is probably going to be a vote that occurs, what I would hope would be early September," Baldwin said.
Senate Majority Leader Charles Schumer (D-N.Y.) has expressed interest in bringing the legislation to the Senate floor, but an effort to push for a vote in the Senate last week was dropped as two senators — Lisa Murkowski (R-Alaska) and Joe Manchin (D-W.Va.) — were out with COVID and another, Sen. Patrick Leahy (D-Vt.), was recovering from a broken hip after a fall. Much of the oxygen in Congress is also now absorbed by the spending deal Schumer reached with Manchin, which provides for nearly $370 billion in climate investments.
David Stacy, government affairs director for the Human Rights Campaign, echoed in a statement to the Washington Blade the optimism about the bill and expectation the vote would be held in September.
"Given the exceptionally strong, bipartisan House vote and extensive conversations with and among senators from both parties, we agree with Sen. Baldwin's public statements that there is a realistic, viable path to secure the 60 votes needed in the U.S. Senate to ensure passage this year, likely after the August recess," Stacy said. "The U.S. Senate should have a vote on the legislation at the earliest opportunity."
Blade accepting applications for new fellowship focused on LGBTQ+ youth
Unique opportunity for college journalism students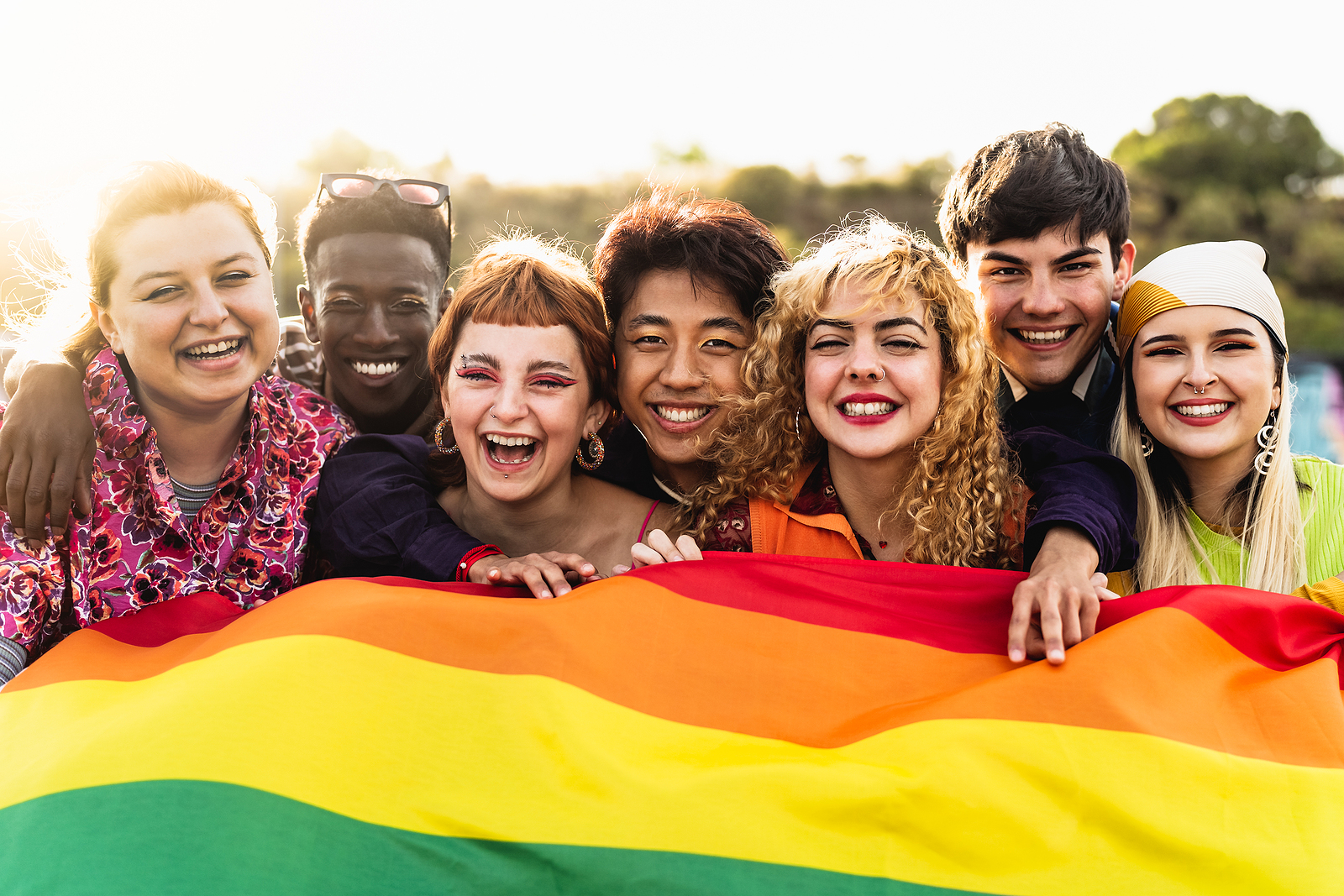 The Blade Foundation announced it has opened the application process for a new winter fellowship.
The application is open for an aspiring D.C.-based college-age journalist interested in covering LGBTQ+ youth. The fellowship runs for 12 weeks starting January 2023 with a $2,500 stipend. Fellows will be paired with a Blade editor for mentoring and reporting assignments.
This fellowship is focused on issues impacting queer youth in D.C. Coverage areas will include housing, coming out, education, and more. The fellowship is funded by a grant from the Mayor's Office of LGBTQ Affairs (MOLGBTQA).
College students may apply by emailing a letter of interest, resume, and links to three writing samples to: Kevin Naff, executive director, Blade Foundation, [email protected]. No phone calls. Deadline to apply is Dec. 23.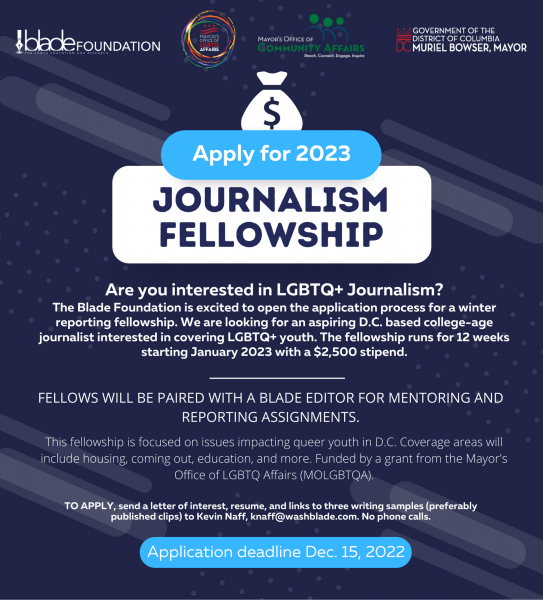 Pakistani cinema and television highlights LGBTQ, intersex issues
Government sought to ban 'Joyland'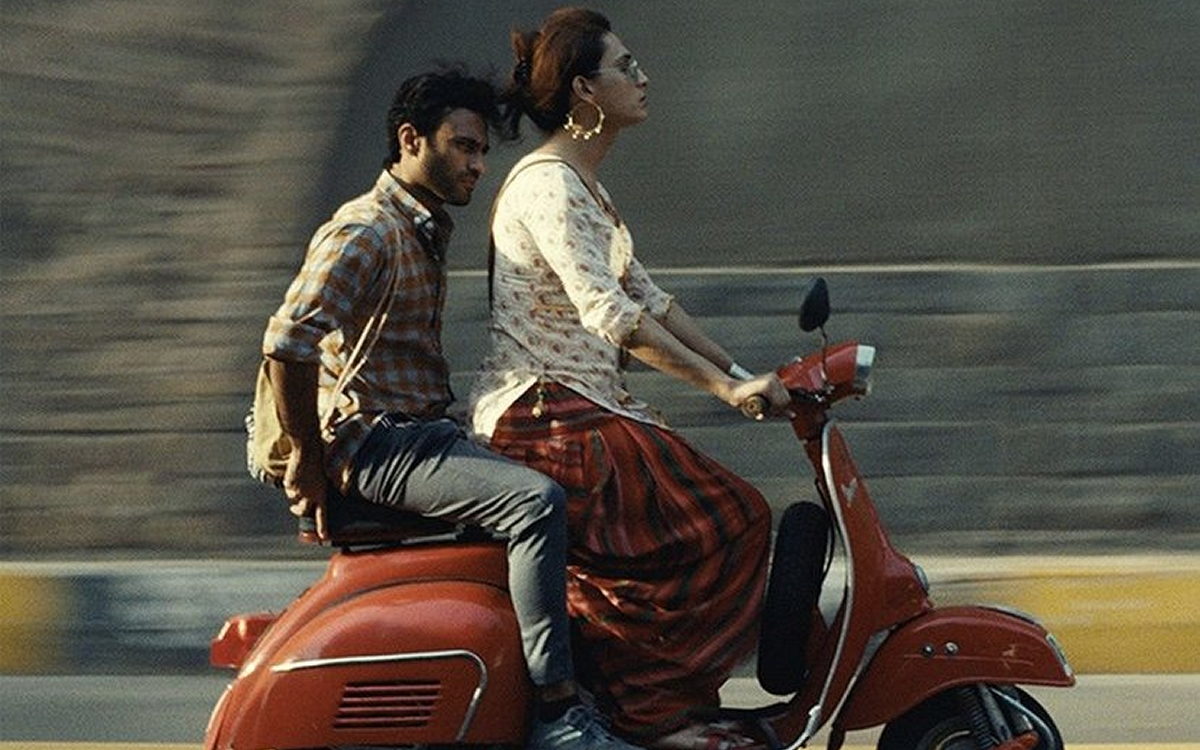 There are several Pakistani movies and television shows that depict the lives of LGBTQ and intersex people in society.
Though some media outlets have become more inclusive, the representation of queer people on screen is still too rare. Pakistan has seen a rise in the production of LGBTQ and intersex movies and television shows that include dramas, documentaries and web series. Some of them are made in Pakistan, while others are produced abroad. Many of them have been released in Pakistan. The government banned some of them, but others have not only amused audiences but won international awards.
Here is a list of some of them.
'Joyland'
"Joyland" is a Pakistani film that made waves at the Cannes Film Festival.
The film follows the story of a transgender woman named Biba, who is trying to make a living as a dancer in Lahore. She faces many challenges in her life, including discrimination and violence from those who do not accept her gender identity. She nevertheless persists, despite these difficulties, and ultimately finds love and acceptance from unexpected sources. This heartwarming film highlights the struggles and triumphs of the trans community in Pakistan and is sure to resonate with viewers around the world. "Joyland" is a powerful and timely film that highlights the struggles of trans people in Pakistan. It is also a celebration of hope and friendship, and an uplifting story about chasing your dreams against all odds.
In a conservative Pakistani family, the youngest son Haider (Ali Junejo) is expected to produce a baby boy with his wife. However, he joins an erotic dance theater and falls for the troupe's director, a trans woman. This film tells the story of the sexual revolution in Pakistan and their struggle against traditional gender roles and expectations.
"Joyland" is the first Pakistani film on the LGBTQ topic that premiered at Cannes Film Festival and received an overwhelming response. It won the prestigious Cannes "Queer Palm" award during its world premiere. The government had tried to ban the film, but it opened in the country last month.
'Poshida: Hidden LGBT Pakistan'
In the conservative, Muslim-dominated country of Pakistan, homosexuality is a taboo topic. However, there is a thriving LGBTQ and intersex community in Pakistan that is forced to live in secrecy. The documentary "Poshida: Hidden LGBT Pakistan" shines a light on this hidden community.
It follows the lives of several LGBTQ and intersex Pakistanis, who bravely share their stories. The documentary was released in 2015 in Pakistan and in the U.K. by director Faizan Fiaz. It was the first kind of movie on the "LGBTQ" topic. The film was screened at film festivals in Barcelona, Spain, and in the U.S. The word "poshida" means "hidden" in Urdu. The film is particularly timely given the current global discussion around LGBTQ and intersex rights. It examines the legacy of colonialism, class structures and the impact of the U.S. government's gay rights advocacy in Pakistan.
The documentary is about a serial killer from Lahore who kills trans people, women and gay men for entertainment purposes. Human rights abuses of trans men and women are also explored in the documentary.
'Churails'
Pakistani cinema has come a long way in recent years, tackling several taboo subjects and exploring new genres and stories. One of the most groundbreaking Pakistani films of recent years is "Churails."
The film is the first Pakistani queer web series that revolves around four women. It is the first time that a lesbian relationship in any Pakistani film or web series is portrayed.
This film features a trans woman Baby Doll (Zara Khan), lesbian lovers Babli (Sameena Nazir) and Pinky (Bakhtawar Mazhar) and a gay husband. Four women who were students — one was a wedding planner, the third one was convicted of a crime and the fourth woman was a socialite set up a secret detective agency in Karachi. The aim was to launch a detective service for those women who were cheated by their husbands.
A web series set in Karachi challenges the status quo and subverts the conventional narrative. The critically acclaimed web series has opened up a debate about Pakistan's patriarchal society. The show doesn't shy away from tough questions: Veils, deception and secrets. "Churails" is the story of four self-made women who come together to break certain stereotypes and challenge societal hypocrisy.
"Churails" is the first Pakistani drama web series which was released in 2020 by ZEE5, an Indian on-demand video platform. The web series is directed and produced by Asim Abbasi. The film was not allowed to screen in Pakistani cinema or channels. The movie was only available on ZEE5. however, at the time of releasing the film the state bank of Pakistan ordered all the banks to block Pakistani consumers to purchase subscriptions to ZEE5.
"Churails" won the "OTT Platform Show of the Year" at the British Asian Media Awards in February 2021. "Churails" is a feminist film in every sense of the word.
Supreme Court hears oral arguments in 303 Creative case
Dangerous implications for LGBTQ consumers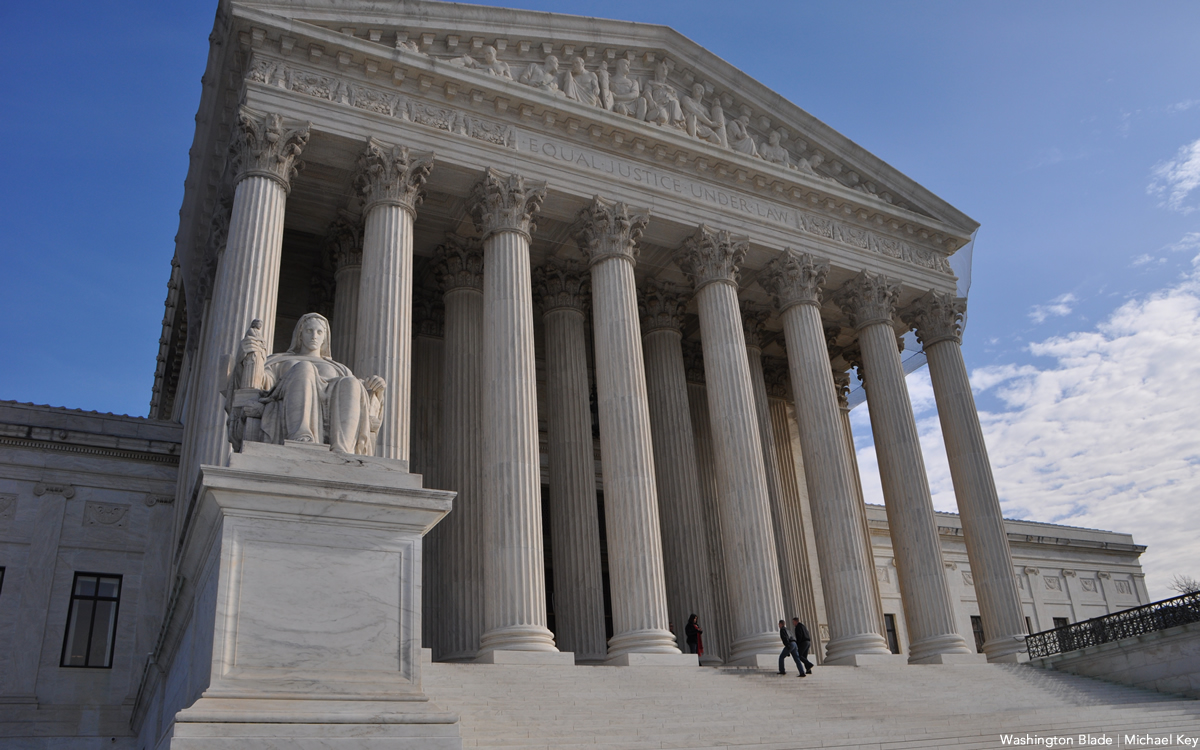 The U.S. Supreme Court on Monday heard oral arguments in 303 Creative v. Elenis, a case that could carry broad implications for whether and in which circumstances states may enforce certain nondiscrimination rules against purveyors of goods and services.
The case was brought by website designer Lorie Smith, who sought to include a disclaimer that her company 303 Creative would not develop wedding announcement websites for LGBTQ couples, but discovered that such a notice would violate Colorado's anti-discrimination laws, which include sexual orientation as a protected class.
Her lawsuit against the state of Colorado, argued by counsel from the anti-LGBTQ group Alliance Defending Freedom (ADF), reaches the Supreme Court following the ruling against Smith from the 10th Circuit Court of Appeals, which created a circuit split with decisions from the 8th Circuit and Arizona Supreme Court. A ruling is expected to come in June.
The fact pattern in 303 Creative closely mirrors the 2018 case Masterpiece Cakeshop v. Colorado Civil Rights Commission, where the Supreme Court declined to rule on the broader legal questions because it found the Commission exhibited hostility toward the religious views of the bakery that refused to design a custom wedding cake for a same-sex couple.
The high court has since moved substantially to the right, with a 6-3 conservative supermajority. Colorado is one of 20 states that enforces laws prohibiting businesses from discrimination based on sexual orientation, and a ruling that would allow for broadly construed exemptions to be carved out for firms based on their First Amendment protections would carry implications well beyond the context of same-sex marriage.
Monday's oral arguments focused on preexisting and hypothetical cases that were presented by counsel from both parties as well as by the justices, examples whose scope and fact patterns reinforced the breadth of the legal issues at play in 303 Creative.
Colorado Solicitor General Eric Olson and U.S. Principal Deputy Solicitor General Brian Fletcher pointed to the Supreme Court's ruling in Rumsfeld v. Forum for Academic and Institutional Rights, 2006, which found that the federal government may withhold funding from universities that, based on their objections to "Don't Ask, Don't Tell," refuse to grant military recruiters access to their resources.
ADF CEO, President and General Counsel Kristen Waggoner cited the Supreme Court's decision in Hurley v. Irish American Gay, Lesbian, and Bisexual Group of Boston, 1995, which upheld the right of private organizations to exclude participation by certain groups without interference by the state, even if that intervention by the government was for the purpose of preventing discrimination.
Much of the discussion during Monday's oral arguments centered on what kinds of goods and services may be considered public accommodations and which constitute artistic speech or expression by the business provider. Also at issue were questions such as whether their refusal to accommodate certain events – i.e., same-sex weddings – are tantamount to refusing goods and services to members of a protected class of people under the state's non-discrimination laws.
LGBTQ rights groups fear the implications of a ruling in favor of 303 Creative
ADF is designated an anti-LGBTQ extremist group by the Southern Poverty Law Center. An amicus brief was filed in support of the government by the corporate law firm White & Case along with a coalition of LGBTQ rights groups and legal advocacy groups: the National LGBTQ Task Force, GLAD, the National Center for Lesbian Rights, Lambda Legal, and the Human Rights Campaign.
"Just two weeks after a shooter killed 5 people, injured 18, and traumatized so many others at Club Q in Colorado Springs, the United States Supreme Court prepares to hear oral arguments in an anti-LGBTQ public accommodations discrimination case from Colorado," wrote the National LGBTQ Task Force in a statement addressing Monday's oral arguments.
Liz Seaton, the group's policy director, highlighted the importance of public accommodations laws and condemned efforts by the opposition to legalize discrimination and segregation in the marketplace. "The brief's most important argument lifts up the powerful amicus briefs of the NAACP Legal Defense and Educational Fund and of the Lawyers' Committee for Civil Rights Under Law," Seaton said. "Those two briefs by venerable civil rights organizations provide a detailed history of public accommodations discrimination against Black and Brown people in this country."
HRC's statement on Monday touched on similar themes:
"Granting the unprecedented 'free speech exemption' sought by petitioners in 303 Creative v. Elenis would be a dangerous change to long standing constitutional and civil rights law. It would inevitably lead to increased discrimination not only related to LGBTQ+ people or weddings, but also for other vulnerable populations including women, people with disabilities, and people of minority faiths. It's crucial that justices of the Supreme Court reject discrimination and affirm the equal dignity of every American."
Likewise, the Congressional LGBTQ+ Equality Caucus released a statement exploring the broad implications that could result from the Court's ruling on 303 Creative:
"…the Supreme Court could issue a broad ruling that not only implicates nondiscrimination laws' applications to graphic designers but to a wide range of businesses providing goods and services that have an artistic component. A broad ruling for the graphic designer could not only provide a constitutional basis for discriminating against same-sex couples, but also for discriminating against all marginalized people currently protected by public accommodations nondiscrimination laws."